Multifamily buildings meeting the varied needs of their residents
Sponsored by Inpro, PABCO® Gypsum and Tamlyn
You are not currently logged in to your CE Center account.
Log in
to view and complete the quiz questions that are embedded in this article.
Fire-Rated Aluminum Trim
A new addition to the market of aluminum trim products is the offering of fire-rated profiles to enhance the already extensive selection of extruded aluminum trim. The fire rating is achieved through the addition of a factory-applied intumescent strip along the back wall of the profile. This enables certain drywall designs to achieve 1-hour and 2-hour fire ratings without the requirement of an extra layer of drywall. The intumescent strip expands when exposed to increased heat during a fire and will completely seal off the gap in drywall preventing the passage of fire.
Fire-rated profiles are independently fire tested per ASTM E119 "Standard Test Methods for Fire Test of Building Construction and Materials." Under this test, a sample wall panel is subjected to a large-scale vertical exposure furnace. During the test, no flames can pass through the assembly and the average ambient temperature on the outside of the wall cannot pass 139 degrees Celsius nor a single point temperature of 181 degrees Celsius. Following the direct heat exposure, the test then calls for a water hose stream to be sprayed onto the fire-exposed panel to simulate a firefighting condition. The hose stream flows for 2-1/2 minutes and must not permit the projection of water from the hose stream beyond the unexposed surface. Fire-rated interior trim has been successfully subjected to this test for 120 minutes as part of an overall wall assembly and sprayed with water at 30 psi and met all of the testing requirements. Therefore, it has been certified for a 120-minute (2 hour) fire rating. Fire-rated extruded aluminum trim is generally available in standard lengths of 10 feet.
GYPSUM AREA SEPARATION WALLS
When two living units share an adjoining wall, then those assemblies need to be fire-resistance rated per applicable building codes in order to provide the appropriate area separation. Non-load-bearing gypsum Area Separation Firewall systems (ASWs), which can also include CLD panels, provide the advantages of both fire resistance and noise reduction between neighboring townhouses and other attached dwelling units up to (in most cases) six stories in height. Gypsum ASWs are efficient to construct and offer a 2-hour fire resistance rating. As such, they can provide code-compliant walls with sound ratings exceeding STC-60.
Gypsum ASWs offer considerable advantages over masonry or other materials used for creating the code-compliant ASW. Gypsum construction provides a thinner profile allowing up to 6 inches of additional usable floor space compared with a typical concrete block wall. The lighter weight of the framed gypsum wall also means a smaller footing or foundation is required. Gypsum ASWs allow construction efficiency and safety to increase since they are installed one course (or floor) at a time, just like the rest of the building. Scaffolding is not required, and the risk of toppling masonry walls is completely eliminated. Weather-related concerns and scheduling problems related to bringing in additional trades are also not an issue; there is no mortar to freeze or be compromised by cold weather work.

Photo courtesy of PABCO Gypsum
Interior gypsum products, when specified and installed properly, provide sound control, fire resistance, and positive indoor environmental quality in multifamily buildings.
Interior Cordless Shades
Controlling daylight and glare from windows is a design necessity for comfortable multifamily units and common areas in particular. In response, textured roller shades can be used which allow diffused daylight to pass through a fabric appearance that reduces the total light transmission. In this way, they reduce glare, add comfort, and produce a favorable light quality inside the building. At the same time, they provide a degree of privacy or muted views through to the outdoors. In terms of energy performance impact, interior sunshades can help with the rejection of solar heat and have a positive impact on reducing energy needs for cooling as a result.
While shade systems are available that use chains or cords to raise and lower them, there are also products available that are completely cordless. Such cordless window shades are a logical choice where the presence of dangling cords can be a safety hazard for children. Rather than trying to contain or conceal the cords, the elimination of them dispels any potential problem. Cordless shades commonly use a spring roller system that allows for direct and easy manual adjustment of the shade with the capability to raise and lower it to any height.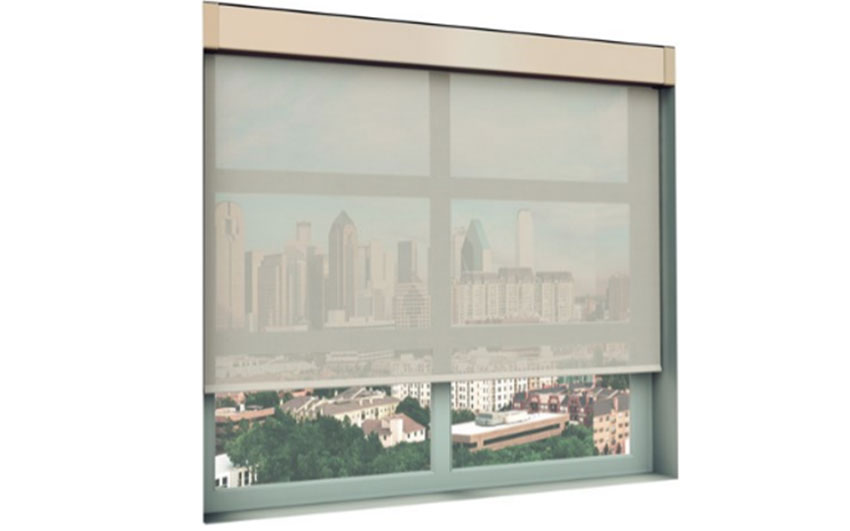 Photo courtesy of Inpro
Interior cordless window shades with textured fabric can provide privacy or maintain connections to the exterior while helping with energy performance by reducing solar heat gain.
Beyond these functional features, it is possible to design and incorporate custom printing of the shades with a graphic design selected by the designer. Printed shades can create a welcoming atmosphere in addition to hiding any unsightly outdoor views. They're also less likely to be damaged or vandalized. It is entirely possible to use custom landscapes, artwork, or even logos for the shades. Of course, standard fabric patterns can also be applied to a shade for simplicity.
EXTERIOR TRIM PERFORMANCE
Aluminum trim, in both 1-piece and 2-piece solutions, can be specified in common thicknesses and profiles to suit any of the lightweight cladding materials commonly in use. It is manufactured to work with wood lap siding, fiber cement panels, composite panels, metal panels, and almost any other common building material. When used to hold the edges of exterior wall panels or siding, it provides architects with a unique means to detail corners, vertical and horizontal joints, and material transitions with durability and integrity.
As a material, extruded aluminum is a common building material favored for its versatility, inherent strength, and durability. Aluminum is durable and long-lasting making it a great material for trim details to last for years. A lot of architects receive requests to use steel flashings instead of aluminum. This substitution may provide a reduced material cost, but within a year of the project being completed, steel trim is often oil-canning and wavy along the wall. Aluminum trims are more durable and sustainable and provide a clean extrusion profile. Aluminum expansion and contraction is far less than steel which helps keep the integrity of the trim.
Most extruded shapes for architectural use are fabricated from 6063 aluminum alloy, with magnesium and silicon as the alloying elements. Type 6063-T5 Aluminum, commonly referred to as the architectural alloy, has a very smooth surface and is the best alloy suited for anodizing applications. The T5 designation indicates it has been artificially aged and moderately heat-treated. Aluminum extrusion is a highly versatile metal-forming process that has a wide array of physical characteristics. In all cases, extruded aluminum is a sustainable material, commonly with 75 percent to 100 percent postindustrial and post-consumer content. As such, extruded aluminum trim can contribute to LEED points for buildings seeking certification or green building status.
The installation of extruded aluminum trim is typically very straightforward. In particular, two-piece extruded aluminum profiles are recommended for greater construction efficiency in handling tougher detailing situations. The two-piece design permits application of the base part first and then installation of the cover cap afterward. In tight-fit situations, this may be more efficient compared to using the standard trim pieces for inside or outside corners or for transitions. Due to the natural expansion and contraction of aluminum, all two-piece caps must be secured by adhesive or other means as approved by the manufacturer.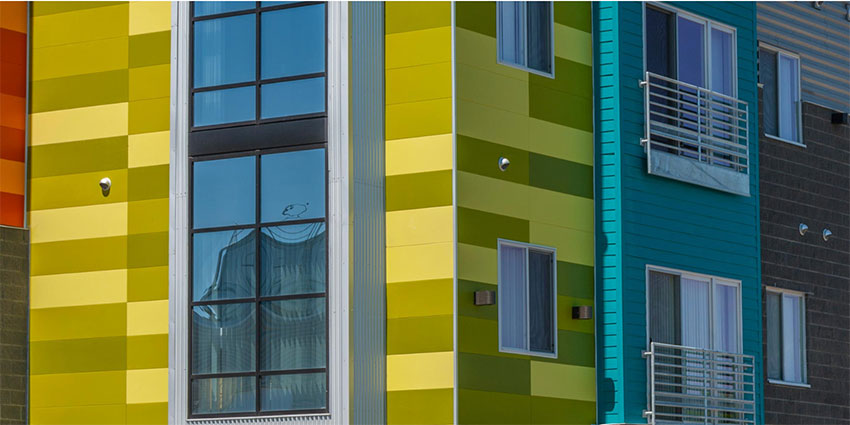 Photo courtesy of Tamlyn
Modern and contemporary designs can be created using either 1-piece or 2-piece aluminum trim products that provide long term performance as shown here at Marketplace Apartments in Lansing, Michigan. Architect: Johnson Nathan Strohe
EXPANSION JOINTS
Architectural expansion joints, predetermined gaps in large structures that are designed to absorb environmental movement in buildings, are necessary. When done right, they tend to be integrated with their construction such that they blend in with a design and almost disappear. In large multifamily buildings, they are a necessity, particularly where buildings are segmented into different sections or if they attach to another structure such as a parking garage or other commercial use.
Originally published in Architectural Record
Originally published in September 2023
Notice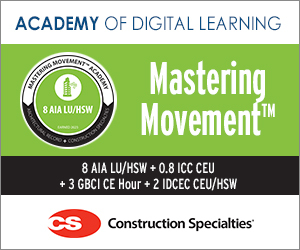 Living with Neighbors
Buyer's Guide
Elevators that Last + Leave Lasting Impressions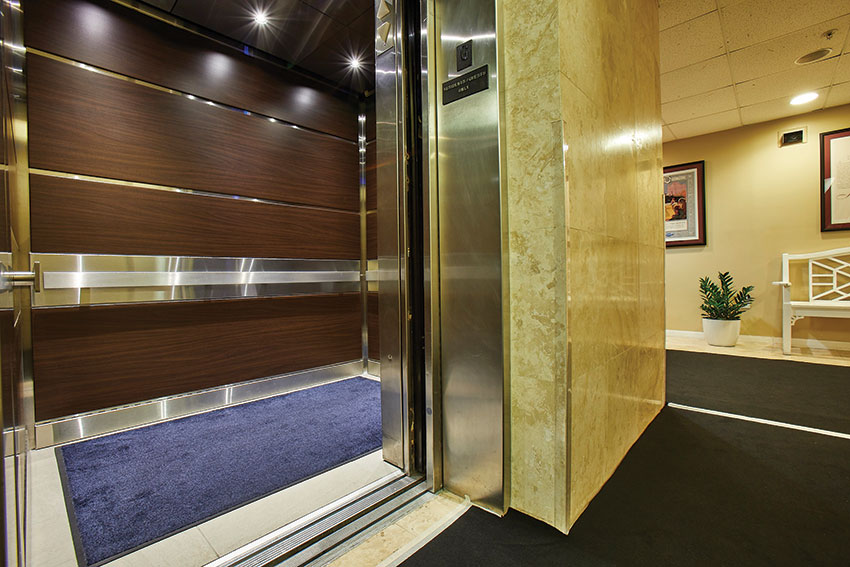 Elevator Interiors that won Elevator World's Product of the Year in 2022. Inpro's industry exclusive cab panels are clad in Palladium® Rigid Vinyl Sheet, making them more durable than competing plastic laminate (PLAM) products. The fully wrapped and bonded panels are engineered to be extremely durable and impact resistant against chipping. Our patented interlocking clip system is factory installed for perfect spacing and ease of installation, engineered with installers in mind.
Easy and Cost-Effective Sound Control for Multifamily Housing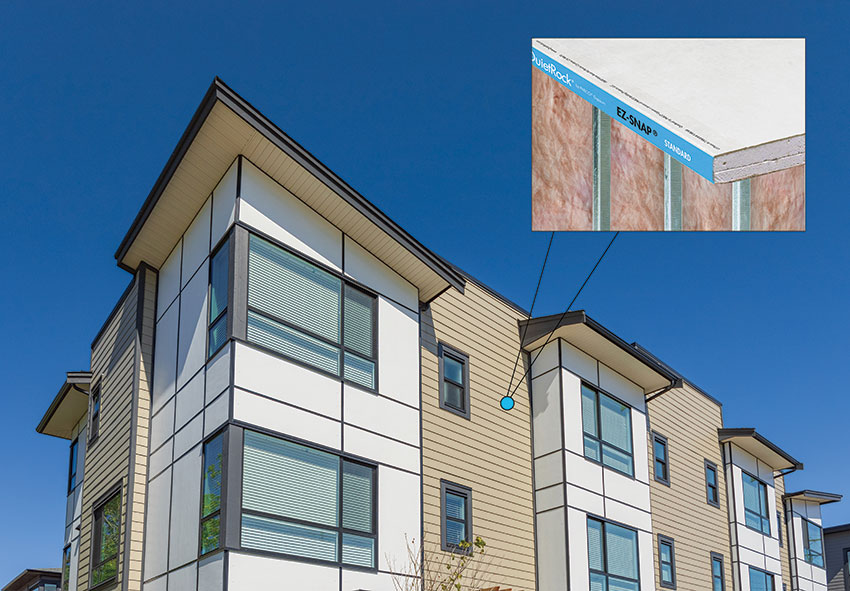 With the increasing trend toward high-density multifamily housing, sound control is more important than ever. With the help of QuietRock sound-reducing drywall, residents can enjoy a quieter home environment. Designed specifically to reduce airborne noise transmission between spaces, QuietRock will provide high sound attenuation while using less material and labor compared to other acoustic alternatives.
Achieve Clean, Modern Lines with Extruded Aluminum Trim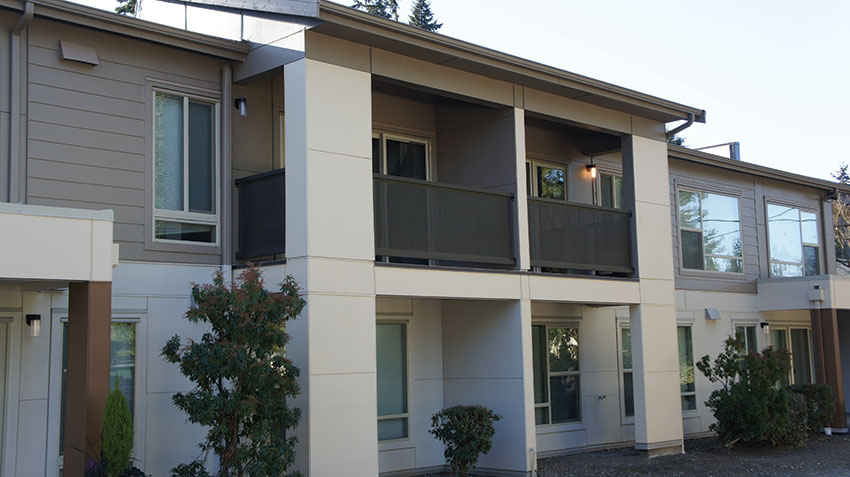 Clean, modern lines can be achieved by using extruded aluminum trim in projects. Extruded aluminum trim will give the building long-lasting trim details that will not oil can or buckle under sun exposure. Tamlyn works with architects to manufacture extruded aluminum trim for easy cladding transitions.