Multifamily buildings meeting the varied needs of their residents
Sponsored by Inpro, PABCO® Gypsum and Tamlyn
You are not currently logged in to your CE Center account.
Log in
to view and complete the quiz questions that are embedded in this article.
CONTROLLING SOUND USING GYPSUM PANELS
Residents of multifamily buildings, whether condos, apartments, co-housing units, or other types, all have a fundamental need for some acoustic privacy. They really don't want to hear their neighbors in an adjacent unit on either side, above, or below them and they certainly don't want to feel like those neighbors can hear what they are saying or doing. Therefore, reducing the noise transfer from one living unit to another and between a living unit and a common area (hallways, community room, amenity spaces, etc.) can result in more satisfied owners and renters, less turnover, and fewer vacancies.
From a design perspective, achieving this common goal of acoustic privacy means calling for wall assemblies and floor/ceiling assemblies with adequate Sound Transmission Class (STC) and Impact Insulation Class (IIC) ratings. The higher the STC or IIC rating for a particular assembly, the less sound that is transferred between units. The International Building Code (IBC) calls for an STC rating of 50 for walls that separate dwelling units, but many designers and developers/owners are questioning if that is really high enough to meet the expectations of occupants.
In response, design professionals seeking to achieve greater acoustical performance without unduly thick walls or creating higher costs are finding that there are options available using sound-reducing gypsum board. Such products are made as gypsum board panels but use a technique known as constrained layer damping (CLD). Products using this technique achieve high sound attenuation and fire resistance in one panel using less space, less material, and less labor than other acoustical treatments.
CLD panels are manufactured with a viscoelastic polymer central layer that allows thin gypsum outer layers to independently shear, thus dissipating the acoustic energy of sound waves. This results in less audible energy passing through the CLD board. Incorporating CLD panels into a wall or ceiling assembly allows for acoustical performance at levels higher than just using standard 1/2" or 5/8" gypsum wallboard. Since only one layer of CLD is often all that is required, the installation is easier, more efficient, and less costly than traditional systems.
Beyond the airborne sound measured by STC, IIC measures a floor/ceiling assembly's ability to insulate against structure-borne (impact) sound. Structure-borne noise is defined as any noise source whose primary radiation comes from impact (footsteps on an upstairs floor, for example) or vibration of solid structures. IIC is the main metric used in the building industry to characterize structural noise in buildings. As with STC values, the higher the IIC value of a floor/ceiling assembly, the better its ability to reduce the transmission of sound from impacts above. An acceptable IIC rating is typically 50 or above to meet code and user requirements.
In multi-story, multifamily buildings, resident comfort can be notably compromised if impact noise is detected by the occupants below. In these cases, the floor/ceiling assembly becomes the critical point of focus. One successful solution includes the use of thicker, more dense gypsum board for the ceiling material which is specifically formulated to reduce the amount of impact noise being transmitted. This solution has been successful in reducing both airborne and structural noise and is also effective for lower sound frequencies where sound attenuation has proven difficult (see acoustics case study at end of course).
EXTRUDED ALUMINUM TRIM FOR INTERIOR WALLS
Extruded aluminum trim works well not only on the exterior of multifamily buildings but on the inside too. It can be used to frame and hold fast drywall panels, millwork, acoustic ceilings, and even composite panels. The durability of the extruded aluminum is good for the protection of the edges of all those materials and makes them easier to clean. Extruded aluminum products are readily available and are designed to be used with 5/8-inch-thick or ½" thick drywall to provide continuous edge protection for drywall edges and corners. In some cases, the profile of the trim creates a recessed reveal which offers an understated but elegant design while keeping corners and edges protected.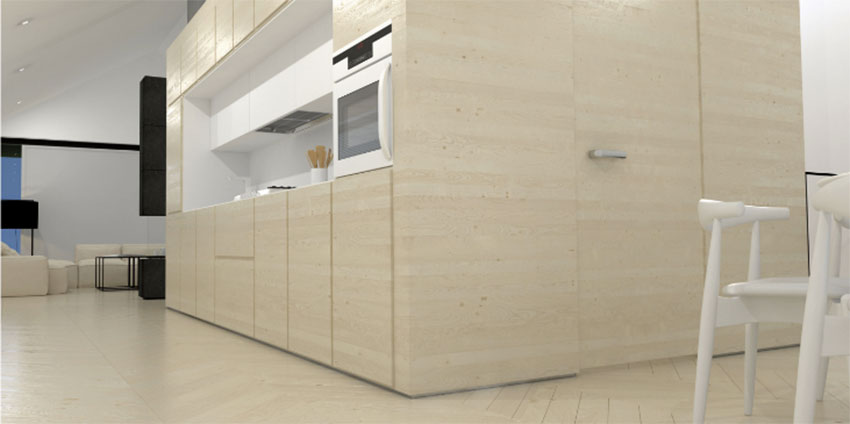 Photo courtesy of Tamlyn
Extruded aluminum trim can be effectively used for smooth transitions between different cladding panel types at inside and outside corners, edges, and other locations.
Similarly, aluminum trim can be used in conjunction with wrapped surface finishes such as fabric or vinyl wall coverings. Such trim pieces are available in a variety of traditional, contemporary, and modern looks to create subdued, elegant looks or emphatic three-dimensional appearances. Since aluminum is highly durable, recyclable, lightweight, and non-combustible, it is a popular and logical choice for interior trim. In addition, the design options, variability, and cost-effectiveness of this trim make them very well suited for both public and private spaces in multifamily buildings.
Aluminum trim products can create a minimalist shadow line with simple reveal space that allows installation vertically, horizontally, or diagonally. They commonly include ridged faces for tape & float connections with gypsum board finishing. They can also include pre-punched holes for easy installations, although hole placement may vary between profiles and products. These products are commonly made from 6063 T5 aluminum with standard clear anodized or primed finish.
Of course, the color and finish of the trim is an important design consideration, regardless of the location. Fortunately, there are many different finish options available including mill finish aluminum, anodized aluminum, standard prefinished color palettes, ready to paint finishes or custom finishing. Extruded aluminum trim can be specified in anodized aluminum in standard colors such as clear, champagne, bronzes and black. Factory prefinished trim can include liquid paint (i.e., acrylics, alkyds, polyesters, and others) or powder coatings, any of which reduces onsite labor needs. At least one manufacturer can provide custom pattern matching on the aluminum to include logos, to match wood panels or stone walls, or even create a wood grain look. Alternatively, it can be specified simply with a paint primer ready to receive final finish coats in the field of virtually any color. With this variety of choices, the trim can appear to blend in with the adjacent wall panels or it can be used to highlight all or some of the visual lines it creates.
This flexibility in using familiar and long-lasting finish options means that both the design and the performance level can be controlled.
DURABLE ELEVATOR CAB INTERIORS
Among the most used interior spaces in a multistory, multifamily building are elevator cabs. Over time, elevator interiors can get damaged, especially if the cab is used for both passengers and other purposes like moving furniture, equipment, etc. Even with the best padded intentions, furniture movers and delivery drivers can ding, gouge, and scuff walls with dollies, carts, and crates.

Photo courtesy of Inpro
Elevator cabs can make a strong first impression on building visitors and occupants as well as be designed to be durable and safe to use.
Some of the main reasons to renovate the cab interior are to update the appearance and make it more appealing by giving it a refreshed look. There may also be an interest in making the cabs more energy efficient with LED lighting or adding extra protection to the cab walls. Another reason to enhance the cab's appearance is that some people are terrified of elevators and suffer serious anxiety when riding in one. Interior upgrades can help ease those few minutes they spend riding the elevator by providing a more comfortable and appealing experience.
The most cost-effective and innovative way to carry out such an elevator cab upgrade is to use pre-configured elevator cab renovation systems from a manufacturer that has a specialty line of products to address these needs. This system can include any or all of the following elements.
New Wall Panels: The elevator panels that line the walls are what primarily make up the appearance of the cab. These panels also typically take quite a beating. Fortunately, the panels can be made of durable and rugged materials that can be made to look like any range of materials from wood to metal to stone or custom choices.
New ceilings and lighting: Elevator ceilings come in many different styles and can be selected to suit an overall design concept. Lighting in elevator cabs can be chosen from among common lamping options such as halogen, incandescent, fluorescent, or energy-efficient LED. Keep in mind that people tend to be more comfortable in a well-lit interior, so combining a brighter ceiling with increased lighting output can help people feel more relaxed inside not to mention creating a newer and cleaner look.
New Handrails: Handrails in elevators get attention for ADA or accessibility code requirements but they also provide stability for users (i.e., something to grasp) while the elevator stops and starts. This is particularly true for people who are elderly, disabled, or injured and might need help to reduce the risk of a fall. By providing a stand-off surface from the wall of the cab, it can reduce the chance of equipment or furniture striking the wall panels.
Paying attention to both the appearance and durability of elevator cabs can clearly pay off in terms of creating successful, innovative interiors and better experiences for users.
Originally published in Architectural Record
Originally published in September 2023
Notice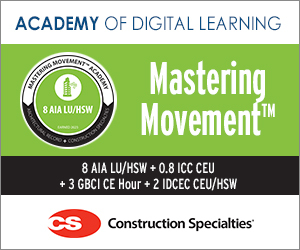 Living with Neighbors
Buyer's Guide
Elevators that Last + Leave Lasting Impressions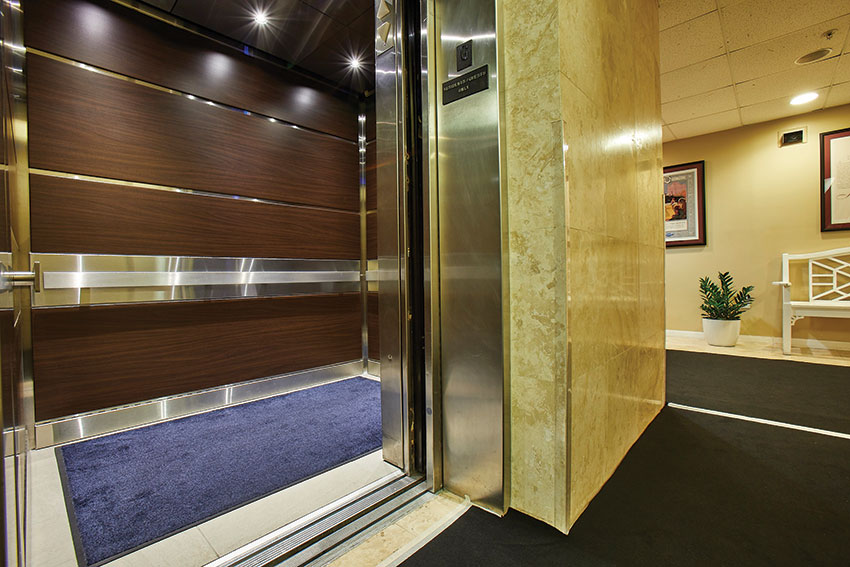 Elevator Interiors that won Elevator World's Product of the Year in 2022. Inpro's industry exclusive cab panels are clad in Palladium® Rigid Vinyl Sheet, making them more durable than competing plastic laminate (PLAM) products. The fully wrapped and bonded panels are engineered to be extremely durable and impact resistant against chipping. Our patented interlocking clip system is factory installed for perfect spacing and ease of installation, engineered with installers in mind.
Easy and Cost-Effective Sound Control for Multifamily Housing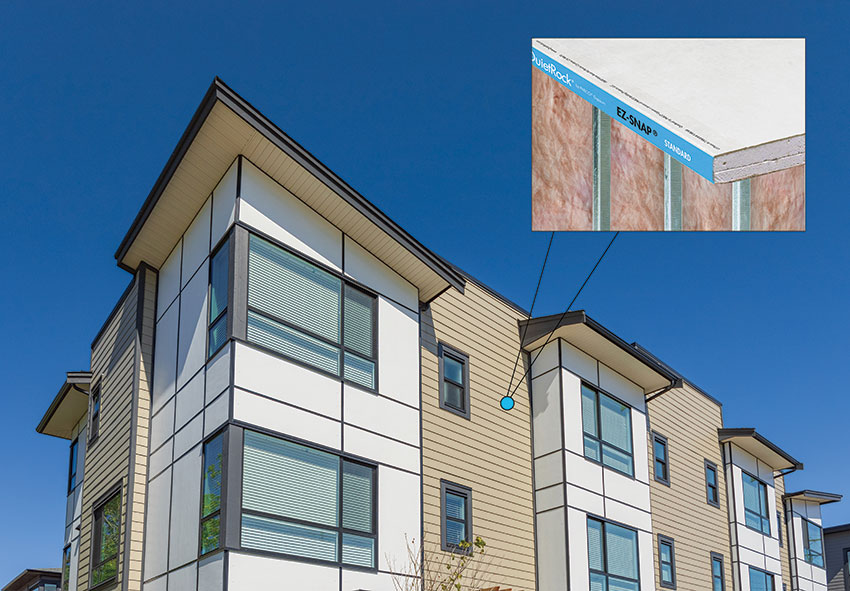 With the increasing trend toward high-density multifamily housing, sound control is more important than ever. With the help of QuietRock sound-reducing drywall, residents can enjoy a quieter home environment. Designed specifically to reduce airborne noise transmission between spaces, QuietRock will provide high sound attenuation while using less material and labor compared to other acoustic alternatives.
Achieve Clean, Modern Lines with Extruded Aluminum Trim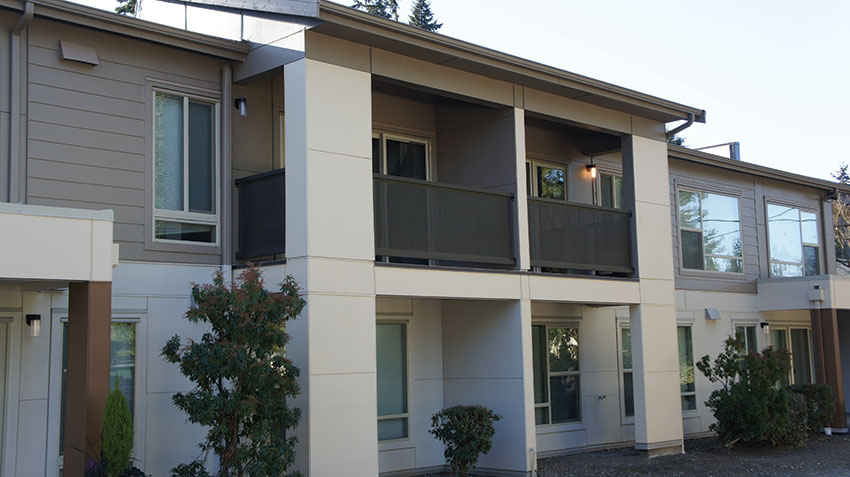 Clean, modern lines can be achieved by using extruded aluminum trim in projects. Extruded aluminum trim will give the building long-lasting trim details that will not oil can or buckle under sun exposure. Tamlyn works with architects to manufacture extruded aluminum trim for easy cladding transitions.