Innovative Design Trends for Health-Care Environments
From doors, hardware, and access control to rolling shades and flexible walls, the latest design advances make a positive impact on patient care and facility ROI
Sponsored by AD Systems, AMBICO Limited, dormakaba, Clickeze® Privacy Systems, a division of Inpro®, and SIMONSWERK North America
This test is no longer available for credit
Door Openings and Functionality
Beyond access control, architects must also recognize the importance of maintaining the functionality of a door or opening and how to design a health-care building with that functionality in mind. Oftentimes, this means finding the right hardware.
One new product type to help meet this goal is a three-way adjustable hinge system, which has been used successfully in Europe for many years in high-frequency institutional, commercial, and industrial applications, such as office buildings, schools, hospitals, and airports. Typically, continuous hinges are used in applications requiring robust hinges in North America. However, now there is a hinge system of a similar durability with an additional three-way adjustability feature.
Rudy Kessler, CEO of SIMONSWERK North America, explains, "Nearly every hinge in any European health-care facility is adjustable. When I moved to the United States, I saw the difficulty in maintaining a common commercial door. I wondered why they were going through such trouble and saw the opportunity for adjustable hinges. With recent advancements, there is now the ability to bring this type of system to a North American market and educate the architectural community on how adjustable, heavy-duty hinges can simplify the overall maintenance of an opening."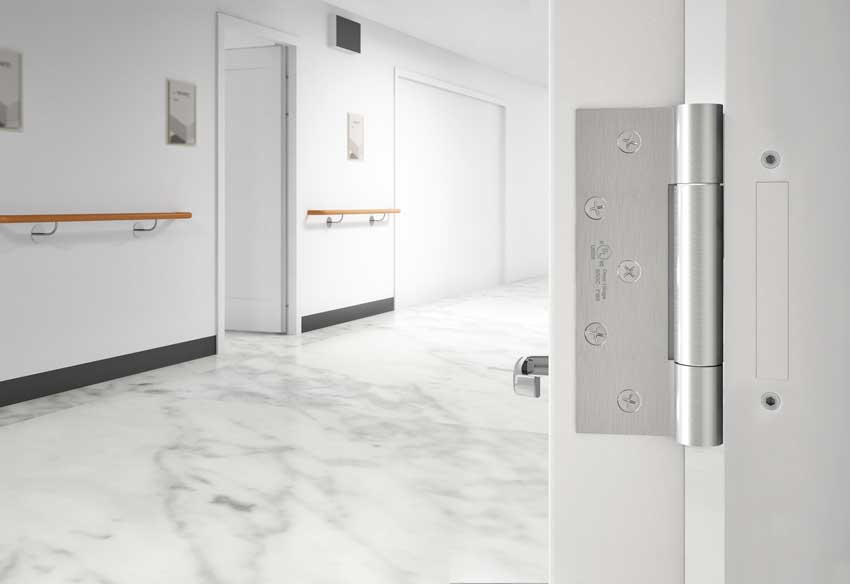 Photo courtesy of SIMONSWERK North America
The correct door hardware, including hinge systems, can be a key factor in maintaining functionality within a health-care facility.
Walls and Curtains
Flexible Wall Protection
Beyond doors and door hardware, walls and wall protection is another area of importance in designing successful health-care facilities. As an example, there is a trend toward flexible wall protection with products that offer the ultra-durable performance of rigid sheet wall protection but in a flexible product, and are also available in an assortment of patterns and colors to match any décor.
A new generation of products is now available that combine the flexibility to become the showpiece of any interior, yet are durable enough to handle the harshest environments. Thomas Larwa, senior product manager at Inpro, explains the trend, noting, "Until now, designers have had to either compromise the look of their design with a traditional product or sacrifice preserving interiors for aesthetics. There are products in the market today, such as specialized flexible wall protection, that offer the aesthetic of wall covering but are very resilient."
Antimicrobial Protection
Further, these products are not only able to resist the wear and tear that walls in health-care facilities receive, but they also fend off stains (and even graffiti), which can be removed completely from the surface, without damage, using the strongest of standard liquid cleaners. Silane-based antimicrobial fabrics are used for privacy and shower curtains, helping to fight odor-causing bacteria, mold, and mildew, along with the superior stain resistance mentioned above and being liquid repellent—making them ideal for cubicle curtains, shower curtains, window treatments, and bedspreads.
Another option being employed is the use of snap-panel curtains, which allow for easy change-outs of soiled panels. Both antimicrobial fabric and snap-panel curtains reduce the need for major laundering of curtains. When combined with standard track, these curtains are the better choice over certain proprietary curtain systems that end up locking the end user into higher-cost products, which can be very expensive over time. The idea is to help keep a facility cleaner and avoid higher expenses to do so.
Photo courtesy of Inpro
Antimicrobial cubicle curtains were installed at the new Parkland Hospital in Dallas.
Curtain Tracks and Privacy
Bendable privacy curtain tracks are another option, allowing curtains to be placed in any configuration. An additional benefit is the track and carriers are quieter, which can be an added benefit to a hospital's overall noise-reduction program to help speed healing.
Originally published in Architectural Record
Notice