Innovative Design Trends for Health-Care Environments
From doors, hardware, and access control to rolling shades and flexible walls, the latest design advances make a positive impact on patient care and facility ROI
Sponsored by AD Systems, AMBICO Limited, dormakaba, Clickeze® Privacy Systems, a division of Inpro®, and SIMONSWERK North America
This test is no longer available for credit
Fenestration, Daylighting, and Controlling Heat Gain in Behavioral Facilities
The final topic we'll discuss here are products that aid in maximizing the benefits of daylighting and also control heat gain. As our main example, we'll take a look at roller shades and the benefits they bring to health-care settings, with a specific focus on mental health/behavioral facilities.
Roller Shades
The benefits of roller shades lie in the ability to take advantage of daylighting and control heat gain, while still allowing for an outdoor view depending on the fabric's openness pattern. In addition, allowing patients to adjust the level of light or brightness increases their sense of control.
Experts note that it is important to select shades specifically manufactured for use in behavioral facilities. They should feature:
enclosed security roller boxes,
cordless operation,
durable fabrics that are easy to clean but difficult to damage, and
locking devices that resist tampering by patients. On this last point, cordless roller shades can be much more cost effective and offer lower maintenance than encased blinds.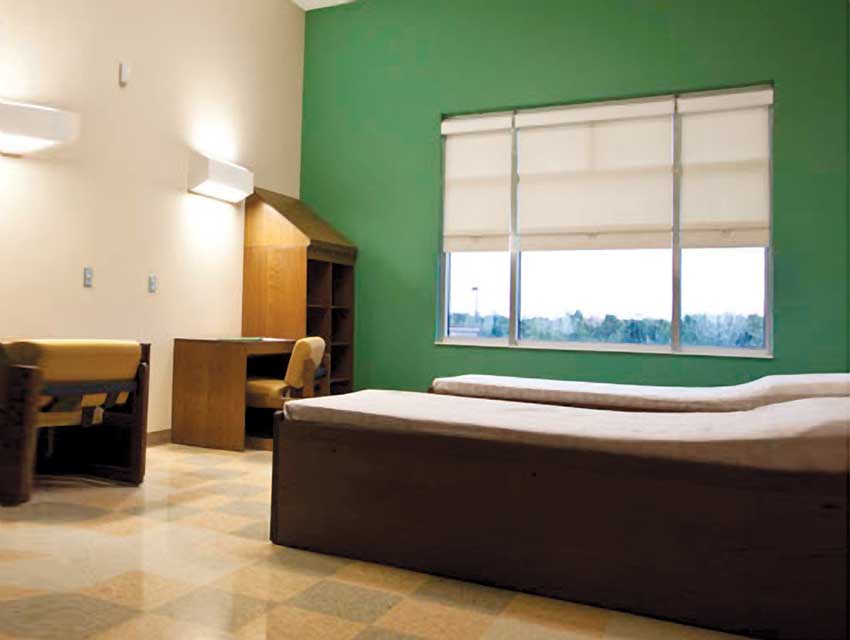 Photo courtesy of Inpro
Roller shades can offer numerous benefits—from allowing in natural light to providing patients with a greater sense of control of their environment.
Printed roller shades: Printed roller shades provide all the same benefits but go a step further. Again, the introduction of nature scenes has a benefit of reducing patient stress. An additional benefit of healing window treatments is that they reduce destruction where framed artwork is not allowed. There is anecdotal evidence from administrators at several behavioral health facilities that patients tend to not vandalize window shades in spaces where printed shades were installed. Patients appreciated the printed images and were less likely to damage or destroy them, due in part to decreased anxiety.

Photo courtesy of Inpro
Personnel at behavioral health facilities report that patients were less likely to vandalize printed window shades.
Conclusion
According to a recently published article in Global Advances in Health and Medicine, "The U.S. health-care system is facing unprecedented challenges related to escalating costs, an aging population, health-care reform, and a struggling economy. In light of these challenges, there is an urgency to evaluate and implement new approaches and models of care with emphasis not just on curing disease but on prevention, wellness, and managing population health." It goes on to say that "aligning mission and purpose with business strategies" is a powerful driver of financial success. Research conducted by Gallup scientists concluded that "mission can drive margin through loyalty, customer engagement, strategic alignment, and clarity for decision-making and priorities."2
That said, with product advancements such as those discussed in this course, architects and designers are armed with the tools they need to continue working toward a goal of maximizing efficiencies and functionality in health-care settings—always with patient care and occupant well-being in mind. From optimizing acoustics, reducing infections, and creating safe passage down hallways and into patient rooms to safety and security concerns and structural integrity, these products as well as a host of others will continue to support the needs of patients and their family members as well as staff and facility owners.
End notes
1Huisman, E.R.C.M. et al. "Healing environment: A review of the impact of physical environmental factors on users." Building and Environment. Volume 58, Pages 70–80. December 2012. Web. 7 Nov. 2017. www.sciencedirect.com/science/article/pii/S0360132312001758.
2Sakallaris, Bonnie R. et all. "The Business Case for Optimal Healing Environments." Global Advances in Health and Medicine. 1 Jan. 2016. Web. 7 Nov. 2017. www.ncbi.nlm.nih.gov/pmc/articles/PMC4756787/.
Originally published in Architectural Record
Notice