Health and Safety in Hospitality and Retail
Designing public places in a post-pandemic world
Sponsored by Bison Innovative Products, CornellCookson, Mitsubishi Electric, and Tamlyn
This test is no longer available for credit
DURABLE, CLEANABLE EXTRUDED ALUMINUM TRIM
Increased concern for cleanliness has become a focus of many retail and hospitality settings as owners and managers seek to comply with health regulations and curtail the spread of disease. As a result, walls and other surfaces have been subjected to more frequent cleanings and sometimes with more powerful cleaning agents. That is all good if the materials on those surfaces are durable enough and easily cleaned. This is true not only for the basic surface material but also the trim that is usually required along all the edges.
Considering the need for greater durability and cleanability, as well as the need to protect edges and base conditions from damage, a trim material of choice is extruded aluminum. Manufacturers offer numerous standard and custom trim profiles that allow architects to create cohesive details using a product that offers greater durability and protection of the surface materials. There is even the ability to create details specific to a particular hospitality or retail brand where desired, and numerous finishes to fit the brand as well.
Extruded Aluminum Trim for Interior Walls
Extruded aluminum trim is being successfully used on drywall, millwork, acoustic ceilings, and even composite panels. This is good for the protection of the edges of all those materials and makes them easier to clean. In addition, the design options, variability, and cost-effectiveness of this trim make it very well-suited for hospitality and retail settings.
The trend in modern designs for retail and hospitality settings includes minimalist lines and the intentional absence of traditional wood moldings for doors, windows, ceilings, and base conditions. Many interior designs therefore lean toward a simpler, more elegant wall solution with a clean, modern look. Others may be focused on a more traditional or three-dimensional appearance for wall corners, base, and ceiling conditions. Still others may select certain walls to feature with added detailing and trim to create a total design appearance. All these different styles or looks are readily achievable using manufactured trim pieces made from aluminum extrusions.
Extruded aluminum products are readily available and designed to be used with 5⁄8-inch-thick drywall to provide continuous edge protection for commercial use plus a 1⁄2 inch where applicable. Similarly, aluminum trim can be used in conjunction with wrapped surface finishes, such as fabric or vinyl wall coverings. Such trim pieces are available in a variety of traditional, contemporary, and modern looks to create subdued, elegant aesthetic or emphatic three-dimensional appearances. Since aluminum is highly durable, recyclable, lightweight, and noncombustible, it is a popular and logical choice for hospitality and retail interior trim.
Of course, the color of the trim is an important design consideration, regardless of the location. Fortunately, there are many options beyond the standard mill-finish aluminum. Extruded aluminum trim can be specified to be finished with a paint primer only, ready to receive final finish coats in the field of virtually any color. Alternatively, it can be specified as prefinished in the factory, reducing the on-site labor needs. The standard prefinished choices vary by manufacturer but typically include durable powder-coat paint, conventional wet paint coatings, or anodized aluminum in standard colors, such as clear, champagne, bronzes and black. At least one manufacturer can provide custom pattern matching on the aluminum to include logos, match wood panels, match stone walls, or even create a wood-grain look. With this variety of choices, the trim can appear to blend in with the adjacent wall panels, or it can be used to highlight all or some of the visual lines it creates. This flexibility using familiar and long-lasting finish options means that both the design and the performance level can be controlled.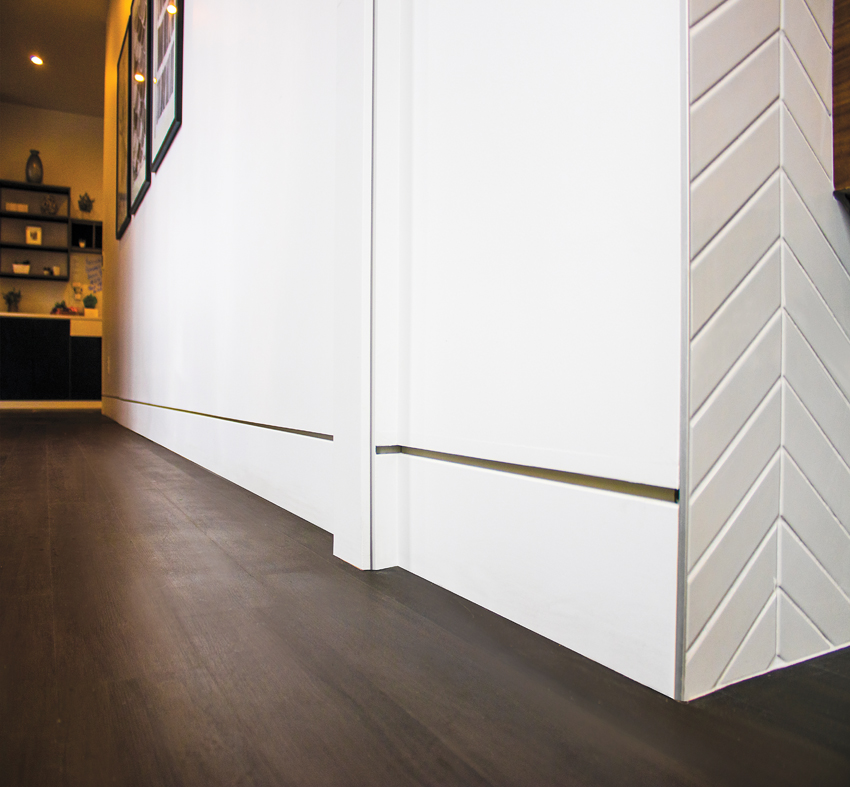 Photo courtesy of Tamlyn
Extruded aluminum trim can be used on interior wall surfaces to provide custom looks, durable protection, and easy-to-clean surfaces.
Exterior Panel Trim
Building exteriors can benefit from the use of extruded aluminum trim too. Many retail and hospitality facilities use panelized cladding or rainscreen systems. Commonly, this cladding is incorporated from standard size panels or lapped siding made from fiber cement, composite material, engineered wood, or even thin composite aluminum panels. Designing with such materials is straightforward, but attention needs to be paid to the way the panels are secured to the building and how the edges, joints, transitions, and other details of the panels or siding are addressed. Typically, some sort of trim has been applied to accomplish this using wood, composite, or plastic-based materials. While those are effective and can be good for some buildings, their width, bulk, and ongoing maintenance can make them less desirable for use and detract from the overall facade design.
As an alternative to traditional exterior trim, many architects are turning to the use of thin, extruded aluminum trim systems. The use of extruded aluminum in buildings in general is common due to the versatile nature of the material and its durability. When used to hold the edges of exterior wall panels, it provides architects with a unique means to detail corners, vertical and horizontal joints, and material transitions. It can be specified in common thicknesses and profiles to suit any of the lightweight cladding materials already mentioned. Extruded aluminum trim can even be provided in sizes and styles that work with multiple panels, enabling architects to vary the material choices within their facade designs while still keeping details that will have a similar language. The variety of available extrusion profiles can create a recessed reveal between cladding panels or project outward to accentuate the lines of the design. Used in any of these ways, it has typically been shown to be less expensive with a more elegant look of clean lines than with other options.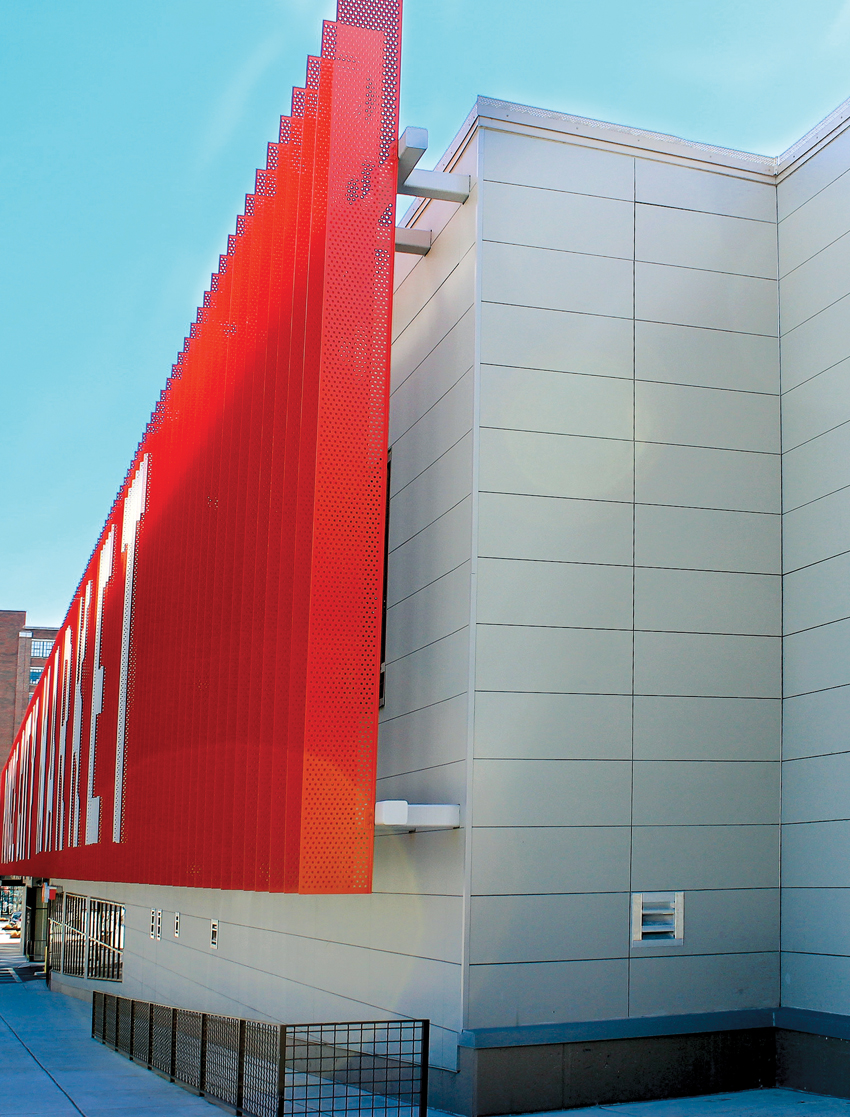 Photo courtesy of Tamlyn
Extruded aluminum trim can be effectively used for smooth transitions between different cladding panel types at inside and outside corners, edges, and other locations.
Trim for Retail and Hospitality Buildings
Places that need to achieve good interior looks with a lot of durability, like retail and hospitality settings, quickly see the benefit of using extruded aluminum trim in conjunction with prefinished wall panels or site-finished gypsum board. For example, many fast-food restaurants often go through cycles of renovating and updating their locations to remain appealing to customers and competitive in the marketplace. The current trend among many of them, such as McDonald's, Dunkin Donuts, Burger King, and others, is to move to a sleeker and more modern motif, replacing some prior looks that are more visually cluttered and outdated in appearance. In the process, many are using prefinished wall panels with a selected wood grain or color as their primary wall surface. Then they are incorporating aluminum trim in coordinated finishes to provide durable corner and wall base conditions. They may also use aluminum trim pieces to create intentional reveals in the walls between the panels or at interior corners. Along the ceiling line, some incorporate an extruded aluminum trim piece that acts as a ceiling molding to complete the overall look and design intent.
Hospitality settings similarly require durability but may have a different aesthetic in mind. In these cases, extruded aluminum trim may be used with gypsum board to create defining lines along a wall surface or at the intersection of wall elements. Reveals are particularly popular in that regard and can be provided in a thin, minimalistic manner to simply reinforce vertical or horizontal lines, or to create an artistic accent on a wall. For a bolder, more three-dimensional profile, two-piece assemblies are available that allow a squared, rounded, or oblong shape to be inserted into a reveal that protrudes past the wall surface and creates a different shadow line and overall look.
Bailee Hoelzer, interior specification specialist with Tamlyn, provides some insight into the products and their makeup. She points out that "6063 is the 'architectural alloy' for aluminum extrusions and has a very smooth surface, allowing for varied finishes, such as anodized, powder coating, and others, that give the architect and owners the ability to choose a finish that fits their desired look on the properties. Further, the flexibility of this material allows for a partnership between the manufacturer and the designer or owner to promptly create custom profiles or detail as needed with only small minimum-sized orders needed for production."
IMPROVED HVAC SYSTEMS
All discussions of wellness in today's buildings usually include a focus on HVAC systems. In fact, the AIA report identifies one of the commonly recognized risks as "aerosolized transmission of droplets." Hence, the report goes on to recommend "recommissioning and enhancing ventilation systems." Attention to these systems should include the ways that the building is heated and cooled as well as how it is ventilated. Further, the energy-use impacts of these systems are always critical in retail and hospitality buildings.
Variable Refrigerant Flow (VRF) Systems
While retail and hospitality buildings can incorporate many different types of heating and cooling systems, considerable success has been found in recent years by using variable refrigerant flow (VRF) systems. VRF systems move conditioned refrigerant directly to the zone requiring heating or cooling, allowing the temperature of that area to be more precisely controlled. They can simultaneously cool some zones while heating others or just provide conditioning to zones that are in use.
VRF systems are considered a superior heating and cooling option for building owners who are looking for energy efficiency, guest comfort, streamlined maintenance, and management. From a design standpoint, they offer discreet aesthetics, operational savings, and sound control. All of these attributes make energy-efficient VRF systems an ideal HVAC option for retail, mixed-use, hotel, lodge, and other hospitality applications. Further, VRF systems can be designed for small- or large-scale applications in both new construction and retrofit/renovation projects.
VRF systems should be paired with compatible ventilation systems to address all health and comfort needs. While ventilation systems are commonly installed separate from heating and cooling systems, some manufacturers may provide both types of equipment, which is preferable for initial design, pricing, and installation. Using a single manufacturer for all equipment streamlines ongoing service and maintenance as well. Ventilation systems need to be ducted to move air and are designed to exhaust air from inside the building and replace it with fresh air from the outside. Removing the conditioned air and replacing it with unconditioned outside air requires energy to ensure that the proper temperature and/or humidity level is met. As such, with high volumes of air brought in for conditioning, it is critical that ventilation equipment operates in an energy-efficient manner.
Part of the key to the energy efficiency of VRF systems coupled with appropriate ventilation systems is their ability to be readily designed and installed to operate in zones, thus providing improved comfort control to different indoor environments. Zones can be defined as single- or multiple-room spaces that are conditioned to a set temperature and operated independently from other rooms within the same structure. This allows facility managers to control each guest room in a hotel, for example, independently from other guest rooms. Or it can allow retail spaces to be controlled separately from hospitality spaces and common areas in mixed-use buildings. By using integrated, streamlined controls, hotels and lodges have a comprehensive HVAC solution that promotes wellness, efficiency, and operational savings.

Photos courtesy of Mitsubishi Electric Trane HVAC US (METUS)
Variable refrigerant flow (VRF) systems move conditioned refrigerant within facilities and can be either air based (left) or water-source heat-pump based.
Originally published in Architectural Record
Originally published in June 2021
Notice