Health and Safety in Hospitality and Retail
Designing public places in a post-pandemic world
Sponsored by Bison Innovative Products, CornellCookson, Mitsubishi Electric, and Tamlyn
This test is no longer available for credit
Space-Saving Design Potential
The space required for mechanical equipment is often a concern in many buildings. Compared to traditional HVAC options, compact VRF systems are space saving and quiet. These features allows designers to retain room for other design features or amenities nearby the equipment. This could include an outdoor rooftop space where mechanical equipment might otherwise have been installed.
Inside the building, VRF systems utilize small-diameter piping to move conditioned refrigerant. This allows for smaller plenums with a reduction of space required between floors. As such, ceilings can be higher and rooms can appear more spacious within standard floor-to-floor heights. Taller spaces may also provide opportunities to increase window sizes for increased natural lighting. Alternatively, architects can demonstrate how to reduce construction costs by designing shorter buildings with the same amount of usable floor space. In some cases, smaller plenums may allow the floor-to-floor heights to be reduced enough that an additional floor may be possible, thus increasing the overall square footage or usable space.
VRF equipment throughout the building is also compact compared to conventional HVAC units and is distributed rather than centralized. This reduces space requirements for mechanical rooms inside the buildings, which may help to decrease the building footprint or simply allow more space for other building uses.
Ryan Bean is the director of development for the Sydell Group and has direct experience in this aspect of hospitality buildings. He notes, "Space constraints are a major factor for us. Many of the existing city properties we develop are built lot line to lot line. There is no space to build a centralized plant that has cooling towers, boilers, and chillers. VRF is ideal for us because we can put units on the roof that have a small footprint." For example, in the NoMad LA Hotel, the use of VRF systems allowed space for a rooftop pool, a bar, restrooms, and a restaurant. Having revenue-producing outlets there is an obvious benefit to hotel developers and operators.

Photos courtesy of Mitsubishi Electric Trane HVAC US (METUS)
VRF systems can be combined with ventilation systems and controlled for separate zones to provide a complete, coordinated, energy-efficient HVAC system.
PROVIDING GREATER SECURITY
The recent pandemic year has been a challenging one for many, leading to people feeling the strain of COVID-19 impacts, job losses, and social unrest. This has left many retail and hospitality owners and operators asking whether a standard security design is really enough to protect their buildings, inventory, customers, and employees.
Architects and other design professionals commonly understand that it is important to design retail, hospitality, and parking facilities for life safety and loss prevention, but in the minds of many, this has become the number-one priority. Of course, it is important to communicate with owners and others that having the proper security measures does not mean that aesthetics need to be sacrificed. Few people find a building to be welcoming or inviting if it appears to be unduly fortified. Since the whole goal of retail and hospitality buildings is to attract guests or customers to them, it is contradictory to design a building that looks like it is trying to keep people out. Instead, designers should focus on incorporating available security options that are visually undetectable or blend seamlessly into the building or its surroundings when the building is open and operating. When needed or after hours, a security system can be deployed that closes off the access to the establishment to provide the needed degree of safety and separation.
In light of the above, we consider three specific strategies that are useful in retail and hospitality settings.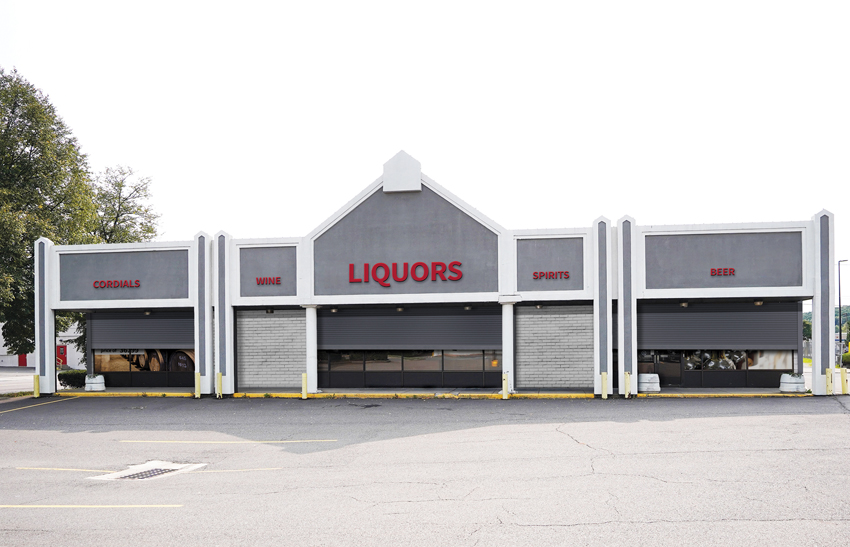 Photo courtesy of CornellCookson
Retail security doors can be specified to provide the appropriate level of protection while rolling up out of sight when not needed or in use.
Retail Security Doors
Retail store owners are looking for ways to secure their businesses and strengthen protection for buildings and employees. Roll-up steel doors that have always been available to cover windows, glass doors, and other fenestration are a logical choice. However, some of these products are either meant for only standard-level protection or offer too many extra features that may not be needed or affordable. Manufacturers have responded by offering new product choices that provide the sweet spot of a heavy-duty rolling door without going to the unnecessary extreme.
When specifying roll-up steel doors for protecting retail stores, some of the features to review and consider include the following:
Certifications: If doors are specifically designed for security in retail applications, they should be tested for specific performance characteristics. In the case of one manufacturer, a 14-foot x 10-foot door required more than 4,500 pounds of effort to lift the door 3 inches upward. Similarly, the door withstood up to 2,500 pounds of push effort without the curtain leaving the guides. If even further enhanced protection is desired, some roll-up doors are also certified by third-party agencies to perform to the Department of State standards for forced entry.
Hood: The hood enclosure that contains the rolled-up door should be galvanized steel and can be ordered in a color to match the curtain or the building.
Curtain: An appropriately heavy-duty curtain is at least 18-gauge galvanized steel with interlocking roll-formed slats. It is also desirable to have continuous end locks riveted to the ends of the slats. It can also be specified to come with a screw kit that allows the top slats to be attached to the barrel to prevent lifting attempts.
Guides: The side guides for the curtain should be structural steel, specifically angle assemblies that bolt to the wall and support the weight of the door.
Brackets: The side brackets should also be made from steel and bolted to the guide assembly to stabilize the counterbalance shaft and the curtain.
Bottom bar: Heavy-duty bottom bars up to 6 inches tall can secure the bottom of the curtain and resist damage.
Operation: Some manufacturers will provide a standard motor operation that can be upgraded to allow for automated operation, plus a hand chain and battery backup in the case of a power outage.
Locking: Consider locking that is tamper proof and more heavy duty with slide bolts thrown via a thumb turn versus standard cylinder locking.
Specialized end locks: Continuous cast end locks should be used to keep the curtain in the guides during violent impacts or crowd pressures.
Fasteners: Only tamper-resistant fasteners should be used.
All these features together allow the door to withstand moderate risk with three or more attackers and a few hand tools. Doors like these are extremely versatile, making them well-suited for any storefront or back-of-house application. They are available as a standard service metal door or an insulated door. They can typically be installed on interior or exterior openings and are available in a range of standard finishes and colors. High-Performance Roll-Up Grilles
Hospitality and retail facilities increasingly include parking areas, such as garages or underground parking levels. The entrances to that parking can be a security issue or other problem if not controlled. Hence, the use of roll-up metal grilles has become a means to address these concerns with some of the following characteristics:
Cleanliness: Parking garage doors limit access by uninvited guests, preventing unnecessary foot traffic and tailgaters.
Security: Sealing a parking garage with a durable closure deters criminal activity, thus increasing safety and security.
Comfort level: When visitors park in the garage, having a closure in place helps reassure their sense of safety.

Photos courtesy of CornellCookson
High-performance roll-up grilles can be used for parking garage entrances and other locations to help keep control of vehicular and pedestrian exit and entry.
Custom security grilles are manufactured to fit both new buildings and existing structures. In particular, grille patterns can be designed to be smaller in size and roll up into a more compact area to fit into lower overhead spaces. This is specifically useful for parking garages and other low-clearance openings where the space above an entrance may be limited due to mechanical, electrical, and plumbing systems (MEP). These durable closures achieve a compact size with smaller vertical links and horizontal coils without sacrificing security. This results in nearly 50 percent more space when coiled, allowing more room for ADA vans and taller vehicles. At least one manufacturer provides a very quiet operation, makes them available in straight or brick patterns, and offers several finishes, including stainless steel, aluminum mill, and clear anodized. In addition to being compact, high-performance security grilles like this are engineered and tested to operate smoothly for 500,000 open/close cycles at speeds of up to 24 inches per second.
High-performance compact parking grilles can be readily paired with a separate control panel so programming and setting limits for a parking entrance is simple. Safety is addressed with light curtains plus photo eyes to prevent potential harm or injury from the parking security grille. It is also possible to specify a direct drive operator that eliminates sprockets and chains, lessening wear and tear and frequent replacements. Further, perimeter parts can be customized, allowing a grille to be manufactured to exact specifications.
From an appearance standpoint, note that both high-performance grilles and retail security roll-up doors can be installed with the guides buried into the structure, providing a seamless look within the building. This allows for a more aesthetically pleasing look when the closure is opened or closed. In this manner, it is nearly undetectable when in the open position, yet it can be deployed to close at any time.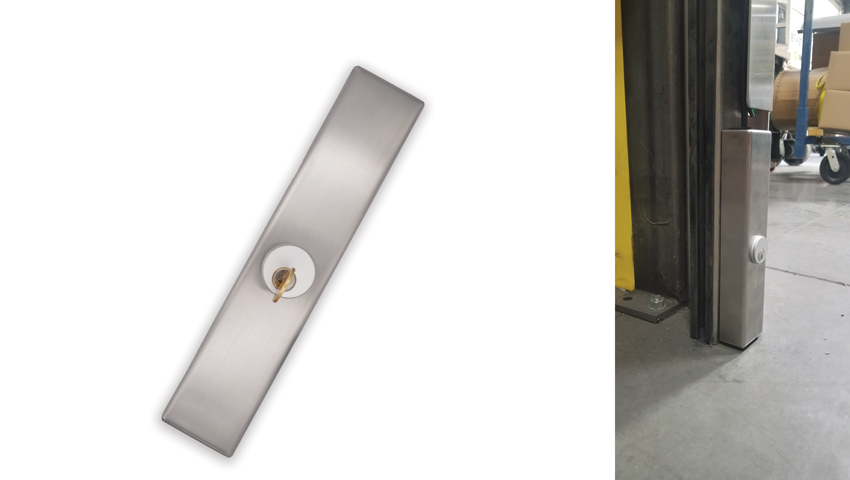 Photos courtesy of CornellCookson
Electronic automatic locks can be incorporated into the guides of select high-performance grilles to provide additional security and safety.
Electronic Automatic Locking
In some cases, there is a concern for grilles to be locked and secured automatically without needing an employee to physically access the grille. For these situations, an electronic lock can provide automatic locking protection, which is a particularly unique feature in high-performance grille products. Such locks are seamlessly mounted to the guides so they automatically engage the cylinder lock each time the grille closes. This arrangement provides additional lift resistance without compromising aesthetics, headroom, or performance.
Electronic automatic locking is available on some high-performance grilles. The locks can be a standard or tapering locking option, both with less than a 1-inch projection past the guide. If electrical power is lost or compromised, these locks will stay locked when the grille is in the closed position. Whenever needed, they can also be overridden with a key.
Heather Bender is the strategic marketing manager with CornellCookson and has observed the lift-resistance testing on high-performance grilles with electronic locks. She notes, "The locks were able to withstand up to 1,200 pounds of force on grilles with aluminum guides and up to 940 pounds of force on stainless steel guides without the bottom bar lifting over the lock." This degree of performance offers considerable safety and security for the buildings where they are used.
Originally published in Architectural Record
Originally published in June 2021
Notice