Designing Green: The Seen and the Unseen
Integrating components to achieve holistic performance
Sponsored by Accurate Perforating, ARCHITECTURAL GRILLE, Benjamin Moore, EXTECH/Exterior Technologies, Inc., and ZIP System®, by Huber Engineered Woods
This test is no longer available for credit
Architectural and HVAC Specialties
When designing a green or sustainable building, the use of rating systems and standards helps in determining the degree to which different goals are achieved. While programs like LEED and WELL recognize different certification levels, allowing designs to pick and choose which attributes to pursue, full certification in the Living Building Challenge requires that 100 percent of the building needs to comply with the criteria. The LBC does allow recognition for individual Petals that make up the total program, but everything in the requirements for the Petals must be met. The implication of this total approach is that everything in the design and/or specifications for a project needs to be looked at through the lens of a truly regenerative, healthy, and positive built environment. This can be easy to think of for the major components of a building, such as structure, facades, finishes, etc., but total compliance means that it applies to specialty products too, such as accessories, trim, grilles, and similar items used in a building.
To illustrate this concept, let's take a look at a common and required product in most buildings in the form of metal grilles, which cover HVAC openings in walls, floors, ceilings, or exposed ductwork. Architects often like to select such products based on their contribution to the overall design intent of the building, while engineers are focused on the amount of air flow and net free area in them—both legitimate and important design considerations. Of course, there are choices in such products, and many come with the attributes of being lightweight, versatile in design characteristics, available in a variety of styles, and being manufactured from a variety of material choices. When used in a building pursuing LEED or the LBC, the additional considerations of the grilles as an installed product in a green or living building come into play, just as for any other products used. That means they need to be looked at and assessed on several fronts:
Recycled metal content: Up to 94 percent post-consumer content recycled aluminum is possible and should be part of the specification for linear bar grilles, perforated grilles, or custom-fabricated products.
Wood specification: For some designs, the grilles may be specified as being fabricated from wood instead of metal. In this case, the use of reclaimed wood is possible, but otherwise the wood should meet the same sustainability criteria as other wood in the building, such as Forest Stewardship Council (FSC) certification.
Durability and ease of maintenance: The most sustainable product is one that lasts and doesn't need to be replaced or repaired unduly over time.
Finishes: If any finish is used on the grilles, then they need to be low- or zero-VOC content. Some powder coatings that are electrostatically applied and then cured under heat without the use of solvents may be the best choice here.
Just like other products used in a building, the use of Declare labels issued by the International Living Future Institute can be asked for and used to compare different manufactured products based on the relevant criteria above. This information can be used for LBC projects, but note too that Declare has been approved as a compliance pathway for the LEED v4 Building Product Disclosure and Optimization Credit, Option 1. Regardless of the program being pursued, all products of all sizes and types used in a building need the transparent data and information that such declarations provide.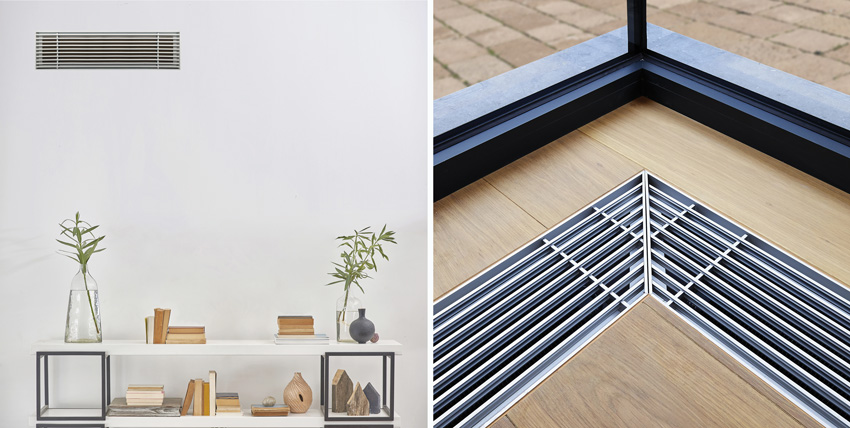 Photos courtesy of ARCHITECTURAL GRILLE
Wood or metal HVAC grilles used in green buildings or following the Living Building Challenge are as significant as any other building product when total compliance with standards is required.
Conclusion
Green and sustainable design requires attention to many details and many different aspects of a building. Some are obvious and visible, while some are embedded within the materials used or the nuances of the design. Either way, they all need to work together toward a whole project that is good for the people who use the building and the environment where it is located. The use of certification programs is a good way to delve into the issues and details, but ultimately, it is the design and construction team working with a building owner that can collaborate successfully to create truly sustainable, even regenerative facilities.
Peter J. Arsenault, FAIA, NCARB, LEED AP practices architecture, consults on green buildings, presents continuing education seminars, and writes prolifically on topics related to design and high-performance buildings. www.linkedin.com/in/pjaarch
Originally published in Architectural Record
Notice