Designing Green: The Seen and the Unseen
Integrating components to achieve holistic performance
Sponsored by Accurate Perforating, ARCHITECTURAL GRILLE, Benjamin Moore, EXTECH/Exterior Technologies, Inc., and ZIP System®, by Huber Engineered Woods
This test is no longer available for credit
Durable, Multifunctional Building Enclosures
Buildings, by definition, separate the outdoor environment from the indoors to provide shelter and comfort for people. The building enclosure (walls, roofs, floors) defines that separation and, in addition to structural and finish materials, is comprised of four fundamental building components: a water-resistive barrier, an air barrier, a thermal barrier, and a vapor retarder. Each of these barriers is intended to control or thwart the movement of air, water, moisture, or heat through the enclosure. The premise of green and sustainable design in regards to these items is to go beyond code levels of performance and pay attention to the details enough to be sure that all four of these components operate at a higher level for several reasons. First is to create a durable, long-lasting building enclosure system. This is required in building codes but is also the essence of what it means to be sustainable over the long term—making repeated repairs or replacing materials on a building is the antithesis of that. Second is the premise that a well-designed building enclosure will reduce energy requirements for heating and cooling that building. This is true for all of the barriers, not just the thermal barrier (i.e., insulation). A poor air barrier can cause drafts and air leaks that could require more heating or cooling energy than poor insulation would. Water or moisture penetration into a wall or roof assembly can damage and compromise the effectiveness of insulation, not to mention creating mold or other conditions that are not conducive to good human health. Hence, all of the barriers are critical.
There are numerous ways of course to create a sustainable, durable building enclosure. In framed wall construction, the place where most of these critical barriers come into play is along the line of the structural wall sheathing. Typically, in wood-framed construction, this is an engineered wood panel that is fastened directly to stud framing, providing shear support and a nailing surface for final cladding or other finishing. It is the exterior surface of this sheathing that also needs to be treated to provide a water-resistive barrier (WRB) and an air barrier to meet code and energy performance requirements. These barriers are critical not only along the surface of the sheathing but at all seams and penetrations as well. Separate products are commonly available that are either fastened (i.e., house wrap or sheet goods), adhered, or sprayed on in the field to achieve these characteristics with their performance subject to the skills of the applicators and the site conditions during construction.
While the combination of field-applied barriers has been traditional, there are products that have emerged to simplify construction, improve durability, and meet high-performance criteria. Such products were developed with the recognition that the ones that have the most chance of performing successfully over time are the ones that are easy to integrate into a building design and streamlined to install. As such, new structural sheathing products have entered the market in the past decade that integrate factory-applied water-resistive barriers plus rigid air barriers all into a single-panel system. These next-generation structural sheathing solutions help framing crews reduce the risk of improper installation of multiple product layers to help assure better performance over time. Further, such integrated structural sheathing systems rely on sealing the seams between the sheathing and around the penetrations with acrylic tape specifically designed to seal against water and air. The entire system has passed third-party testing and been shown to meet or exceed the requirements for proper water and air barriers.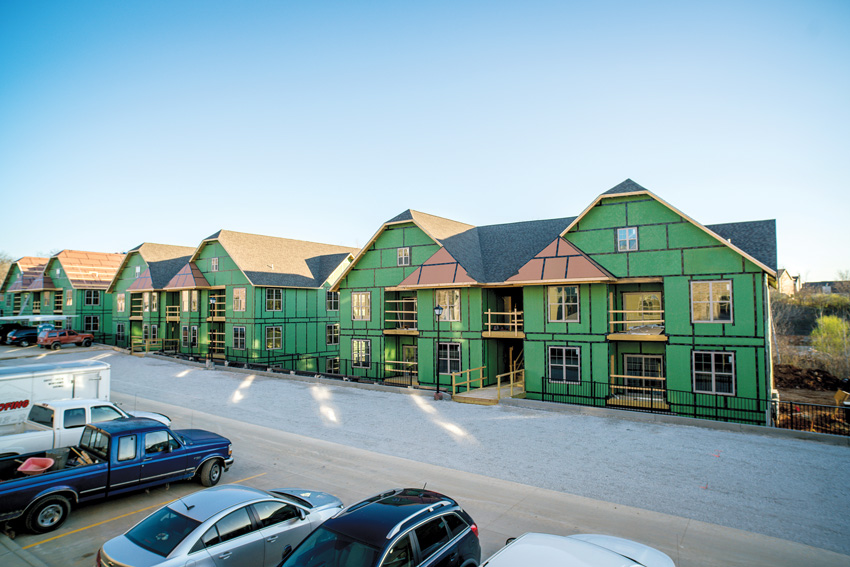 Photo courtesy of Huber Engineered Woods LLC © 2016
Integrated structural sheathing is available that provides an integrated water barrier and air barrier with tape-sealed seams, which streamlines installation and can help improve long term performance.
Taking integration one step farther, it is also possible to specify and design with structural sheathing that incorporates a built-in layer of exterior continuous rigid insulation on the interior side of the sheathing, leaving the air and water barriers unaffected. Continuous insulation is promulgated by energy codes and green building standards, particularly Passive House, for its superior thermal performance. Walls, floors, and other building components that are only insulated between the framing members ignore the reduced thermal performance of those framing members compared to insulation. Heat can flow somewhat unrestricted through that framing and cause a thermal bridge that lowers the overall performance of the building. By providing continuous insulation over the outside of all framing, the thermal bridging is reduced or eliminated. Integrated structural sheathing that includes an air, water, and thermal barrier builds on the simplicity, effectiveness and high performance that are possible with this advanced type of product offering. A factory-installed layer of polyisocyanurate (polyiso) continuous foam insulation is available in thicknesses between ½ inch and 2 inches. When used in conjunction with stud cavity insulation, this continuous insulation provides additional R-value for reduced heat transfer in advanced wall assemblies. Combined with the high performance of the air and water barrier, the total system becomes extremely energy efficient.

Photo courtesy of Huber Engineered Woods LLC © 2016
Exterior continuous insulation can be specified as an integrated component with next-generation sheathing that includes various insulation thicknesses on the structural sheathing panel to meet thermal performance requirements of energy codes and voluntary standards.
Laura Gamble is a project manager for the Philadelphia-area-based architectural firm BartonPartners and has seen the need for increased energy performance first hand. "Building codes in general are driving up insulation thicknesses and tightness standards," she says. Further, she points out, "Many of our clients are seeking out certifications that go above and beyond code such as LEED, NGBS, ENERGYSTAR certification, and others." To meet these needs, her firm is involving building envelope specialists to review both construction documents and contractor's installations to support the high performance expected in today's homes and buildings. In this regard, Gamble says, "An all-in-one product that includes sheathing, a weather-resistive barrier, and flashing tape speaks to the evolution of building science. For clients who are interested, we're specifying such systems because the building can be made weathertight quicker than with traditional sheathing and building wrap systems, which generally requires extra labor and time."
There are also other practical implications of using this type of integrated structural sheathing product. The combined capabilities mean there are fewer products to order and install, thus changing the way design and construction teams plan materials and framing schedules. On site, the resistive nature of the sheathing means that if it is left exposed before the siding or cladding is installed, then the barriers aren't necessarily compromised the way other materials can be, such as house wrap that is seen blowing loose. In fact, at least one manufacturer offers a 180-day exposure guarantee and a 30-year limited warranty based on the tested integrity of the system to ensure a fully weatherable exterior wall. In addition, because of its streamlined approach to achieving structure and air and water management in a single product, integrated sheathing and tape is used in many panelized and modular buildings. Here, the integrated sheathing not only compresses time schedules but helps achieve higher quality control of installation—another critical component of long-term durability.
An integrated water-resistive and air barrier sheathing also creates a unique system that improves the chances for greater long-term moisture resistance, one of the greatest threats to building envelope degradation. Typically, vapor retarders are required to be placed on the interior side of walls in colder climate zones. If any moisture does penetrate the wall and enter the construction, it may condense on the interior face of the sheathing. Products that provide moisture permeance to allow panels to dry to the outside can help alleviate this condition and contribute to the longevity of the construction.
It should be noted that such integrated systems are not limited only to exterior walls. Integrated sheathing and tape products are also used for roof construction. In fact, they have been shown to meet the FORTIFIED HOME™ national resilient building standards for a sealed roof deck. This means that they are much more likely to survive severe weather, such as hurricanes, tornados, and heavy rain, as compared to traditional sheathed roofs that do not use the tape sealing or integrated air and water barriers.
Overall, whether designing to meet the latest building codes or voluntary high-performance standards, managing air tightness, bulk water, and thermal bridging, all can be effectively addressed with this integrated approach to design and construction.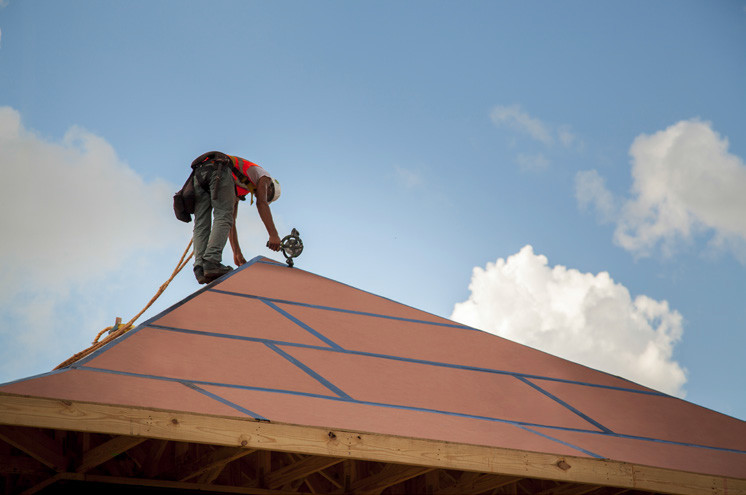 Photo courtesy of Huber Engineered Woods LLC © 2016
Integrated structural sheathing with built-in underlayment and taped seams for a "sealed roof deck" are used on roof systems as part of sustainability and resilient strategies to help protect against water intrusion, particularly in high-wind-prone areas.
Combining Natural Ventilation and Daylighting
Virtually all of the green and sustainable building standards recognize the importance of life-giving elements in the interior environment. These elements include fresh air and daylight with specific provisions in LEED, WELL, and the Living Building Challenge (LBC) that seek positive, healthy indoor conditions. In fact, one of the required imperatives of the LBC (07) states: "Every regularly occupied space must have operable windows that provide access to fresh air and daylight." The design challenge in providing air and daylight, however, is balancing them with the energy use implications that can accompany them. Specifically, too much daylight can also cause unwanted solar heat or glare if not controlled properly. Similarly, providing abundant fresh air into the building means that air not only needs to be moved in some manner (often involving electric fans), but it may also need to be conditioned for temperature and humidity level to maintain comfortable interior conditions. Finding creative ways to provide the right levels of daylight and ventilation while minimizing the energy required to do so is a great example of the usefulness of iterative design.
The first thing to recognize in ventilating commercial or industrial buildings is that natural ventilation is still an option. Most of us are accustomed to simply opening a window in our residences for fresh air, but too many people incorrectly assume that doing something similar in commercial or industrial buildings can't be done. The use of HVAC systems that are assumed to run 24/7 tends to drive that perception. The reality is that natural ventilation is used very successfully in buildings of all types all around the world and has been for centuries. In some cases, there are certain times of day or times of year where outside air is very comfortable and suitable for indoor use. The incorporation of "economizer cycles" in HVAC systems is based on this, although fans are still needed for such a system to operate. Other systems use carefully placed, operable windows or louvers that allow fresh air to enter naturally in one location and exhaust out in another based on the building design. Some even use internal or external heat gains to warm the air and allow it to rise and ventilate accordingly.
A modern, sustainable version of this approach to natural ventilation is the use of top-hinged operable windows that can respond easily to different building conditions and needs. Such windows offer very effective natural ventilation and daylighting that can be controlled manually or with electric motors. In some cases, they can also be fitted with electronic controls as part of a larger energy management system in a building to allow for automatic operation based on indoor and outdoor conditions, schedule, or other criteria. Hinging at the top allows the windows to remain open even during rainy times since the water will shed off of the angled open window and away from the building.
Some manufacturers have created a fully coordinated system that can be installed as single units or in continuous runs up to 150 feet wide. When placed in long runs, they are installed in sections designed to snap together when one unit is mated with another. In at least one case, the design of that 'snap together' joint includes weather stripping, which creates an effective continuous louver effect. The flexibility of the weather stripping can also accommodate thermal expansion and contraction of the system. Incorporating lightweight, but thermally efficient glazing into the system allows for natural daylight in addition to the ventilation. Bill Voegele, CEO and Founder of EXTECH/Exterior Technologies, Inc., points out, "Continuous top-hinged windows have been around for years, mainly for industrial applications, and now the world is understanding that they are an architectural resource as well. They deliver massive natural light and ventilation economically and sustainably. The fact that they can be left open during normal rainfall adds to this system's list of benefits."

Images courtesy of EXTECH/Exterior Technologies, Inc.
Top-hinged continuous window systems can provide natural ventilation and daylight into a building to balance wellness features of a sustainable building with energy efficiency.
Top-hinged window/louver systems are popular with warehouses, data centers, and other new or existing facilities that need to meet high cooling demands and/or rigorous sustainability goals. They are available in systems that accept glass or lightweight, translucent polycarbonate glazing up to 1 inch thick. Typically, they are "dry glazed" with low-friction gaskets to maintain good air and water infiltration seals while allowing for thermal movement of the glazing. Polycarbonate glazing is often used because it is available with a Class A fire rating and can achieve R-values up to R-3.8. The lighter weight of the polycarbonate compared to glass means that large, continuous runs are possible up to 8 feet tall and 150 feet wide, or smaller systems can be selected to suit the particular needs of the building. Either way, the need for multiple building penetrations can be reduced. The finish on the aluminum framing can be a choice of anodized or high-performance factory-baked paints.
When using these systems in the design of a building, a computerized daylighting study can be done to place the project in a virtual environment and allow the architect to modify the design to maximize the daylighting delivered and control the solar heat gain. Similarly, the massive ventilation offered by the system relieves demand for the HVAC system. This reduces energy costs and can help with optimizing energy usage consistent with LEED or other programs. Because the system can be left open during normal rainfall, it facilitates ventilation despite inclement weather. The natural daylighting provided also reduces the cost of artificial lighting and provides the wellness benefits of natural light. When used with polycarbonate glazing, it is nearly 100 percent recyclable, further lending itself to its overall, long-term sustainability. Even when installed in a long run, each glazing panel can be repaired and replaced individually, saving on maintenance and excess waste.
Originally published in Architectural Record
Originally published in October 2017
Notice