Building and Energy Code Updates
The design of exterior walls and glazed entrances are a particular focus
Sponsored by C.R. Laurence and TAMLYN
Learning Objectives:
Explain the code development and updating process as embraced by the International Code Council and its members to codify safe buildings.
Assess the issues related to energy performance that have driven the creation of energy codes and other standards to protect both people and the environment.
Identify specific building code issues being updated in the 2021 codes related to overcoming water-related problems in exterior walls.
Recognize the different components and elements of glazing systems that affect performance and code compliance for successful buildings.
Credits:
This course can be self-reported to the AIBC, as per their CE Guidelines.
This course is approved as a Structured Course
This course can be self-reported to the AANB, as per their CE Guidelines
Approved for structured learning
Approved for Core Learning
This course can be self-reported to the NLAA
Course may qualify for Learning Hours with NWTAA
Course eligible for OAA Learning Hours
This course is approved as a core course
This course can be self-reported for Learning Units to the Architectural Institute of British Columbia
This test is no longer available for credit
A cross all 50 of the United States, and in many countries around the world, model building codes have been adopted that are developed by the International Code Council (ICC). Referred to as the International Codes or I-Codes, they include a coordinated family of building safety codes, such as the International Building Code (IBC), the International Residential Code (IRC), the International Energy Conservation Code (IECC), and 12 other specialty codes. All of these documents are the result of a very comprehensive, ongoing process to review, assess, and update them using a three-year cyclical process. There are literally tens of thousands of people involved through this very transparent method that the ICC terms a "governmental consensus process." It points out that this "process leaves the final determination of code provisions in the hands of public safety officials who, with no vested financial interest, can legitimately represent the public interest." In this course, we look at the code development and updating process with an eye toward the role that design professionals, code enforcement officials, the construction industry, and material suppliers all play. We also delve into some specific examples of code-defined issues related to the building envelope and energy conservation. The intent is to provide a broader understanding of how the I-Codes can be an effective tool for staying up-to-date on how buildings can best promote the health, safety, and welfare of the occupants, users, and general public.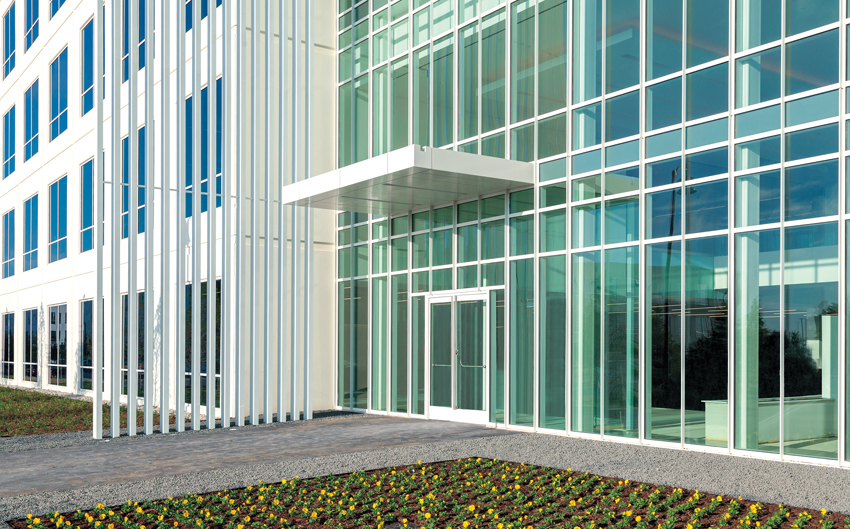 Photo courtesy of GFF Architects
Building and energy codes directly affect the design of all buildings, particularly their exterior walls and entrances.
Code Development Process
How does a change come about to the codes? Ultimately, it starts with the 64,000 members of the ICC. Memberships are categorized by Individuals, Corporate, Governmental, and Associates, each of which carry corresponding benefits and voting rights. Not surprisingly, a substantial portion of the members are code enforcement officials or staff of jurisdictions having authority to enforce the codes. Members also include design professionals (architects, engineers, etc.), corporations (both non-profit and for-prof it), construction companies, product manufacturers, and others with a direct interest in the codes. In addition, a professional ICC staff of 500 employees across nine offices manages and maintains the workings of the ICC as directed by its governing Board. The typical three-year-long process that is used by all of these people to change or update the codes is outlined as follows.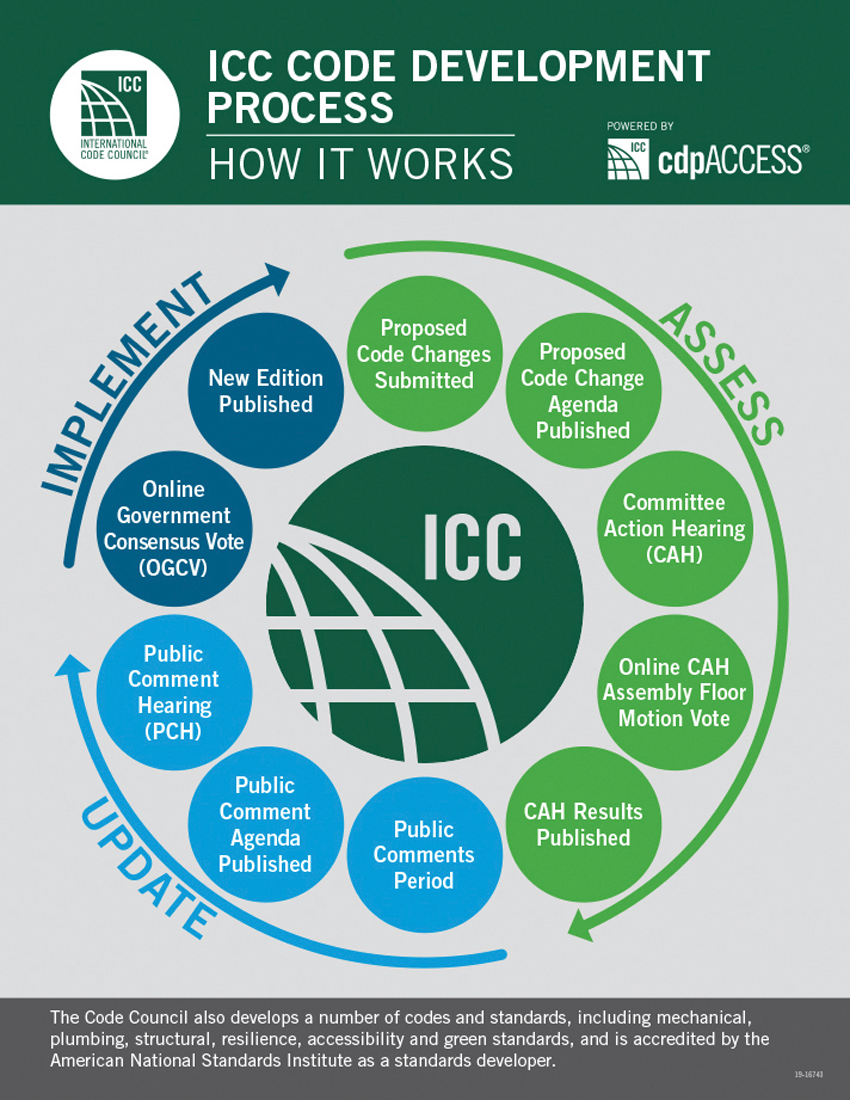 Source: International Code Council
The International Code Council (ICC) code development process requires a three-year cycle for updates.
Stage One: Code Development Committees
Anyone can apply to serve on one of the code development committees, with applications reviewed by the Codes and Standards Council. Final recommendations are made to the ICC Board for appointment. Members of the committees fall into any one of three categories: 1) general members, including governmental regulatory agencies; 2) users such as building owners, design professionals, insurance companies, private inspection agencies, and academics; or 3) producers, meaning builders, contractors, manufacturers, and distributors. The committees are typically broken down by specialty topics related to the I-Codes, and it is the role of the committee members to bring their expertise and professional knowledge into the discussion and review of their code-related topics.
Changes or updates to any of the I-Codes can be proposed by anyone using an online platform known as cdpACCESS. ICC staff members monitor and review such proposals and assign them to the appropriate Code Development Committee. It has been observed that market forces, design advances, product research and development, academic research, and other factors often cause changes in the design and construction field to happen first. As these changes become more commonplace, the I-Codes need to be kept up-to-date to address them appropriately. Hence, it is ultimately the charge of the committees to keep the I-Codes updated and relevant to the design and construction industry while continuing to safeguard public health, safety, and welfare.
Stage Two: Committee and Public Hearings
With committees in place and proposals received, the process of review begins with Committee Action Hearings. Using an inclusive series of presentations, discussion, and debate, the committee delves into the details of the proposed change and its impact on the codes. Upon completion, the committee then votes on each proposal in one of three ways: approve, approve with modification, or disapprove. In the first two cases, the proposal will move forward for public review, while a disapproved proposal typically ends there. However, any participant in a particular proposal process can challenge the committee actions. In that case, ICC members can vote on the challenge online and, if approved by voting, the proposal automatically moves forward to public review.
With proposals fully vetted by the committees, the public comment period begins with anyone able to submit public comments online in response to the committee action hearings. In-person public-comment hearings follow next, leading to those eligible voters present discussing and voting on each of the code-change proposals. In this case, eligible voters include only those who work in government agencies protecting the health, safety, and welfare of the public with no financial stake in the outcome.
Stage Three: Final Voting and Publication
The final step is for the full online governmental consensus vote to take place. This final vote is actually a combination of the in-person public-comment hearing votes and the online votes of eligible voters. A separate Validation Committee reviews all of the votes, and it is then left up to the ICC Board to confirm the final results. The proposals that have thus been successfully vetted, modified (if appropriate), and voted on are then slated for inclusion within the next update of the relevant code. The proposals that do not receive enough votes are therefore not included in the code update. The updated editions of the I-Codes are published every three years and made available to the public. Subsequently, the next three-year cycle of code review and development begins again.
Energy Codes
Energy performance in buildings is a good case in point of the design and construction industry moving out in front and the codes needing to be updated to keep pace. Since the 1980s, there has been a concerted movement that has taken hold in design, construction, product manufacturing, and building operations to reduce the amount of energy used in buildings. Energy codes emerged during this time—not to regulate energy consumption (i.e., there are no violation orders issued if a monthly utility bill is too high), but to regulate design and construction so that energy usage in buildings is better controlled. This control falls into two categories; 1) energy conservation, which is the act of reducing the amount of energy needed in the first place, playing out most notably in a better-performing building envelope (insulation, air sealing, glazing traits, etc.); and 2) energy efficiency, which means reducing the amount of energy required to power equipment, lighting, etc. and still achieve the desired outcomes (heating, cooling, light levels, etc.). Taken all together, we refer to the energy performance of a building as a combination of the conservation and efficiency measures that achieve a measurable outcome. The IECC addresses all of these aspects of energy performance. It also recognizes that different climate zones exist around the country that directly impact the energy performance in buildings.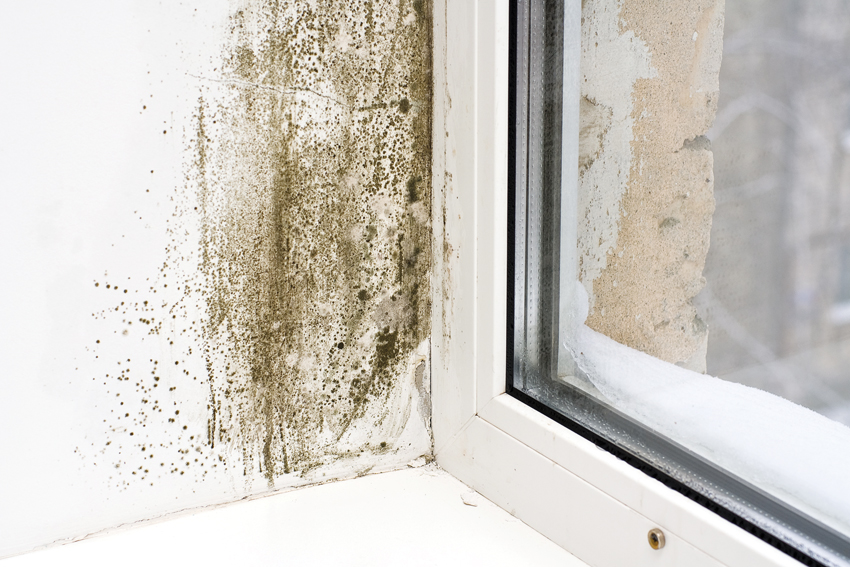 Photo courtesy of TAMLYN
Water-resistive barriers (WRBs) and drainable walls are required by code to protect exterior wall assemblies and prevent the problems of water penetration.
Outside of the IECC, there are numerous organizations that have been addressing the issues related to energy performance in buildings. The non-profit organization Architecture 2030, for example, has done an excellent job of communicating data from public sources that identify buildings in the United States as responsible for nearly half of all energy usage and 40 percent of carbon emissions. Relatedly, more than 70 percent of the electricity generated in the United States is consumed in buildings. This information has helped many people realize the significant impact that reduced energy usage in buildings can hold—almost as much as the impact from both transportation (cars, mass transit, airlines) and industry (other than construction) combined. Accordingly, many well-known voluntary programs such as the Architecture 2030 Challenge, The AIA 2030 Commitment, LEED, ENERGY STAR for Buildings, Passive House, The Living Building Challenge, and others have all emerged and evolved within the past 20 years to become an integral part of mainstream building design.
Pushed by this movement, the IECC has undergone a number of revisions and updates in this time focused on establishing the "code minimum" level of energy performance while still allowing these other voluntary programs to go beyond that level. Note that the health, safety, and welfare significance of the IECC is more than just a concern for the environment in general related to air quality and climate change. It is also based on addressing the adequacy of the supply of energy to buildings. The energy crisis of the 1970s demonstrated that real or imposed shortages of energy supply posed a significant threat to the public (think about how long is too long when experiencing a power outage). Virtually all buildings now rely on energy to operate the heating, cooling, lighting, appliances, electronics, and equipment. If that supply is compromised or interrupted, so is the safety and quality of life of the people who are in those buildings.
It is not surprising then that other relevant documents outside of the IECC have been developed almost concurrently, including the following.
Originally published in Architectural Record
Originally published in September 2020
Notice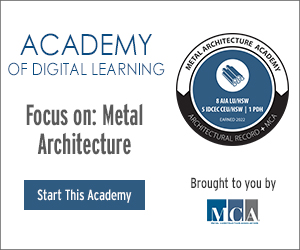 Building and Energy Code Updates
Buyer's Guide
Blumcraft® Entice Series Entrance System

Entice merges all-glass aesthetics with full-frame thermal performance. Featuring ultra-narrow 11⁄8-inch vertical stiles, it provides clean sightlines while producing U-factors as low as 0.43 using thermally broken framing. Entice has the unique ability to support door handles—including panic devices—on 1-inch insulating glass units with proprietary through-glass fittings.
TamlynWrap® Drainable WRB 1.5

TamlynWrap
®
Drainable WRB 1.5 is a unique moisture management product that combines a high-performance WRB with a unique, patented, and noncompressible drainage pattern. The design can remove 100 times more water from a wall versus standard wraps. This patented technology is omnidirectional, offering installation flexibility compared to other available options.