Building and Energy Code Updates
The design of exterior walls and glazed entrances are a particular focus
Sponsored by C.R. Laurence and TAMLYN
In this initial condition for dry climate zones, there are several things to notice. First is that the reference to climate zones actually refers to those defined in the IECC, not the IBC. Therefore, designers need to turn to Chapter 3 of the IECC and look up the state and county of the building project location to determine not only the numeric climate zone (1–8) but also the alphabetic designation (A, B, C) for dry, moist, or marine climates. The second point to notice is that the criteria for an acceptable WRB in this case is now required to be based on a specific test. Hence, in dry climates, in order for a building official to approve a product's use as a WRB in a stucco-based wall, independent test results must be based on ASTM E2556: Standard Specification for Vapor Permeable Flexible Sheet Water-Resistive Barriers Intended for Mechanical Attachment. Depending on the test results, the material will be classified as either a Type I or Type II, which will determine whether one layer or two layers are needed per the new code language above.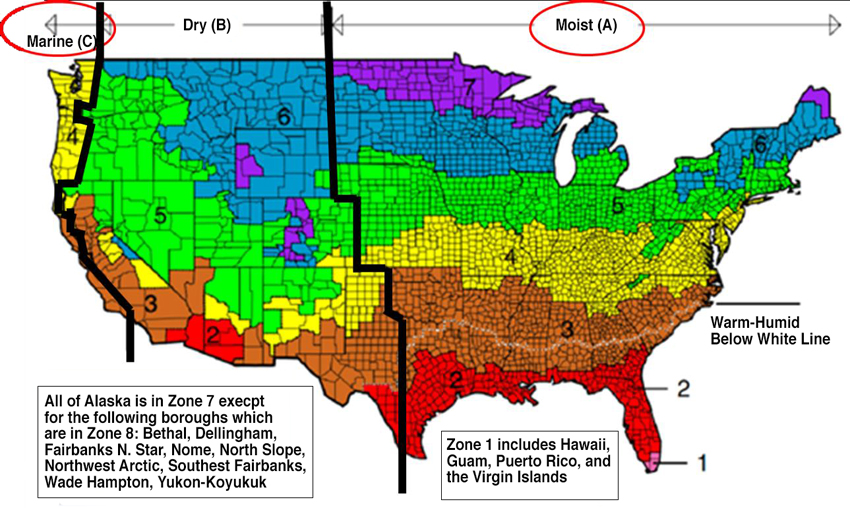 Image courtesy of TAMLYN
Climate zones are identified in the IECC not only by the eight numeric zones but also the three alphabetic zones for
A: Moist, B: Dry, and C: Marine.
The other condition cited in the 2021 IBC for WRB installation is for moist or marine climates:
"2510.6.2 Moist or marine climates. In moist (A) or marine (C) climate zones, water-resistive barrier shall comply with one of the following:
In addition to complying with Item 1 or 2 of Section 2510.6.1, a minimum 3⁄16-inch (4.8-millimeter) space shall be added to the exterior side of the water-resistive barrier.
In addition to complying with Item 2 of Section 2510.6.1, a space with a minimum drainage efficiency of 90 percent as measured in accordance with ASTM E2273 or Annex A2 of ASTM E2925 is added to the exterior side of the water-resistive barrier."
Based on the climate zone map, these provisions for moist or marine climates now affect a large portion of the country. In all of those moist or marine locations, the provisions for dry climates must still be met, but there are also additional requirements. The first design option is a minimum space of 3⁄16 inch regardless of the type of WRB used. The second option allows the use of a Type II WRB provided the drainage efficiency of the system meets additional testing as listed above. These drainage provisions are intended to address water management and drying challenges behind stucco in these wetter climates, which have exhibited more issues in the field.
Tim Rogan, a principal with Houston Exterior Wall Inspection & Testing, notes, "Adding drainage requirements to stucco systems has been a long time coming. It addresses many of the issues I see in the field with moisture not getting out. Water moves in multiple dimensions within the stucco. Had this been implemented years ago, it would have saved people a lot of money." The trend toward drainage provisions has happened independent of code adoption in many places already and is likely to become an industry standard for most cladding systems.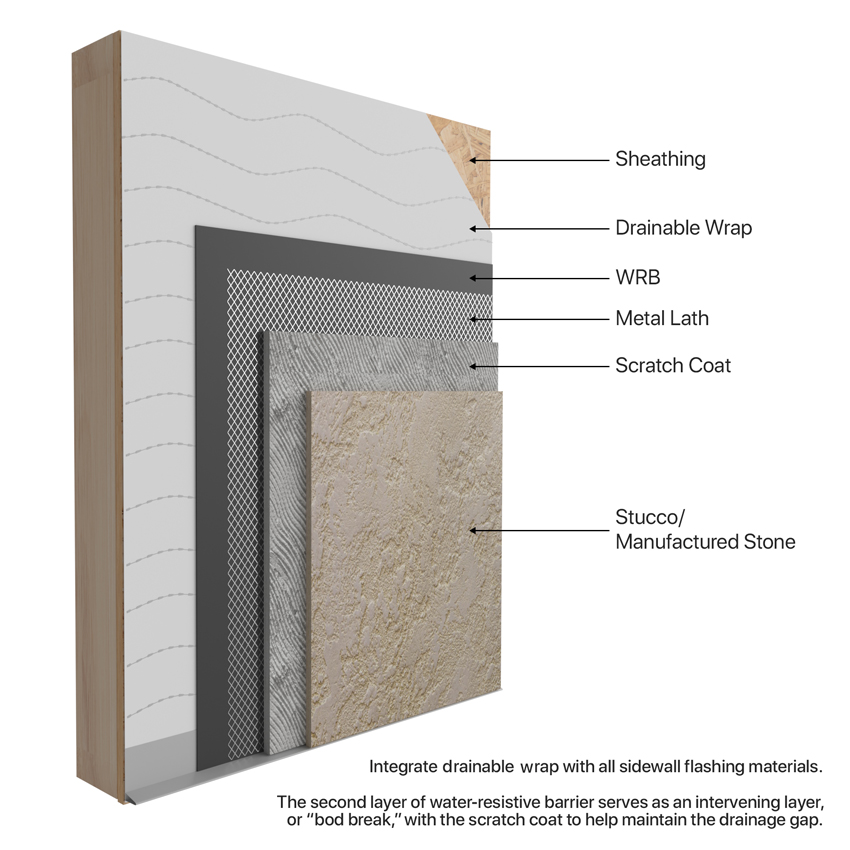 Image courtesy of TAMLYN
A code-compliant exterior wall assembly with stucco or manufactured stone now needs to meet specific requirements for a WRB and drainage.
Material Selection
In light of these new and updated code requirements, the question arises as to what type of material should be specified. In fact, the availability of drainable products and drainable systems has existed for many years since they enhance the water management and drying performance of other absorptive cladding systems as well. One approach is to use a Type II high-performance, non-woven building wrap made from a synthetic sheeting material. The advantages of a modern synthetic wrap product over traditional products (such as asphalt felt) include a WRB that is more durable and more easily sealed along the seams to create a continuous barrier over a variety of materials or different configurations.
A significant innovation in such high-performance building wraps has been the addition of integral spacers to very effectively create a manufactured drainage gap between the cladding and the wrap. The conventional means to create a gap in a framed wall system is to use furring channels or wood strips. This works, of course, but requires more labor, time, and cost to install the furring and often special considerations for adequate ventilation behind the cladding. The alternative that has become recognized as a best-practice solution is to use a drainable building wrap that provides its own integrated method of drainage that meets the drainage efficiency requirements of the code.
Specifically, at least one manufacturer creates this gap by bonding noncompressible spacers onto a high-performance WRB building wrap. The depth of the resulting drainage cavity can be specified to meet the new code requirements for reservoir cladding products, including stucco and thin stone. In essence, drainable building wrap acts as a drainable system in miniature, without the added labor or cost. To qualify, these products must be tested for drainage efficiency per ASTM E 2273. Research shows that a minimum space of 1 millimeter can provide the necessary drainage efficiency behind a cladding. To ensure the drainage gap is consistent, noncompressible designs are preferred. Further, it will work with other types of cladding systems too, particularly those that can absorb moisture, such as wood or fiber cement siding. The economical beauty of it is that the cladding can be applied directly over this drainable building wrap, eliminating the labor step of installing the spacers as a separate component. Some drainable building wraps have also been tested to qualify as an AB. This means it can also double as a continuous exterior AB, meeting the code requirements for both WRB and AB in a single layer. In addition to a drainable building wrap, manufacturers are developing novel products to achieve larger physical drainage gaps (¼1⁄4–3⁄8 inch) that perform like a full rainscreen system in a more cost-effective manner.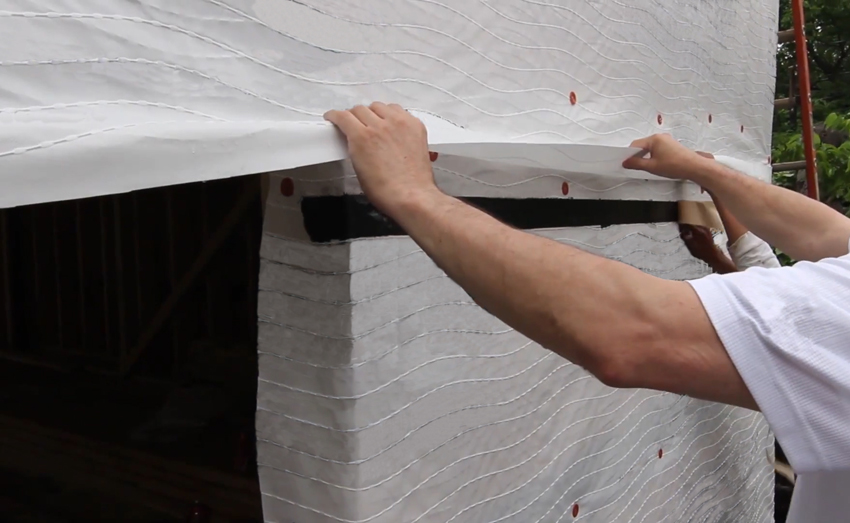 Photo courtesy of TAMLYN
High-performance building wrap with AB and WRB capabilities along with a drainable surface also need to be easily sealed along edges and around openings.
Equally important are the details of how the drainable building wrap deals with openings in the wall, such as doors and windows. Being able to flash and seal the wrap properly with window and door flashing materials will assure that water draining down the face of a drainable WRB will flow away properly and not enter behind other building elements into the wall. One simple but key element of this is to ensure all layers of the system are installed in a shingle fashion to ensure positive drainage is achieved. Taping seams and integrating with flashing materials will help the continuity of the AB in the overall system.
The use of drainable WRB systems has been common for many years and growing in popularity. The latest code changes are likely to only accelerate their use and become the standard. The experience of Greg Roggenkamp of Left Frame Design Build sums it up well: "Drainable WRBs first caught my attention due to the noncompressible drainage gap. I was amazed at how fast it went up. Very thick fabric as well. I now use it on all my projects."
Originally published in Architectural Record
Originally published in September 2020
Notice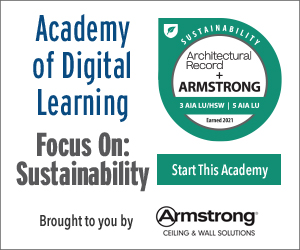 Building and Energy Code Updates
Buyer's Guide
Blumcraft® Entice Series Entrance System

Entice merges all-glass aesthetics with full-frame thermal performance. Featuring ultra-narrow 11⁄8-inch vertical stiles, it provides clean sightlines while producing U-factors as low as 0.43 using thermally broken framing. Entice has the unique ability to support door handles—including panic devices—on 1-inch insulating glass units with proprietary through-glass fittings.
TamlynWrap® Drainable WRB 1.5

TamlynWrap
®
Drainable WRB 1.5 is a unique moisture management product that combines a high-performance WRB with a unique, patented, and noncompressible drainage pattern. The design can remove 100 times more water from a wall versus standard wraps. This patented technology is omnidirectional, offering installation flexibility compared to other available options.