Bringing Green Design to Residential Projects
Innovations and alternative products support custom projects
Sponsored by Bison Innovative Products and Cascade Architectural
This test is no longer available for credit
Deck Supports/Pedestals
Adjustable pedestals are the structural supports for the deck surface, so they are the starting point for all systems. The use of adjustable pedestals as a support system has become recognized as one of the most labor- and cost-efficient methods of creating a level deck over a moderately sloped surface. Adjustable pedestals are available in a range of heights and weight-bearing capacities to suit a variety of conditions or needs. Deciding on which system to specify for a particular project is dependent on the structural support requirements and the height of the deck above the roof surface. Those carrying more weight or requiring more height to achieve a level condition will need a higher grade of pedestal.
Many commercially manufactured pedestals are made with high-density polypropylene plastic that is 100 percent recyclable. This material choice means that the pedestals are essentially impervious to common outdoor concerns such as water, mold, and freeze-thaw cycles. As part of a gravity-based system (i.e., no roofing penetrations required), the pedestal supports protect the roof and waterproofing membranes below without causing damage or harm to them. Pedestal deck systems can also be utilized over any other structural surface: on bare structural decks, rooftop decks, existing plazas/terraces, compacted grade, pavement, pool surrounds, inside of water features, or even between green roof areas.
The cavity space created by the pedestals between the deck and the roof can be used strategically to allow for electrical wiring, recessed lighting, duct work, and even irrigation. This means the deck itself or spaces below it can be serviced based on the needs of a project. The location of the pedestals is typically based on a modular layout that follows the size of the material used on the deck surface. Commonly, this is a 2-foot by 2-foot square module, although many other sizes are possible as well. The modularity and particular design of the deck surface will be used to determine the specific locations of the pedestals.
Deck Surfaces
The versatility of adjustable pedestal deck supports means that they can be used to elevate a variety of decking surface materials. The common options include pavers made from concrete or stone, such as granite or travertine. Similarly, structural porcelain tiles, fiberglass grating, composite materials, or conventional wood decking systems can be used in a grid pattern to meet different design requirements. Typically, a galvanized steel paver tray is installed on top of the pedestals to support structural porcelain pavers or others.
If a lighter-weight surface material is preferred or needed, then wood tiles are a good alternative weighing only one-third as much as concrete tiles. Typically made from hardwoods in a variety of species, wood tiles are commercial grade and available in standard, responsibly harvested, and FSC Certified options for sustainability. Wood species include fused bamboo, cumaru, garapa, ipê, mahogany, and massaranduba, among others. Not only do these wood tiles contain a rich variety of graining and coloration, they are exceptionally dense and resistant to insects. As such, they weather well and require minimal maintenance. If maintaining the wood color is desired, wood tiles can be periodically cleaned and sealed. Left to weather naturally, the wood tiles will develop a silvery-gray patina. Either way, wood tiles are ideal for blending the warm beauty and upscale appearance of real wood with durability and low maintenance.
For a different design look, wood tiles can be laid in a parquet or linear pattern. Of course, the deck design does not need to be limited to a single surface choice—materials such as pavers, river rock, stone, plank decking, or others can be mixed and matched based on the modularity of the system to create unique aesthetics. Many of these deck surface options can be removed from the top of the pedestals for routine maintenance, repairs to the roof, or access to other systems.
Originally published in Architectural Record
Originally published in November 2020
Notice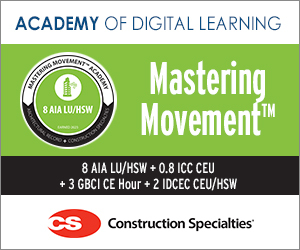 Bringing Green Design to Residential Projects
Buyer's Guide
Bison Rooftop Deck Systems

Manufactured in the USA with 20 percent post-industrial recycled materials, Bison Pedestals create level decks over sloped surfaces. Bison Pedestals elevate and support wood tiles, pavers, site furnishings, and a variety of other surfaces. Bison Wood Tiles are commercial-grade, constructed from sustainably harvested hardwoods, and available in standard and FSC-certified options.
Fabricoil Coiled Wire Fabric Systems

Cascade Architectural is committed to serving the product and service needs of our architectural customers. Since 1987, Cascade has provided a full range of functional Fabricoil woven wire mesh fabric systems to domestic and international markets. Suited for projects of any scale, exterior or interior, Cascade reflects our continued commitment to provide architects, engineers, and channel partners with aesthetically pleasing and affordable mesh systems.