Bringing Green Design to Residential Projects
Innovations and alternative products support custom projects
Sponsored by Bison Innovative Products and Cascade Architectural
This test is no longer available for credit
Solar Gain Control Challenges
Windows are needed in all residential buildings for both natural light and ventilation in minimum quantities prescribed by codes. Beyond that, many architecturally designed homes seek to use more than the minimum amounts of glazing to take advantage of views, offer greater connection to the outdoors, or, in cold climates, to receive the warmth of solar gains. In these ways, windows become a means to provide home dwellers with a satisfying connection to the outdoors that can add to their general health and well-being. Depending on the type of glass and glazing systems used, the natural daylight and solar gains can provide some welcome light and heat to the home and increase occupant comfort. All of that can mean that less purchased energy is needed for the home resulting in lower energy bills and greater sustainability.
There are caveats to this idyllic scenario, however. Larger windows can mean too much daylight or light that is too bright becoming a problem by causing glare. That usually causes people to close window blinds or shades and turn on electric lights during the daytime, thus increasing energy costs in the interest of overcoming a visual comfort problem. This has been exacerbated by more people working or schooling at home during the day and needing to keep glare off of computer screens. Similarly, if the weather or the climate are not cold, then solar heat gains from windows may be unwanted since the occupants seek to be cool. The comfort of the residents is then compromised which means more air conditioning may be used and can lead to increased energy costs. The overriding design issue, then, becomes how to control the light and heat coming in through windows or other fenestration so the right amount is available when desired while excess is diverted away when not needed.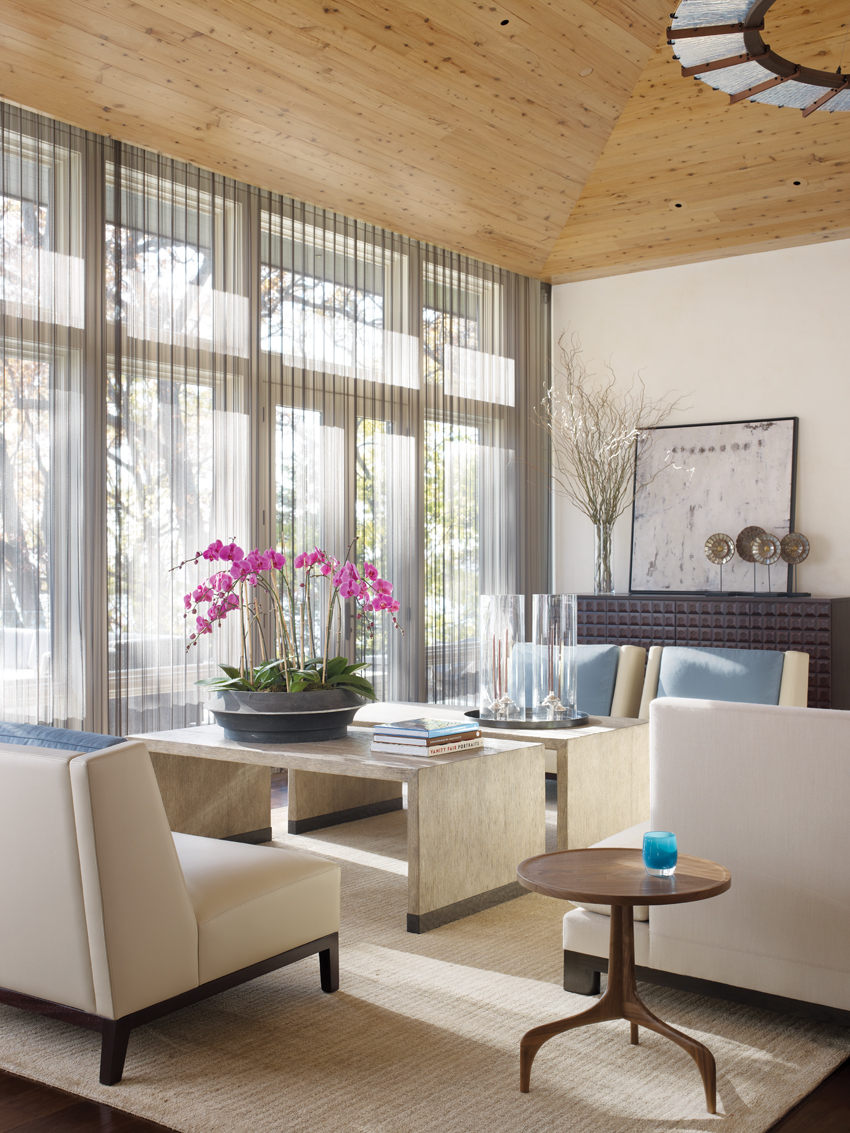 Photo courtesy of Cascade Architectural
Coiled wire fabric drapery can be used in residential settings to provide effective solar gain and glare control while still allowing for views to the outdoors.
A Solution: Coiled Wire Fabric
Many architects have discovered a semi-transparent material that can be used on either the interior or exterior of residential fenestration to achieve the sought after level of adjustable control for daylight and solar heat gains. That material is coiled wire fabric which, although it is made of durable metal wire, has the appearance of fabric drapery or permeable panels. Coiled wire fabric is different from standard wire mesh in that it is manufactured by interlocking metal wire coils via a simple corkscrew method; weaving the spirals together to create a flexible metal fabric panel. Utilitarian versions of this material are often used on the face of wood burning fireplaces as protective, operable screens to prevent ashes or sparks from coming out of the firebox. It provides a separation but still allows for vision through to see the fire.
Architectural grade coiled wire fabric is designed for use as a finish material, not just a utilitarian one. The base metal wire is available varieties of steel, aluminum, brass, copper, or stainless steel. The choice of the wire material and its gauge impact the weight, functionality, and aesthetics of the final fabric. By selecting the fundamental makeup of the fabric (i.e., the base metal, weave thickness, wire gauges, weave pattern, finishes), then the properties of strength, rigidity, and light transmittance can all be determined to meet the design or performance characteristics being sought. Some general characteristics are summarized as follows:
Solar transmission characteristics: The nature of coiled wire fabric is such that it will allow light to pass through between the openings in the wire. The controllable nature of the fabric is such that it can be used for high levels of light transmission or reduced levels for solar shading to contribute to energy savings. How much light comes through and how visually transparent a certain product appears will be based directly on the make up of a particular coiled wire fabric. Those with thicker wires and tighter weaves will obviously allow less light than those with thinner wires and more open weaves. Architects and designers can play with the material's level of transparency by altering these factors to suit their needs to create a material that is simultaneously open and closed at the desired levels. As such it can be used over windows as a diffuser for natural daylight or as room separators where light is intended to be shared. "Fullness" is another factor that designers can alter which will vary the level of light able to pass through the coiled wire fabric. Fullness is achieved by using more material than is required to cover a given area, achieving a billowing drapery effect, causing the mesh to overlap which can be used to control the light.
Retrofit applications: Coiled wire fabric is lightweight making it easy to work into a retrofit or renovation project. The gauge of the wire and the spacing of it will determine the overall strength which can then be selected to suit a particular retrofit condition.
Green building design: Coiled wire fabric is able to contribute to green and sustainable building designs in several ways. First, it is typically made up of metals that have a recycled content as high as 90 percent. It can be subsequently recycled at the end of its service life. This all plays well into a favorable life-cycle assessment of the materials used that make up a coiled wire fabric system. Secondly, the products can support a positive indoor environmental quality. The open nature of the fabric supports designs that incorporate natural daylight or ventilation in interior spaces. The prefinished or natural finish of the metals used means that no additional paints, coatings, adhesives, or harmful sealants are needed. Hence, the materials are low-emitting or VOC free. Some products are Living Building Challenge Red List Free, 100 percent recyclable, and use no toxic chemicals in the manufacturing process. Hence, it creates a low carbon footprint by using domestically sourced materials that are durable and easy to maintain.
Overall, coiled wire fabric offers a solution for interior or exterior treatment of fenestration that can improve comfort, contribute to wellness, reduce or eliminate glare, and help with energy savings.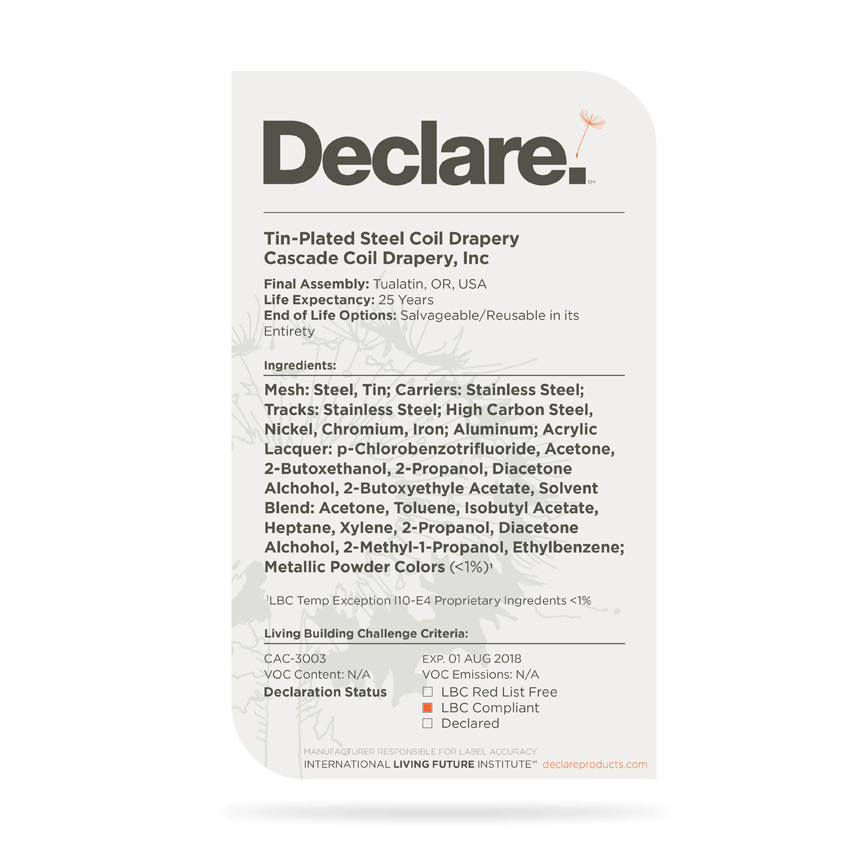 Image courtesy of Cascade Architectural
Coiled wire fabric drapery can be specified that is Red List free of harmful ingredients under the Declare program of the Living Building Challenge.
Designing Outdoor Roof Decks for Green Residences
Once the design decision is made to include an outdoor roof deck or terrace in a green residential project, then the details of how to construct it become important. Offering tremendous design flexibility and ease of installation, adjustable pedestal deck systems provide a unique and viable alternative to traditional deck building materials and methods. To help understand why, the following paragraphs provide a description of the main component parts of an adjustable pedestal roof deck system, commentary on how they fit together, and methods of integration into a new or renovated residential building.
Originally published in Architectural Record
Originally published in November 2020
Notice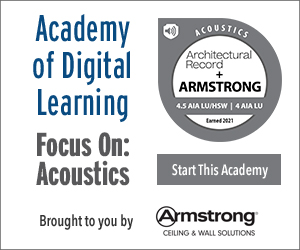 Bringing Green Design to Residential Projects
Buyer's Guide
Bison Rooftop Deck Systems

Manufactured in the USA with 20 percent post-industrial recycled materials, Bison Pedestals create level decks over sloped surfaces. Bison Pedestals elevate and support wood tiles, pavers, site furnishings, and a variety of other surfaces. Bison Wood Tiles are commercial-grade, constructed from sustainably harvested hardwoods, and available in standard and FSC-certified options.
Fabricoil Coiled Wire Fabric Systems

Cascade Architectural is committed to serving the product and service needs of our architectural customers. Since 1987, Cascade has provided a full range of functional Fabricoil woven wire mesh fabric systems to domestic and international markets. Suited for projects of any scale, exterior or interior, Cascade reflects our continued commitment to provide architects, engineers, and channel partners with aesthetically pleasing and affordable mesh systems.