Adventures at the New Frontier
Sustainability at every stage
Sponsored by Inpro, Invisible Structures, inc., and Vectorworks, Inc.
You are not currently logged in to your CE Center account.
Log in
to view and complete the quiz questions that are embedded in this article.
Putting it all Together
With powerful reporting capabilities and parametric tools available today with BIM software, design professionals can assess energy performance in early stages of the design. Besides providing data, flexible design-centric BIM software also frees architects to experiment with beautiful design. The technology enables art and sustainability to work together, rather than to hinder each other.
"I remember right before I went to architecture school, I used to read Popular Science magazines, and they would show this new thing, really amazing solar-powered homes! But honestly, they were terribly ugly," recalls Nathan Kipnis, FAIA. "So, in school, I thought about the fact that no one is going to want an efficient home if they weren't also well-designed and attractive. And to me, that is what architecture is all about - Art + Technology. Making something that performs how it needs to, but also designing it well. This is how architects are going to get the general public to demand these buildings. It's not hard to get leading-edge clients to get on board with sustainable and resilient design, but we want to get everyone craving these designs."
CAPTURING SUSTAINABILITY–AND RESILIENCE–IN THE NOW
The number and cost of weather-related disasters are on the rise in the United States. According to the National Centers for Environmental Information, there were a total of $22-billion-dollar disasters in 2020. The cost of these events exceeded $95 billion in damages. Of these 22 events, 13 were related to severe storms.
Growing populations and a surge of natural disasters is placing increasing strain on urban areas across the country. The pressure from stormwater events is especially hard on urban areas where the landscape and the population are both dense. Although changing the infrastructure in an existing urban development is not always possible, adding components which can aid in handling these disasters is now achievable. There are a number of ways in which cities can assess their risks and better prepare for these inevitable events. Early alerts, community awareness, and evacuation plans should all be in place, but adding components that prevent or manage the effects of these occurrences also needs to be a priority.
Urban Resilience
From these concerns comes the movement towards Urban Resilience. Urban Resilience is the idea that cities can be built or altered to better prepare and navigate these issues. Sustainable infrastructure and adaptable ecological systems can give urban areas the ability to absorb, recover, and prepare for future shocks.
In the United States, the population in urban areas has increased from approximately 30% in the 1950s to 82% in 2020. Demographic models anticipate that this percentage will continue to grow. With the increase in both population density and climate related disasters, it is important that tenets of Urban Resilience are considered in both existing and new development. However, most major cities in the US were not designed to support these changes.
As a result, many municipalities are implementing, and even requiring, low impact solutions to better mitigate the effects of stormwater and reduce pollutants in waterways. Among the requirements are standards mandating a certain percentage of porous surfaces in new development and for the retrofit of existing impervious surfaces. In order to achieve these goals, design professionals tasked with this planning are opting to use permeable paving in areas that have traditionally been paved over with concrete or asphalt.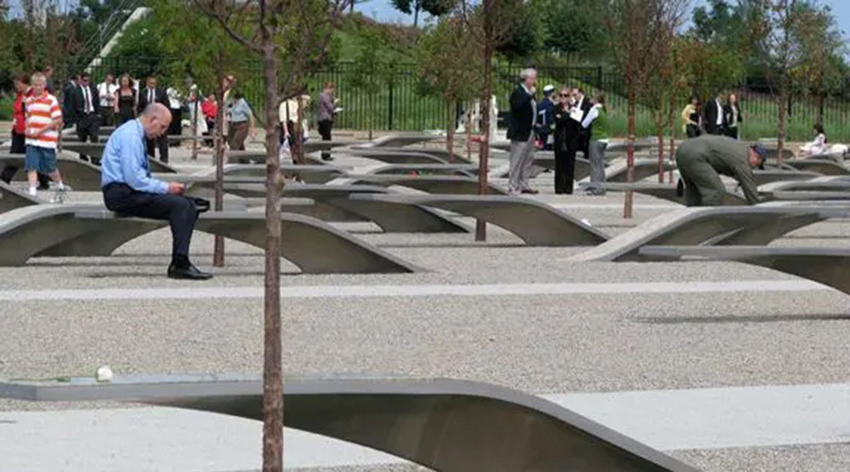 Photo courtesy of Invisible Structures
A view of the September 11 Pentagon Memorial in Arlington, Va. Memorial Units are meant to be sat on, and the site is meant to be seen, heard, felt, and contemplated. Porous paving was used to promote the growth of the trees in the gravel surface.
Permeable Paving
It is important to create surfaces that are pervious for several reasons. Permeable surfaces not only reduce flooding risks, but they also facilitate absorption of water back into the earth. This absorption allows for natural filtering out of pollutants and enhances recharging for ground water. By using permeable surfaces, urban areas can decrease areas covered in impermeable concrete and asphalt and increase natural surfaces and green space.
Permeable Paving is a type of pavement or under-surface structure that supports the passage of rainfall or water run-off through the surface and sub-surface below it. Permeable surface solutions are designed to support a heavy load of traffic while also protecting the surface from compaction that would inhibit drainage. There are different types of permeable paving: Concrete Paving Blocks, Porous Concrete or Asphalt, Rigid Plastic Porous Pavers, and Flexible Plastic Porous Pavers. The functionality, flow rate, maintenance, and aesthetics of pavers varies with the type of porous paver selected.
Originally published in Architectural Record
Originally published in March 2023
Notice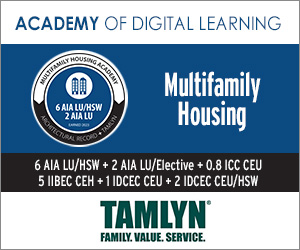 Adventures at the New Frontier
Buyer's Guide
High Impact BluNose Vinyl Retainer Surface Mount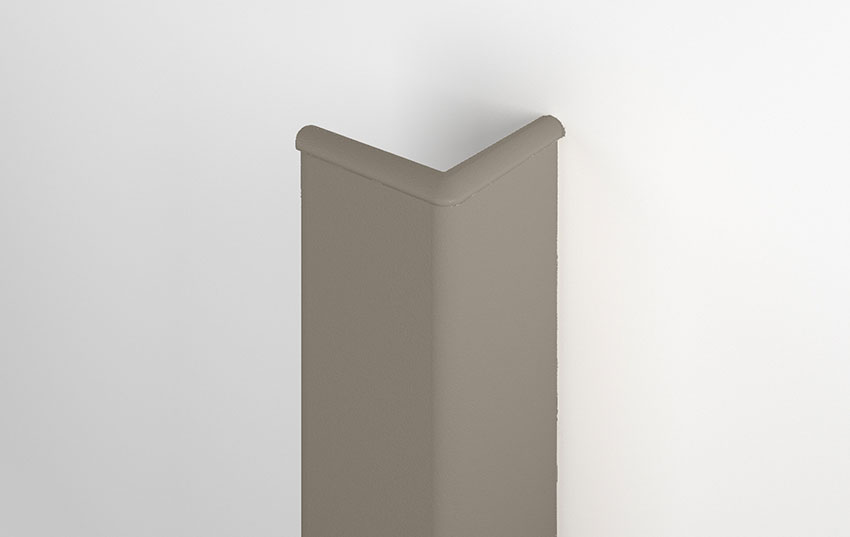 BluNose Corner guard provides superior impact resistance with a cost-effective vinyl retainer that is nearly 4X stronger than our aluminum retainer and 6X stronger than other vinyl retainers.
Grasspave2–There is No Equal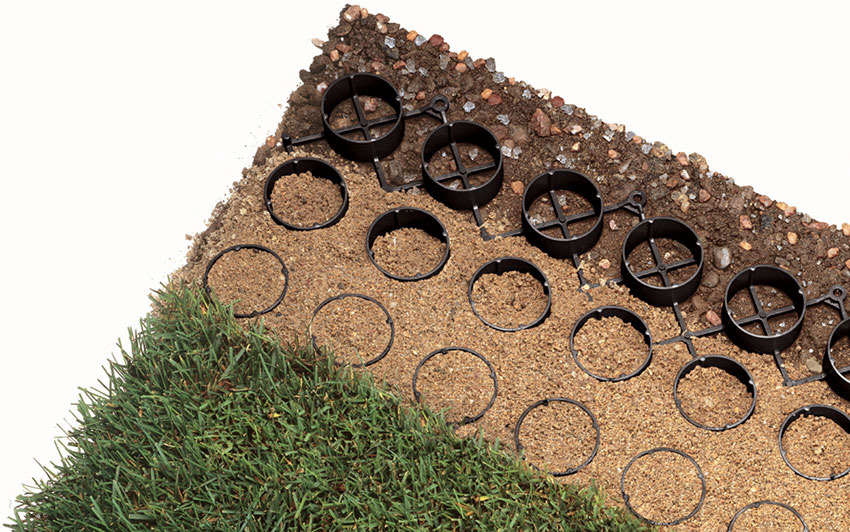 Grasspave2 by Invisible Structures has been the industry's most trusted porous paver since 1982. It is fast and easy to install and designed to perform in severe weather events. Grasspave2 boasts the greatest void space of 92% and highest compressive strength of 15,940 psi available, offering endless solutions.
The Ultimate Software from Sketch to BIM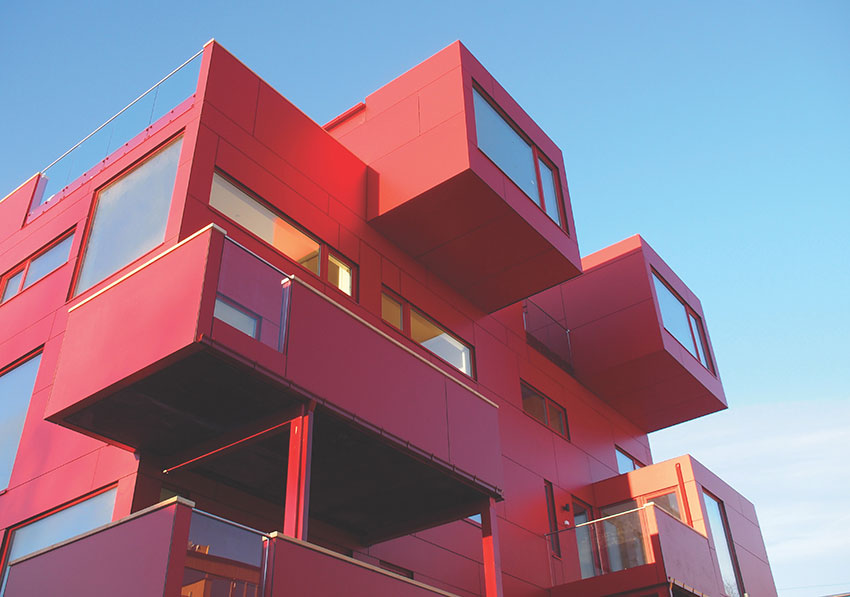 Unlike other software, Vectorworks has the flexibility to support your entire project from beginning to end, or anywhere in the process– from conceptual design to fully coordinated BIM models to construction documents. It's the versatile solution you need to pull everything together and increase your efficiency.