Adventures at the New Frontier
Sustainability at every stage
Sponsored by Inpro, Invisible Structures, inc., and Vectorworks, Inc.
You are not currently logged in to your CE Center account.
Log in
to view and complete the quiz questions that are embedded in this article.
Targeted Wall Protection is a set of specific products designed to absorb impact and protect the underlying wall. These products cover only part of the wall, but function to provide a higher level of impact resistance. Examples include corner guards and wall guards.
Wall Guards perform as their name implies: these products guard the wall. Sometimes wall guards are referred to as Crash Rails. The two most-common forms are multi-component systems and single material systems. Wall guards are designed to take impact dead on, into the face of guard. Cover materials include all extruded plastics, and some may contribute to LEED credits. They offer long service life with durable cover and end caps, which can be replaced.
Corner Guards are considered to be the unsung heroes of interior protection. Corners in corridors are some of the most vulnerable places in a building. Because corners are the outermost joint of the wall, their position makes them highly susceptible to damage. Corner guards may stop above the base trim, or they may extend to the floor, which also reinforces the wall base. The two most-common forms of corner guards are multi-component systems and single material systems.
The common form of corner guard is surface mounted. It can have an aluminum or extruded plastic retainer. Covers can come in a rainbow of colors, patterns, and woodgrains. Top caps finish the look of the guard and prevent dust and debris from getting behind the guard.
Single-material systems can come in extruded plastic; metals, most often stainless steel; and heavy-duty materials like rubber. Rubber is used mainly for the back of house, loading docks, and warehouses.
Most corner guards are affixed either mechanically with hardware or by adhesive. Single-material corner guards can be installed with pressure-sensitive tape. Tape-on guards work best where abuse risk is low to moderate. While clear polycarbonate guards are inexpensive and easy to mount, they are subject to breakage and can accumulate dust, debris, and even insects. Extruded plastic corner guards come in various wing sizes and lengths, and various bull nose angle types are available. Surface mount rubber corner guards withstand very heavy abuse and have a very long life cycle. Rubber corner guards are also an excellent choice for service corridors with high traffic and higher damage potential.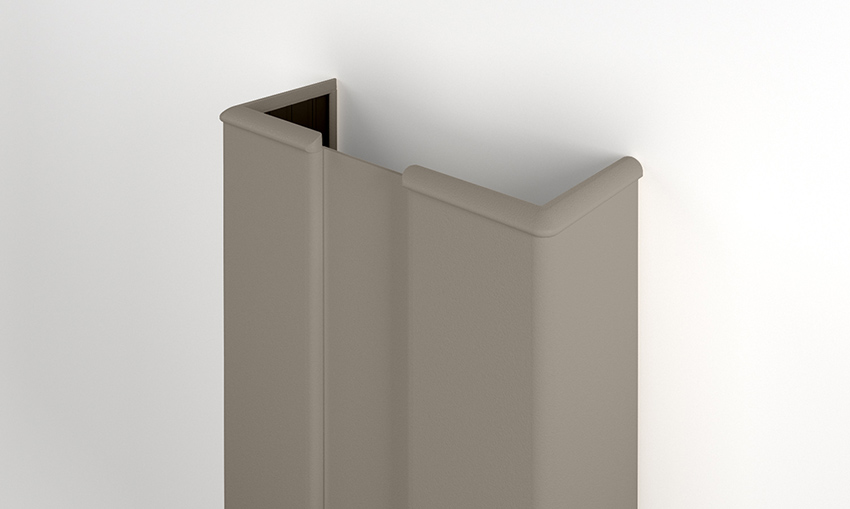 Photo courtesy of Inpro
New vinyl guards are the perfect example of performance meeting sustainable design, meeting an aesthetically pleasing product.
The use and installation of flush mount corner guards is usually reserved for new construction or major renovation. Flush mount corner guards are designed so that the metal bead "wings" of the corner guard rest along drywall, thus allowing the plane of the corner guard to be flush with the wall, as opposed to surface mount guards that protrude. Flush mount corner guards do have a variety of advantages. They provide high impact protection, generally from floor to ceiling. The designs are available in various wings sizes and angles, and one-hour and two-hour fire rating is an option. Flush mounts also offer a long life cycle, as covers may be changed to update colors.
Manufacturers have also introduced new corner guards for maximum coverage against damage that feature lower cost vinyl retainers. With some of these products offering up to four times greater impact protection over a standard aluminum retainer, performance is greatly increased. The new vinyl systems are easy to install, with mounting hardware included, and are lightweight. Depending on manufacturer, this product contributes to the sustainable design of a building and offers the opportunity for a project to obtain several Green Building Rating System credits, including LEED and WELL. New vinyl guards are the perfect example of performance, meeting sustainable design, meeting an aesthetically pleasing product.
Recycling: Capturing Sustainability at the End
The reason designers install door and wall protection products is to cut down on visible damage and keep surfaces looking new. This translates into extending and preserving the life of selected materials and the structure as a whole. Beyond the performance of door and wall protection products, sustainability from the very materials selected can also be captured. Responsible product manufacturers are constantly looking for ways to reduce environmental impact, whether through the manufacturing and recycling of products or through business practices. Product transparency has increased dramatically through documentation such as Health Product Declarations (HPD), Environmental Product Declarations (EPD), and Greenguard Gold Certificates. Gathering the information for these documents also sheds light on the environmental aspects of products at various stages.
Instead of simply sending scrap to the landfills, manufacturers are increasingly able to reuse it in a way that creates usable products with greater performance. Manufacturers enrolled in the Zero Waste by 2025 program are repurposing internal scrap to contribute to that goal. Leading manufacturers are operating at almost an 80% overall diversion rate based on production efficiencies, and internal recycling of PVC, metals, and comingled materials.
Take-back programs are evolving to engage the customer in product recycling. Manufacturers are creating programs allowing customers to recycle scrap or removed product, preventing the materials from going to the landfill. Depending on material, the recycled product is then able to be reground and turned into new product elements. Some material producers, in addition to the environmental aspects of this program, incentivize customers who utilize this program with a monetary credit back to their account. This system helps to build valuable relationships with customers based on mutual benefits.
The select group of material suppliers and manufacturers is growing, representing truly exceptional companies that are not only committed to going above and beyond, but are also committed to bringing about change in their industry, region, or within their supply chain.
CONCLUSION
With sustainability's rise to the forefront in architecture and construction, products and systems continue to innovate to provide the architect, the design professional, and the client opportunities "to meet the needs of the present without compromising the ability of future generations to meet their own needs." The ability to be sustainable continues to expand. Whether it be in implementing the latest design and analytical software, rethinking exterior surfaces to allow for the utilization of rainfall and mitigation of floodwater, or recyclable products which protect a building's interior and extend its aesthetic and useful life, the quest for a more sustainable future seems attainable.
Amanda Voss, MPP, is an author, editor, and policy analyst. Writing for multiple publications, she has also served as the managing editor for Energy Design Update.