Achieving Sustainability Goals Through Materials and Design
Specifying earth-friendly materials as part of a systems approach
Sponsored by ASI Group, Neolith, PABCO Gypsum, and Vectorworks, Inc.
Specifying High-Quality Materials For Interior Spaces
The specification of high-quality materials and products is key when meeting sustainable construction goals because these products often have a long life cycle and do not contain harmful materials or volatile organic compounds (VOCs). High-quality materials can be used in interior spaces, both commercial and residential, to ensure occupant safety and comfort without sacrificing aesthetic considerations. Whether it's an office building, stadium, healthcare facility, hotel or multi-unit residential building, or even a subway station or airport, high-quality, sustainable products are versatile and provide many benefits, both seen and unseen, to occupants.
Drywall
Drywall became popular in the mid-20th-century as a time-, cost-, and labor-saving alterative to lath and plaster. It consists of panels made from gypsum, or calcium sulfate dihydrate, which is an abundant natural resource with mineral deposits located all over the world. Gypsum is mixed with water and varying additives, then the slurry is extruded between sheets of facer and backer paper or woven glass fiber mats, to create a monolithic panel. It is important to look for gypsum products that use additives that are safe for people and the environment. The paper used in the manufacturing of gypsum panels can be made from 100 percent recycled content. The gypsum panels themselves are manufactured with varying amounts of recycled material.
Gypsum panels provide a safe, effective, and aesthetically pleasing environment for interior spaces. Walls can be easily customized and installed in settings such as healthcare facilities, multifamily residential buildings, office spaces, and recording studios to enhance the occupants' environment, and to provide protection against mold, mildew, fire, and noise.
While gypsum is always the key material, not all products are created equal. When selecting gypsum panels, be sure to review the manufacturer's specifications and results when tested against international standards for sound control, mold, mildew, and fire protection. Products with high ratings and good test results will perform better and have a longer product life.
Another sign of a high-quality product is the ease of installation. Look for sound-damping gypsum panels that cut cleanly and snap easily, creating smooth edges and surfaces. Interior glass mat wall panels can be installed early in the construction process, allowing for other key building components, such as plumbing and electrical wiring, to be added to the building early on. Integrating the walls, plumbing, and electrical components early in the process as part of a complete system not only speeds up the overall construction process and helps to reduce costs, it can also ensure a better quality, code-compliant application.
Sintered Stone Surfaces
Sintered stone is one of the most durable surface materials on the market. It can be applied to walls, floors, ceilings, countertops, furniture, and even used in bedrooms, in both commercial and residential applications. It is resistant to extreme temperatures, fire, and thermal shock. Because sintered stone surfaces can withstand heavy chemicals, cleaning products, extreme temperatures, and UV rays, it is an ideal choice for kitchen walls and countertops, both interior and exterior surfaces in banks, offices, multi-unit residential buildings, outdoor courtyards, hospital settings, as well as train stations, public restrooms, and other areas that are subject to heavy traffic and/or are in need of regular, thorough cleanings.
This natural surface contains no resins or plastics, which is safer for both occupants in spaces where sintered stone surfaces are installed, as well as for those who manufacture the product. Since the material is made of minerals, clay, feldspar, and other natural materials, it does not emit toxic fumes when exposed to fire or extremely high heat. An additional benefit to the occupant is that sintered stone surfaces do not need to be sealed to be preserved, unlike wood walls, floors, or countertops. The fact that no sealant is required saves the occupant the burden of introducing chemicals into the interior space, thus eliminating exposure to those chemicals and their potentially toxic fumes.
Sintered stone surfaces are not only durable and easy to clean, they can also elevate the aesthetics of any interior as they are available in dozens of colors and patterns, resembling everything from marble and granite to timber and metal. There are also many textures available, meaning the surface can be smooth, for use in countertops and walls, or it can be made slightly rough, providing good grip potential for flooring, showers, and pool decks. It is available in a variety of formats and thicknesses, providing the perfect balance between form and functionality.
While the material can sometimes resemble granite, one of its many benefits is that it is less porous than granite, thus preventing it from holding any liquids or stains. This makes it ideal for use in kitchen counters as well as areas around swimming pools and outdoor spaces that are exposed to the elements.
Since it is made from natural materials, at the end of its life, sintered stone is fully recyclable and new sintered stone surfaces can be made from recycled products.
Washroom Partitions
In commercial washrooms and bathrooms, individual spaces are separated by walls or partitions. Privacy partitions can be made from many materials, including stainless steel, solid plastic high-density polyethylene (HDPE), powder-coated steel, plastic laminate moisture guard, and phenolic. Partitions are available in various mounting styles: anchored to the floor, anchored to the ceiling, floor-anchored and overhead-braced, and floor-to-ceiling-anchored. In phenolic and solid plastic partitions sightlines into the stalls can be blocked by routing doors and pilasters to overlap. To achieve the same level of privacy in metal partitions, up until now add-on privacy strips have had to be installed in the field. Now architects have the ability to specify newly designed metal partitions that have privacy strips built into the doors during the manufacturing process, saving their clients time and money during construction. As an added bonus, the privacy components come color-matched to the stalls.
High-quality partition materials, handles, and hinges will not rust, dent, or delaminate over time. Providing extra benefit to areas subject to heavy use, many high-quality materials are resistant to damage from impact and graffiti.
WASHROOM ACCESSORIES
The functionality and flow of a washroom can be improved through the addition of accessories that allow occupants to easily access what they need and then return to their activities, particularly in washrooms, which are subject to heavy use, often by large numbers of people at the same time.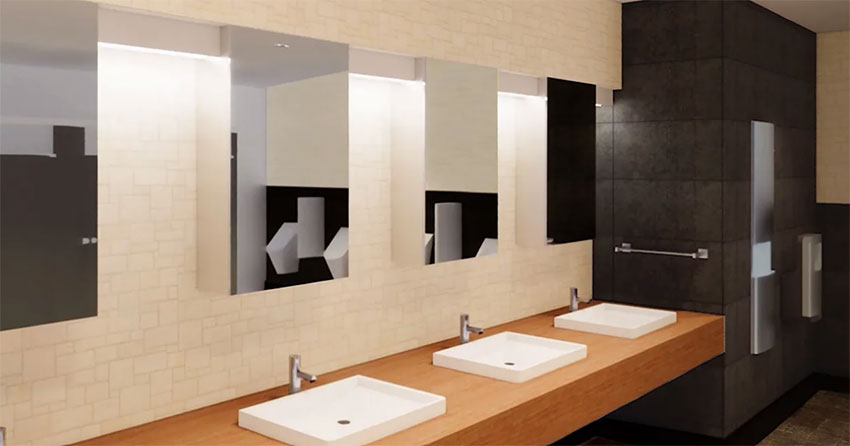 Photo courtesy of ASI Group
Mirrors, grab bars, paper towel dispensers, and waste receptacles are just a few of the accessories that can be specified and customized for commercial washrooms.
Grab Bars
Grab bars can be specified and installed in single occupancy washrooms and bathroom stalls to make spaces ADA compliant. These grab bars are made of high-quality, 18-gauge 304 stainless steel, with optional textured surfaces for added safety, and are made in accordance with ADA guidelines for strength requirements. Grab bars are also available in finishes to match various design aesthetics, and are made with antimicrobial characteristics to suppress the growth of mold, bacteria, fungus, algae, mildew, and yeasts.
Toilet Paper Dispensers
There are a wide range of toilet paper dispensers on the market consisting of various materials and mounting types. Consider stainless steel options to help meet sustainable construction goals as these units will have a longer life without corroding, rusting, or breaking. They are also easy to clean and provide options for multiple rolls to be stored and used at once, making them ideal for high-volume washrooms.
Originally published in Architectural Record
Originally published in October 2021
Notice