Achieving Sustainability Goals Through Materials and Design
Specifying earth-friendly materials as part of a systems approach
Sponsored by ASI Group, Neolith, PABCO Gypsum, and Vectorworks, Inc.
Learning Objectives:
List the seven core principles of sustainable construction.
Explain how high-quality materials lead to the health, safety, and welfare of occupants, more sustainable buildings, and less waste.
Describe how materials and BIM software provide a systems approach that leads to more efficient buildings.
Recognize how high-quality materials and design lead to cost savings without sacrificing aesthetics or occupant comfort.
Credits:
This course can be self-reported to the AIBC, as per their CE Guidelines.
This course is approved as a Structured Course
This course can be self-reported to the AANB, as per their CE Guidelines
Approved for structured learning
Approved for Core Learning
This course can be self-reported to the NLAA.
Course may qualify for Learning Hours with NWTAA
Course eligible for OAA Learning Hours
This course is approved as a core course
This course can be self-reported for Learning Units to the Architectural Institute of British Columbia
At the start of the Industrial Revolution, the idea of take, make, and discard seemed a viable plan in a world with infinite resources. These days, it's becoming more apparent that the world's resources are indeed limited, and that our actions and choices of materials can have lasting consequences on a much larger scale. The construction industry accounts for 20 to 40 percent of global carbon emissions, using more raw materials than any other industry. Fortunately, manufacturers and consumers alike have become more aware of the impact that materials can have on the environment and are pushing for greener buildings. By following sustainable construction principles, manufacturers, architects, specifiers, and building managers can all have a positive impact on the environment while also creating safe, comfortable, and aesthetically pleasing interiors for occupants.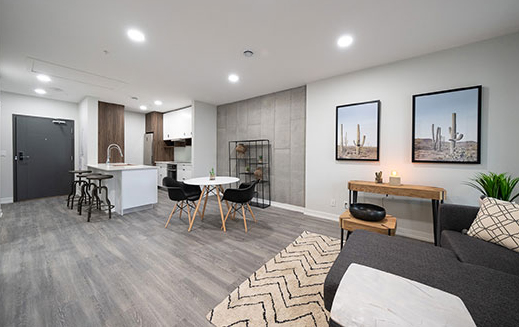 Photo courtesy of PABCO Gypsum
Gypsum wallboard can provide sound reduction, as well as fire and mold resistance, all in one panel, while also providing a surface that can be finished in many ways.
Interior Solutions
Walls, floors, and ceilings are the biggest surfaces in a space. They not only set the tone for the room, but also serve as the first line of defense for occupants against external toxins, noise, smells, and – in some cases – potential fire hazards. Walls, floors, and ceilings also encase vital systems, including plumbing and electrical wiring. To complete the desired aesthetic, finishes, paints, and patterns can be applied to surfaces.
Gypsum panels are commonly used in construction because they are a cost-effective solution, providing both safety and an aesthetically pleasing facade. Many different types of finishes and paints can be easily applied to gypsum panels, allowing the occupant versatility in customizing the aesthetics of the space. While gypsum panels are generally installed vertically, they can also be installed horizontally in a "railroad" style on either side of the studs, which cuts labor costs and decreases production timetables. In corridors it allows ductwork penetration in the plenum spaces to be addressed more efficiently. If a fire-resistant assembly is required, ensure that the design allows for horizontal application. High-quality gypsum panels can also help architects meet their acoustic goals by reducing sound transmission between spaces.
Sintered stone can also be used in interior spaces as a surface for walls, floors, countertops, and other areas where durability and design are important. Sintered stone is a relatively new, revolutionary material that combines the perfect blend of man-made processes with natural materials to create surfaces that are resistant to water, chemicals, scratches, abrasions, thermal shock, and impact. This low-maintenance material is exceptionally durable, making it a practical solution for high-traffic areas such as commercial kitchens, train stations, museums, lobbies, and other busy public places.
In commercial spaces, washrooms are heavily used and regularly cleaned, so specifying high-quality materials and accessories can greatly improve the occupants' experience while also enhancing safety and efficiency. From toilet partitions to accessories such as paper towel dispensers, grab bars, toilet paper holders, sanitary napkin dispensers, and waste receptacles—durable, high-quality materials provide the most value to building owners and the most benefit to occupants and visitors.
With so many products and materials on the market, each with multiple features, benefits, and key specifications, designers need to be able to quickly and efficiently sift through the information and provide solutions to clients. In the last couple of decades, architecture and interior design professionals have experienced a dramatic shift in the workflows that professionals consider standard. Moving away from hand-drawing, many are embracing Building Information Modeling (BIM) software. BIM is a process supported by various technologies and tools that are used to create digital representations of physical spaces. This software can be used to model characteristics of a space, including physical infrastructure and building details.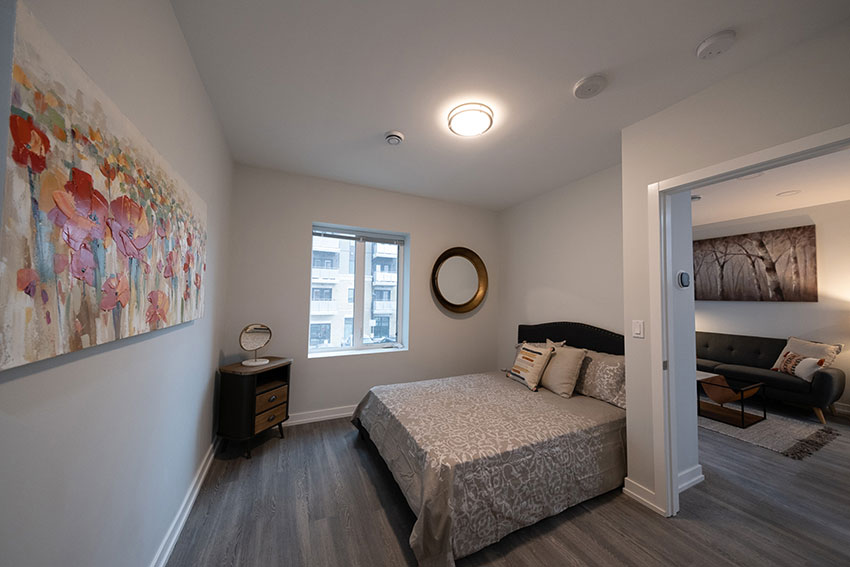 Photo courtesy of PABCO Gypsum
The walls in this bedroom are made from sound-reducing gypsum panels, a product that damps sound from adjoining rooms, using less material than conventional sound control treatments.
Sustainable Construction Principles
While materials and products may all seem similar enough, there are key differences in quality and best practices that vary by supplier and manufacturer. Building materials and products work together to create a complete system, supporting occupants and contributing to their overall experience. When specifying materials for a project, there are many things to consider, including cost, quality, ease of installation, and durability. One must also consider the environmental impact, not just with respect to the immediate selection of materials, but also how those materials will affect both the occupant's space as well as the overall environment throughout the product's life cycle.
In an article titled The Greening of Project Management, Robichaud and Anantatmula provide a list of sustainable construction principles based on research from a variety of sources including The U.S. Green Building Council, the Green Building SmartMarket Report, and the National Association of Homebuilders Model Green Homebuilding Guidelines. The sustainable construction principles focus on healthy built environments and resource efficiency achieved over a building's life cycle. These principles are: reducing resource consumption, reusing resources, using recycled resources, protecting nature, eliminating toxics, applying life-cycle costing, and focusing on quality.
Reducing resource consumption: By specifying high-quality materials that have a long life, fewer repairs and replacements are needed, thus reducing the amount of resources and materials mined, manufactured, and consumed.
Reusing resources: Some materials can be reused for other applications with minimal processing, thus preventing them from being discarded. When installing these materials, consider installing them in such a way that they can be deconstructed easily for reuse or recycling, rather than needing to be demolished for extraction at the end of their life.
Using recycled resources: By specifying products that use post-recycled content, materials that would have ended up in the landfill can be reprocessed to serve a completely different purpose. Many of the products we'll discuss in this article were created using recycled resources.
Protecting nature: Sustainable development and management of natural materials aims to reduce the impact on the environment caused by harvesting resources that cannot be quickly and effectively replenished. Measures include both reusing materials and recycling whenever possible to prevent materials from ending up in the landfill where they will decompose and contribute to carbon emissions. It is also important to consider the method of harvesting resources when selecting materials, and to choose methods that make use of renewable and sustainable energy sources.
Eliminating toxics: Using natural products without volatile organic compounds (VOCs) helps eliminate toxic emissions that can be introduced in a space, especially interior spaces with limited ventilation. While many natural products do not contain VOCs, some natural products may be coated with VOC resins or plastics to help seal in oils or to protect natural materials. These coatings and resins often introduce unwanted toxins to an interior space, which can affect occupants who regularly interact with the surfaces. At the end of a product's life, toxic materials and chemicals must be properly disposed of as they can cause additional harm to the environment if improperly sent to the landfill or poured down a drain.
Applying life-cycle costing: Life-cycle costing is a method used to assess the total cost of facility ownership. This includes acquiring, owning, and disposing of a building and/or building system and includes the materials specified in both interior and exterior spaces. Longer-lasting materials that can be easily and inexpensively disposed of will have a more advantageous long-term benefit-to-cost ratio, not only for the building owner but also for the environment.
Focusing on quality: High-quality materials are the key to longevity and performance. While high-quality materials may be more expensive and more costly to install, these costs are almost always recuperated because high-quality materials in general require less maintenance and are longer lasting. Quality products that are designed to save energy also often have higher up-front costs that are recuperated in energy savings over the life of the product.
Let's discuss some different interior solutions and how specifying high-quality products can help buildings meet sustainable construction goals.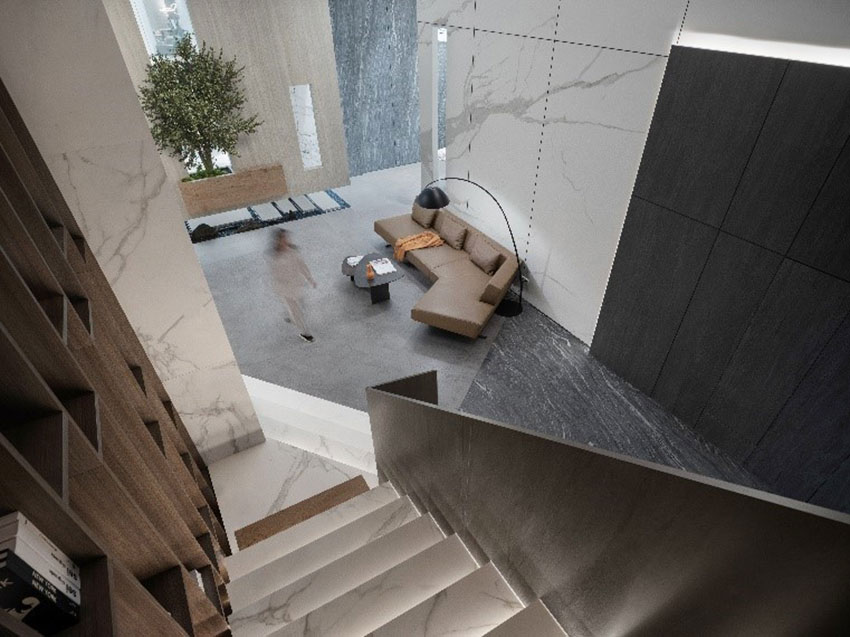 Photo courtesy of PABCO Neolith
Sintered stone surfaces are installed at the Neolith Life Museum by TechSize.
Originally published in Architectural Record
Originally published in October 2021
Notice