Sustainable Construction
The lasting benefits of building with metal
Sponsored by Metal Construction Association

1 AIA LU/HSW; 0.1 ICC CEU; 1 IIBEC CEH; 0.1 IACET CEU*; 1 AIBD P-CE; AAA 1 Structured Learning Hour; This course can be self-reported to the AANB, as per their CE Guidelines; AAPEI 1 Structured Learning Hour; This course can be self-reported to the AIBC, as per their CE Guidelines.; MAA 1 Structured Learning Hour; This course can be self-reported to the NLAA.; This course can be self-reported to the NSAA; NWTAA 1 Structured Learning Hour; OAA 1 Learning Hour; SAA 1 Hour of Core Learning
Learning Objectives:
Discuss how the durability of metal as a building material can contribute to the sustainability of buildings.
Explain some key qualities of metal that make it an ideal material selection when incorporating renewable energy goals into building plans.
List the financial and aesthetic benefits of choosing metal for walls and roofs.
Describe the importance of considering a cradle-to-cradle approach when specifying building materials to address carbon emissions and climate change.
This course is part of the Metal Architecture Academy
You are not currently logged in to your CE Center account.
Log in
to view and complete the quiz questions that are embedded in this article.
The material properties of IMP roofing systems help create a durable, sustainable building envelope that will last decades. Panel designs are highly versatile, and include options such as trims and profiles, as well as accessories and different panel modules. As with other metal panels, they can be finished in natural and color coatings that protect the metal.
With insulation and high-tech coatings, IMPs are ideal for energy efficiency and building performance. Buildings in extremely hot environments can stay cooler when a high-performance roof is installed. This in turn lessens the strain on a building's cooling system and reduces energy costs.
As a roofing option, IMPs contribute to both the overall building design and project timeline. IMPs tend to be custom-made and assembled in the factory, so they arrive on the jobsite ready for installation. Compared to older roofing systems that include multiple parts and have lengthy installation, IMPs can be quickly and efficiently installed on site.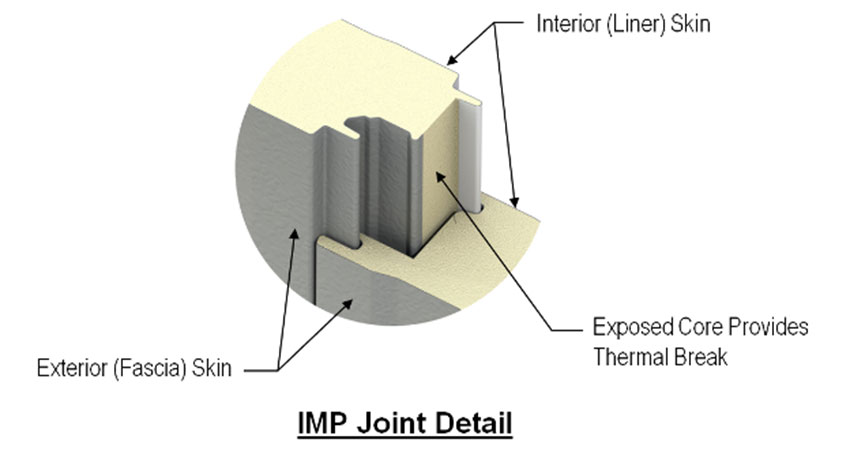 Image courtesy of Nucor Corporation
IMP Joint Thermal Break.
THERMAL AND ENERGY-SAVING BENEFITS OF METAL CONSTRUCTION
It may seem counterintuitive that metal can have thermal and energy-saving benefits in commercial construction. After all, metal conducts both heat and cold very well, so thermal bridging is a concern. A hot metal roof or wall can easily increase the internal temperature of a building simply by transferring the exterior heat to the interior walls. Modern metal panels for walls and roofs, however, often include protective coatings that lessen the solar load, and most are designed with either insulative layers or an insulative backing that breaks the thermal bridge, solving the problem of thermal conduction. Metal is well-suited for ecofriendly building goals.
Benefits of Specifying Thermally Efficient Metal Panel Systems
When properly specified and installed, metal roofs and wall systems can help designers create structurally strong, lightweight, highly efficient buildings that have many thermal and energy-saving benefits. Whether as an insulation strategy, a solid foundation for roof-top renewable energy options, or simply as a superior roofing or wall product, metal directly equates with lower carbon emissions of commercial buildings through reduced energy use, lower maintenance, and fewer replaced materials. These energy-saving benefits are not just environmental solutions —they also improve the health, safety, and comfort of occupants.
A key goal for an energy-efficient, sustainable building is to minimize the energy needed for interior climate control. Materials and products designed to make buildings thermally stable throughout the year can help reduce heating and cooling costs, as well as lower operational CO2e emissions.
Many new metal roof and wall panels address the thermal bridging problem within the product design. MCMs and IMPs both have insulative materials sandwiched between metal skins, breaking any thermal conductivity along the surfaces. Single-skin panels, which don't have insulation built into them, can also be installed on top of insulative layers, making them a more affordable panel option that still provides thermal protection to the building.
As with any exterior building material that must be securely attached to a structure, fasteners can risk thermal bridging. One of the many benefits of metal panel systems is that they are designed to incorporate large spans of coverage, and many include inlaid seams that help limit thermal bridging in metal attachment points. Modern metal roof and wall systems can, in turn, allow for excellent thermal performance of the overall building with minimal points for heat or cold to enter the structure.
On the higher performance end of the scale, IMPs offer exceptionally good thermal performance when used for both walls and roofs. The thermal performance stems from the thick insulation (usually ranging from 3-8 inches and from the airtight design of panels and fasteners, along with an excellent spanning capability. Together, these features provide superior levels of thermal (R-values) and airtightness performance over the service life of the building. Insulated roofs have a long service life, and are quick to install and easy to maintain, and that makes them ideal for low and high-rise commercial buildings. If a project requires a high-performance building enclosure, IMPs are perfect for the job.
Lower Maintenance and Less Frequent Replacement of Materials
There's a reason many manufacturers place 20- to 40-year warranties on their metal walls and roofs—the products last a long time. And throughout the life of the wall or roof, maintenance tends to be minimal, thanks to protective coatings and finishes. From an energy-efficiency and sustainability standpoint, the durability and longevity both mean that once a roof or wall has been installed on a building, it's likely that minimal additional energy will be needed to maintain the structure. When the structure does finally meet the end of its life cycle, metal can be recycled or repurposed rather than sent to a landfill. These recycled or repurposed metals contribute to the overall sustainable use of materials and reduce the demand for new resources that contribute to carbon emissions.
Metal walls and roofing also help reduce the carbon footprint of a project. When compared to other roofing materials such as asphalt shingles made of a crude oil by-product and not recyclable or biodegradable, metal roofs have a less carbon-intensive production process, and the material is recyclable. Both of these factors limit greenhouse gas emissions.
This proves useful not only for commercial construction projects but also for existing structures with poorly insulated roofs that were constructed prior to the newer, more energy-efficient building codes. Assuming the rest of a structure has the potential for a long life, replacing a less efficient roof with a newer metal roof with higher insulative properties can help extend its service life. A roof replacement can dramatically shift energy use and overall carbon emissions to lower the carbon footprint.
Health, Safety, and Well-Being of Building Occupants
So many attributes of thermal efficiency in metal panel walls and roofing can be directly applied to the way metal contributes to the overall health, safety, and well-being of building occupants.
Climate-controlled buildings, whether residential or commercial, help keep occupants comfortable and, by extension, safe. Large commercial buildings designed and constructed with properly insulated metal walls and metal roofs contribute to a healthy interior environment. These wall and roof systems can be easily integrated with HVAC systems, ensuring buildings are properly ventilated and keeping interior temperatures safe and comfortable.
Related benefits of metal walls and roofs include providing an exceptional barrier to fire and the natural elements, adding a level of safety not available in buildings constructed of other materials.
Metals used in construction are non-combustible with high melting points, so structures resist fire much longer than buildings consisting of less fire-resistant materials and contribute little fuel. Structures remain intact longer giving occupants more time to evacuate and firefighters more time to get in, helping minimize damage.
While steel, commonly used for walls and roofs, can withstand high heat loads, it is not immune to the impacts of fire. When steel reaches 593C, for example, it loses half its weight-bearing capability. This in turn can impact structural supports. Consequently, it is critical that buildings constructed with metal exteriors and interiors are fireproofed as a way to protect both the occupants and the structure itself. Fireproofing won't prevent fires, but it can drastically reduce a fire's impact.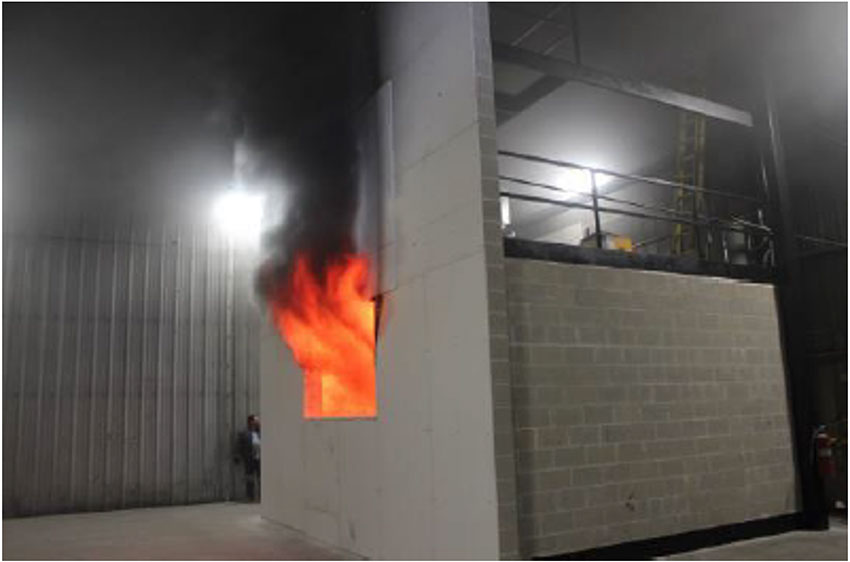 Photo courtesy of Intertek Building and Construction
NFPA-285 Fire Testing.
Structures that incorporate metal into a design, whether with rainscreen panels or metal roofing, are resilient against the elements. Rainscreens can be designed to withstand sun exposure through coatings and finishes, and they also prevent water intrusion. Buildings protected by metal panel walls or rainscreens stay dry and mold free, keeping occupants safe from mold exposure.
Metal roofs also help protect building occupants with durability and resilience. Standards require that metal roofing systems pass ASTM E1592, a test which applies high air pressure under an entire panel assembly. This test, one of the most rigorous in the industry, helps determine how a roofing system might perform in a hurricane or tornado. Natural disasters also carry the risk of roof decks detaching, or damage from wind, fire, or hail. Tests such as UL 1897 and UL 580 evaluate a roof deck's attachment performance under negative and variable pressures, and FM 4471 includes ASTM E1592 and adds additional requirements for overall durability. Metal roofing systems perform extremely well in the above tests and contribute to the safety and well-being of building occupants, especially in regions that undergo hurricanes or severe storms.
The durability of metal roofing systems can protect against pressure and impact, but the systems are also designed with interlocking panels that include minimal seams, which limit the ways wind can enter a system. In extreme events, such as higher-category hurricanes or tornados with wind that exceeds 150 mph, systems are typically designed to accommodate the air pressure. A structure's roof can be rated to withstand up to 200 psf in some areas, in line with a category 4 hurricane or an F2 tornado.
BEAUTY AND CONSERVATION – DUAL BENEFITS OF METAL
In the construction industry, metal cladding and roofing have long been used to create beautiful exteriors and functional protection against the elements. Metal provides architects and designers with a vast choice of shapes, colors, textures, and finishes, all of which can be used to highlight aesthetic sensibilities while providing a resilient building exterior. Metal cladding products such as metal composite materials (MCMs), insulated metal panels (IMPs), single-skin panels, profiled metal, or metal plates all play a significant role beyond overall building sustainability. They also help keep costs down, both at the construction site and for the building owners once the project is done. This section highlights the aesthetic properties of metal exteriors and how they support the design goals of architects and clients while exploring how prefabricated metal parts and manufacturer-supported design options can lower construction and building operation costs.
Originally published in Architectural Record
Originally published in September 2023
Notice