Sustainable Construction
The lasting benefits of building with metal
Sponsored by Metal Construction Association

1 AIA LU/HSW; 0.1 ICC CEU; 1 IIBEC CEH; 0.1 IACET CEU*; 1 AIBD P-CE; AAA 1 Structured Learning Hour; This course can be self-reported to the AANB, as per their CE Guidelines; AAPEI 1 Structured Learning Hour; This course can be self-reported to the AIBC, as per their CE Guidelines.; MAA 1 Structured Learning Hour; This course can be self-reported to the NLAA.; This course can be self-reported to the NSAA; NWTAA 1 Structured Learning Hour; OAA 1 Learning Hour; SAA 1 Hour of Core Learning
Learning Objectives:
Discuss how the durability of metal as a building material can contribute to the sustainability of buildings.
Explain some key qualities of metal that make it an ideal material selection when incorporating renewable energy goals into building plans.
List the financial and aesthetic benefits of choosing metal for walls and roofs.
Describe the importance of considering a cradle-to-cradle approach when specifying building materials to address carbon emissions and climate change.
This course is part of the Metal Architecture Academy
You are not currently logged in to your CE Center account.
Log in
to view and complete the quiz questions that are embedded in this article.
This section focuses on the durability of metal. It provides an overview of the benefits of using metal as a building material in commercial construction and explores why metal is often specified for walls and roofs over other materials, especially as architects and developers aim to construct more resilient, sustainable buildings.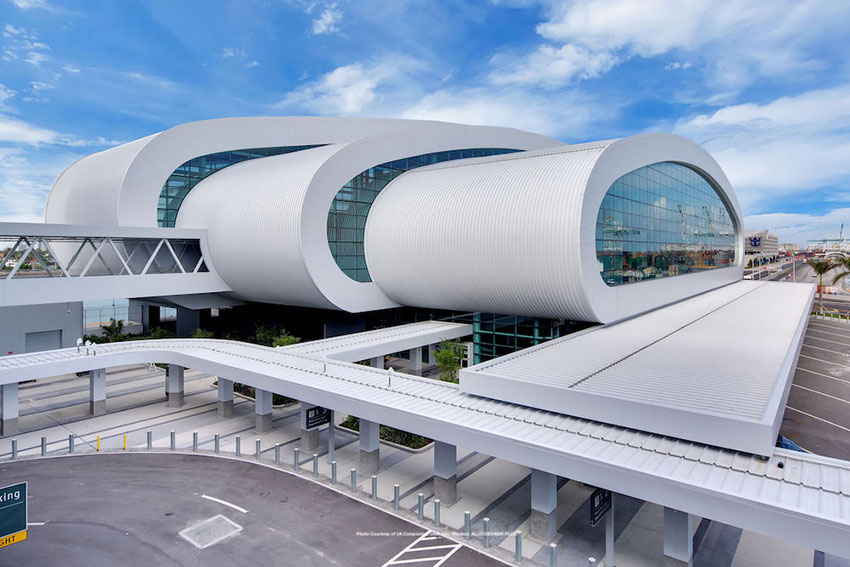 Photo courtesy of 3A Composites USA, Inc.
Norwegian Cruise Lines Terminal, Miami, Florida.
A BRIEF HISTORY OF METAL IN COMMERCIAL CONSTRUCTION
Metal buildings have a long history in commercial construction, with their earliest use in late 1700s England to build mills, factories, and agricultural buildings during the Industrial Revolution. Metal was less expensive—and less flammable—than brick and timber, and the advantages were quickly apparent. Commercial construction in the early 19th century United States slowly began to incorporate the newly mass-produced steel into buildings, with the wealthy in New York City as an early adopter due to the cost.
While this set the groundwork for later building projects, World War II is recognized as the tipping point for metal in commercial construction. Metal had beneficial attributes. It could be quickly prefabricated and shipped to construct structures such as airplane hangars, barracks, and other temporary shelters to support the war effort. Advantages of metal later were applied in agriculture and other industries that required strong, durable, and relatively easy-to-assemble structures. During the post-war era, metal building systems (MBS) became more common for basic large-scale storage or warehouse structures.
Steel grew increasingly popular, and the advancement of Computer Aided Design (CAD) in the mid-1970s allowed metal building design to be widely applied to commercial buildings. The rest is history. Today metal is specified as a building material in many commercial sectors, and for good reason. Metals such as steel are versatile and sustainable and last a long time with limited or no maintenance. Steel can be customized to meet specific design requirements, or it can be combined with other building materials to suit a design.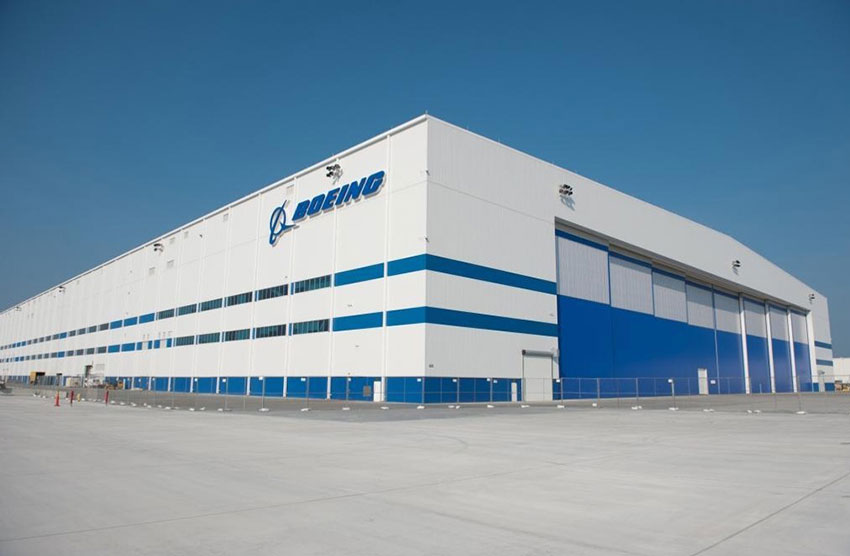 Photo courtesy of Nucor Corporation
Boeing 787 Dreamliner final assembly plant, North Charleston, South Carolina.
Benefits of Metal Construction Compared to Other Materials
Compared to other materials such as wood, concrete, or brick, metal proves versatile and cost-effective over its lifetime, as well as lightweight, sustainable, and durable. Many materials will fall to rot or decay with water exposure, but properly designed, constructed, and maintained metal can last for years.
With newer composite materials that incorporate insulation and protective finishes, architects and builders can choose from products that offer increased performance and design options. These attributes lead with durability, placing metal high on the list of ideal building materials for commercial construction projects.
In the construction world, durability typically refers to a material's ability to withstand the elements, resist damage, and handle structural pressure. Buildings constructed with metal building products such as wall panels and roofing can last decades with minimal maintenance or repair, even when exposed to extreme weather or natural disasters.
Benefits of Metal Walls in Commercial Construction
Metal walls are increasingly common in both residential and commercial construction thanks to increased versatility and sustainability as well as advances in panel design. Commercial construction projects benefit from the advantages of metal walls. This holds true for both new construction and retrofits. Metal walls can provide protection against both fire and water, stand up to wear and tear, and offer lower material costs, as well as lower costs for installation and maintenance. On top of that, metal walls are versatile when it comes to design aesthetics, and they offer architects a huge range of options for both interior and exterior walls.
Designers and builders have several options when it comes to metal walls. Three of the most common metal wall panels are insulated metal panels (IMPs), metal composite material (MCM) panels, and single-skin panels.
Insulated Metal Panels (IMPs)
Insulated metal panels (IMPs) are exterior cladding elements constructed with composite materials. Their exceptional performance stems from the combined metal skins and rigid insulative core. The core can be made of different materials, including mineral wool, which may be fire rated. Along with a vapor-retarding thermal barrier, IMPs are designed to be highly insulative, lightweight and weather resistant; they can be used for roofs or walls and are an excellent choice for commercial construction.
Aside from weather resistance and thermal benefits, IMPs carry many other attributes that will be discussed later including aesthetics and increased energy efficiency. Features such as the design and installation of assembly systems, however, connect to durability.
Where IMPs have similar installation to concrete tilt-wall and precast options, they are quicker and easier to install when used as roof systems. A notable characteristic is they can be installed with a single pass and span large sections of a structure. From an aesthetic perspective, IMPs are highly versatile in size, width, color, profile, and finish. Not surprisingly, IMPs are frequently used for large buildings, from warehouses and manufacturing facilities to healthcare, educational, recreational, and government buildings.
A stand-out benefit of IMP walls hinges on insulative properties. With panels from 3-8 inches, walls can be designed to provide a climate-controlled interior environment. For example, manufacturing and processing facilities may require a controlled climate to keep food or other materials fresh. Storage facilities may require a consistent climate temperature to keep products stable and safe. In either case, lower operational CO2e emissions will improve performance, so a carefully considered building envelope material such as IMP lowers operational energy use.
IMPs used in commercial and institutional buildings offer a balance of energy efficiency, durability, and lower cost. While some of these features are similar in other commercial and industrial wall segments, IMPs offer the versatility of custom shapes, colors, finishes, and custom fabrication. Architectural IMPs can be customized to mesh with unique building designs while ensuring cohesion in the building envelope. IMPs are designed to integrate well with customized windows, louvers, or sunshade systems available through the manufacturer or their partners.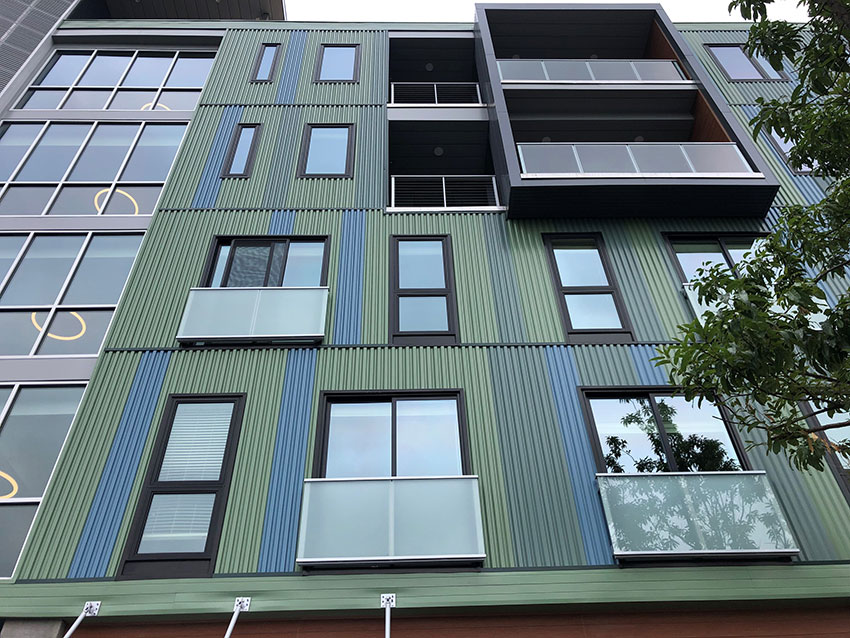 Photo courtesy of ATAS International Inc.
Lakeview Green Apartment Complex, Birmingham, Alabama.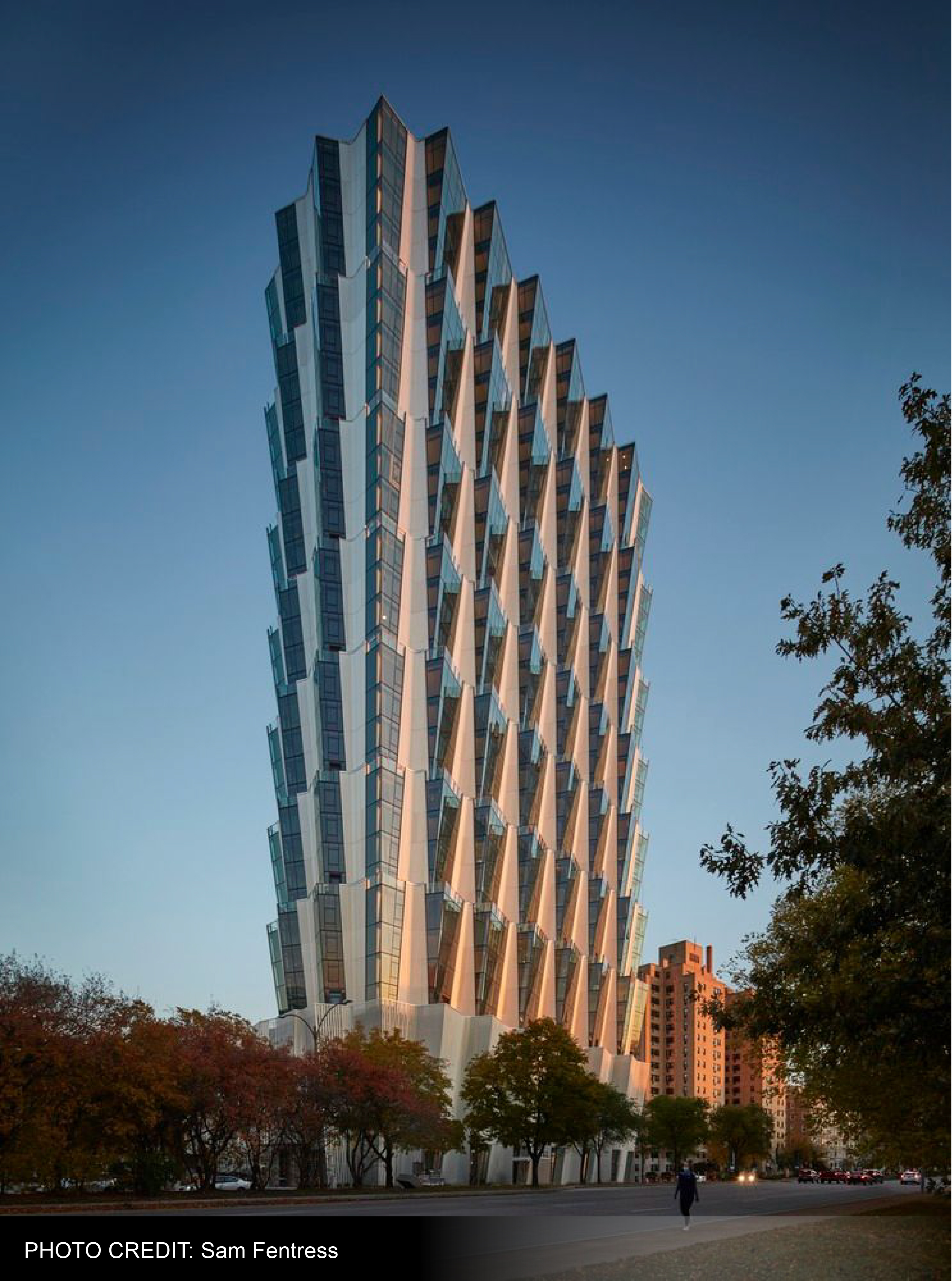 Photo: Sam Fentress
100 Above the Park, St. Louis, Missouri.
Metal Composite Material (MCM) Panels
Metal composite material (MCM) is the current iteration of aluminium composite material (ACM), which was introduced in 1969. Over the past 50 years, MCM has become increasingly popular as a commercial building material thanks to high-performance stainless steel and high-tech natural metal skins made from zinc, copper, and titanium, all of which provide a modern look to architectural designs.
As an exterior wall material, MCM panels are an affordable, durable, high-quality option for designers. One of the top selling points of MCM is that the metal sheets are engineered and fabricated to ensure they remain consistently flat during installation. Depending on the material, a design aesthetic can change. Aluminum MCM, for example, can be finished with different colors, and other metals such as zinc, copper, stainless steel, and titanium can be used as panel skins to highlight the aesthetic of the metal.
These finishes add to the durability of MCM panels. The material can look new for decades while protecting the structure.
Originally published in Architectural Record
Originally published in September 2023
Notice