Crafting the Intersection Between Indoors and Outdoors
An in-depth look at multi-panel door systems
Sponsored by LaCantina Doors
This test is no longer available for credit
Product Range
The importance of a manufacturer's product range reaches beyond the ability to diversify style—a manufacturer offering many types of glass, hardware components, and finishes can help fine tune a multi-panel door system to not only look, but also perform, at its best.
A range of door materials means the adaptability to meet desired look, price point, and energy performance. Having a diversity of options at hand also means being able to best suit client demands for appearance, regardless of climate or environment. Where a simple aluminum multi-panel door is best for moderate climates, tight budgets, and low exposures; doors constructed with solid wood, contemporary cladding, or thermally controlled aluminum offer the best efficiency and durability. A mix of all-wood doors in unexposed areas and clad-wood doors in areas exposed to weather maintains integrity of material sustainability, energy performance, and interior look. Anodized finishes on aluminum or clad frames offer the greatest durability and lifespan; solid wood frames, while excellent thermal performers, need constant maintenance of oils, stains, or painted finishes. The ability to apply a final finish in the factory, whether a simple stain or an anodized metal, eliminates the need for additional subcontractors in the field and ensures factory control of the finish application. The greater the manufacturer's product range, the more room there is to explore visual enhancements and energy efficiency.
Innovation and higher-performance options in a multi-panel system also are found in the performance of its glass. The capability to specify glass, whether double- or triple-pane, with certain forms of low-e coatings or layers of tint, means the capacity to tune a building's visible light, passive solar heat gain, and energy demand. Glass performance is also derived from its thermal break technology. Thermal struts offer more structural integrity and can accommodate large glass panel sizes better. A manufacturer's relationship with its glass supplier can be vitally important when seeking green build certification on a job. As multi-panel door systems take up more of a building's envelope, the need for greater performance grows.
Range in hardware, components, and thresholds means the ability to specify ADA compliance, to seal out water in exposed areas, or to create a seamless, invisible surround for the multi-panel system.
Submittals for multi-panel door systems are similar to those of most traditional window and door products. Product information and shop drawings should be requested. Other general specification items should include warranty requirements for the glazing, on the other materials, and the system overall. Submittals would indicate full coordination of details with the construction drawings. The sizes should be double checked, particularly when a multi-panel system will be custom fabricated to suit the designed opening. Working with a selected manufacturer during the design process will allow for better coordination and integrated project delivery.
The Manufacturer's Experience
Product design, range, experience, lead time, and warranty all come into play before finally selecting a preferred manufacturer. The best manufacturer should present both a depth of knowledge and a history of innovation in the field.
Manufacturer Testing and Certification
The National Accreditation & Management Institute Inc. (NAMI) has established product testing and quality assurance validation programs. They specialize in fenestration and building envelope products, which include but are not limited to windows, doors, and glazing wall systems. NAMI certifications offer global certification and quality assurance designations.
Product Testing and Certification
The best manufacturers have multi-panel systems that are not only visually appealing but also are built to perform, even in the most severe climates and regions. Door systems should be developed, designed, tested, and engineered for optimal thermal performance, structural integrity, strength, and protection against the elements.
If a manufacturer is deficient in any of these areas, testing will reveal that inadequacy.
Thermal Performance and Energy Efficiency:

When comparing performance between different manufactured systems, it is advisable to always look for products that have U-factors determined in accordance with NFRC 100. Manufacturers who participate in the NFRC Certification Program have their products listed in the NFRC Certified Products Directory, available online at www.nfrc.org. Each NFRC-tested unit is additionally shipped with a standard label identifying the key elements of performance: U-factor, SHGC, VT, and AL.

Air, Water, and Structural Performance Testing: This is a vital tool in design philosophy and should be applied to every component multi-panel door systems. Doors should be independently tested with performance results third-party certified. Recommended testing includes AAMA, ASTM, and DP ratings.
Special Circumstances: Approved Impact Systems
Approved impact multi-panel door systems refers to those systems certified to meet a hurricane/impact rating. Impact rated systems generally incorporate additional hardware for maximum structural performance, laminated impact-resistant glass, and optimal weather seals for water resistance.
Approved impact systems must meet and exceed the impact testing protocols in compliance with Miami Dade County and obtained NOA approval for use in High Velocity Hurricane Zone (HVHZ) and other wind-borne debris areas:
Large Missile Impact
Uniform Static Air Pressure Loading
Cyclic Wind Pressure Loading
Water Infiltration and Resistance
Forced Entry
Manufacturer's Warranty and Product Support
The ability of a manufacturer to actually deliver, support, and stand behind its product is the final evaluation point. Once the product ships, a manufacturer with a confusing warranty policy or a hands-off approach will only cause headaches and frustration on the jobsite.
First, the manufacturer should be able to meet demand. Lead times for the multi-panel door system's production should be clear and competitive. Typically, a custom product will take six to eight weeks of lead time; for production builders using a standard unit, lead time averages two to four weeks.
The best manufacturers stand behind their product. They should have a reputation for knowledgeable and accessible service and product support. Warranties should be clearly delineated and easy to understand. Superior warranties for multi-panel door systems are normally 10 years.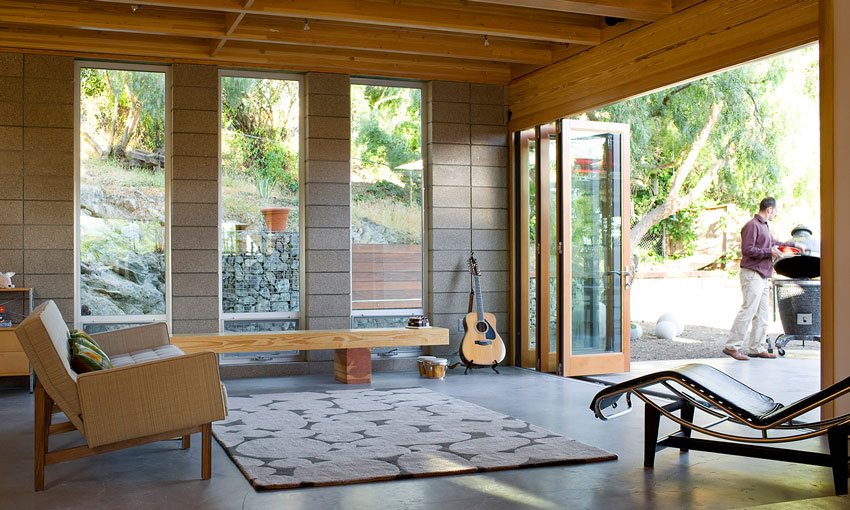 Photo courtesy of LaCantina Doors
Multi-panel door systems are more than just a focal design point—they reach beyond aesthetics to bring nature inside, and capture valuable energy and health benefits.
Multi-Panel Door Systems: A Meeting Place for Indoors and out
Multi-panel door systems defeat the barrier between a building and its surroundings, capturing the benefits of natural light and open air while enhancing the health and helping maintain the performance of a structure. When manufactured using sustainable materials and efficiency, multi-panel systems are friendly not just to creative design, but also to green demands. By mindfully considering application, operation, materials, and components, and by evaluating a manufacturer's credentials and pride of work, a multi-panel system can be secured that is not only a best fit, but also a durable, sustainable showpiece.
LaCantina Doors
LaCantina Doors is the leader in designing and manufacturing products that create large open spaces. Offering the most innovative and comprehensive range of folding, sliding and swing systems available, LaCantina Doors utilizes the same signature narrow stile and rail profile across its product line for a complete and perfectly matching door package. Designed and made in California, LaCantina Doors have contributed to award winning projects ranging from residential, retail, commercial, educational facilities, resorts and is the preferred choice when it comes to products that open spaces. Backed by an industry leading warranty, LaCantina Doors are available across the U.S. and Internationally. http://www.lacantinadoors.com/
Originally published in Architectural Record
Originally published in December 2015
Notice