Crafting the Intersection Between Indoors and Outdoors
An in-depth look at multi-panel door systems
Sponsored by LaCantina Doors
This test is no longer available for credit
The Natural Habitats of Multi-Panel Door Systems
The desire for commercial and residential clients alike to experience outdoor living environments and the unique flexibility of the product has resulted in multi-panel door systems being found in a wide variety of buildings.
Residential
Multi-panel door systems offer the ideal avenue to create an outdoor living experience for any home. By eliminating a wall or typical patio doors, these systems remove the distinction between the indoors and outdoors, creating a healthier, more comfortable environment with natural light and open air. Entertainment spaces flow naturally between the patio the living room or kitchen.
Restaurants and Retail Storefronts
Multi-panel door systems provide a unique opportunity for restaurant and retailers to attract customers and maximize valuable and costly commercial space. Whether creating a true al fresco dining experience or capturing a shopper's attention through open-air marketing, multi-panel interior and exterior applications offer a dramatic design element.
Resort and Hospitality
Multi-panel door systems create large indoor/outdoor spaces that allow guests to enjoy gorgeous scenery and breathtaking sunsets with unobstructed views. The flexibility of these systems can accommodate guest rooms, suites and villas, outdoor cabanas, and high-rise balconies.
Additional Applications
Multi-panel door systems also can be found making better use of interior spaces or creating large open spaces by connecting the indoor and outdoor areas of schools, libraries, campuses, and museums. Form meets function with an interior or exterior application.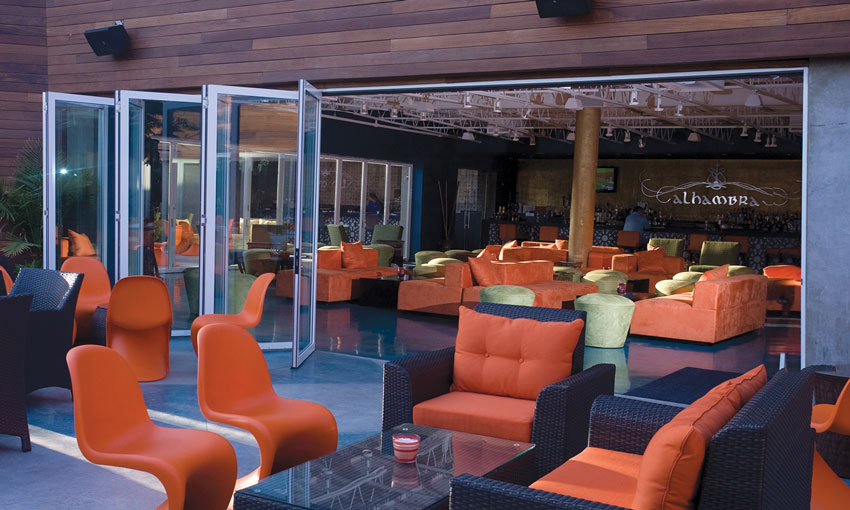 Photo courtesy of LaCantina Doors
Multi-panel door systems are a perfect compliment for commercial spaces, offering maximum use and an undivided flow from indoors, out. Aluminum folding system shown.
Specifying Considerations for Multi-Panel Systems: Material Type
Multi-panel door systems, both folding and multi-slide, are available in a variety of materials. Careful selection of each project's door frame material should consider use, aesthetics, climate zone, and efficiency goals.
Aluminum
Aluminum systems have a clean, modern appeal, with some manufacturers offering a narrow 2¾ inch stile and rail profile, allowing for maximum glass and light. Aluminum is suitable for use in exterior applications or as interior space dividers. The basic configuration is an extruded aluminum panel wall thickness of up to ¼ inch, and single panels up to 10 feet tall. A 10-inch-tall bottom rail and low-rise sill meet commercial Americans with Disabilities Act (ADA) requirements. Aluminum panels are offered in several finish options. White paint, clear anodized, and dark bronze anodized aluminum rails and stiles match most commercial aluminum window finishes. Selecting aluminum eliminates the need for finishing and offers low maintenance. Aluminum typically has the highest U-factor and is best suited for use in moderate climates, where heat loss or gain is less of a concern.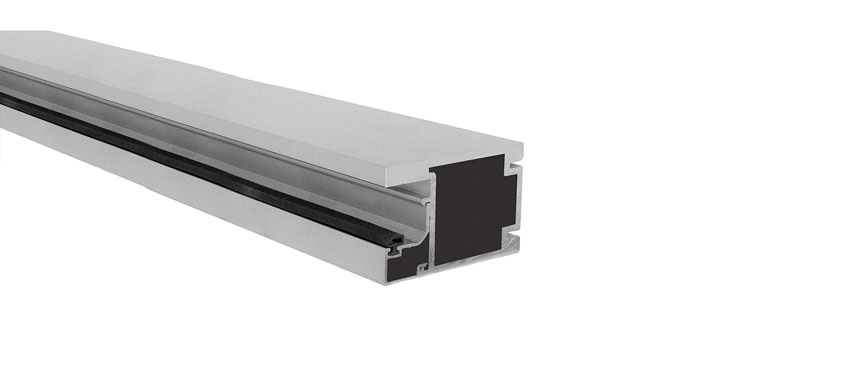 Photo courtesy of LaCantina Doors
Aluminum Thermally Controlled
This system offers improved thermal performance over traditional aluminum frames, suitable for climates where it is desirable to prevent extreme weather from impacting the conditioned interior space, and where higher resistance to water and air infiltration is required. Featuring non-conducting thermal breaks throughout and narrow stile and rail profiles, aluminum thermally controlled systems are designed for optimal energy efficiency and structural performance that minimizes condensation build-up and heat-cold transfer. European thermal struts create the non-conductive bridge between the outside and the inside of the door. Thicker panels (2¼ inches) are suitable for high-wind environments and can include impact-rated features. A proprietary panel design by a leading manufacturer allows for split finish color options for the interior and exterior of aluminum systems, providing maximum design flexibility.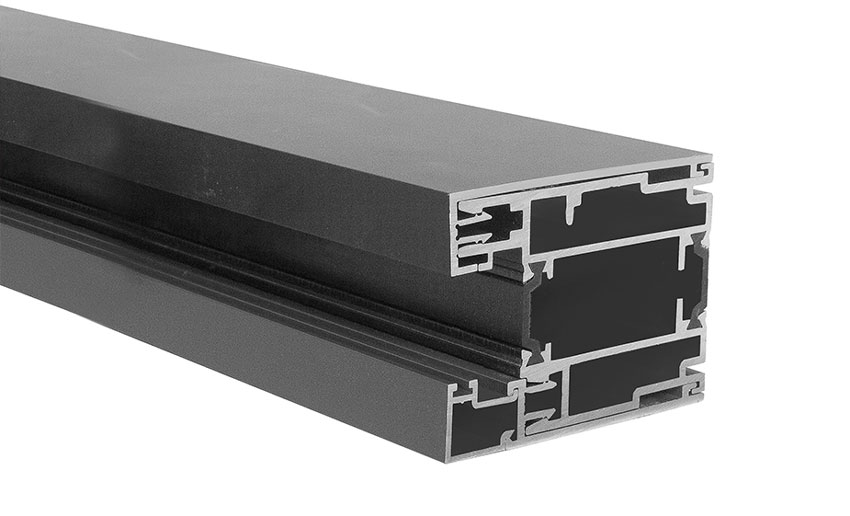 Photo courtesy of LaCantina Doors
Aluminum Wood
Better suited to exterior environments than a solid wood door, an aluminum wood system features a low-maintenance aluminum exterior with a natural wood interior. The hybrid panel construction typically consists of a 1¾-inch-thick extruded aluminum and ½-inch solid wood interior. Typically, several wood species options are offered, and commonly include vertical grain Douglas fir and mahogany. The exterior aluminum surface can be powder coated to a range of colors or finished for an all-wood look. An engineered aluminum panel construction creates strength and rigidity for panels more than 8 feet tall.
Photo courtesy of LaCantina Doors
Clad Systems
Made using heavy-gauge extruded aluminum on the exterior in combination with a solid laminated wood core construction and a natural wood interior facing, clad systems offer durability, efficiency, the beauty of wood, and the ability to withstand the elements. Clad systems typically complement more traditional architecture, and have the best overall U-factor of any frame material, offering maximum energy efficiency in colder climates. And the reach of clad systems is broadening. Certain manufacturers offer a newer, contemporary cladding system, which features consistent-width narrow stile and rails, square or sculpted profile designs, and standard anodized and painted finishes combined with the warmth of a wood interior. Contemporary clad suits a diversity of architectural styles and window packages.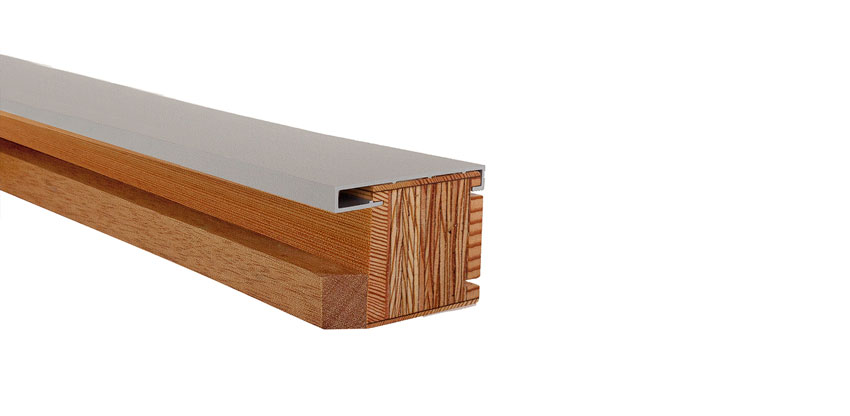 Photo courtesy of LaCantina Doors
Wood
Best for interior space dividers or exterior applications shielded from weather, all wood systems lend a distinctive architectural style to a space. Usually available in a range of wood species, wood finishes are prepped by the factory for sealing, staining, or painting.
Standard wood systems incorporate a 35/8-inch stile and rail profile, with 7½-inch and 10-inch bottom rail options, and can accommodate custom panels from 1¾ inches to 2¼ inches thick. Most manufacturers use a solid laminated veneer lumber (LVL) wood core construction to maintain integrity of the frame. Wood can provide energy efficiency and good thermal performance, and, when FSC certified, earn the project green credits.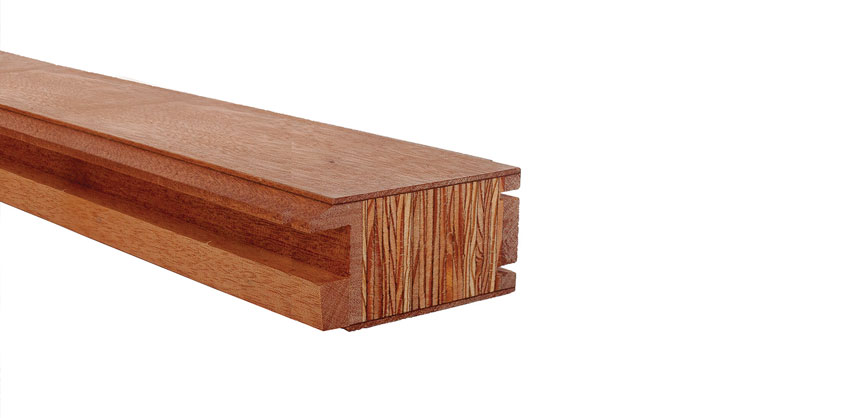 Photo courtesy of LaCantina Doors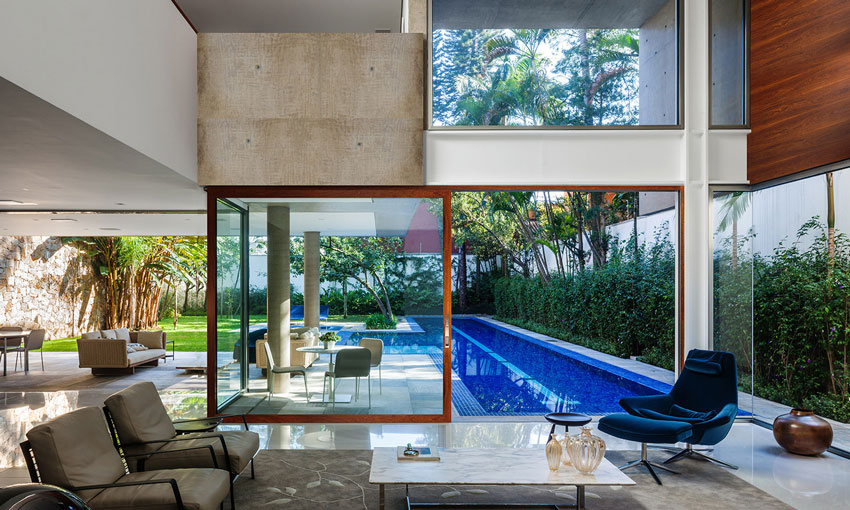 Photo courtesy of LaCantina Doors
The beauty of wood not only adds warmth but also offers energy efficiency. This contemporary clad multi-slide system offers a consistent width narrow stile and rail profile to compliment the style of the home.
Originally published in Architectural Record
Originally published in December 2015
Notice