Multi-slide glass doors revolutionize open design by creating a focal point and bringing the benefits of the outdoors in
Sponsored by LaCantina Doors
This test is no longer available for credit
Laying the Right Foundation: How to Specify Multi-Slide Glass Doors
When specifying multi-slide glass doors, there are choices and specification details to pay attention to so that the best products are selected for the application and design. The Master Format section number commonly used is 08 32 13: Sliding Aluminum-Framed Glass Doors.
Part 1: General
When it comes to specifying the most appropriate multi-slide glass door for a particular building, especially a green building, the first place to look at is testing performance criteria. Make sure to compare similar testing methods between manufacturers and specify accordingly. The appropriate AAMA Product Performance Class should be indicated along with the minimum design pressure (DP) rating. Water penetration should be tested under ASTM E-547 and air infiltration tested under ASTM E-283. Structural load deflection testing is carried out under ASTM E-330 and performance criteria should be related to the size of the panels. Finally, and in particular, look for NFRC-certified and -labeled systems to address thermal performance and require those accordingly.
Submittals will be similar to most window and door products for product information and shop drawings if needed. They should indicate full coordination details with the construction drawings, and the sizes should be double checked since they are custom fabricated to suit the designed opening. Working with a selected manufacturer during the design process will allow for better coordination in the spirit of integrated project delivery. Other general specification items should include warranty requirements for the glazing, other materials, and overall system consistent with available 10-year warranties in the marketplace.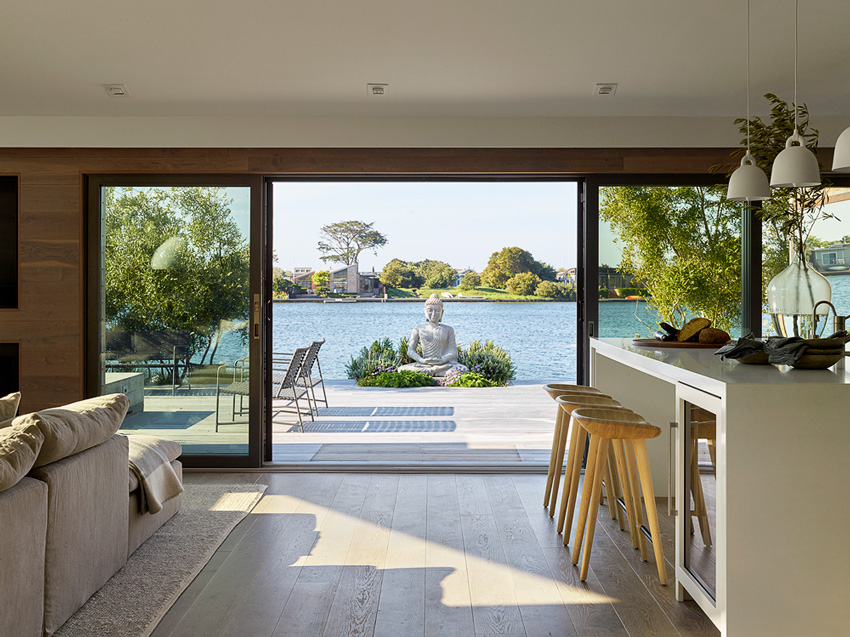 Photo: © Matthew Millman Photography
Stinson Beach Retreat
Architect: John Kleman of Kleman Design
Multi-slide doors create moveable glass walls. The design result is a place of deep serenity in which sunlight, ocean air, and uncluttered views become the center of one's experience.
Part 2: Products and Options
Identifying the specific multi-slide door products, materials, and options that are desired means considering factors like weather, use, aesthetics, and application.
Frame materials: The choice needs to be made between the three commonly available frame materials. Aluminum-only frames generally carry the lowest cost; thermally broken aluminum frames address energy efficiency; and aluminum wood frames, with or without a thermal break, address exterior maintenance and interior appearance. Certain manufacturers also feature a clad product that offers an extruded aluminum exterior and wood interior and features a narrow 2 15⁄16-inch stile-and-rail profile for all-around perfect symmetry, providing a clean aesthetic and more natural daylight.
Frame colors, finishes, and sizes: Frames using extruded aluminum can be finished in common aluminum color choices such as bronze or clear anodized or white paint. They are also available from some manufacturers in colors to match popular window brands, allowing for a consistent exterior or interior appearance with the rest of the building. If none of these are appropriate, then it is also possible to use a Kynar paint finish to customize the frames to virtually any color. Innovative manufacturers offer frame designs that split finish options for the interior and exterior to provide maximum design flexibility. If aluminum wood is selected for the frames, then the wood color or finish should be specified from such options as vertical-grain Douglas fir, mahogany, maple, oak, walnut, or even dark cherry. Certain manufacturers may also offer a narrow rail and stile profile, allowing doors with different operational styles to appear the same when closed, preserving a design's aesthetics.
Glazing: With the frame selected, the glazing infill options need to be finalized. Typically, most applications use double-pane insulating glass units with low-e coatings and inert gas fill for energy efficiency. Single and triple glazing are also options, as the location or energy goals may warrant. Specialty glazing may also be available with privacy or obscured glass, acoustic control, impact resistant, art glass, or even solid material possible to be specified.
Tracks and sills: The configuration and makeup of the upper tracks are usually determined by the configuration of the multi-slide doors. The profile is matched to the door manufacturer's system for hanging the door, while the number of tracks will match the number of stacking panels in the multi-slide assembly. They are typically installed flush with the ceiling or head of the door opening, but their height should be known and verified to determine the proper rough opening height. Similarly, the sill needs to be coordinated and will match the manufacturer's system and number of door panels. Sills are available in at least three different profiles and should be specified according to the project design needs. Flush sills are intended to be recessed into the floor such that they are level with the finished floor surface and can incorporate the same finish flooring between the sill tracks. Raised sills are intended to set up above the outside walking surface and may come in varying interior leg heights to create a greater degree of weather resistance. These raised sills can be made ADA compliant when needed by virtue of a ramped edge when there is more than a 1⁄2-inch change in the sill height compared to the walking surface. Regardless of type, sills are typically thermally broken and should specified accordingly.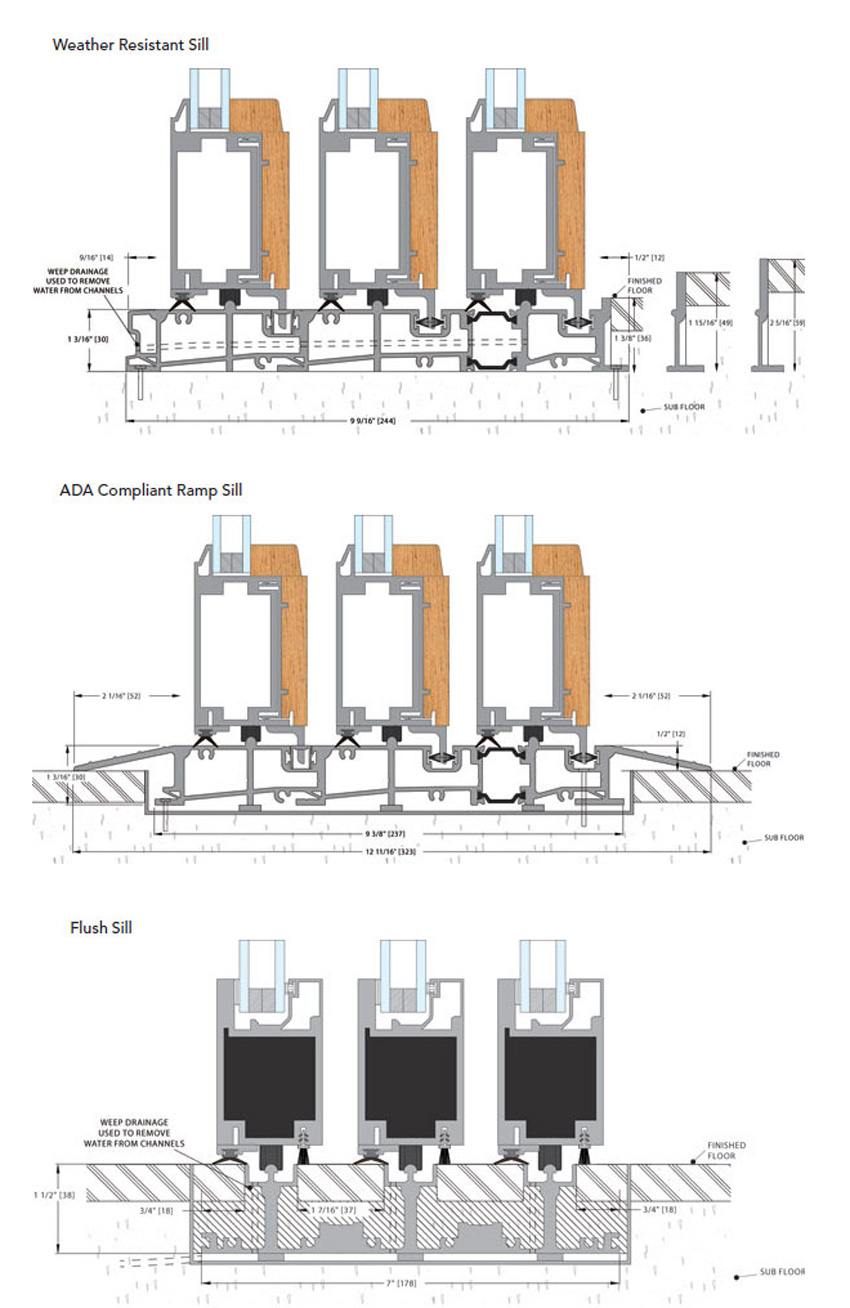 Image courtesy LaCantina Doors
Shown are an ADA-compliant ramp sill, a weather-resistant sill, and a recessed flush sill.
Hardware and locking: Hardware is typically provided by the manufacturer since it necessarily needs to be recessed so as not to interfere with the door operation. Recessed hand pulls are common on door panels, and sliding locking mechanisms are generally used on the primary or end panel. The lock itself relies on recessed or concealed locking at either two or three points depending on the height of the panels. Some manufacturers offer a sliding locking mechanism with an exterior keyed lockset providing easier access when the door is locked while still maintaining greater security. Although there may not be many choices in hardware or locking mechanisms, there is a choice of hardware color that can be specified to match the rest of the project. To preserve a contemporary aesthetic, manufacturers may offer locking hardware comprised of a single-piece back plate and latch, which reduces overall size and is flush to the surface. Multi-slide doors use stainless steel or acetal (polyoxymethylene [POM] plastic) wheels. Advanced, AAMA-certified, low-profile acetal wheels increase durability and offer smoother performance and quieter operation. Stainless-steel wheels and hardware can be specified on taller, heavier doors and can be rated up to 1,000 pounds.
Automatic controls: It is possible to specify doors that are moved manually or with an electric operation. In that case, the space required for the electric motion devices, wiring, and control pad must all be designed in and specified. Since this is something that will vary between products, it is best to work directly with a selected manufacturer to determine what is available and how to coordinate its installation. Similar to other automation devices, both wall-mounted and handheld remote options may be available to open, close, lock, and unlock a multi-slide glass door. Some can even be linked to a smart phone or as part of a whole-house automation system.
Screens: In areas where insects are an issue, adding screens to the opening is an option. There are two types available for large openings: a non-pleated screen mesh and blind that is fabricated as an integral part of the door or a more economical pleated mesh screen that collapses and moves out of the opening, allowing for maximum open space. From an aesthetic standpoint, both the non-pleated and pleated screens remain concealed and out of view when not in use.
Originally published in Architectural Record
Originally published in December 2018
Notice