Multi-slide glass doors revolutionize open design by creating a focal point and bringing the benefits of the outdoors in
Sponsored by LaCantina Doors
Learning Objectives:
Discuss the design flexibility and performance characteristics allowing multi-slide doors to create a direct connection to the outdoors.
Identify and specify high-performance multi-slide glass doors for a project, and understand how these doors are affected by national standards.
Explain how the characteristics of multi-slide doors contribute to meeting energy, sustainability, and performance goals.
Recognize specifications and standards of multi-slide doors and how these attributes can be selected to fit specific project goals.
Credits:
This course can be self-reported to the AIBC, as per their CE Guidelines.
This course is approved as a Structured Course
Approved for structured learning
Approved for Core Learning
This course is approved as a Core Course
Course may qualify for Learning Hours with NWTAA
Course eligible for OAA Learning Hours
This course is approved as a core course
This course can be self-reported for Learning Units to the Architectural Institute of British Columbia
This test is no longer available for credit
"We wanted clients to be able to seamlessly move outside and make the connection with what they are visually taking in," says Fogelstrom Design Build Principal Designer Brett Fogelstrom in reference to a recently completed project in Oregon.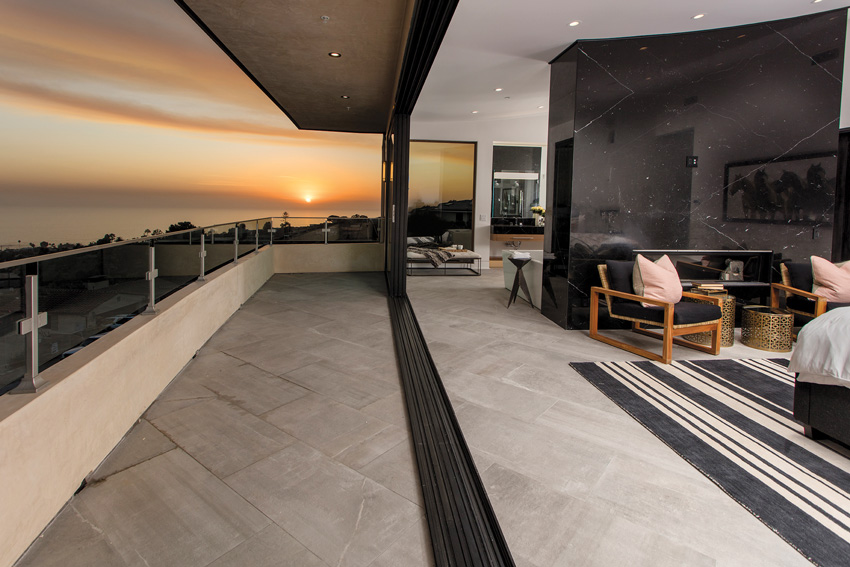 Photo courtesy of LaCantina Doors
Selecting multi-slide glass doors creates a seamless transition between indoor and outdoor living spaces.
Creating a connection between indoors and outdoors is a design goal for both commercial and residential buildings. While glass offers a visual channel to connect to the outside, too often the actual physical transition to exterior environments is abrupt or dissonant.
Modern design means not only embracing a structure's surrounding natural environment, but it also upholds the benefits of bringing the outdoors in by capturing daylight, bolstering indoor air quality, and improving the overall health of occupants.
New product offerings using multiple sliding door panels, or multi-slide doors, that stack or store in wall pockets now make it possible to fully connect indoor and outdoor spaces without interruptions. When open multi-slide doors allow indoor spaces to extend outward, creating an outdoor living experience with all the benefits of fresh air and daylight. When closed, attention to details and performance characteristics assure that multi-slide doors provide the needed protection from weather and climatic conditions.
Eliminating Divides with Multi-Slide Glass Doors
Not only does the integration of outdoors and indoors enhance occupant health, but many building designs also envelop outdoor spaces and incorporate them as part of the overall usable building footprint. This can capture valuable square footage for use.
Commercial building designs, restaurants, office buildings, and apartments all can benefit when welcoming outdoor weather conditions allow for activities like dining and meetings to occur both indoors and out. In residences, rooms that flow into patios, decks, or natural outdoor areas such as beaches or wooded areas give residents a direct connection to those outdoor spaces.
As the focal point of modern design embraces open spaces, architects and designers need products that can capture this attribute. Multi-slide doors offer a dynamic solution that transforms and innovates open spaces. Thoughtful selection of materials mean multi-slide doors are well suited for many different environments and climates and will enhance and complement any architectural style, creating an outdoor living experience for any space. By eliminating a wall or standard door installation, multi-slide products remove the distinction between the indoors and outdoors, creating a healthier, more comfortable environment with natural light and open air.
How to craft a transition that both allows for enjoyment of the outdoors yet still maintains the functional needs of the indoor spaces becomes the key design focus.
The Adaptability of the Multi-Slide Door
The uses for multi-slide doors are only limited by the imagination and creativity of the building designer.
Multi-slide glass doors are used today in a full range of building types and functional applications. Multi-slide doors allow residential buildings to open up entire walls and connect main living areas with outdoor spaces. Multifamily developments use multi-slide doors to create a larger living unit by extending floorplans to include outdoor balcony and common spaces. Restaurant and retail buildings can cater to customers who prefer to relax in outdoor spaces while still being directly connected to the indoor facilities. Resorts and hotels similarly can provide their guests with a convenient and inviting indoor/outdoor experience for individual rooms and common lobby, restaurant, or functional areas. Educational buildings that need the ability to expand or contract a space to accommodate gatherings can use multi-slide glass doors to redefine footprints. Offices that open to a central atrium or courtyard can use multi-slide doors to provide open access when desired or be closed off when needed.
Originally published in Architectural Record
Originally published in December 2018
Notice