Stainless Steel Sinks Show Their Metal
Stainless steel sinks made in the U.S. prove to be hygienic, sustainable and corrosion-resistant solutions for meeting accessibility and occupant needs.
Sponsored by Just Manufacturing
This test is no longer available for credit
Hygiene
The hard metallic surface of stainless steel makes it difficult for bacteria to adhere and survive. When properly cleaned and maintained, stainless steel surfaces resist growth of bacteria, mold and microorganisms that can cause disease. Surface finishes on stainless steel reduce bacterial attachment and early biofilm formation. The easy cleaning ability of stainless makes it the first choice for strict hygiene conditions, such as hospitals, clinics, schools, public restrooms, commercial kitchens and food processing.
Several studies have documented its superior cleanability when new and used compared with other sink materials.
Stainless steels, mainly Type 304, have largely replaced traditional sink materials, such as vitreous china and solid surface materials, as stainless steel sinks can be kept scrupulously clean and withstand aggressive chemicals.
Stainless steel thrives with frequent cleaning, and, unlike some other materials, it is impossible to "wear out" stainless steel by excessive cleaning. The hard metallic surface of stainless steel makes it difficult for bacteria to adhere and survive.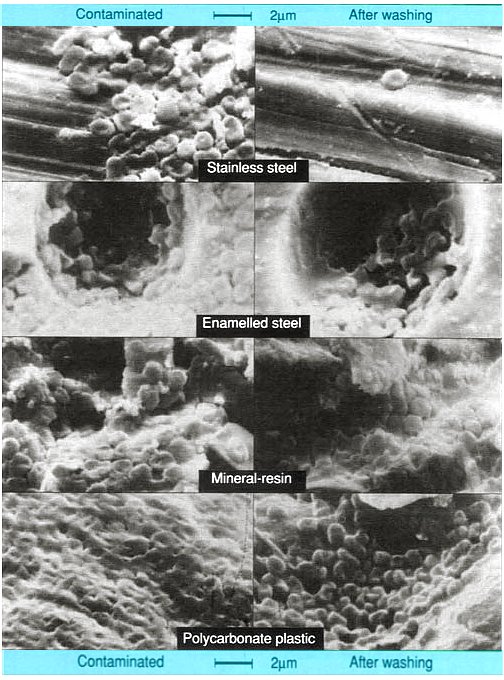 Electron micrograph images of surface bacterial contamination before and after cleaning sink materials.
Source: Sinks of Stainless Clean Best, Beat Bacteria by Dr. John T. Holah, 1990, Nickel Development Institute Publication 14008
Strength to Weight Advantage
As anyone who has hefted a chipped and rust-stained farmhouse sink to the town disposal center will testify, some sinks not only lack durability, they are also extremely heavy, which adds to freight and installation labor costs. While epoxy resins and polymers are certainly lighter than stone and cast iron, they do not compete in terms of weight with stainless steel, which is the lightest and easiest sink material to ship. Moreover, as one manufacturer reports, the freight damage rate is very low.
The work-hardening property of austenitic grades results in a significant strengthening of the material. At room temperature Type 304 and Type 316 have nominal yield strengths of 42000 psi and nominal tensile strengths or ductility of 84000 psi. Such high strengths permit reduced material thickness and therefore savings in costs. In contrast, aluminum alloy (3003-H14) is less than a third and copper nearly one half that of Types 304 and 316 in tensile strength.
Manufacturing Automation
Modern steel-making techniques mean that stainless steel can be cut, welded, formed, machined, and fabricated as readily as traditional steels. The advantage of using Types 304 and 316 with their nickel content for sink manufacturing is that products, such as multiple sink units, can be die-drawn or pressed from a single flat piece of steel, thus avoiding any seams.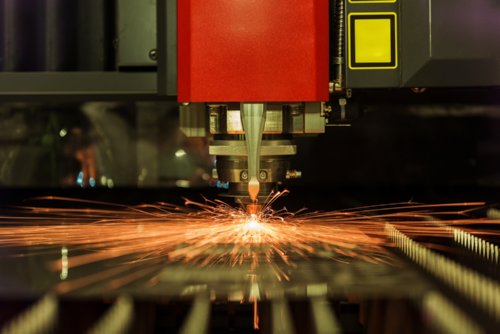 High-speed laser cutting stainless steel
Photo: Just Manufacturing
Maintenance and Staining
Stainless steel sinks do not stain and can be easily wiped down and cleaned with a soap or mild detergent solution and do not require toxic cleaning chemicals. Some manufacturers supply cleaning kits for sinks with higher-end finishes, which may be more difficult to maintain. Easy maintenance makes stainless steel sinks especially appealing across all applications, especially schools and health-care facilities. 
Staining
Solid Surface: Over time scale build up and microscopic debris can adhere to the surface thus creating stains that can give an unsightly appearance and unsanitary environment. Also, due to microscopic porosity associated with sold surface materials staining is quote common. This could be caused by a multitude of liquids used in healthcare environments. Stainless steel withstands the full range of healthcare environment chemicals and the range of liquids used in healthcare exam and patient room environments.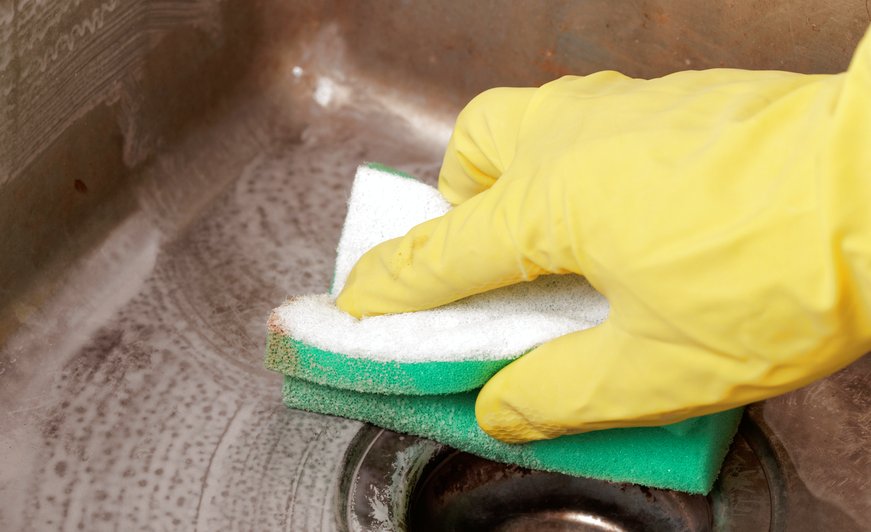 Follow a few simple steps and your stainless steel products will retain their original beauty for many years to come.
Photo: Just Manufacturing
Long Term Value
The durability of stainless steel has a cost-effective impact from a life-cycle perspective. Stainless steel requires only minimal maintenance, which is both economical and good for the environment and society. The combination of corrosion resistance and durability increases product lifetimes. When the total life cycle costs are considered, stainless is often the least expensive material option due to durability and low maintenance.
Stainless steel sinks last 15 to 25 years and are most often replaced because of interior renovations or upgrades rather than degradation of the sink itself.
In certain cases, these cost savings can be in the range of 30 percent to 40 percent compared to alternative materials, and due to reduced repair and maintenance costs.
Given the additional sustainability features of stainless steel, there is clearly long term value in specifying stainless steel sinks.
Sustainability
Stainless steel is one of the most sustainable material choices available—more than paper or glass.
Stainless steel is 100 percent recyclable. It is estimated that about 90 percent of stainless steels are recycled at the end of their life to produce more stainless steels and this process can be carried on indefinitely.
This means resources are saved and the same material is continuously cycled through the production chain in a sustainable closed-loop system, rendering it an eco-friendly material.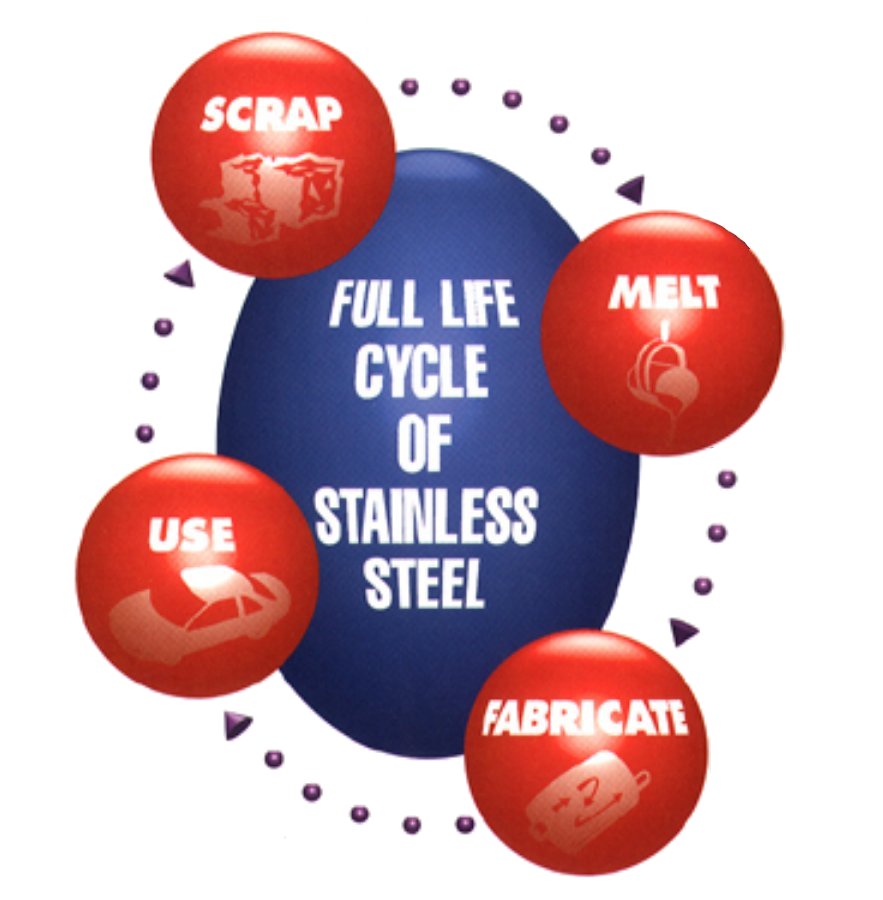 Stainless steel products complete their service life
Image courtesy of SSINA
Ultimately, the most environmentally friendly materials are corrosion-resistant, durable, produce no surface offgassing, include high recycled content and recapture rates, reduce resource use and provide long service life. Stainless steel provides all of these benefits.
With the growing demand for green construction and expanding military, federal and state requirements for U.S. Green Building Council (USGBC) LEED® (Leadership in Energy & Environmental Design) certifications, design professionals increasingly need to be familiar with sustainability factors of all specified products. 
While a single stainless steel sink would make a negligible contribution to LEED calculations, several hundred sinks in a new institution could make a worthwhile contribution in at least two categories in the LEED 2009 for New Construction and Major Renovations:
Recycled Content

Materials & Resources (MR) Credit 4: Recycled Content offers 1-2 points. 

Requirements: Use materials with recycled content such that the sum of postconsumer recycled content plus 1/2 of the preconsumer content constitutes at least 10% or 20%, based on cost, of the total value of the materials in the project.

The recycled content value of a material assembly is determined by weight.
Unlike other sink materials, stainless steel is easily recycled and recaptured. North America's number one recycled material is steel. Each year, more steel is recycled than aluminum, paper, glass and plastic combined. Stainless steel is 100 percent recyclable into the same product with no reduction in quality. The metal's high scrap value and recyclability ensures that it is diverted from landfills and recaptured for use in new stainless steel. A recent international study by Yale University's Center for Industrial Ecology, and National Institute for Environmental Studies, Tsukuba, Japan, determined that about 92% of the stainless steel used in building applications worldwide is recaptured and recycled at the end of service.
In North America, stainless steel producing members of the SSINA have indicated that the average recycled content of the 300 series stainless steel grades that are used in the construction market is approximately 90 percent. Certificates of origin are provided for every coil of stainless steel delivered to fabricators. Stainless steel producers also regularly provide sustainability statements. The supplier for one large domestic sink producer states that the average recycled content is greater than 90 percent and that all scrap is procured from sources in North America. It goes on to report that approximately 85 percent of the scrap was post consumer scrap with the remaining 15 percent being post-industrial and home scrap. Post consumer scrap is defined by LEED as waste material generated by households or by commercial, industrial and institutional facilities in their role as end-users of the product, which can no longer be used for its intended purposes.
Regional Materials

MR Credit 5: Regional Materials, 1–2 Points

Requirements: Use building materials or products that have been extracted, harvested or recovered, as well as manufactured, within 500 miles of the project site for a minimum of 10% or 20%, based on cost, of the total materials value.
LEED has ruled that the point of origin for steel is the producing melt shop—regardless of where the scrap comes from. If the sink manufacturing facility and producer are within 500 miles of the project site, the products are eligible for LEED regional credit.
LEED Recertification
As LEED consultants are pointing out, initial certification is not the end of the story. Recertification is required for all buildings certified under a LEED Existing Building Rating System. All applications for Operations & Maintenance Recertification must occur no sooner than one year and no later than five years following initial certification. Catherine Houska, a leading international expert on the use of stainless steel in architecture, reports that owners and building managers are increasingly aware of LEED recertification requirements. "Environmentally safe cleaning products should be used for building maintenance. Since there is no reason to use toxic chemicals on stainless steel, the choice of stainless steel sinks, however small, can indirectly contribute to recertification points."
Originally published in February 2012
Notice