Stainless Steel Sinks Show Their Metal
Stainless steel sinks made in the U.S. prove to be hygienic, sustainable and corrosion-resistant solutions for meeting accessibility and occupant needs.
Sponsored by Just Manufacturing
This test is no longer available for credit
Accessibility/ADA
Americans with Disabilities Act Accessibility Standards provide requirements for sink ADA compliance in Chapter 3 - Section 306.2 Toe Clearance and Section 306.3 Knee Clerance (addresses requirements for adults) and Chapter 6 Lavatories and Sinks (addresses additional requirements for children). Sink manufacturers label their products ADA compliant when they are able to comply in areas that relate to the height of the counter, knee and toe clearance and the under-surface of the sink.
Knee Clearance and Countertop Height Counter

306.3.1 General.  Space under an element between 9 inches (230 mm) and 27 inches (685 mm) above the finish floor or ground shall be considered knee clearance and comply with 306.3. and comply with 306.3.

Chapter 606 Lavatories and Sinks.

Please note 606.2.4, 606.2.6 and 606.2.7 are exceptions to the requirements of section 606.2.

606.2.4.  Clear Floor Space.  A knee clearance of 24 inches (610 mm) minimum above the finish floor or ground shall be permitted at lavatories and sinks used primarily by children 6 through 12 years where the rim or counter surface is 31 inches (785 mm) maximum above the finish floor or ground.

606.2.6.  The dip of the overflow shall not be considered in determining knee and toe clearances.

606.2.7.  No more than one bowl of a multi-bowl sink shall be required to provide knee and toe clearance complying with 306 (Knee and Toe Clearance).

606.3 Height.  Lavatories and sinks shall be installed with the front of the higher of the rim or counter surface 34 inches (865 mm) maximum above the finish floor or ground.
The accessible space beneath the counter is directly related to the size of the sink and how it is installed. The height of the counter, on the other hand, is independent of both the sink size and type of installation. There are two methods for installing countertop sinks: self-rimming or drop-in and undermount.
A self-rimming sink has a finished rolled edge and is installed (or "dropped-in") on the top of the counter.  An undermount or recessed sink is installed under a countertop.
When addressing ADA knee clearance requirements with undermounted sinks, it is necessary to take the thickness of the counter into account.
For classroom and healthcare environments, for example, manufacturers offer sinks with depths ranging from 4-1/2-in. to 6-1/2-in. in 1/2-in. increments. Countertop thickness is generally assumed to be ¾-in. to 1-in. thick. To meet knee-clearance ADA requirements given a countertop of 1-in. thick, an undermount sink should have a maximum depth of 6-in.
For applications that do not require 24-in knee clearance, specifiers are free to choose sinks of any depth, provided the countertop or sink rim is a maximum of 34-in. above the finished floor and there is knee clearance of 27-in. Private or executive offices are exempt from this requirement.
Since no more than one bowl of a multi-bowl sink is required to provide knee and toe clearance, sink manufacturers offer different solutions that are both ADA-compliant and have a deeper sink. One solution is a split-level design, another is varying sink depths in a multi-bowl unit, provided that appropriate clear floor space is provided.

This multi-bowl unit with sinks of different depths meets ADA requirements.
Photo: Just Manufacturing
Sink Undersurface

606.5 Exposed Pipes and Surfaces. Water supply and drain pipes under lavatories and sinks shall be insulated…There shall be no sharp or abrasive surfaces under lavatories and sinks.
Higher end manufacturers fully coat the underside of all sink models in order to both eliminate sharp or abrasive surfaces and to provide insulation. Insulated coating reduces condensation and sink sounds.
ADA Compliant sinks may be specified with the drain hole centered at the rear so that drainpipes do not interfere with wheelchair access below the countertop.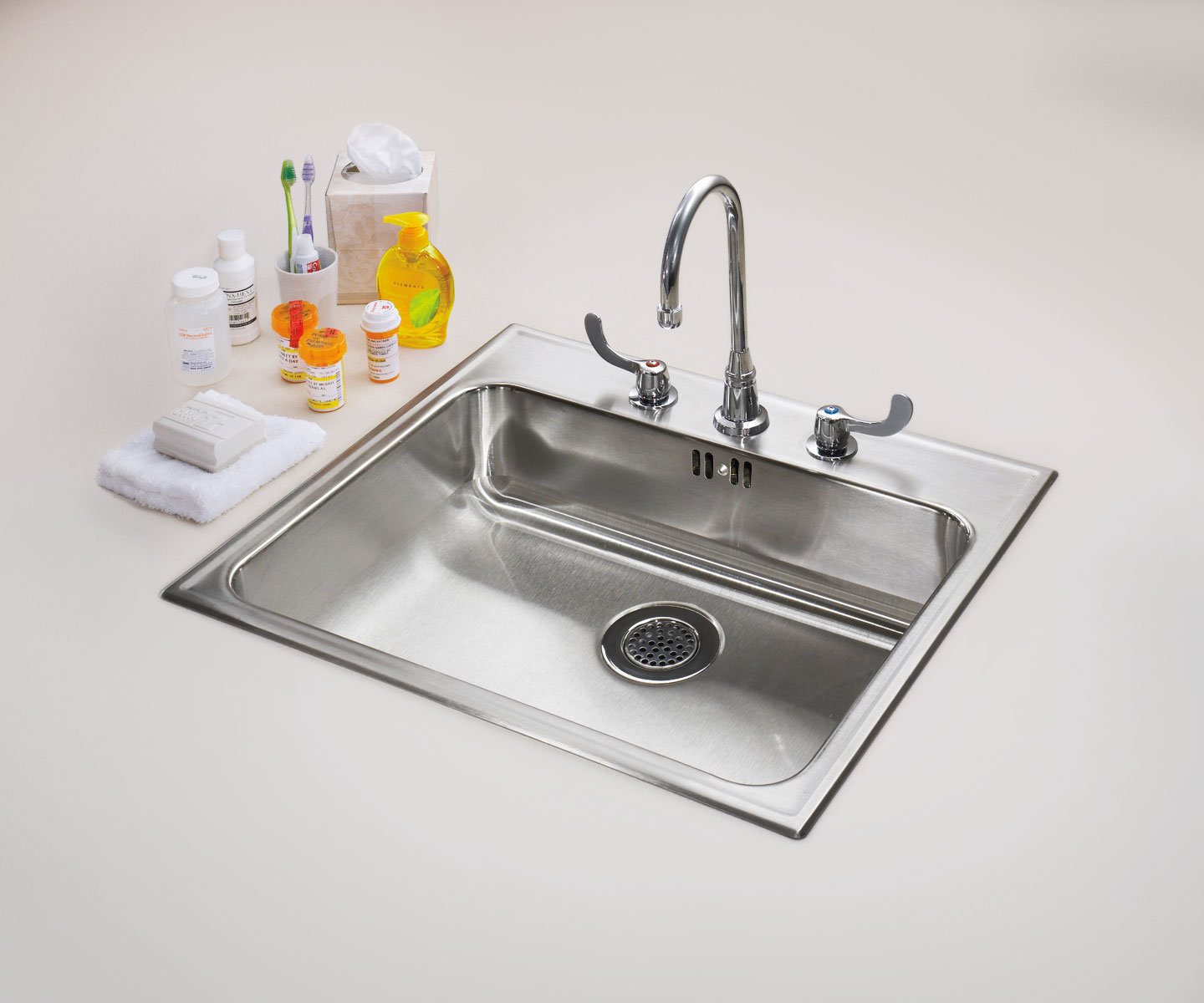 18 gauge type 304 SL- ADA compliant single bowl max capacity sink with straight sided 1-3/4 radius bowl
Photo: Just Manufacturing
Specifying Stainless Steel Sinks
In addition to understanding the features and benefits of stainless steel and the requirements of ADA, there are other factors that design professionals should be familiar with when specifying sinks.
Thickness
The thickness of stainless steel is called its gauge, which ranges from over 30 to 3. The higher the gauge, the thinner the steel. Sinks are mostly manufactured from 16 gauge (0.0625-in), 18-gauge (0.0500-in. thick) and 20 gauge (0.0375-in.) sheet steel; the choice of gauge being dependent upon market sector, price points and application. Higher-end stainless steel sink manufacturers mostly use 18-gauge. Thinner gauge material, such as 22 and up, tend to dent, bow and transmit noise from pots and objects hitting the metal surface.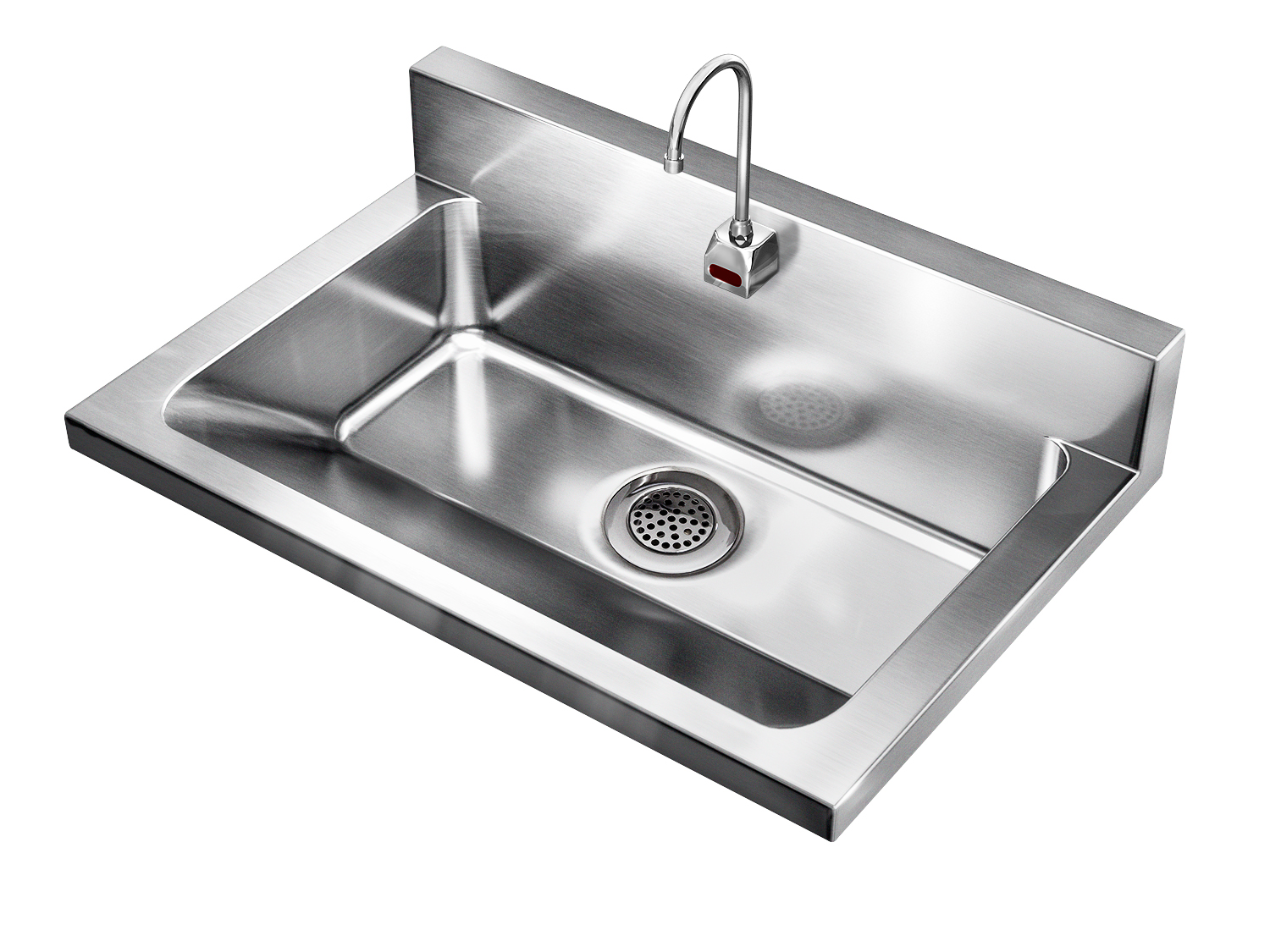 The ADA-compliant sink system above is a complete hands-free, heavy-duty commercial grade lavatory system.
Photo: Just Manufacturing
For its government market sector, which includes VA hospitals, military bases, research facilities, embassies, naval shipboard, GSA contract and DOD applications, one manufacturer offers a comprehensive product line of drop-in, undermount, ADA, wall-hung and free-standing fixtures. But each product is manufactured from the same American made certified 18-8  stainless steel.
Finishes
Mill finishes offered at the lower end of the market tend to be dull and matte. Satin and more polished finishes achieved by mechanical polishing are applied at the sink manufacturer's facility. Rough finishes have poorer corrosion resistance and a poorer hygiene feature and are therefore not generally selected for sinks.
For commercial applications, blended satin finishes stand up best to every day heavy use environments.
Highly polished finishes, more often found in Europe, are produced by mechanically abrading the surface with a series of gradually finer abrasives. The smoothest polished finishes are then buffed to produce a mirror-like appearance.
Sink Dimensions
Bowl depth, taper and radius are the three basic sink measurements for comparing sink sizes. The deeper the bowl, the straighter the slope; the smaller the radius, the greater the sink capacity.

Sink combines extra deep bowl depths and sharp radius large inside dimensions.
Photo: Just Manufacturing
Self-Rimming or Undermount?
The specification decision regarding self-rimming or undermount installation is critical and can impact installation schedules and eventually the health of a facility through inadequate cleaning.
In general, undermount sinks offer a more pleasing aesthetic for custom- designed countertops because the sink does not interrupt the visual plane of the countertop. They also allow for innovative design.
For most institutional and commercial uses, self-rimming or drop-in sinks offer many more benefits: 
Considerably more hygienic as there is no gap where the edge meets the counter where dirt may be concealed. 
Easier to install
Gain three-quarters to one inch in ADA height requirements
Offers most amount of sink in a small space where knee clearance is an issue
Complete seal is obtainable
Often required in healthcare and food preparation settings
Easier to replace or retrofit

Example of Self-rimming Vs. Undermount sink.
Photo Courtesy of Just Manufacturing
Wall-Hung Sinks
If space is at a premium, you can not beat the functionality of a wall-hung sink.
There are several good reasons to consider a wall-hung sink.
They free up floor space
The sink will also be much easier to clean.

Example of wall-hung sinks
Photo: Just Manufacturing
Seamless Drain System
A product offered by one company incorporates a seamless drain system directly into the sink thus eliminating the seam edge where the drain and sink meet. Typically bacterial pathogens collect over time at this seam.
This innovative product offers ease of specification with existing stock models across a broad range of applications, providing a cleaner look which is also more hygienic as there is no seam for bacteria to build up in, from debris or waste.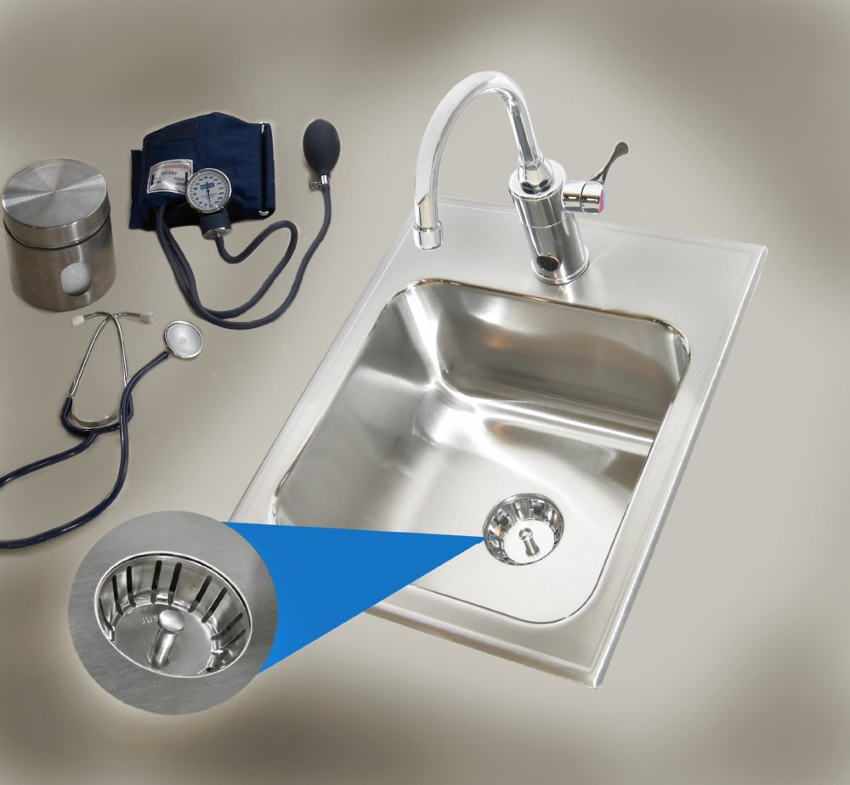 Seamless die-drawn construction of 18-gauge type 304 stainless steel. This drain is seamlessly welded to the sink and includes strainer and tailpiece; self-rimming with stainless steel mounting channels.
Photo: Just Manufacturing
The hard metallic surface of stainless steel makes it difficult for bacteria to adhere and survive. When properly cleaned and maintained, stainless steel surfaces resist growth of bacteria, mold and microorganisms that can cause disease.
Easy cleanability makes stainless steel the first choice for strict hygienic conditions.
Certifications and Requirements
There are two major categories of certifications that apply to stainless steel sinks: ASTM (American Society for Testing and Materials), which refers to the raw steel itself and ASME (American Society of Mechanical Engineers), which relates to how it is used in a finished product.
ASTM. In the U.S., stainless steel mills certify each roll of steel as having met metallurgical standards and consistency in production. Applicable standards include ASTM A167, A176, A240, A480, A666. Some, but not all, steel manufactured outside of the U.S. carries assurances of metallurgical content or manufacturing consistency.
ASME. Building inspectors generally require ASME certification on plumbing fixtures. Sink manufacturers list products that conform to ASME certifications such as ASME A112.19.3M.
ARRA. The American Recovery and Reinvestment Act of 2009 (ARRA) stipulates that iron, steel, and manufactured goods used in the construction of public buildings be produced in the USA. Sinks in ARRA projects—and there are still many projects in the pipeline—must carry Made in America certification. Certificates testifying to U.S.-made stainless steel sink materials are obtained from the sink manufacturer.
OSHA (Occupational Safety and Health Administration) does not have any standard or regulation that makes hands-free sinks a requirement. Neither does the CDC (Centers for Disease Control) Guideline for Hand Hygiene in Health-Care Settings mention hands-free sinks. However, Infection Control in Ambulatory Care authored by the Association for Professionals in Infection Control and Epidemiology (APIC) says: "Ideally, sinks should be equipped with foot- or elbow-operated controls…many local or state public health codes regulate sink location and type." Essentially this comes down to budgetary constraints or clients' policies that may require hands-free sinks in certain high-risk areas such as the ICU, transplant unit, emergency departments, or operating room areas.
OSHPD, California's Office of Statewide Health Planning & Development,  requires compliance in the mounting design of wall hung scrub sinks in areas prone to earthquakes.
Originally published in February 2012
Notice