Double Acting Traffic Doors Provide an Entreé to Efficiency
Facilitating accessibility and screening for aesthetic and environmental effect
Sponsored by Eliason Corporation
This test is no longer available for credit
One factor to note is that in order for traffic doors with V-Cam hinges to center properly in the opening, the supplied roll pin used to lock the roller assembly in the proper position must be installed. Otherwise, frequent adjustments may be required, as the roller assembly mounted to the upper hinge post will move as the door is impacted.
Top-Mounted Only Gravity Hinges
Top-mounted gravity-operated hinges are limited to flexible impact traffic doors. They enable the door to open easily and close automatically, allowing easy access and conserving energy. These hinges are available only on flexible double acting traffic doors. Typically, an angled steel hinge base with a welded steel hinge arm is attached to top of the door frame. The arm is then inserted in a hinge pocket on the door panel. As the door opens, it rises due to the angled bracket. Gravity then pulls the door back to its closed and centered position. There is no bottom hinge to damage or maintain.
Top-Mounted Flexible Doors
There are several types of doors that are suitable for top-mounted only gravity hinges. They include medium- and heavyweight flexible doors for retail, supermarket, commercial, and industrial applications. Typically, flexible door panels are constructed with two or more layers of colored textured vinyl, clear non-textured PVC, or nylon reinforced PVC coated material bonded back to back. In food processing and low-temperature freezer applications, a heavyweight USDA-accepted belting material is used to manufacture the door panels. Optional large vision panels maximize visibility and safety. Pairs of doors feature an overlap at center. Options include ABS, polyolefin, or PVC/acrylic impact plates and various size and shape windows.
There are no bottom hinges to install or maintain. Flexible impact traffic doors are often the best solution for those difficult applications where wide loads are passing through narrow door openings. No bottom hinge means that push carts, pallet jacks, and forklifts can easily pass through the opening. The door closes behind the traffic, minimizing the loss of refrigerated air or the infiltration of warm air into the cooler, freezer, or processing area.
Tips on How to Use Double Acting Doors
While specifying doors will depend on a variety of factors in any given situation, some rules of thumb apply to facilitate the process.
Use the lightest, easiest-opening door that will survive in the application.
Specify limiting posts for rigid doors that will be subjected to forklift traffic.
Specify lower hinge guards for doors that will be subjected to heavy pallet jack or forklift traffic.
Specify spring bumpers for heavy cart, pallet jack, or motorized traffic.
The recommended minimum opening width for forklift traffic is 7 feet wide.
Use flexible double acting doors for narrow openings—less than 7 feet wide—that will be subjected to wide loads or forklift traffic.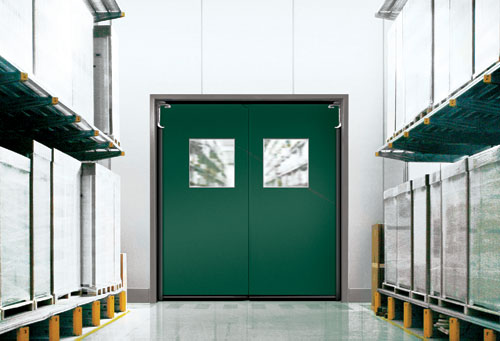 Top-mounted flexible doors allow maximum clearance for loads.
Photo courtesy of Eliason Corporation
These doors are extremely durable, can be washed down, and allow maximum clearance for wide loads passing through narrow openings. Typical applications include food processing plants, cold storage facilities with temperatures as low as -30 degrees F, high-volume industrial settings, and shipping and receiving areas.
Specification Considerations
With the various hinges and door panel materials available, specification decisions must be carefully considered. In order to determine the appropriate type of double acting traffic door, architects must explore the following parameters.
Type of Traffic
The first factor to be explored is the type of traffic that will be using the door. Will the doors be used by pedestrians, two wheel carts, push carts, or motorized pallet jacks? Will the doors be used in areas where a temperature differential is required, like a cooler box or freezer? What are the traffic patterns—will sharp turns be made upon entering or exiting? What is the expected traffic volume? To what extent is energy efficiency a concern?
Finished Opening
The dimensions of the finished opening—the inside measurements of the doorjamb—will determine the size of the door required. All doors are available as singles or pairs, with the smallest pair typically for a 36-inch-wide opening, and the largest single door for a 48-inch-wide opening. For light traffic, a double studded 2 x 4 is adequate. For medium traffic, a reinforced hollow metal jamb should be used and for high-impact and heavy-traffic openings steel "C" channel or structural tubular steel frames are preferable.
Regulatory Requirements
Depending on the use of the door and its application, several regulatory issues may apply, including those of the USDA, the National Sanitation Foundation (NSF), and the Occupational Safety and Health Administration (OSHA). ADA requirements may apply as well, including specifications for the width of the door, placement of any hardware, size and placement of windows, and the force required to open a door.
Originally published in Architectural Record
Originally published in May 2013
Notice