Double Acting Traffic Doors Provide an Entreé to Efficiency
Facilitating accessibility and screening for aesthetic and environmental effect
Sponsored by Eliason Corporation
This test is no longer available for credit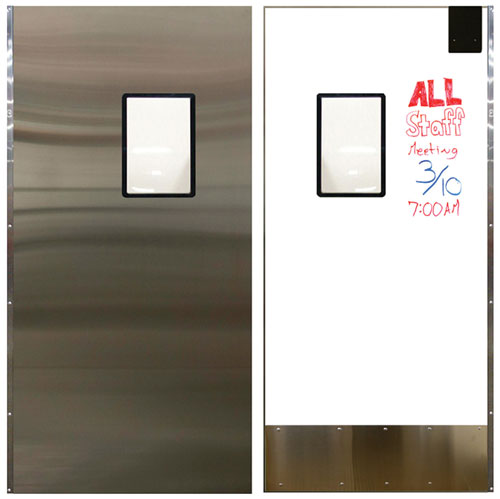 A whiteboard option is a welcome feature to restaurateurs.
Photo courtesy of Eliason Corporation
Doors for retail environments tend to be unique, with solutions customized to a particular style from elegant to contemporary to playful. For example, a national sporting goods chain that sought a rough, rustic look to match the appearance of their distressed wooden door frames opted for a "hammered" metal finish on their double acting door. Custom graphics can work to inform and reduce maintenance costs. A national arts and crafts chain attached an "Employees Only" sticker to their traffic doors. Over time, the stickers peeled off, leaving a gummy residue on the doors. They opted to have their message silk screened on the vision panel, which proved to be more attractive and eliminated the cost and issues associated with the sticker.
Double acting doors are well suited for use in supermarkets as they open and close easily and are built to take the abuse present in sales to stockroom applications. The double acting nature of these doors maximizes efficiency as pallet after pallet of groceries and dry goods slam through these openings on a daily basis. Insulated models are frequently used in coolers as the primary door and in freezers as a secondary door.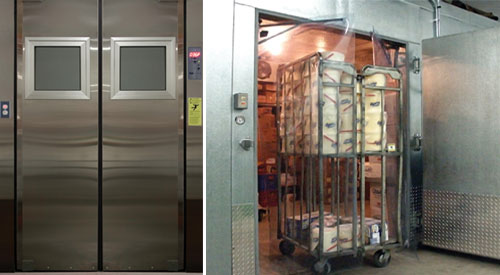 Solutions for walk-in coolers and freezers help ease access to the cooler while complying with the Energy Independence and Security Act of 2007. For situations where there is an existing freezer door, flexible doors or strip doors can help to save energy and money when the door is open for stocking.
Photo courtesy of Eliason Corporation
It is important to note here the requirements of the Federal Energy Independence and Security Act (EISA) of 2007, which became effective January 1, 2009. The purpose of the act is several fold: to move the United States toward greater energy independence and security; to increase the production of clean renewable fuels; to protect consumers; to increase the efficiency of products, buildings, and vehicles; to promote research on and deploy greenhouse gas capture and storage options; and to improve the energy performance of the federal government. To be in compliance with the act, walk-in coolers and freezers installed in the U.S. and occupying less than 3,000 square feet in floor space have to meet a new set of rules. Among them, there must be:
• Automatic door closers that firmly close all walk-in doors that have been closed to within 1 inch of full closure, with the exception of doors wider than 3 feet 9 inches or taller than 7 feet.
• Strip doors, spring hinged doors, or other method of minimizing infiltration when doors are open.
• Wall, ceiling, and door insulation of at least R-25 for coolers and R-32 for freezers.
• If the walk-in cooler/freezer has reach-in doors, it must have a window of triple-pane glass with either heat-treated reflective gas or gas fill. Alternatively, the window must comprise double-pane and heat reflective treated gas and a gas fill.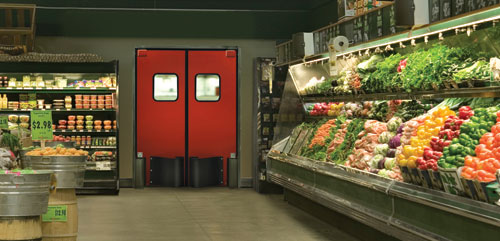 Double acting traffic doors are used extensively in supermarkets between sales and stockroom areas.
Photo courtesy of Eliason Corporation
Double acting EISA-compliant cooler doors are available in several finishes, including ABS, anodized aluminum, and stainless steel. Each model is filled with CFC-free high-density urethane foam. Optional triple pane, argon gas-filled windows are available as required. As with all double acting doors, these R-25 cooler doors open upon impact and close easily, maximizing efficiency.
Hinge Choices
The service life of a double acting traffic door depends on the integrity of its hinge. No one hinge serves all applications, so it is important to make an appropriate selection based on the required function of the door. Each hinge type offers distinct features and benefits, with typical options including:
• Roller and cam gravity hinge
• V-Cam hinges (90 x 90 degree)
• V-Cam hinges (90 x 180 degree)
• Top-mounted only gravity hinges
Roller and Cam Gravity Hinge
Top-mounted hardened steel cam plate and rollers, combined with a hardened steel bottom pivot pin, create a durable and dependable hinge system that allows the door to open with minimal impact and close automatically, while offering smooth, quiet operation. Because these hinges open with minimal impact, the force required to open them is reduced, thereby minimizing damage to the door panel itself. Roller and cam gravity hinges are faster and easier to install than V-Cam double acting door hinges. Doors equipped with these hinges easily meet ADA requirements regarding the amount of force required to open a door.
Originally published in Architectural Record
Notice