Flooring Design with Acoustics in Mind
Controlling sound in today's smooth surface designs
Sponsored by Ecore
Consider the Options
Flooring options today are virtually limitless, but one effective way to narrow down the choices is to specify based on acoustics. In terms of good acoustic performance, there are three basic choices:
A resilient floor composed of material that can inherently mitigate the vibration that creates sound, such as rubber or cork. Recycled rubber flooring is practical in many more applications than cork flooring, with similar inherent sound-reducing characteristics. Recycled rubber is an extremely sustainable product that also provides specific acoustic, ergonomic, and fall-protection benefits. Some uniquely sustainable performance surfacing is created from reclaimed waste, such as tires and post-industrial and post-consumer waste. The most advanced recycled rubber surfaces offer force reduction, energy return, durability, and an unlimited range of colors, patterns, and custom design possibilities.
A hard or smooth flooring surface, adding a performance backing or underlayment composed of a sound-mitigating material. Effective underlayments are typically rubber, cork, or foam. The key property of an underlayment is internal damping of vibration, a fundamental attribute of rubber, which is resilient and behaves much like a spring. Good, resilient underlayment must also be water resistant and strong enough to support finished flooring. Cork is often too expensive and requires skillful handling. Foam is often the least-expensive option but is not considered highly durable.
An engineered system combining a variety of surfaces with built-in performance underlayment. In recent years, new technology has been developed that allows a wide variety of surfaces to be fusion-bonded to a recycled rubber backing to create a single high-performance acoustic system.
Figure 11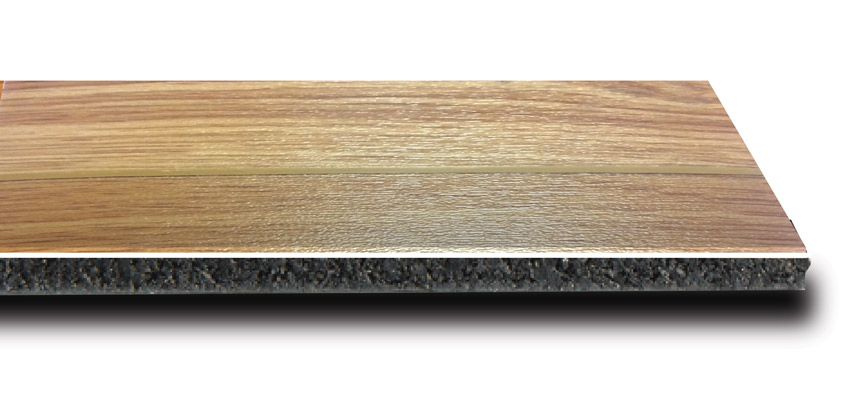 Shown is an example of an engineered flooring system with a no-wax vinyl, wood-look surface fusion bonded to a recycled rubber performance layer to provide excellent acoustic and ergonomic performance.
Help From Experts
The design of flooring systems for acoustic performance might involve architects, interior designers, acoustic engineers, and structural engineers. In spaces like performance venues, production studios, or conference rooms with advanced presentation capabilities, a detailed analysis and balancing of sound absorption, reflection, and transmission will be required. But often it is a collaboration on a different scale, where the interior designer works directly with product technical experts.
Product manufacturers can often offer a range of technical expertise. Some companies also provide research and testing on their products and offer tailored solutions. Some companies can also help with other related product requirements, such as International Code Council Evaluation Service (ICC-ES) reports evaluating specific often-used assemblies and UL-listed fire rated designs. Some manufacturers maintain large databases of test reports on product ratings and installations.
Manufacturers should also be able to offer detailed information about how products can contribute to LEED points and other sustainability criteria.
Bottom Line
The floor should make a significant, positive contribution to effective acoustics in virtually every space. Designers now have all the tools they need to make decisions that will improve the health, comfort, and mental and physical performance of the people in those spaces for years to come.
| | |
| --- | --- |
| | Ecore transforms reclaimed materials into performance surfaces that make people's lives better. What started with cork has evolved into a portfolio of surfaces solving complex problems in applications ranging from weight rooms to hospitals. Ecore serves the athletic, fitness, healthcare, hospitality, corporate, multi-family, education, and public space markets. www.ecoreintl.com |
Notice