Flooring Design with Acoustics in Mind
Controlling sound in today's smooth surface designs
Sponsored by Ecore
Different Floors For Different Needs
All spaces need a basic level of acoustical performance for health, function, and safety. But some need more targeted solutions than others. Clearly, an auditorium or a recording studio has highly specialized needs, but most building types also have specific requirements that relate to their function. At the same time, there is always a cost benefit analysis. For owners who have an ongoing stake in the building, reducing maintenance and replacement costs will be especially important. For spaces like hospitals and classrooms, there are published technical guidelines, some of which are noted below. Along with these requirements, acoustic flooring solutions also have to provide comfort and safety, low maintenance, and high sustainability.
It's important to note that in any room or building as a whole, the flooring system is only one of many factors affecting acoustics. Designing the layout of the room to direct sound, locating it to avoid noise sources, adding structural components like partitions and ceilings to interrupt the path of sound, using resilient channels, and minimizing openings in the assembly are all effective strategies, just to name a few. However, flooring is one of the most effective pieces of the solution, just as it can be a big part of the problem if not designed properly. Everyone in the space interacts daily with the floor. It will have a direct impact on them every minute they're in the room.
The following are different types of applications where flooring is selected for acoustic performance, along with examples and key points specific to each:
Health Care
Health-care facilities include a broad range of buildings, from hospitals to new targeted specialty care centers, such as orthopedics, urgent care, outpatient rehabilitation, and new types of assisted and independent living facilities. The importance of the physical environment to patient outcomes has been extensively documented over several decades, including the powerful role of quiet surroundings in a patient's healing and well-being and the staff's effectiveness and safety.
Relevant published standards include:
Sound & Vibration: Design Guidelines for Health Care Facilities by the Facility Guidelines Institute (FGI)
Guidelines for supporting the Health Insurance Portability and Accountability Act (HIPAA), to ensure sound isolation and speech privacy
Recommended daytime noise levels for patient areas in health-care facilities is 35 dB. With constant noise sources from equipment, monitors, carts, staff, other patients and visitors, this target is difficult to achieve. Flooring also has to be kept scrupulously clean to help in ongoing efforts to control infection, and it must be safe, helping to control infection, prevent falls, and reduce severity of injury when falls do occur.
Perhaps because flooring is so visible and has such an impact on positive outcomes, there are many remarkable examples of innovative flooring design in health-care settings all over the world. For example, the vast Sheikh Shakhbout Medical City (Figure 5) in Abu Dhabi, the capital of the United Arab Emirates, is designed to the highest international standards and deploys state-of-the-art medical equipment and materials. Flooring selected for waiting areas and children's play areas throughout the 300,000-square-foot facility features performance rubber surfacing that provides a superior ergonomic and acoustic solution for patients and staff.
Figure 5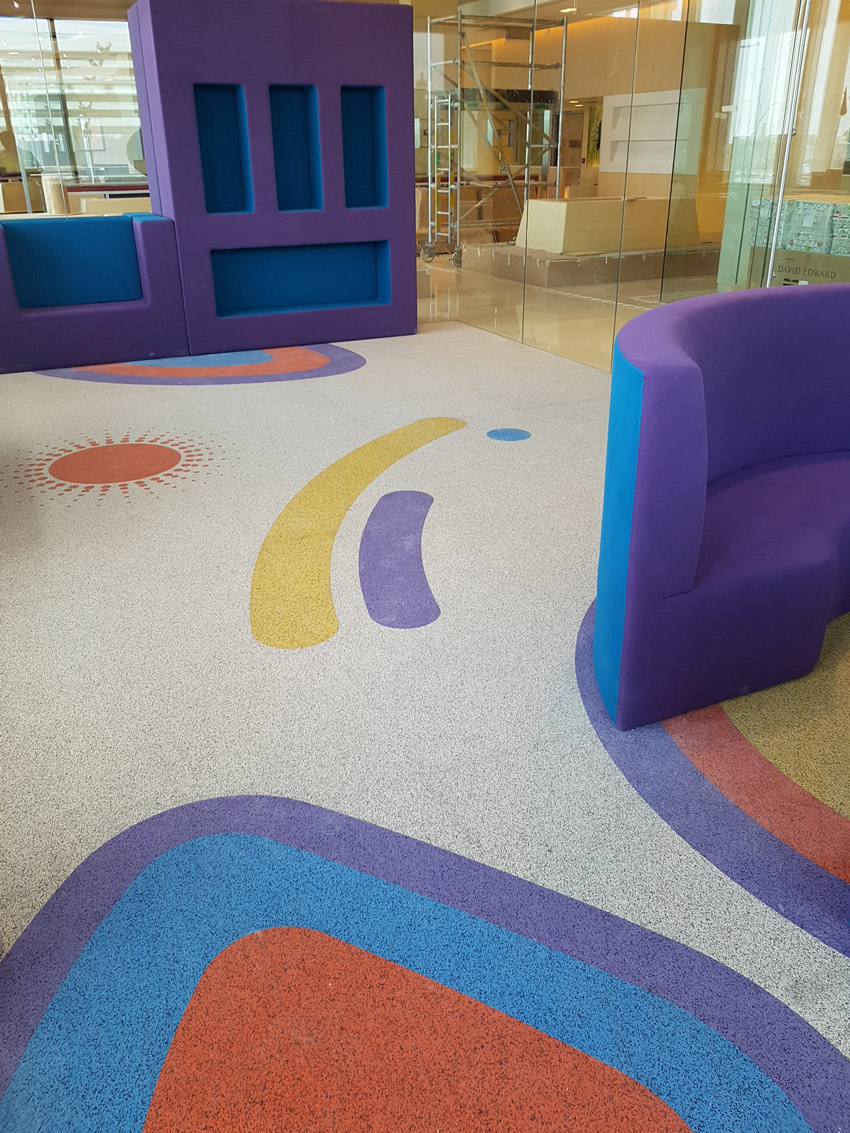 The Sheikh Shakhbout Medical City, located in Abu Dhabi in the United Arab Emirates, features 2,278 square feet of a 3.2-millimeter-thick performance rubber surface fusion bonded to a 12-millimeter performance backing, resulting in a superior ergonomic and acoustic experience for staff and patients.
Figure 6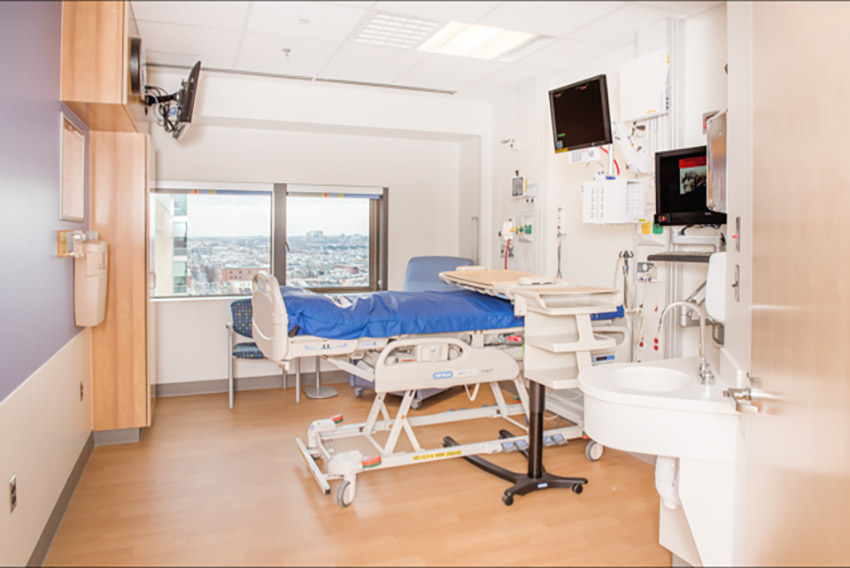 Johns Hopkins Hospital in Baltimore features 10,752 square feet of a heterogeneous vinyl sheet fusion-bonded to 5 millimeters of performance rubber. The result: a surface that reduces the risk of injury associated with falls and offers sound control and comfort underfoot.
When Johns Hopkins Hospital (JHH) (Figure 6) in Baltimore decided to replace its carpet, the design team tested 20 different alternatives, including vinyl, rubber, composites, and various combinations of backings. "We can't keep carpet clean," says Teri Bennett, RN, CID, CHID, IIDA, NIHD, EDAC, lead interior designer in the Architecture & Planning Department at JHH. Under the direction of the hospital's Facility Planning and Maintenance Team, JHH conducted a system-wide multidisciplinary research floor testing study based on FGI/ASHE Guidelines on surfaces and furnishings for health-care facilities.
The testing looked at criteria for cleaning, sustainability, low-VOC, infection control, and other issues, such as eliminating high-gloss surfaces that can challenge aging or compromised vision. But one key criterion was acoustic performance.
Using rolling carts, JHH conducted acoustic tests for all 20 products, in an outdoor corridor estimated to get 20,000 footfalls a day. "The entire side we were testing acoustics on was really interesting," says Andrea Hyde, AAHID, MDCID, planner designer in the Architecture & Planning Department at JHH. "You hit granite tile, then you rolled over our resilient floor, then you hit granite tile again, and then you rolled over the acoustic test floor. We felt the products we were testing on that side, including the one we selected, were truly making a sound difference." The product ultimately chosen for 56 patient rooms in JHH's new Meyer Neuro & Rehab facility is a no-wax vinyl surface fusion-bonded to a 5-millimeter recycled rubber backing.
Education
The need for good acoustics in education is fundamental: children (or learners of any age) can't learn and teachers can't teach if they can't hear and make themselves understood. Quiet learning spaces contribute to focus and reduce distraction.
In general, learning spaces should isolate both interior and outdoor noise and should achieve indoor levels below 40 dB.
The Acoustical Society of America (ASA) publishes numerous guidelines for improving acoustics in the classroom, including ANSI/ASA S12.60-2010/Part 1 American National Standard Acoustical Performance Criteria, Design Requirements, and Guidelines for Schools. Inferior acoustics in education is a real problem for many students and teachers. In many classrooms in the United States, it is estimated that the speech intelligibility rating is 75 percent or less, meaning that listeners with normal hearing can understand only 75 percent of the words read from a list (Classroom Acoustics I, available on ASA's website).
Flooring materials in schools must also ensure safety, fall prevention, and injury mitigation, along with low maintenance for tight operating budgets. They can also be an innovative part of the educational process itself. A colorful example is the Architecture and Urban planning classroom of City Hall Academy at the Tweed Courthouse (Figure 7). The entire floor is a waterjet-cut technicolor map of New York City. The recycled rubber flooring was chosen to meet a number of practical demands too, including providing excellent acoustics in a challenging space with high ceilings of hard plaster where sound reverberation could be a problem. "The recycled rubber flooring is softer than VCT, making it easier on the body and quieter," Steven Brooks of Loffredo Brooks Architects points out. "It's also warmer to the touch."
Figure 7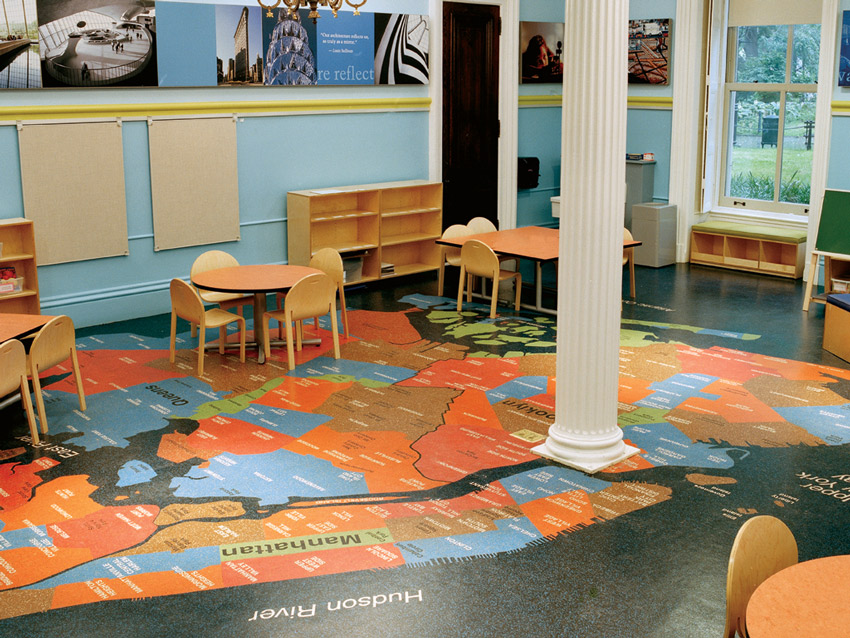 The Architecture and Urban Planning classroom of City Hall Academy at the Tweed Courthouse in New York City includes 16,736 square feet of a 3.2-millimeter-thick performance rubber surface that reduces reverberation in a building with high ceilings of hard plaster, while also delivering a colorful geography lesson.
Notice