Modern Masonry: Fire Protection and Enhanced Performance
A proven material upgraded for code consistency, fire protection, and high-performance building
Sponsored by EchelonTM Masonry
Learning Objectives:
Discuss the factors involved in the recent rash of construction fires around the nation.
Explain masonry's ability to resist fires and assure safe buildings both during the construction phase and after completion.
Identify the ways in which masonry can resist moisture intrusion and protect buildings from moisture damage over the life of the building.
Describe three masonry systems that have been upgraded to meet codes, resist fires, and boost building performance and energy efficiency.
Credits:
This course can be self-reported to the AIBC, as per their CE Guidelines.
As an IACET Accredited Provider, BNP Media offers IACET CEUs for its learning events that comply with the ANSI/IACET Continuing Education and Training Standard.
This course is approved as a Structured Course
This course can be self-reported to the AANB, as per their CE Guidelines
Approved for structured learning
Approved for Core Learning
This course can be self-reported to the NLAA
Course may qualify for Learning Hours with NWTAA
Course eligible for OAA Learning Hours
This course is approved as a core course
This course can be self-reported for Learning Units to the Architectural Institute of British Columbia
This test is no longer available for credit
This course is part of the Masonry Academy
Fire safety is one of the paramount responsibilities of architects and developers, and it is dependent on careful selection of materials and proper design. Deficits in either area may result in a building fire, which can be a dramatic and devastating event, often incurring extensive property damage and, unfortunately, loss of human life.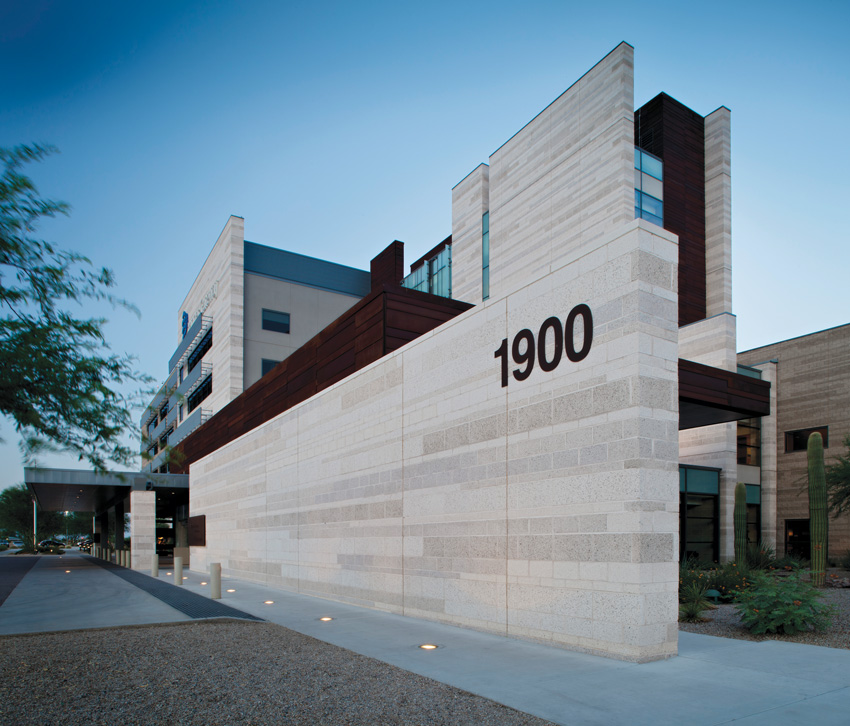 All images courtesty of Echelon™ Masonry, except as noted
Masonry products have been upgraded to meet stringent codes and evolving performance targets.
Since February 2017, a number of high-profile fires have occurred in large wood structures in cities across the country, notably Oakland, California; St. Petersburg, Florida; Arlington, Virginia; College Park, Maryland; Overland Park, Kansas; Raleigh, North Carolina; and Maplewood, New Jersey. It is important to note that these were construction fires, not fires that occurred in a completed and occupied building.
The building type in question—wood-framed construction over a concrete podium—is a relatively new but highly popular design, enabled by the International Building Code's increase in allowable height for wood construction in apartment buildings. The finished building, equipped with sprinkler systems and fire separations, is considered safe. But building codes may not fully address life safety and property protection during the construction period, and that is often when a building is most vulnerable to damage. Some maintain that structures built of wood are particularly vulnerable during construction for a number of reasons.
Wooden structures are considered "lightweight" combustible construction, a scenario that promotes specific fire risks. In addition, in the early construction phase, drywall may not yet be installed, sprinklers systems activated, or fire alarms, fire separation devices like gypsum board, fire doors, etc. in place. Further, wooden structures have void spaces between floors and ceilings where fire can spread quickly and undetected, whereas noncombustible materials slow the flame spread.
According to Jason Thompson, vice president of engineering for the National Concrete Masonry Association (NCMA), the evolution of building codes over the past 30 years from prescriptive to performance based counts heavily in the "beginning of the end of the inherent fire robustness of our buildings." He explains that building codes now allow usage of fire-rated assemblies of combustible construction. "The inherent redundancy of a concrete block firewall has been lost," he says. "If a fire starts, it can burn quickly through the building." And the increase in allowable height of wood construction presents a double whammy. "A wood-framed apartment complex consisting of 500 units has a significantly greater fuel load, and due to its size, can inhibit firefighter access during a fire," Thompson adds.
While the perception is that wood-framed midrise buildings offer cost-effective, high-density structures that can be constructed quickly with a low carbon footprint, some firefighting groups as well as cities and towns have expressed concern over their safety and are pressing for a ban on the use of combustible materials in multifamily construction. "A hard look is being taken at whether the pendulum has swung too far in permitting larger wood-framed buildings," Thompson says. "It's happening nationally, regionally, and at the state and municipal level with varying levels of traction and implementation." Examples include the town of Sandy Springs, Georgia, which passed an ordinance disallowing this type of construction, and the states of New Jersey and Maryland, where similar legislation is under review.
While no building material is totally immune to fire, alternative noncombustible materials can be an effective option. Masonry is one such material that carries minimal risk of fire during construction or otherwise. It has been used for thousands of years, demonstrating nearly unparalleled durability and the ability to withstand adverse natural and manmade events. But rather than being an "antiquated" medium, however, masonry is a proven solution well suited for modern codes and design, with today's masonry products combining the material's inherent attributes and upgrade options that are enhancing the natural qualities of block with insulation, moisture control, and strength. "Architects are being hand tied by building owners to use wood because of the cost savings," says John Cicciarelli, national sales manager for Echelon Masonry. "The owner wants to save money, meet code, and get the building open. But that may come with a heavy price. As a proven noncombustible building material, masonry is a sound design solution that offers architects protection not only for their projects but for their business and personal reputation as well."
This course will describe masonry's inherent characteristics and how the material has been improved in order to withstand the threat of damage from fire, moisture, and mold, meeting today's stringent code requirements and performance standards. Also discussed will be masonry's architectural options to meet pleasing contemporary design standards.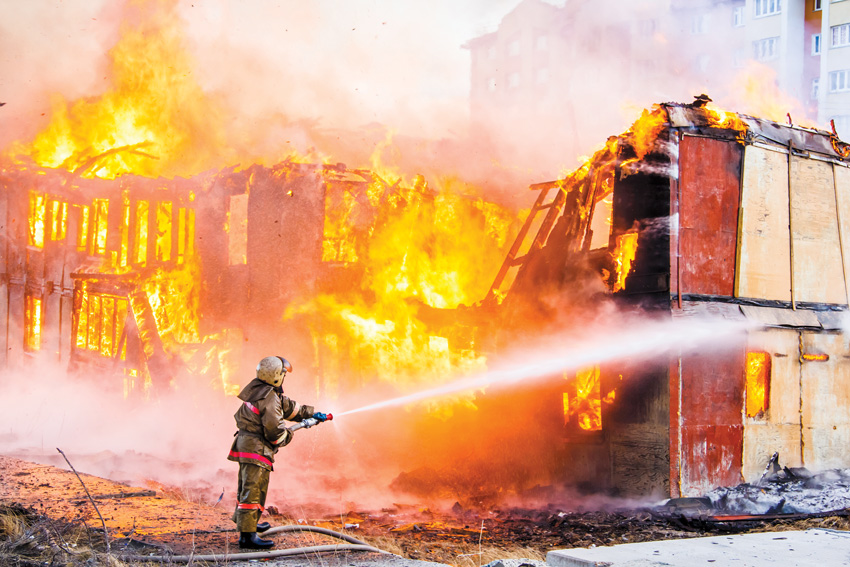 Masonry is a valuable, noncombustible alternative to wood.
Masonry and Fire Resistance
Masonry is a noncombustible material that does not fuel a fire or emit toxic gases. It is widely known for its fire resistance and commonly specified for fire walls and barriers. After severe fire exposure, concrete masonry can frequently be repaired by patching cracks and repointing mortar joints. "When exposed to fire, there is generally no damage to masonry construction. It will heat up and then cool down," Thompson says. "Masonry is the quintessential noncombustible material. After all, we're not building fireplaces and chimneys out of wood."
Wood, on the other hand, is a combustible material. Thompson explains that wood construction is transitioning from traditional 2-by-4s to engineered lumber, which is composed of chips and sawdust to create a composite material offering greater strength with reduced weight, thus allowing larger spans, such as floors with engineeredwood joists. The problem from a fire standpoint is that engineered wood can burn more quickly due to the presence of resins and glues that bind the engineered wood members together, which can accelerate the fire spread. Another development in the wood industry is cross laminated timber (CLT), in which smaller pieces of timber are glued or nailed together to simulate heavy timber. Heavy timber will char, which does provide insulation from a fire, and will slow fire spread, although in time it will still burn. According to Thompson, the jury is still out on whether CLT acts like heavy timber in a fire, with third-party tests scheduled for later in 2017.
To prevent fire damage in multifamily housing, the concept of balanced design is particularly important. Balanced design is predicated on four strategies that work in unison.
Prevention: Housekeeping, education, and building layout that decrease the likelihood of a fire starting in the first place.
Detection and alarm: Smoke detectors and alarms to alert building inhabitants to a fire before it can spread.
Suppression: Sprinklers, fire extinguishers, etc. to put out the fire quickly.
Strategic compartmentation: Fire safety demands that a wall stop the spread of fire throughout the building and that it retain structural integrity throughout the fire-fighting operations. Building construction with masonry fire walls isolates and contains the fire and smoke while maintaining the building's structural integrity—essential to safe evacuation and provision of safe areas to enable firefighters to work effectively. Masonry walls contain the fire and noxious gases and remain structurally stable.
It's well-known fire-resistant qualities have made masonry a frequent building material of choice in fire stations. While there are no actual statistics on the subject, a large number of U.S. firehouses are built of masonry, not only for its fire-resistant properties but also for its aesthetic adaptability.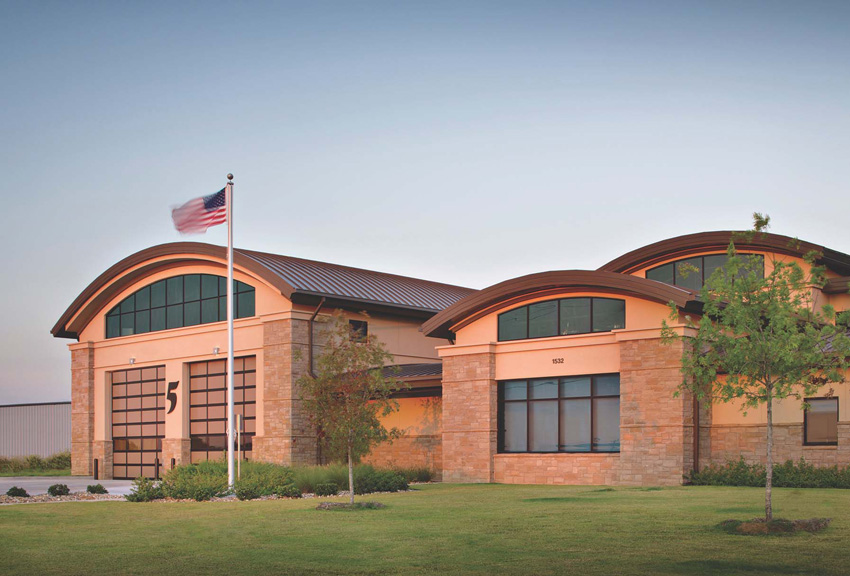 It's well-known fire-resistant qualities have made masonry a frequent building material of choice in fire stations.
According to Bill Howell, architect and president of The Howell Group Inc. in Marietta, Georgia, who has designed 29 Georgia fire stations over the past 30 years, "Fire stations pose a unique opportunity for architects because towns need to add fire services as residential development expands to keep response time and insurance premiums both low." They also pose a unique problem as they house people alongside highly combustible fuel in large trucks.
"I can't think of any other situation in which to meet code, you are dealing with this type of mixed-use occupancy," Howell says. "The International Building Code has specific separation requirements for the apparatus bay, or storage areas, and for the residential area. To meet code, you must separate the two types of occupancies with a fire-rated wall assembly, such as concrete block and/or sprinklers."
The truck storage areas are viewed as hazardous, as the trucks store diesel fuel, so the building code requires a material with a 2-hour fire rating between the storage and residential areas if the building is without sprinklers. Howell achieves this with an 8-inch concrete block wall.
Because many fire stations are located in the residential areas they serve, aesthetics are important, and an unsightly industrial-looking fire station might decrease property values. Whether designing for a subdivision or a historic downtown, fire stations should blend seamlessly with the surroundings. Fire stations in historic areas do well with a dual stone exterior. One choice Howell made for a small Georgia town was to use conventional modular brick with masonry veneers with a hand-chiseled texture of natural stone around the base of the station and on the entrance columns. "We often use a cast stone on fire stations because the current trend for homes is toward a dual stone and brick exterior. It's a nice, attractive look," Howell says. "The client benefits from this as well because it is low maintenance, durable, and cost effective."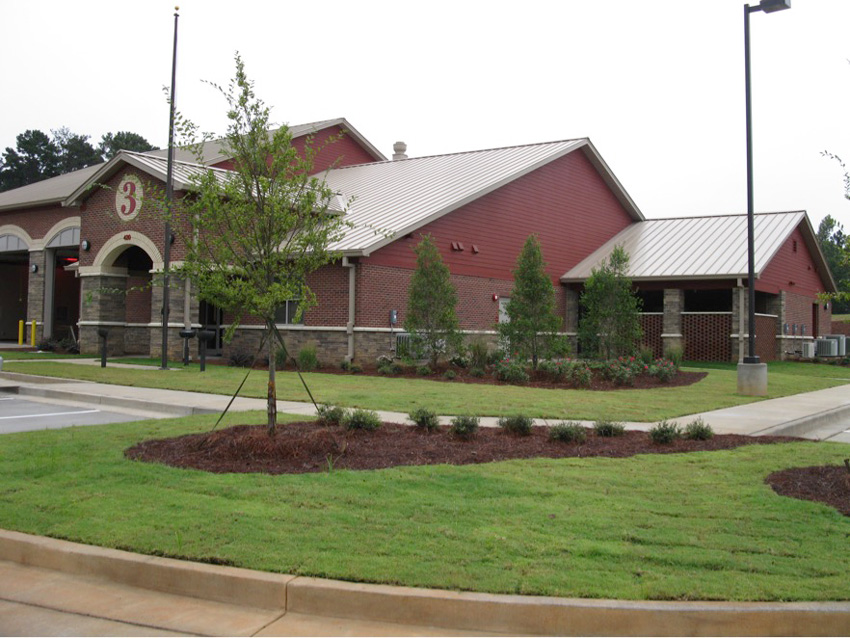 Photo courtesy of The Howell Group
For a fire station in a small Georgia town, The Howell Group used conventional modular brick with masonry veneers with a hand-chiseled texture of natural stone around the base of the station and on the entrance columns.
Originally published in Architectural Record
Originally published in October 2017
Notice