Modern Masonry: Fire Protection and Enhanced Performance
A proven material upgraded for code consistency, fire protection, and high-performance building
Sponsored by EchelonTM Masonry

1 AIA LU/HSW; 1 GBCI CE Hour; 0.1 IACET CEU*; AAA 1 Structured Learning Hour; AANB 1 Hour of Core Learning; AAPEI 1 Structured Learning Hour; SAA 1 Hour of Core Learning; MAA 1 Structured Learning Hour; NSAA 1 Hour of Core Learning; OAA 1 Learning Hour; NLAA 1 Hour of Core Learning; NWTAA 1 Structured Learning Hour; This course can be self-reported to the AIBC, as per their CE Guidelines.
Learning Objectives:
Discuss the factors involved in the recent rash of construction fires around the nation.
Explain masonry's ability to resist fires and assure safe buildings both during the construction phase and after completion.
Identify the ways in which masonry can resist moisture intrusion and protect buildings from moisture damage over the life of the building.
Describe three masonry systems that have been upgraded to meet codes, resist fires, and boost building performance and energy efficiency.
This course is part of the Masonry Academy
Masonry and Moisture Resistance
One of the most significant concerns in designing a wall is moisture. Because concrete masonry is impermeable to infiltration by air or wind-driven rain, any moisture that enters a building must pass through the joints between elements. Any moisture that enters through the joints will not damage the concrete itself, which will dry if not covered by impermeable treatments.
Masonry approaches minimizing moisture penetration by providing redundancy in a four-level line of defense, including surface protection, internal protection, and drainage and drying, the idea being that water tightness of the wall will still be maintained even if one of these systems fails. This is referred to as the belt and suspenders approach. According to NCMA, successful moisture mitigation in concrete masonry walls involves a variety of techniques, including flashing and counter flashing, weeps, vents, water repellents, sealants, post-applied surface treatments, vapor retarders, and crack control measures, with all components considered for redundant use, yet with the appreciation that not all techniques will be suitable for all wall systems.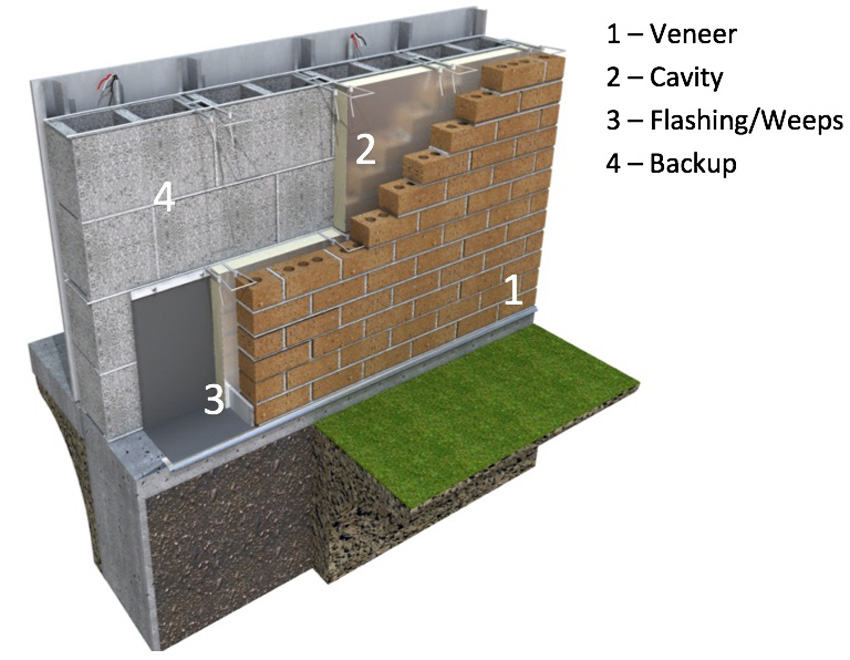 Masonry approaches minimizing moisture penetration by providing redundancy in a four-level line of defense.
Sealing after completion is considered the 110-percent solution for keeping moisture out. A clear, solvent-based silicone elastomer can weatherproof custom masonry units, fill pores to prevent water infiltration, provide UV stability and graffiti protection, as well as control surface stains, efflorescence, and mildew. It also allows the surface to "breathe," which is critical to allow the masonry to dry, should water breach the surface.
Masonry and Durability
Concrete has been in use for centuries, and one has only to consider its use by the Egyptians and Romans in structures that are still in use to gauge its durability as a construction material and its ability to maintain its design properties while resisting environmental effects. Structurally sound, able to withstand wind and gravity loads, and resistant to mold, insects, and vermin, and UV exposure, concrete masonry has also shown effectiveness in exposure to extreme environments, including coastal regions. With constant advances in ingredients, placing, and curing methods, concrete masonry will continue to be identified with longevity and low life-cycle cost.
Originally published in Architectural Record
Notice