Mitigating Glare and Solar Heat Gain with Exterior Shading Systems
Fabric zip systems, venetian blinds, and rack arm systems are highly effective strategies for optimizing daylighting, occupant comfort, and energy savings
Sponsored by Draper, Inc.
Exterior Shading Systems
As previously noted, an exterior system is the most effective way to deal with solar heat gain. If the shading system is designed to significantly reduce the level of solar energy entering the building and resulting heat gain levels, then such a design will also reduce the building's cooling requirements.
"Once solar heat gain has passed through glazing, it is difficult to reflect it back out to prevent reflection on the interior glazing surface," explains Erik Olsen, managing partner, Transsolar KlimaEngineering, New York. "This is critical not only to reducing cooling load or cooling energy from mechanical systems but also maximizing the usefulness of passive measures, such as natural ventilation or night flushing, which are more effective with very low cooling loads."
By downsizing the HVAC system, these savings can help offset the cost of the shading system. Further, as the cost of energy continues to increase, the ongoing savings from the reduced running costs of a smaller HVAC system becomes even more significant.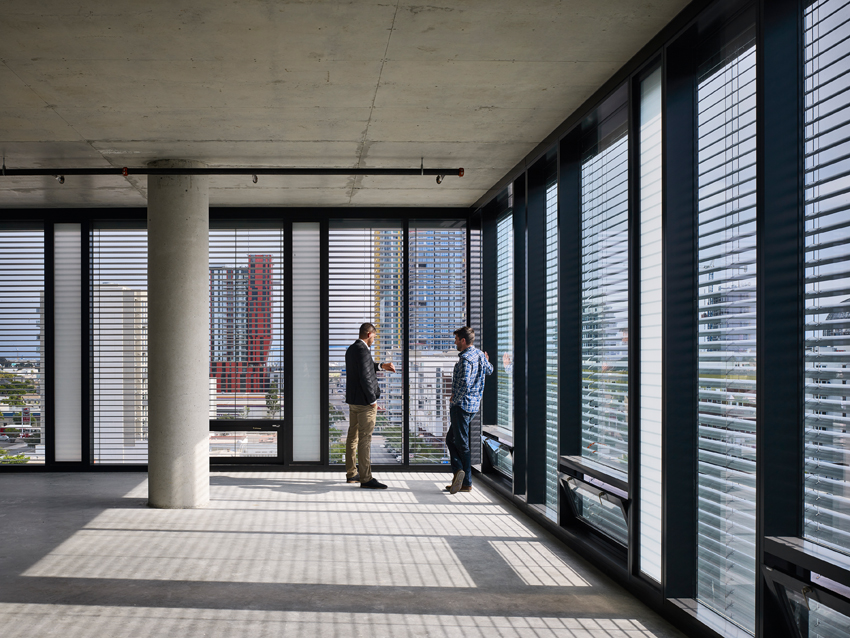 Photo: Nick Merrick, Hall + Merrick
A well-designed exterior venetian blind system and controls at Makers Quarter Block D in San Diego enable the building to operate at 66 percent less than baseline energy levels.
Like a greenhouse effect, glazing essentially traps solar energy. As Robert Matthew Noblett AIA, NCARB, partner, Behnisch Architekten, Boston, explains, interior shading systems by definition are already operating after-the-fact in that the solar energy is in the building and has to be extracted by other means. "Further, the shade material itself tends to heat up and re-radiate solar energy to the building's interior," he adds.
Bringing in another point, Nikolaus Arnold, director of envelope technical services, CNY Group, New York, says, "Interior shading systems, even more superior blackout options, are not repurposing the absorbed energy in the way exterior systems have been developed to do. Not only are exterior solutions more effective, but they are also more sustainable."
Another issue driving exterior shading system specifications is building regulations. Building codes around the world are placing greater emphasis on the facade's energy performance levels, and a number of codes specifically reference these systems as a strategy for meeting code requirements.
As previously noted, health and productivity are major factors as well. People like working in buildings with access to natural daylight and contact with the outside. Excessive heat gain, however, can cause discomfort for building occupants, particularly if they work adjacent to the glazing.
Exterior shading devices can therefore contribute toward producing a better working environment. As proven in many studies, natural light improves peoples' mood, their general well-being, and perhaps most important to building and company owners, it increases productivity and reduces the number of sick days. This is significant, as energy consumption and rent/ownership in cost per square foot are significantly less than employee costs per square foot. Increasing productivity through effective daylighting can therefore have a significant impact on a company's bottom line.
In addition to improving productivity and energy performance, well-designed exterior shading systems can lend a nice aesthetic, significantly impacting the building's appearance.
"We often find the use of exterior shading systems to not only be more efficient, but it also adds to a more appealing architectural design," confirms Luciana Fragali, Design Solutions, Miami. "We find the full automation, durability, and versatile designs of exterior shading systems make them an essential part of any project."
Furthermore, LEED credits are available for daylighting strategies that incorporate shading and, as a result, optimize energy performance and thermal comfort. For example, for the EA Credit 2: Optimize Energy Performance, projects can earn up to 20 points. In addition, exterior shading systems can be integrated into a whole building simulation demonstrating enhanced daylighting, mitigated solar heat gain, and a decreased electrical lighting and HVAC load to earn LEED points.
As another example, EQ Credit 7: Daylight compliance offers up to three credits by connecting building occupants with the outdoors, reinforcing circadian rhythms, and reducing electrical lighting use. To qualify for these points, projects must include manual or automatic glare-control devices. Further, simulations or measurements must prove that the design achieves certain daylighting objectives.
Selecting the Right Shading Option
There are many different fixed and operable exterior shading systems from which to choose.
However, not all systems will provide the same level of solar control. For instance, fixed exterior systems such as brise soleil systems and fixed louvers are purely designed for heat control. They may provide some light control, but this is not their intended function.
At the same time, operable louvers can be rotated to provide an increased level of solar control. This will translate into some daylight control, even though this in not their main purpose. With venetian blinds, roller shades, and rack arm systems, the inherent adjustability of the systems means that higher levels of light and glare control can be achieved, in addition to heat gain control. A rack arm system in particular is often used in museums and art galleries where precise light control is critical.
In choosing the right system for a project, specifiers should consider the following issues.
Building Location and Orientation
The shading requirements for east, south, and west facades vary because of the different sun angles that must be addressed. In addition, geographical location is very important.
In Miami, for example, the sun is almost vertical in the sky at midday on June 21 when the peak sun angle is just over 86 degrees. Even in winter, the sun angle in Miami is almost as high as the peak summer sun angle in Helsinki, Finland, for instance. In Miami, therefore, relatively short projections can provide effective shading, particularly on the south elevation. But in places such as Helsinki, a much more adjustable system will be required to deal with the varying conditions and low sun angles. In summer in Helsinki, the sun sets almost due north; in the winter, however, it does not set very far to the west. Retractable shading systems are therefore appropriate for the west elevation, and it may also be necessary to provide some shading on northwest and north elevations to control glare.
As well as considering latitude and longitude, it is also important to understand the context of a building. In an urban environment, overshadowing from surrounding buildings could have a significant impact and may mean that certain parts of the building that should be exposed to the sun are, in fact, permanently shaded. The effect of the building being close to water might also need to be considered. For example, light reflected from water can cause glare issues that could be addressed by a fabric system but not venetian blinds or horizontal louvers, which can allow reflected light to pass through them.
Climatic Conditions
All shading systems have to cope with climatic conditions. Fixed systems must be designed to address the maximum wind, snow, and ice loads, whereas operable exterior roller shades and venetian blinds systems can be retracted in adverse weather conditions. Depending on the wind and ice conditions, however, certain operable systems may not be the best choice. It might be better to select a fixed system or one that is adjustable but not retractable.
Heating and Cooling Requirements
Exterior venetian blinds may be retracted and left in this position over the winter months to allow sun and the associated heat gain into the building, as this is a free source of heat and will reduce energy costs over this period. If this is the case, however, interior glare control systems, such as roller shades, will almost certainly be required.
Originally published in Architectural Record
Originally published in October 2020
Notice