Mitigating Glare and Solar Heat Gain with Exterior Shading Systems
Fabric zip systems, venetian blinds, and rack arm systems are highly effective strategies for optimizing daylighting, occupant comfort, and energy savings
Sponsored by Draper, Inc.
Architectural/Aesthetic Requirements
For some projects, large-scale louvers are used to provide a strong aesthetic. In other situations, shading systems might be on the interior or in a double facade to allow the building to have a clean glazed appearance. Projecting systems (e.g., brise soleil systems) are often used to shade south elevations. While they do not work well with low sun angles on the east and west elevations, they may be used there to provide a consistent look to the building. In this case, however, it is important that the end user and design team understand that the shading systems will not function very effectively and a secondary interior system will almost certainly be required as well on these elevations.
Performance Requirements
Depending on the level of solar control required, one system may be more appropriate than another.
Exterior Zip Shading
Having spent some time looking at solar control and the choice of an appropriate shading system, a number of specific shading options can be considered: exterior fabric zip systems, exterior venetian blinds, and the rack arm system that incorporates operable louvers.
Whereas standard exterior fabric systems can be used to provide shade, they must be retracted at relatively low wind speeds. Though less known to architects, exterior zip systems are significantly more robust than a regular exterior roller shade due to the way in which the fabric locks into side guide tracks.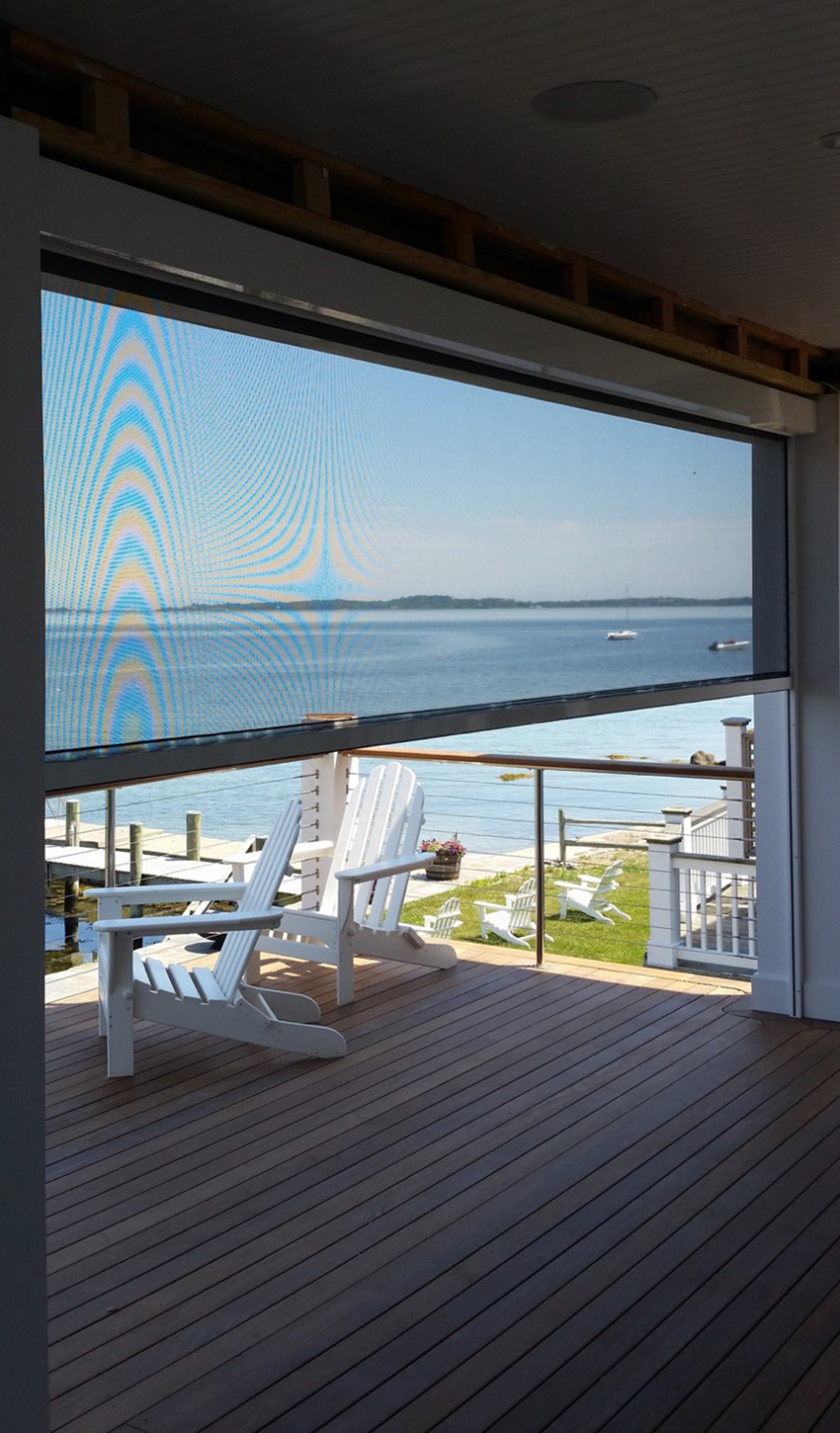 Photo courtesy of Draper, Inc.
Durable and robust, exterior zip shading systems are well suited for a variety of applications, including balconies, terraces, and porches.
"Exterior zip shading tends to be popular due to its lower cost of initial installation, but these systems are also very efficient in solar heat transfer reduction of up to 95 percent," Arnold reports. "Many high-performance fabric options available provide interesting aesthetic opportunities on the exterior and interior, while providing excellent protection of furniture, finishes, and artwork from UV damage."
"Advantages of exterior zip shading are full automation, durability, improved comfort via sun protection, and glare control," Fragali adds. "They form an insect barrier when fully lowered and offer wind mitigation when partially or fully deployed."
Two-piece side guides incorporate fabric retainer strips, and a half zipper is welded to each fabric edge, allowing them to lock into the side guides. Consequently, the zip system can withstand significantly higher wind loads than a regular exterior roller shade.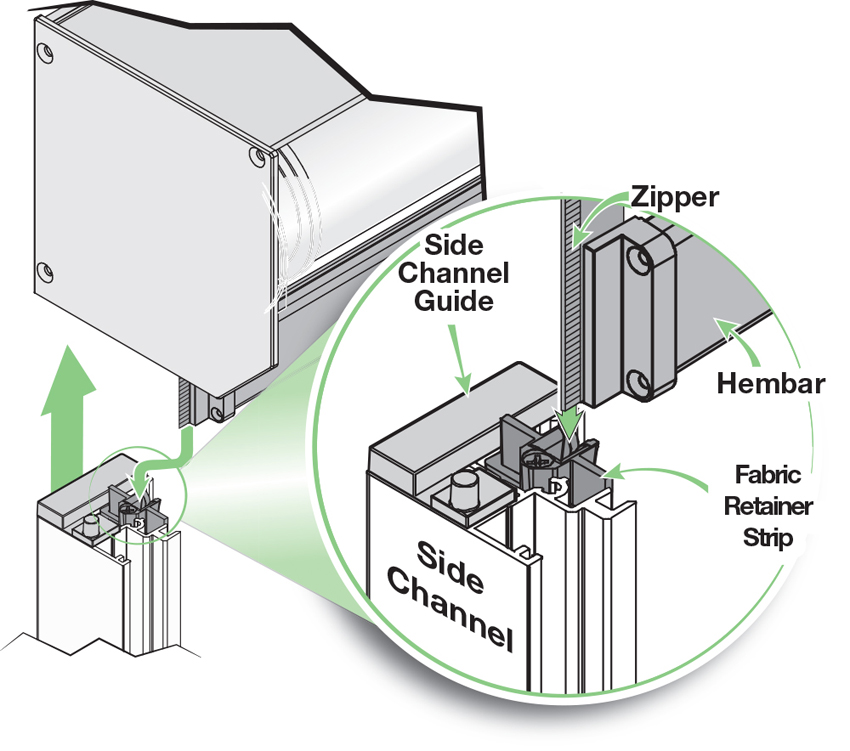 Image courtesy of Draper, Inc.
A zip system is made with a two-piece side guide, with fabric retainer strips and a half zipper welded to each fabric edge.
The zip system is available in a wide range of fabrics, it raises and lowers, and it works for all elevations.
Generally, zip systems are gravity drop ones. The hem bar is weighted as required to ensure that the systems operates satisfactorily and the fabric is under tension. In certain instances, where there is a requirement for bottom-up systems as well as horizontal or sloped shading, tension is required. This, however, significantly increases system cost.
Though wind tunnel testing found that the system can withstand very high wind speeds, it is recommended that the zip system be retracted at around 40 mph as to not risk damaging the system, particularly from flying debris. Further, it is rare for sun conditions requiring shading to occur at such high wind speeds, and so retracting them should generally not be an issue.
When under wind load, significant suction forces occur that try to rip the shading system from the facade. Consequently, adequate side track fixings are essential to ensure that they are not a point of failure. There are projects, however, where architects prefer not to use side guides. In these cases, a cable-operated tension shade would be the most appropriate alternative.
Another issue that must be addressed is ice buildup, which can occur because the zippers run in plastic retainer inserts inside the side guide track. In most cases, the weight of the hem bar will prevent ice buildup, but there are potential issues in locations where freezing rain occurs. In any case, the system should be inspected and cleaned on a yearly basis, and the tracks should remain clear.
Originally developed as an exterior system to mitigate solar control, zip systems can be used in a wide variety of applications, the most common being enclosing an outdoor space. For example, restaurants that offer outdoor dining when the weather is pleasant can be zipped closed in cold or rainy conditions.
"Exterior zip shading systems are used for any outdoor living space with an overhead ceiling, windows, balconies, terraces, and porches," Fragali explains. "They are well-suited for these areas, as they fit into these spaces where they remain protected and are easy to maintain."
Assuming that the side channels are properly installed, the closed zip system offers a climate-controlled interior environment. Furthermore, the rain will not mist nor come through the mesh. At the same time, the closed system will cut off the fresh air ventilation.
In addition to enclosing spaces, zip systems can be used to divide rooms and are capable of providing a very high level of light exclusion (i.e., near blackout).
The product can also be used as a tension system, which enables more complex shading requirements to be addressed.
Exterior Venetian Blinds
Exterior venetian blinds are a well-known and popular shading option. Operating similar to interior ones in the way they are raised and lowered, and how the slats are tilted, this provides an additional level of controllability as compared to a roller shade system. Further, the system can be used on any facade, as the slats can be adjusted to provide solar control at all sun angles.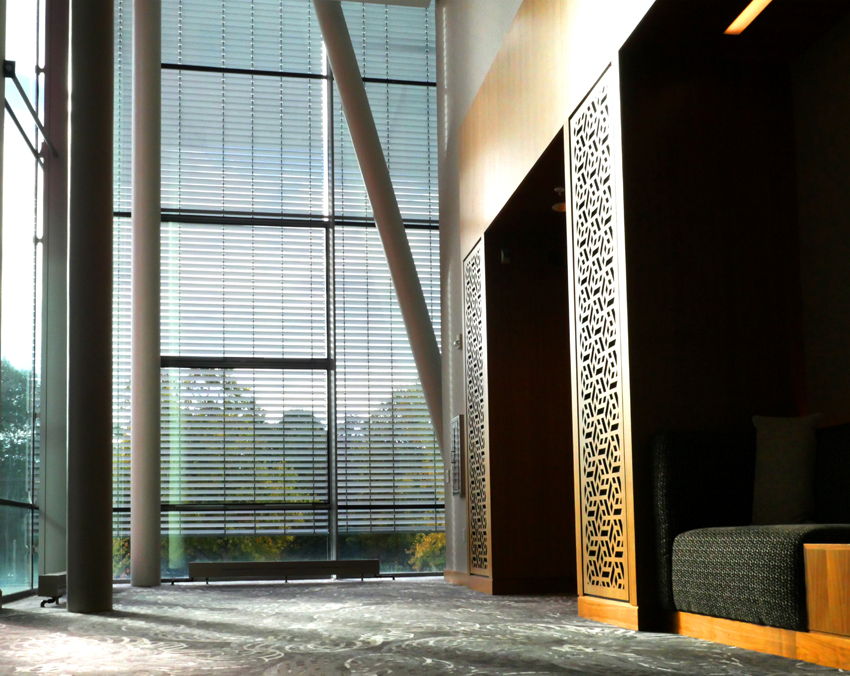 Photo: Hal Stata, Stata Productions
Exterior shading systems like these venetian blinds maximize ambient light entering the building while preventing direct sun penetration.
"Exterior venetian blinds add a more classical appearance to any surface and are suitable for all window sizes, easy to install, highly durable, and affordable, making them an optimum choice for exterior shading while adding a taste of elegance," Fragali explains.
Noting that these systems have been highly engineered over the past 30 to 40 years and provide a high degree of flexibility, Noblett explains that they can be set up as daylighting systems where the upper one-third of the slats are more open than the lower two-thirds, thereby optimizing daylighting even in the deployed condition. He adds that they can be fully retracted for viewing out when not required for solar protection, can be perforated to lighten their appearance, and are available in very robust models suitable for use in high-wind applications.
Exterior venetian blinds have a shading coefficient of less than 0.10 and can therefore prevent more than 90 percent of the solar energy from coming through the glazing and being converted into heat.
Available in a variety of sizes, from 2 inches up to 6 inches, the systems—and particularly the slats—can appear lightweight but are in fact very durable and can withstand wind speeds of up to 38 mph, which means that the blinds are suitable for most building locations.
Originally published in Architectural Record
Originally published in October 2020
Notice