Closing the Gaps: Rolling Doors That Meet Mandatory ASHRAE 90.1 Standards
The importance of specifying rolling doors that meet new air infiltration standards
Sponsored by CornellCookson
This test is no longer available for credit
Innovation and Regional Priority
The USGBC rewards project teams that use innovative strategies when designing a sustainable building. When design professionals specify products that exceed standards, they can obtain additional credit points. Achieving exceptional environmental responsibility requires a holistic approach to the design of a building envelope that includes the selection of exterior doors that help to insulate buildings, reducing the cooling and heating loads, while improving energy performance beyond IECC and ASHRAE standards. Innovations drive new credit interpretations and are leading the way to net-zero energy buildings.
Regional priority credits are overlay credits that are specific to the important issues by geographic region. By inputting the project location and focusing additional efforts on specific environmental, social equity, and public health priorities in that region, project teams can obtain these bonus points. A response to material and product selections that exceed energy-efficient standards is often a means to obtain up to four additional credit points.
Sound Transmission and Human Comfort
In addition to the reduction of user exposure to building materials that can cause illnesses, user comfort is another component of LEED v4. Although not specifically mentioned as a credit-driven action, the management of sound transmission provides users with major environmental and social benefits. Rolling doors with effective insulation can significantly reduce sound transmission. Compared to non-insulated rolling doors, which typically have zero sound ratings, an insulated rolling door provides sound transmission class (STC) rating of up to 30 for the curtain and up to 22 for the entire assembly, as tested per ASTM E90, based on testing a complete operable assembly.
Occasionally, an insulated door is used in conjunction with an open design rolling grille to provide increased ventilation. When used in combination, specifying two different rolling doors on the same opening can achieve extreme weather or sound resistance. These superimposed/double-insulated curtain assemblies can obtain an STC 32 rating. Sound rating data is confirmed per ASTM E90, based on testing a complete, operable assembly. When designing a loading bay for a factory, hospital, retail facility, school, or any other environment that requires minimizing equipment and truck noise penetration, selecting a rolling door with a good STC rating can be an important environmental factor.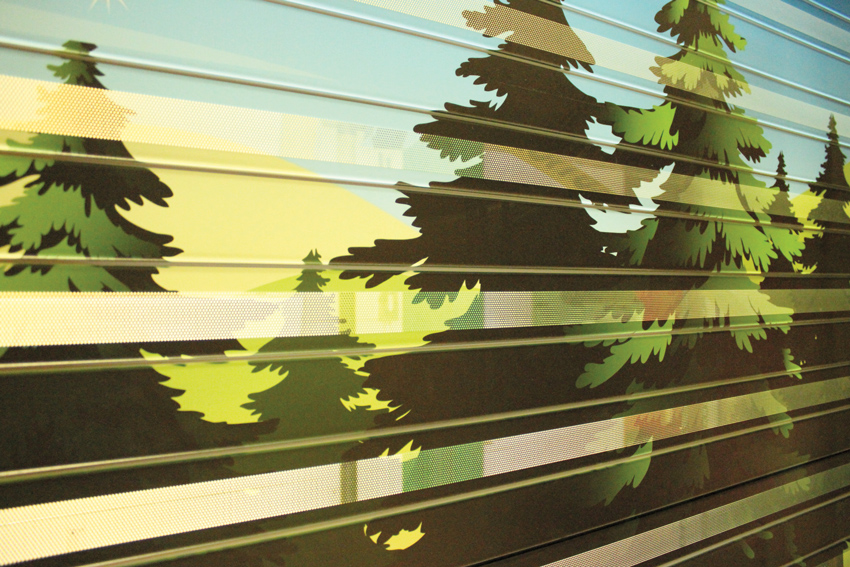 Image courtesy of CornellCookson
Exterior surfaces of rolling doors can be branded with facility logos and add value to the appearance of the commercial area. Powder-coated graphics can be applied to both traditional slats and perforated slats for a custom solution to design and functionality challenges, balancing security, airflow, and aesthetics.
Aesthetics and Neighborhood Amenities
Mixed-use zoning practices are changing the visual appearance of many urban neighborhoods. Single-use zoning previously allowed greater separations of industrial buildings, warehouses, and storage facilities from residential properties.
Higher urban density is requiring zoning boards to find new ways to screen garage doors from creating visual blight in urban neighborhoods. New printing processes are making industrial graphics an affordable commodity.
Images can be imprinted on the face of a rolling door, which is ideal for marketing images or brand names and symbols. In addition, rolling doors can be powder coated in more than 180 colors. No matter if the door is steel or aluminum, benefits include easy maintenance and superior durability. Rolling doors can also be specified with corrosion-resistant, no-VOC powder coating. Powder-coated images are now available, enabling businesses to place unique images on internal and external rolling doors to improve aesthetics, without giving up the superior durability of powder coating. An approach that includes a powder-coated graphic lasts longer than a vinyl decal and can provide an aesthetically pleasing complement to the interior or exterior design.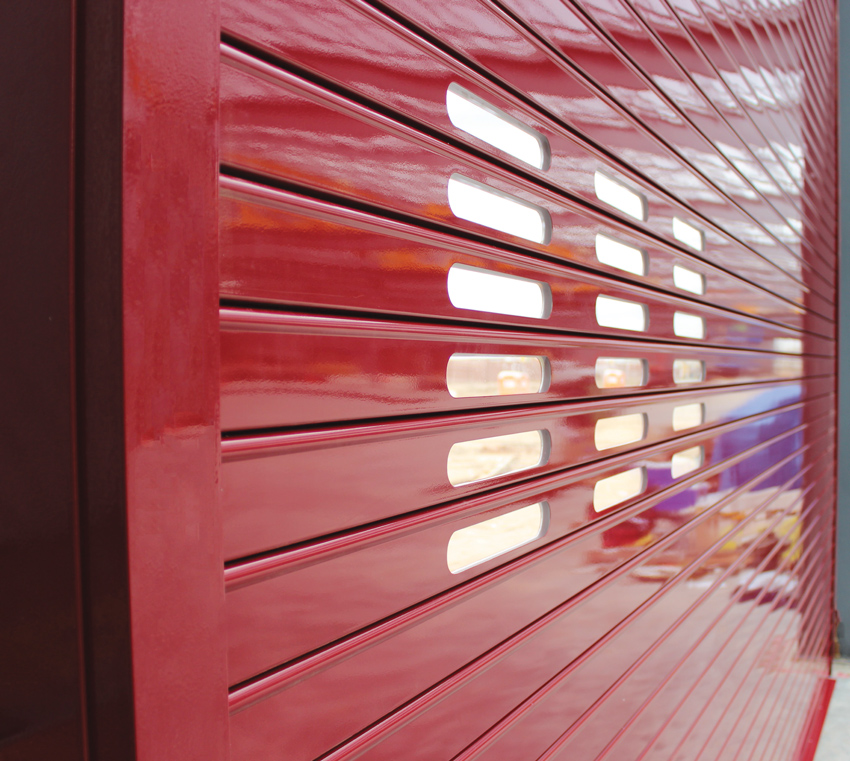 Photo courtesy of CornellCookson
This insulated, high-performance security door meets stringent energy standards.
In this era of heightened security, gunshot-, fire-, blast- and pressure-resistant doors are becoming mandatory in many urban areas. Design professionals should specify rolling doors that are tested and certified to meet the strictest criteria. Because rolling doors require less headroom, these security doors can be placed in front of storefronts, sliding glass doors, and windows. The design professional should specify a rolling door with quick lockdowns and central emergency buttons. The manufacturer should be able to provide fast response, delivery, and installation to meet the immediate challenge of a crisis.
Meeting wind load criteria, particularly in areas where there are frequent hurricanes and tornadoes, is important. Typically, rolling service doors are designed to withstand a specified wind load when closed but cannot operate under a wind load. Manufacturers can develop custom products that are operable during wind load. There are two key factors that must be considered when choosing a closure that can operate under a wind load: occupant safety and building construction. Will it be safe to expose building occupants to 100-plus mph winds when the door is open? In addition, can the building construction handle the positive and negative pressure changes if a door is opened in severe wind conditions? Examples of wind-load approvals include those by the Florida Building Code, Miami-Dade County, and Texas Department of Insurance, with wind-load ratings from 20 PSF to 120 PSF and missile impact ratings between 50 FPS and 80 FPS.
Insulated fire doors can be used when an opening in a firewall requires a door that will reduce energy costs as well as protect lives and property. When constructed with mineral wool fire-resistant insulation, these doors can provide an R-value of 5.3 and a flame spread and smoke development index of 0. Insulated fire doors can be mounted on concrete, masonry, structural steel, and gypsum board walls, and should activate upon alarm signal to close the fire doors at a controlled rate of decent.
Specifications
To assist project designers, building information modeling (BIM) files are offered by some manufacturers. One of the many advantages of using BIM is to be able to input actual product images into the drawing files. Another advantage is that specifications can also be layered into the construction documents. Sample specification language for a typical rolling door is often found in sections labeled overhead "coiling" doors. A sample from MasterSpec® for coiling overhead doors that highlights air infiltration requirements will include the following language: Air Infiltration: maximum rate of 1.0 cfm/ft2 (5.1 L/s/m2) at 15 and 25 mph (24.1 and 40.2 km/h) when tested according to ASTM E 283 or DASMA 105. The use of BIM objects also enables architects to easily identify potential clearance issues.
Originally published in Architectural Record
Notice