Closing the Gaps: Rolling Doors That Meet Mandatory ASHRAE 90.1 Standards
The importance of specifying rolling doors that meet new air infiltration standards
Sponsored by CornellCookson
This test is no longer available for credit
Energy and Atmosphere
Optimizing energy benefits the environment and a building owner's bottom line. They can achieve reductions in energy costs by moving into buildings that are designed to close all of the gaps that allow thermal transfer. Specifying an exterior door with the capacity for less than 0.3 cfm/ft2 air infiltration value provides a 95 percent decrease in air infiltration as compared to standard products. By code, this value is independently tested and confirmed to not only meet, but also exceed the requirements of IECC 2015, ASHRAE 90.1, and California's Title 24.
Through the Optimize Energy Performance section of this credit, designers are challenged to achieve increasing levels of energy performance beyond prerequisite standards. An energy performance target must be established for the building no later than the schematic design phase either through a building simulation model or prescriptive compliance to the ASHRAE Energy Design Guide.10 The ASHRAE design guide has specific recommendations for schools, hospitals, large and small office buildings, and big box retail that refers to doors and continuous air barriers selected by climate zone. Designers who follow these paths are not merely chasing points, they are following strategies that ultimately will lead to the net-zero use of nonrenewable energy resources.
Materials and Resources
To achieve Materials and Resources credits, an insulated door should be specified with CFC-free insulation with an ozone depletion potential rating of 0.00. Ozone depletion of the atmosphere was first recognized in the 1970s. Man-made substances that are part of the production of common refrigerants, solvents, propellants, and foam-blowing agents such as CFC were observed by scientists to deplete atmospheric protection when released through manufacturing processes. The ozone layer protects humans from exposure to harmful ultraviolet light and subsequent increases in sunburn, skin cancer, damage to plants, and reduction of fish populations. In the late 1980s, the Montreal Protocol on Substances that Deplete the Ozone Layer was one of the first international treaties to address the global scope of climate change. According to Dr. Paul A. Newman, chief scientist for atmospheric sciences at NASA, the atmosphere may now be recovering and may be expected to return to pre-1980 levels by 2032.11 Because of concerns that demonstrate that building products can affect the environment, responsible manufacturers are providing better choices of materials that are safer materials for the planet.
Recycled content is also important when meeting targets for LEED. Since doors can be ordered in a variety of materials, the architect should be aware of which materials to specify (steel, aluminum, stainless, etc.) for each application and review recycled content materials lists provided by the manufacturer.
Since doors can be built to order, it can be hard to accurately measure the required materials content for the LEED Materials & Resources credits. Some manufacturers provide a spreadsheet "calculator" that measures the recycled content of the various assemblies of a built-to-order product. The manufacturer should be able to provide the architect with a list of the recycled content of the various assembly materials in any given custom-built product. Submittal drawings for the project should provide specific recycled content information. The recycled content information is provided as a total recycled content weight and percent of total product weight, and is further broken down into post-consumer content and post-industrial content. Selecting a door made from steel, stainless steel, and/or aluminum, the architect can choose a product that can easily be recycled, reused, or repurposed. Steel and aluminum are among the greenest, most durable, and sustainable materials used in construction projects today.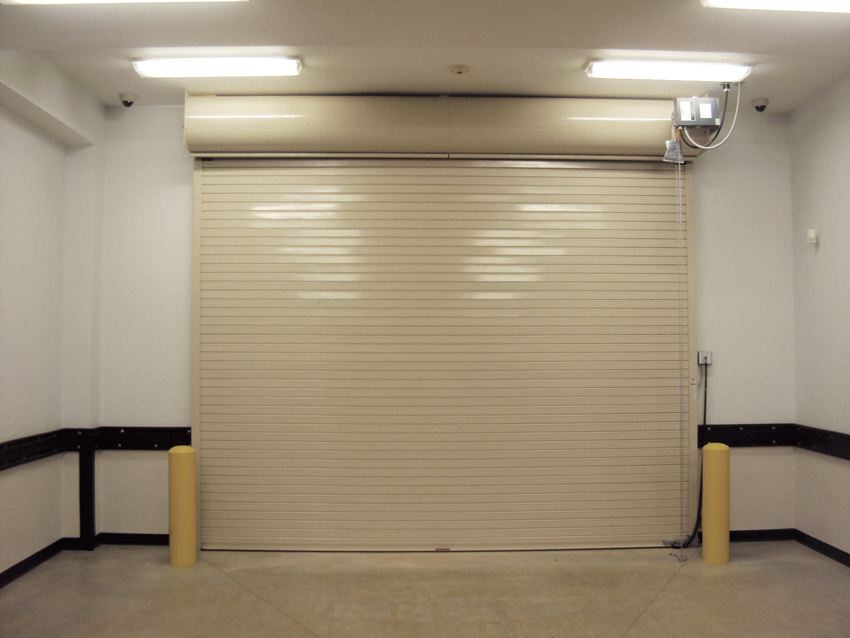 Photo courtesy of CornellCookson
Insulated rolling steel doors are ideal for use in places with very low headroom, as seen from the internal view of this door in Amarillo, Texas.
Indoor Environmental Quality
Materials, including finishes, should be selected that emit no volatile organic compounds (VOCs), ensuring healthy indoor environmental air quality. According to the EPA, the sources of VOCs include common building and construction materials, such as paints, cleansers, solvents, wood preservatives, and stored fuels. The health effects may include minor reactions, such as eye, ear, and throat irritation, all the way to major health issues, such as damage to the liver, kidney, and central nervous systems, and some organics can cause cancer in animals and humans.
Reducing VOC emissions provides health benefits for both the installers and other trade workers as well as the end-user indoor occupants. Choosing doors that are constructed of powder-coated, plated, and/or anodized metal, which are inherently non-emitting sources of VOCs (no volatile organic compounds, no chemical additives, and no impurities), meet the criteria of this credit. The design professional is aware that buildings with tight envelopes and highly engineered ventilation systems may still cause "sick-building" syndrome if they do not also remove potential contaminants from their specifications. Manufacturers should verify that the components in products provide protection against contaminants that can damage air quality, human health, productivity, and the environment.
Originally published in Architectural Record
Notice