People Power: Architects give a voice to those often overlooked in the design process
Architectural Record
Douglas Burnham, Envelope's founding partner, says his pitch was to "transform the site into a beloved place from something that had been feared." The strategy resembled his Proxy project in San Francisco's formerly gritty Hayes Valley, where he created a group of social and commercial spaces in shipping containers on two disused lots. Conceived as temporary, Proxy has been operating for nearly a decade.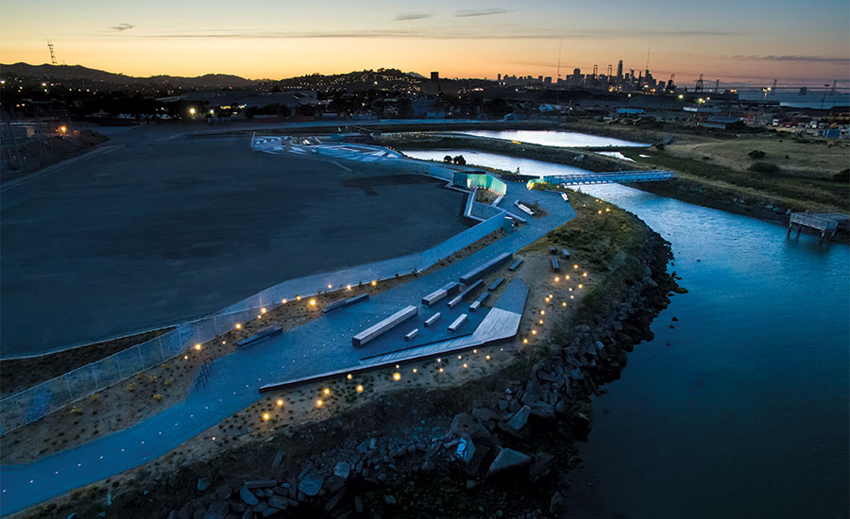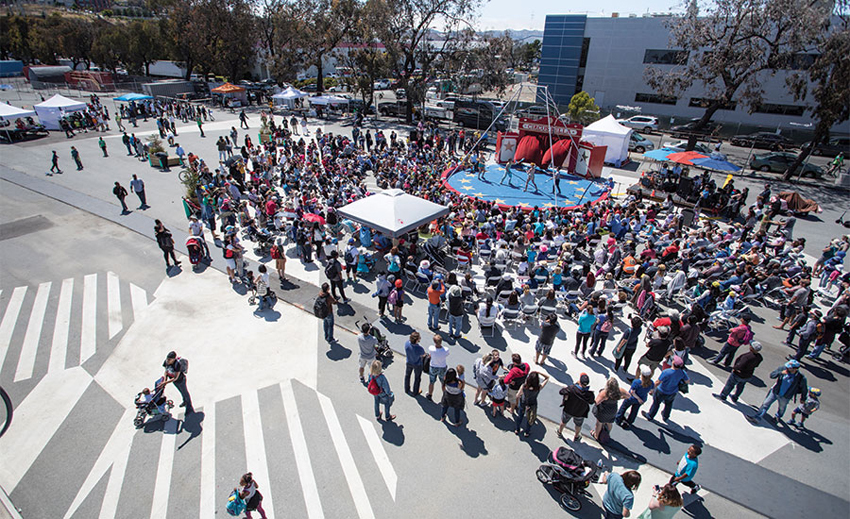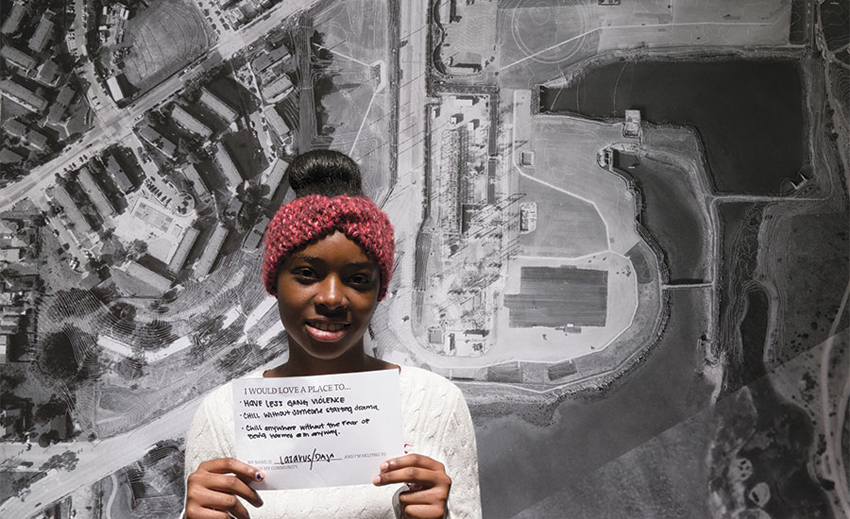 PHOTOGRAPHY: © ALBERT VECERKA/ESTO; TOM FITZGERALD ( TOP); ANNE HAMERSKY (MIDDLE); ENVELOPE (BOTTOM)
AT EVERY EVENT held on the lot where the PG&E plant once stood, including an annual circus (middle), information about the community's desires is collected (bottom). The new waterfront trail, which is open all hours of the day, includes soft, motion-activated lighting (top).
For the PG&E project, Burnham teamed up with Ogbu, who has extensive experience in public-interest design. Almost immediately, Envelope and her Studio O began holding events on a 2.5-acre portion of the site, an area since dubbed NOW Hunters Point. An early program was conducted in collaboration with StoryCorps, the oral history nonprofit. Inside a temporary recording booth, the team documented Bayview-Hunters Point's history and culture and the residents' dreams for the future. The project culminated with a listening party for the whole neighborhood. Other programming—all of which is free—has included a circus, job training, movie nights, and health and wellness fairs. The designers refer to these events as prototyping or testing for future uses. "The programming makes what is possible tangible," says Ogbu. And during every event, Envelope and Studio O gather feedback from attendees about what works and what doesn't and ideas for the future of the site.
The collected data informed the nearly 2,000-foot-long shoreline park that they subsequently designed. Completed in 2017, it connects two existing waterfront trails and is 100 feet wide—considerably roomier than was required—allowing areas for informal gathering and organized activities, while providing an alternate circulation path, something community members said would make them feel safe and secure. The park, planted with native wildflowers, grasses, and shrubs, includes such features as a series of metal screens that recount the history of the site and the neighborhood, a zone with concrete and wood benches for outdoor religious services or for school groups to hold classes focusing on the ecology of the bay, and an overlook that doubles as a spot for fitness instruction. The path is open 24/7 and includes soft, motion-activated lighting.
While proponents of deep engagement generally prefer alternatives to community meetings, some say that such venues can be effective if they are properly structured. "You have to set the process up so that people can bring their own experiences to the table," says Claire Weisz, founding principal of WXY Architecture + Urban Design, a New York–based firm known for its public work that addresses social and environmental concerns. She points to WXY's replacement of a boardwalk destroyed during Hurricane Sandy in 2012 in Rockaway, a peninsula in the New York borough of Queens that separates Jamaica Bay from the Atlantic. Here the engagement process preferred by the clients—the city's Economic Development Corporation and the parks department—were community meetings that would address stakeholders' concerns about configuration, access to the beach, and materiality.
Completed in 2017, WXY's boardwalk extends for 5.5 miles along the ocean side of the peninsula. To provide protection against future storms, the project team put forward what it calls a "double dune" scheme: the 40-foot-wide path for strolling, running, and cycling would be made of precast-concrete structural elements and decking. The whole would be raised 3 feet above the 100-year-flood plain and bolstered by planted sand berms to either side.
During the meetings, as Weisz recounts it, some attendees voiced concerns that the boardwalk would be little more than an elevated concrete sidewalk. Others expressed a desire for something that was uniquely suited to Rockaway, one suggesting that it be clearly identifiable to passengers in planes taking off and landing at nearby JFK Air­port. Meanwhile, some wanted to make sure the designers understood that the boardwalk would be used at all times of day and all year round—not just when the beach was open for swimming. In response, WXY designed wavelike decking and, with graphic designers from Pentagram, integrated giant letters that spell out "Rockaway" into it. The words, in a font that works with the squiggly planks, are in ocean-blue so that they stand out from the other, sand-colored planks, and are legible from the air. And, through materials research, they identified a "glow-in-the-dark" aggregate that they added to the ocean-blue concrete. It emits a subtle light in the evening, evoking the bioluminescence of jellyfish and other sea life.
Originally published in Architectural Record
Originally published in September 2020
Notice