People Power: Architects give a voice to those often overlooked in the design process
Architectural Record
Adam Lubinsky, WXY's managing principal, cites the linear nature of the project as one reason the inclusion process was effective: the boardwalk stretches through nine distinct neighborhoods, each with its own demographic. "We were able to hold meetings all along the peninsula in local venues and draw from each area," he says. The team tapped a number of Rockaway-based nonprofits that helped with outreach, to ensure meaningful participation.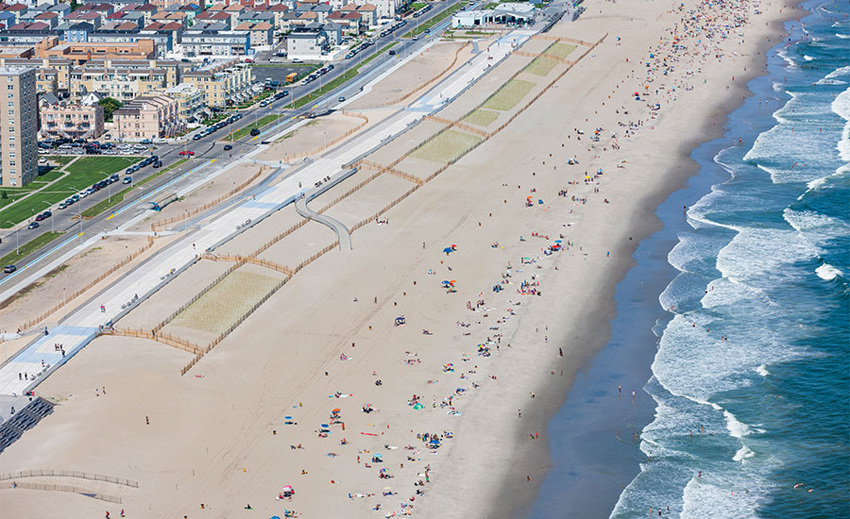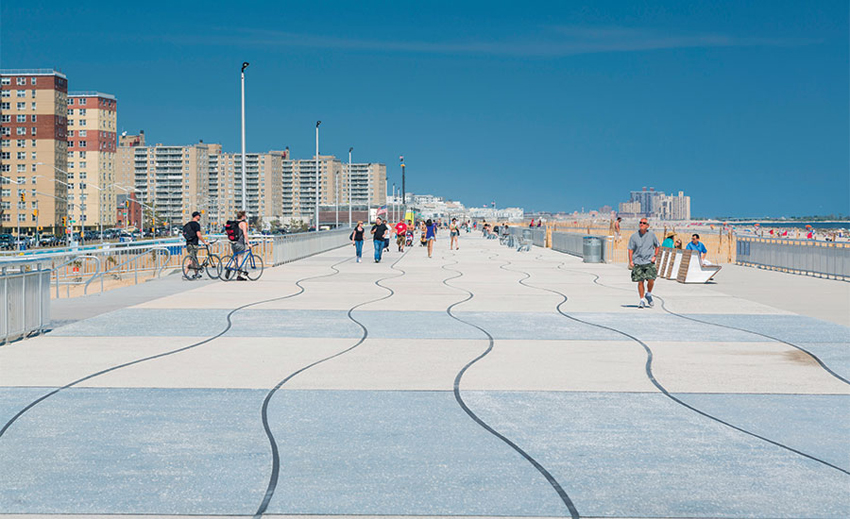 THE DECK of WXY's boardwalk in Rockaway, New York, incorporates features that respond to community feedback, including the wavelike shape of the precast planks (bottom) and giant letters that spell out the name of the beach, visible from the air (top).
Weisz and Lubinsky say the project also benefited by pairing with another project—the firm's conceptual plan to improve existing parks throughout Rockaway. Although that had its own dedicated community meetings, the master-planning effort meant the boardwalk was seen as part of a larger whole. "Residents could step back and consider many of the broader open-space needs, from resilience to recreation," says Lubinsky. What is more, a kit-of-parts strategy for the precast elements and other components enabled the boardwalk's completion for $120 million less than the $461 million budget. The savings made funds available for improvements to the local parks, many of which hadn't seen investment in decades, says Weisz. Designs for revamping several parks are now under way by WXY and other firms.
There are, of course, other means to elicit useful information. Jeff Davis, senior principal with Architectural Nexus, a firm with offices in Salt Lake City and Sacramento, California, recommends seeking out community members at events such as children's soccer matches or town fairs. "Go to them, find their networks, and you'll get better feedback," he says. By relying on this method for a combined library and recreation center about to start construction in Stockton, California, the architects found, perhaps unsurprisingly, that community members wanted a building that allowed access to the outdoors, fostered collaboration, and included a technology center. They also learned that the surrounding neighborhood was a food desert, despite Stockton's location in the Central Valley, where most of the country's produce is grown. So Architectural Nexus and its library consultant came up with the idea of including a demonstration kitchen for cooking classes. An edible garden and an area for a farmers market are also planned.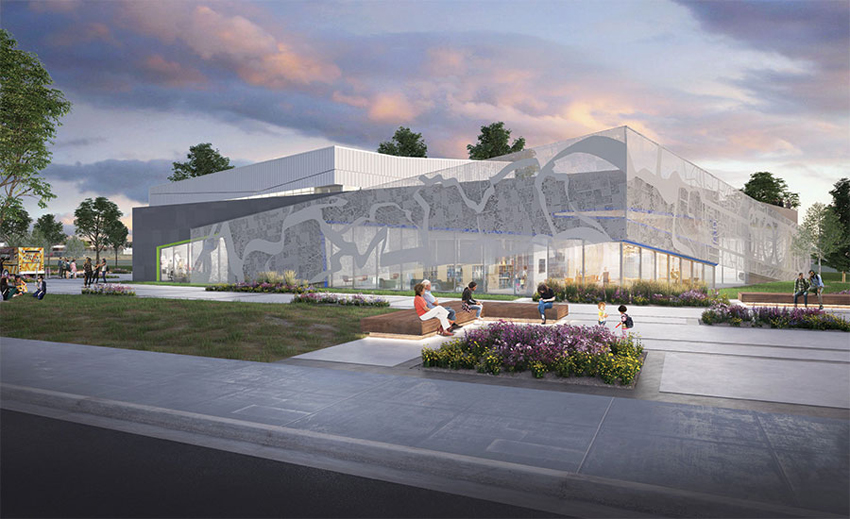 IMAGE: COURTESY ARCHITECTURAL NEXUS
A LIBRARY AND recreation center in Stockton, California, by Architectural Nexus, will have a demonstration kitchen, an edible garden, and space for a farmers market, to address a food desert problem.
In addition to such programs, there are tools that can guide project teams toward a more effective response to a neighborhood's needs and desires. One is the Social Economic Environmental Design (SEED) Evaluator, a program of Design Corps, a three-decade-old nonprofit that aims to use architecture to make positive change in underserved communities. The Evaluator is a framework for documentation and measurement based on five principles, including advocating for those who have a limited voice in public life, promoting an inclusive design process, and conserving resources and reducing waste. The idea is not to codify those principles, explains Brian Bell, Design Corps founder, but "make them actionable." The certification process allows teams to select three priorities critical to their project from a list of possible focus areas, such as emergency shelter, access to green jobs, and political planning and policy. They must then articulate how these will be addressed, and finally measure the outcomes. In addition to the stand-alone program, project teams can use the SEED process to comply with a social-equity pilot credit in LEED.
Still, a community-focused design process needs more than a rating system or certification tool to be successful. Positive outcomes depend on listening, building relationships, and establishing trust, which can be a long and arduous process. At NOW Hunters Point, seven years after the StoryCorps project, Burnham and Ogbu, as part of their contract with PG&E, continue with their prototyping work. (During the pandemic, they have had to pivot from their usual programming, and instead have weekly food giveaways, which residents said was needed.)
Burnham estimates that development of the full former power-plant site is still a decade away and remains optimistic that whatever is built there will incorporate ideas articulated during the ongoing engagement process—including affordable housing, a job-training facility, or a community center. "We've given the residents a toehold in a place that should be theirs," he says. "Hopefully, we've set the stage for something that will be supportive of community."
Supplemental Materials
Listening Now
Rockaway Boardwalk Documentary
| | |
| --- | --- |
| | Architectural Record is the #1 source for design news, architect continuing education, and info on sustainability, houses, projects, and architectural products. |
Originally published in Architectural Record
Originally published in September 2020
Notice