Designing with Green Roofs: Maximizing Sustainability and Stormwater Management
New urban roof top gardens lower energy costs and increase environmental benefits
This course is no longer active
Advertorial course provided by American Hydrotech, Inc.
Extensive Garden Roofs are Worth the Effort
An extensive garden roof is usually much lighter and thinner than the intensive roof. Since it is typically not intended for additional usable space, developers question whether it is worth the effort. As land values rise, developers need to maximize building footprints. Small sites and large parking requirements leave little room for stormwater storage. The usual solution is to bury large storage tanks under the pavement for storage and filtration or to direct all stormwater to city storm systems. Shrinking stormwater infrastructures have placed more fees on developers, thereby encouraging green roofs as viable solutions.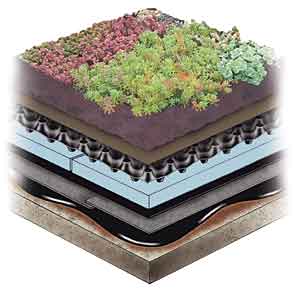 Assembly of Extensive Garden Roof.
Photo Courtesy American Hydrotech, Inc.
"The more green roof you put on, the less stormwater you have to put somewhere else," explained landscape architect Cheryl Zuellig, ASLA, of JJR, in Ann Arbor, Michigan. Research studies at the Russell E. Larson Agricultural Research Center by Penn State University quantified a 50 percent reduction in runoff from a three-and-one-half-inch green roof. Continued studies are proving the stormwater retention of green roofs in many climates, different soil thicknesses and the type of plants. Green roof providers will help design professionals calculate the amount of storage available by design on a roof, based on climate data and required local stormwater codes.
Municipalities determine rainfall in many ways. The quantity of rain is calculated by quantifying the average rainfall, as well as the frequency and magnitude of a storm event. The most common criteria for rainfall are the amount recorded in a 100-year storm. This is defined as the amount of rainfall that has a one percent chance in any given year of being equaled or exceeded. Building codes require that developed properties should minimize stormwater run-off onto other properties, or into storm sewers. Washtenaw County, Michigan is one of many municipalities to research new stormwater infiltration systems. They are waiting for the research data to confirm what many Europeans already know: green roofs are an effective stormwater mechanism and will lead to a decrease in the cost of municipal infrastructure.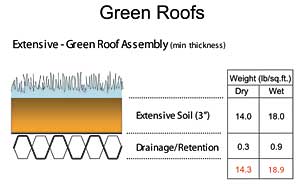 Courtesy American Hydrotech, Inc.
Green roofs can solve this problem, if designers understand the trade-offs involved for stormwater detention. Rainy Portland, Oregon is statistically only slightly wetter than Michigan. The difference in Portland, which allows designers a one-to-one trade-off for green roofs as stormwater detention, is that the typical storm event consists of light rainfall that falls over a longer period of time. In Michigan, a storm will flood the storm sewers quickly, requiring a larger storage capacity to accommodate potentially larger flood storage. A typical roof system in Portland can be more shallow than a roof system in Michigan.
The rooftop garden at JBG Companies in suburban Maryland is an example of an extensive roof garden designed for storm water management. The site was in a community concerned with impervious surfaces and rising taxes. One of a cluster of buildings, Woodland Park One, was built on a site that had been completely paved. Jef Fuller, AIA, managing principal of DNC Architects, Inc., realized he had an opportunity to solve a stormwater problem and increase the value of the property to the developer.
In Maryland, if an architect can increase the area that can absorb rainwater by 20 percent beyond the existing development footprint, then there is a waiver of one-to-one per area for stormwater requirements. For Fuller, this meant that the building area would be increased if he could place the stormwater detention above ground, instead of burying it under the parking area. Calculations proved that the costs were identical if he put a green roof on the building, instead of burying the stormwater in an underground tank. Additionally, the green roof had the advantage of being part of the viewscape for office workers in the higher buildings, which were in the next phase. The roof was completed in 2003 and requires no irrigation, and maintenance is minimal.
Fuller demonstrated to his client, JBG, and to Montgomery County authorities that the green roof would decrease the site's impervious area from 88 percent to 40 percent. Through his calculations, the owner saved permit time, reduced underground storm storage tanks, and complied with Maryland's Smart Growth initiative for green roofs.
Originally published in Architectural Record.
Notice