Designing with Green Roofs: Maximizing Sustainability and Stormwater Management
New urban roof top gardens lower energy costs and increase environmental benefits
This course is no longer active
Advertorial course provided by American Hydrotech, Inc.
Types of Gardens on Roofs Require Programming Decisions
Programming a building requires knowledge of how it will be used. Green roofs can support the weight of soil, rain, snow, and in many cases, pedestrians, on top of an engineered roofing system. Manufacturers typically provide two categories of garden roofs: intensive roofs and extensive roofs. Each type of roof has different maintenance, structural, and performance criteria that must be evaluated.
 
Intensive Green Roof Benefits
Intensive garden roofs can be pedestrian-friendly, with walking paths, plants, shrubs, and even trees. Soil depth is determined by the programmed activity to occur on the roof. The cost of supporting pedestrians, and saturated soils, is countered by the benefits of adding additional usable tenant areas. In addition, intensive roof gardens provide new areas for infiltration and storage of stormwater.
In 2004, according to the City of Chicago Department of the Environment, more than 80 municipal and private green roofs, totaling over one million square feet, were in various stages of construction. In November 2005, spokesperson Connie Buscemi of the Chicago Department of Planning and Development said that Chicago had over two million square feet of green roofs in the city. "Chicago has become the model for meshing green roofs with development and the environment." The city encourages green roofs to be added to industrial buildings as well as single family houses by providing grants and assistance programs to developers.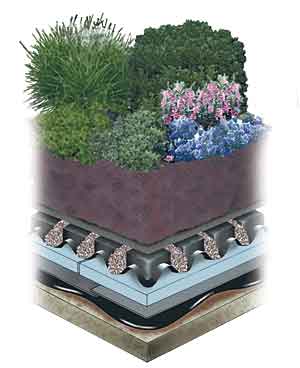 Assembly of Intensive Garden Roof.
Photo Courtesy American Hydrotech, Inc.
Chicago initiated a program based on the principal that adding plants and trees to the urban fabric reduces Urban Heat Island effect. Cities are hot, full of heat-storing pavement. More trees and plants in a city can change the temperature and decrease the cost of air conditioning. The City of Chicago claims that it saves almost $3,600 annually from its green roof on City Hall roof through energy savings. The associate architect on this Chicago landmark is William Worn Architects and the rooftop design, completed in 2001 by Conservation Design Forum. The city is monitoring the green roof on the Chicago City Hall and tests show that when the air temperature is ninety degrees Fahrenheit, the green roof temperature is also ninety degrees, whereas the asphalt roof on the adjacent building is one-hundred and sixty degrees. Continued studies of green roof projects in the city are proving the case for green roof installations.
The City of Chicago's Department of the Environment began to promote green roofs in the mid-1990s. They provided grants for roofs, such as one for Schwab Rehabilitation Hospital, designed by Stephen Rankin Associates, to reduce the heat island effect. In July 2004, U.S. News & World Report named Schwab as one of the top U.S. hospitals, citing the therapeutic environment of the unique rooftop garden as one of the reasons.
David Rahija, Schwab's Director of Inpatient Therapy, is excited by this thriving garden, completed in 2003. He says "The garden is not only a place for patients but also a place for staff to relax." Master Gardeners, a volunteer gardening program, has volunteered to assist with plant maintenance. Above the roof membrane system, some of this roof is paved with a highly reflective concrete paver on pedestal walkway. The roof has deep planting beds, trees, and a flowing stream built up above the roof deck, accessible from the therapy rooms. Patients in wheelchairs can plant flowers in wheelchair accessible flowerbeds. Planting, weeding, and watering improve motor coordination, and manual dexterity. Therapists have designed programs for sensory stimulation and for learning relaxation techniques. Staff and patients appreciate the ability to go outside. Patients are provided with a safe outdoor space, where therapists use horticulture therapy to heal and restore well-being. This verdant garden grows benefits beyond initial costs, through spiritual healing and environmental benefits for patients and caregivers.
Originally published in Architectural Record.
Notice