New and Affordable Surface Options for Housing
Paper-based high-pressure laminate surfaces make a comeback with improved quality and a flair for style
Sponsored by Formica Group
This test is no longer available for credit
Laminate Products as a Durable, Healthy, and Affordable Surface Option
High-Pressure Laminate: A Brief Introduction and History
As a material, high-pressure laminate is just over 100 years old, but it has changed significantly in its lifetime. It was patented in 1913 by Westinghouse electrical engineers Daniel J. O'Conor and Herbert A. Faber, who were looking to find an alternative to the mineral mica, which was commonly used in electrical parts production. O'Conor and Faber discovered when plastic resins were treated under high pressure, the product was strong, durable, and resisted conductivity—and thus was safe for electrical parts.6
When it was first developed, high-pressure laminate was made of layers of fabric fused together with resin. However, later versions were made with thick pieces of paper laminated with melamine. Melamine can function as a thermosetting plastic, which is irreversibly cured through heat and high pressure from a soft or viscous state to a very hard, durable material. As such, it served as a perfect top layer to protect the decorative paper designs and patterns of high-pressure laminate.7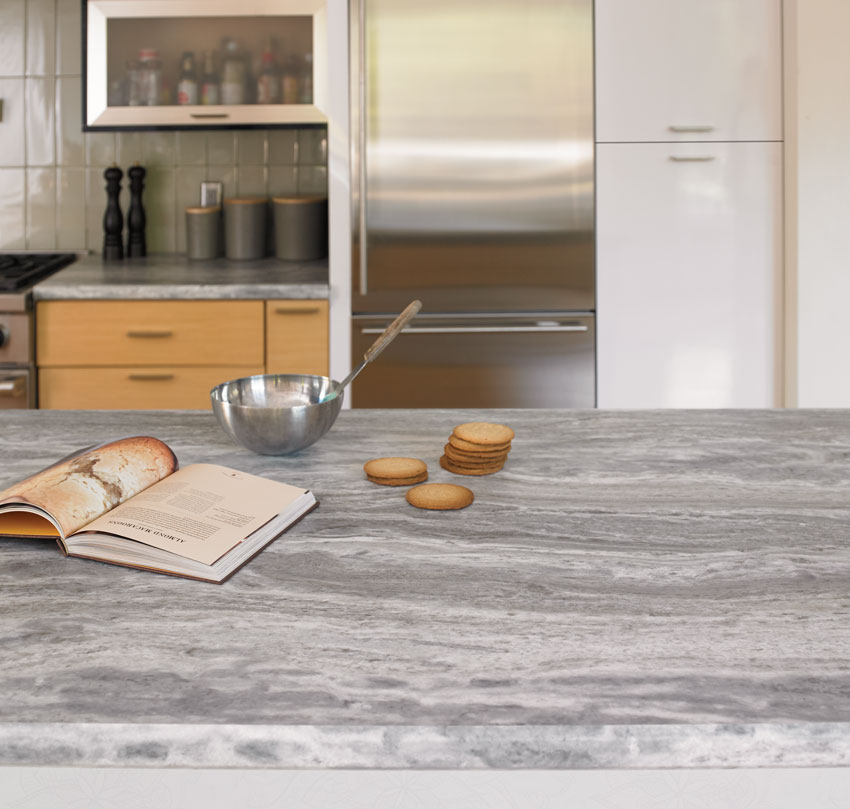 Today's laminates look more realistic and natural than ever before, particularly when paired with new edging styles that make seamlines virtually invisible.
Over the next several decades, high-pressure laminate increased in popularity as an affordable surface. Designers had the freedom to include bright colors and new and interesting design patterns. They could even mimic natural materials such as wood and stone. But products were limited in that many suffered from the "edge problem." Because high-pressure laminate is installed as a thin, flat sheet, the edges were the weak point. Not only did the edge seam give away the nature of the material, but it could also chip and eventually pull away from the surface to which it was adhered. These issues, combined with the growing popularity of solid surfaces such as marble and granite for countertops, meant laminate often was seen as a substandard product.
Today's high-pressure laminate surfaces are coming into their own again as a stylish alternative to more costly surfacing materials. Where materials such as granite, marble, or butcher-block wood all require treatments such as oiling or need to be cleaned immediately to protect against stains, high-quality laminate surfaces are highly stain resistant, durable, and easy to clean. More importantly, in some regards, the "edge problem" has been resolved with new edging options and improved installation methods.
A lot of people hear the term "laminate" and assume it's a plastic and thus not an environmentally friendly option. This incorrect thinking stems from laminate's popularity in the 1960s and 1970s, when plastic was very popular as a material. While it may share some qualities of plastic, high-pressure laminate is not plastic. In fact, modern laminates are often sourced primarily from paper and then sealed with melamine or phenolic resin. High-pressure laminate layers may include:
A top layer of hard, transparent melamine resin to seal and protect the product.
An overlay or wear layer of paper, which is usually quite thin, to help hold to the resin.
A decorative layer, which has the patterns, designs, and colors.
A bottom layer of kraft paper, which is a sturdy, usually brown paper made of some recycled content similar to what's used in paper grocery store bags. In this case, it is hardened with resins and forms the core of the laminate.8
The decorative layer gives designers virtually limitless options for patterns, textures, and colors. Many manufacturers are embracing the options not only by providing patterns that mimic natural materials but also by working with well-known artists and designers to create signature designs for their companies and clients. Even more interesting is that advanced printing technology lets clients choose their own images to be used as a laminate. For example, clients can design their own surfacing patterns or select a photo that highlights their brand and get it made into high-pressure laminate sheets.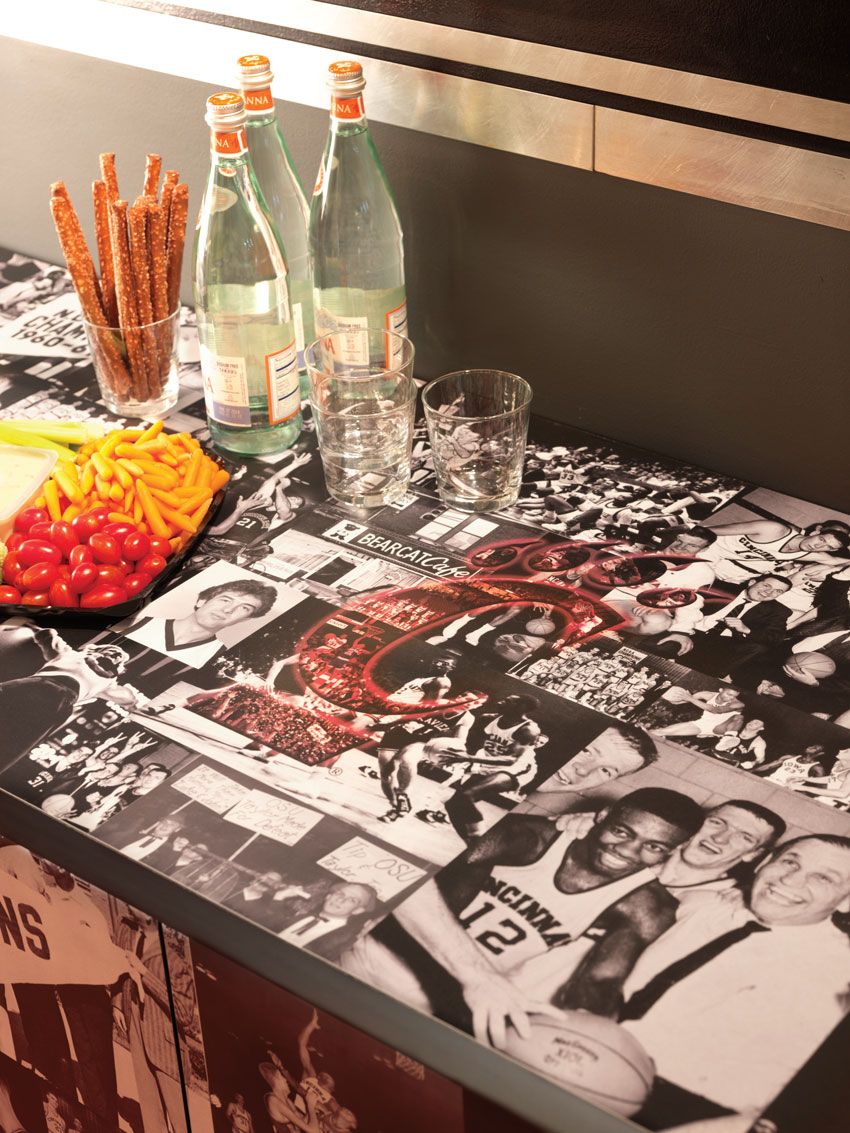 Personalized laminates can add local flair to entertainment spaces in multifamily housing.
General Benefits of High-Pressure Laminate
At first glance, high-pressure laminate's main benefit is that it is much less expensive than other surface options. But it has many other characteristics that make it an excellent choice for different interior surfaces. Gerri Chmiel, senior design manager, residential design lead, Formica North America, knows a lot about laminate. She has been working in the industry for 24 years, including 16 years with Formica Corporation. As an expert in the field, she knows just how versatile the material is. Chmiel explains that, "high-pressure laminate is a great option for a multitude of surfaces, not just for countertops—it's also a good solution for cabinetry, feature walls, or furniture. Laminate is lightweight and therefore easy to install, and after installation, it is easy to clean and care for. It offers great design in a variety of colors, patterns, and wood grains, and it won't break the bank." Let's look at some of these characteristics a bit more to understand the reasons homeowners and property managers may prefer high-pressure laminate surfaces:
Lightweight yet durable: As a material, high-pressure laminate is thin and virtually impact-resistant, which means products surfaced with it will have a long life. Over the years, improvements have been made to increase the overall durability and functionality of high-pressure laminate.
Non-Porous: Unlike surfaces that require continual treatment (think oiling) or immediate cleanup to prevent stains, high-pressure laminate's non-porous and homogeneous surface mean it can handle just about anything, all while maintaining its look for years. It's also easy to clean, adding to the health and safety of the home, especially when used for kitchen and bathroom countertops. Newer products even have antimicrobial properties, bringing yet another layer of cleanliness to the material.
Furthermore, high-pressure laminates do stand up to liquid. Any laminate fabricator will know how to seam the product correctly around the edges and sink basins to keep water at bay and the countertop looking great for years to come. There are even undermount sink designs that are made specifically to work with laminate that can stand up to water with the right installation.
Easy to install: High-pressure laminate is DIY friendly, and it can be installed as a new countertop or overtop an existing laminate. Professionals also can install it, usually at a lower cost than other materials.
Timelessly stylish: Laminate has been a popular choice for surfacing for decades, in part because of how versatile it is from a design standpoint. With a wide variety of finishes and colors, it's easy to keep on trend with new styles. Many manufacturers print annual collections that tie into what's in style that year. Between trendy colors, patterns, and textures, and natural-looking patterns, the options are endless.
Sustainable: It may come as a surprise that laminate is considered a green product. This comes from its wood-based components and long lifespan. Products often are made from Forest Stewardship Council (FSC) certified wood.
Of course, laminate does have a few disadvantages, namely that some products are not as heat or scratch resistant as materials such as treated stone, for example. And for some single-family homes, laminate on kitchen countertops may not add to the resale value. That said, high-pressure laminate surfacing may be a wise choice for numerous vertical and horizontal applications outside of the kitchen countertop in single-family homes. And for multifamily and light commercial projects, it's often an excellent choice on the kitchen countertop and throughout many other rooms.
High-Resolution Images and Printing
Perhaps the most compelling feature of high-quality laminate design is the decorative layer, and the versatility designers now have when it comes to producing product lines. In particular, advances in high-resolution digital photography and printing have made it possible not only to closely mimic natural materials such as marble, granite, and wood but also to print bright and creative patterns. As noted above, this is a huge benefit in that manufacturers can stay up to date on styles and trends.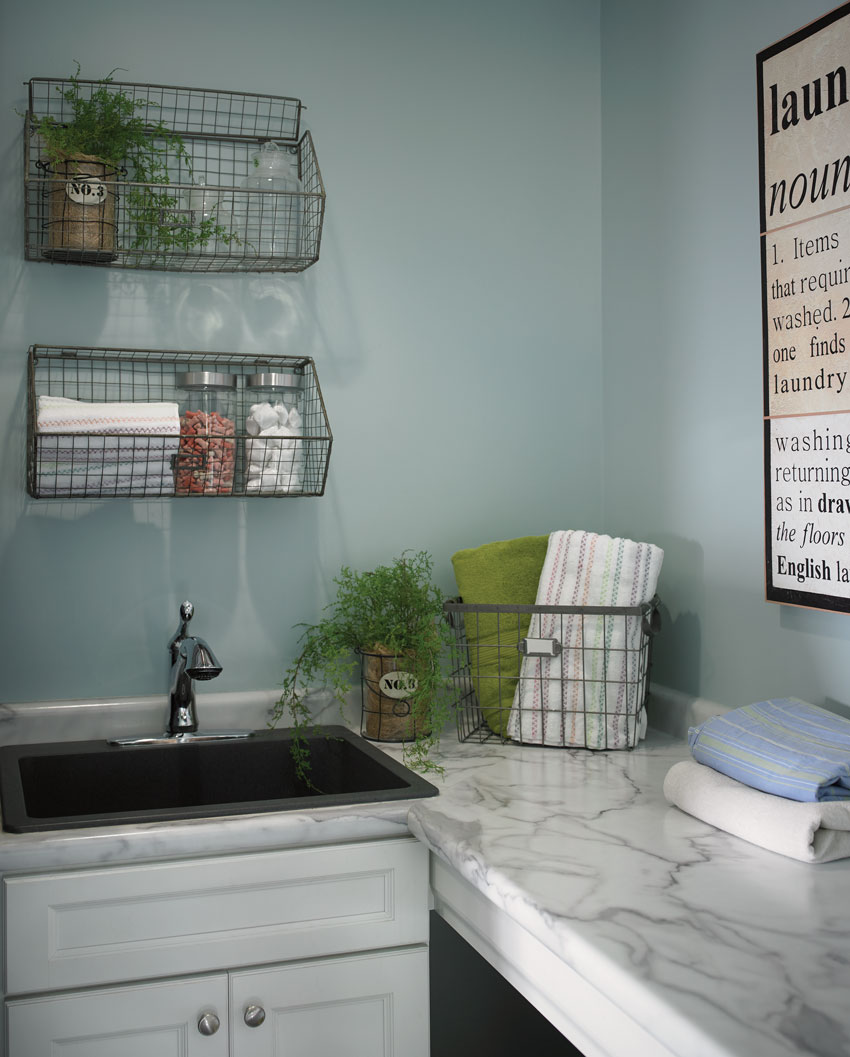 One option for achieving the high-end calacatta marble look in your projects is to use high-resolution laminate. It mimics the real stone but is more durable and maintenance free.
Some high-pressure laminate companies offer an even more premium product selection than standard white, black, maple wood, or ubatuba granite. True-scale designs, meaning the pattern reflects the size and scale of a natural material, have limited repeated elements. This makes the design look so realistic that you may not be able to tell it's laminate from a first—or even second—glance. Further, they are often paired with more upscale finishes (or textures) to complete the premium look and feel.
Originally published in Architectural Record
Notice