New and Affordable Surface Options for Housing
Paper-based high-pressure laminate surfaces make a comeback with improved quality and a flair for style
Sponsored by Formica Group
This test is no longer available for credit
Soft, Fingerprint-Resistant, and Thermal-Healing Surfaces
One of the more innovative advances in high-pressure laminates is surfacing that feels soft to the touch and yet is highly durable. This matte surface resists fingerprints, and it has both chemical-resistant and thermal-healing properties that make it ideal for almost any setting. On top of that, these surfaces provide antimicrobial protection.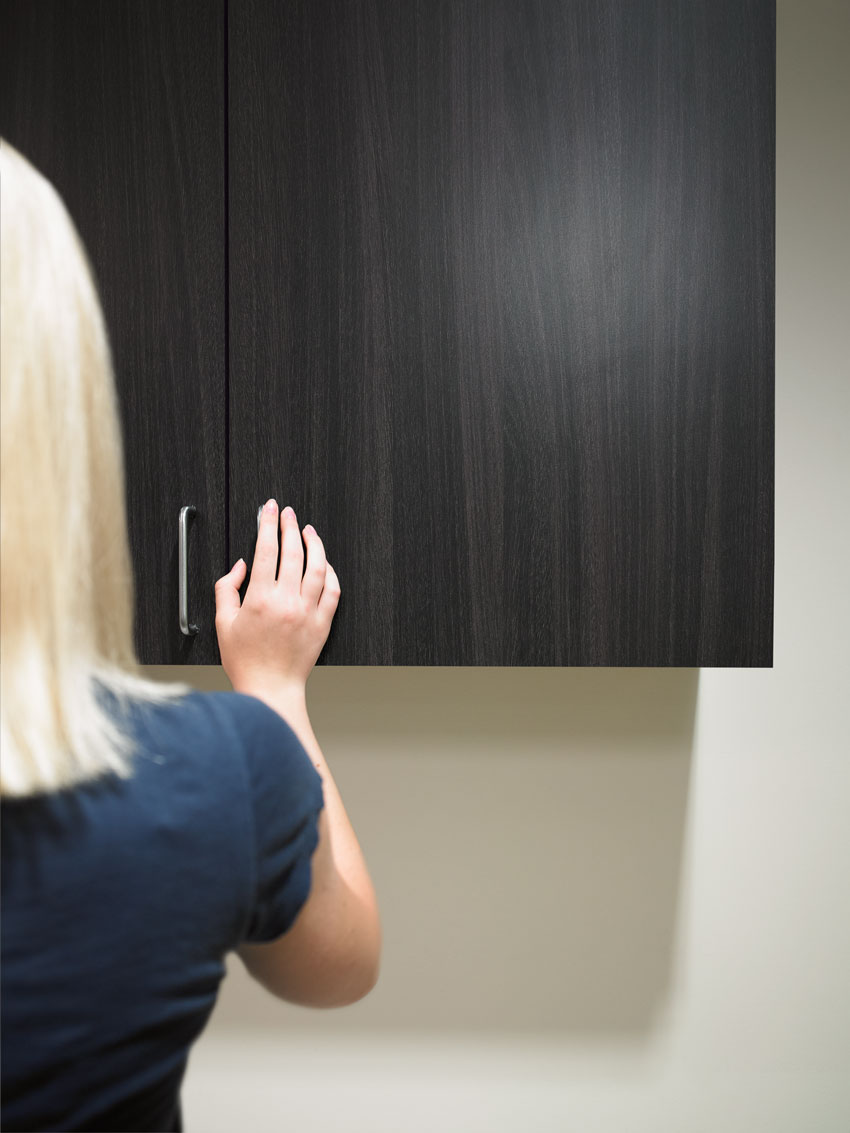 Cabinets can benefit from high-pressure laminates that resist fingerprints.
While other surfaces may resist fingerprints, chemicals, and bacteria, the innovations in thermal healing offer a unique solution to surfaces exposed to wear and tear, and in particular, burnishing. Let's say a countertop is heavily used in one particular area, and eventually the surface material loses its matte appearance and starts to show a bit of shine (burnishing). With certain high-pressure laminate surfaces, that shine can be removed easily with an iron, a paper towel, and a spray bottle of water. A hot iron placed on top of a wet paper towel will quickly change the polished look back to matte.
Writable Surfaces
The smooth, durable, and scratch-resistant nature of advanced laminate surfaces allows some creative uses in the home. One way is to install high-pressure laminate as a writable surface. Writable surfaces are not necessarily new—certain paints can be applied to wood or drywall to accomplish this. But both wood and drywall have small pits in the surface, and chalk and marker can become embedded. While writable paint can be washed to prevent ghosting, eventually the paint will wear down. Laminate, however, is perfectly smooth and flat, and thus works as a superior surface for writing, and more importantly, cleaning. Laminate writable surfaces can be cleaned easily with a cloth or eraser.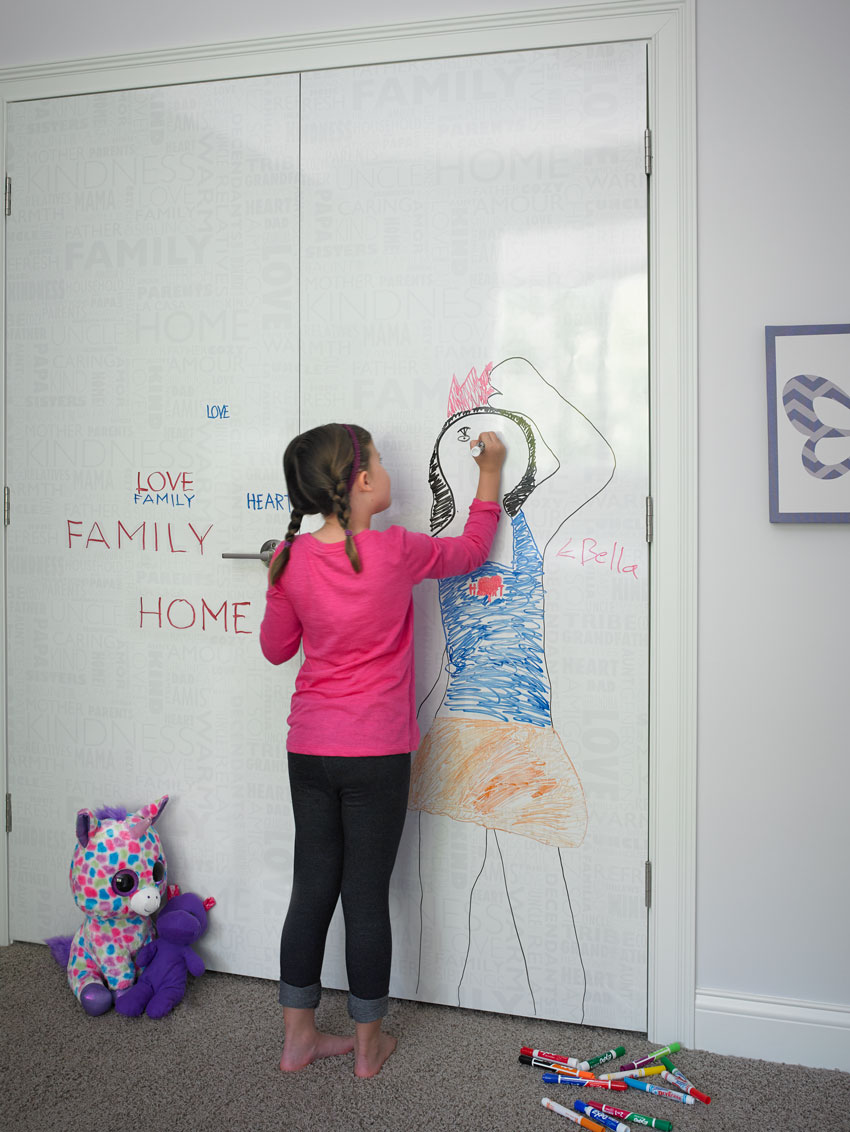 Writable surfaces are now available thanks to innovations with laminate and can be utilized on many surfaces in creative ways throughout the home.
In addition to the creative element a writable surface provides, it is also durable and scratch and impact resistant. These qualities are particularly useful when writable surfaces are installed in playrooms or homes where residents have children.
In terms of installation, laminate writable surfaces can be installed in places where writable paint simply wouldn't work. For example, a writable laminate surface can be installed across an entire wall, along cabinet fronts and counters, and on top of a table or desk. Great for single-family use and when it comes to rentals, writable surfaces allow inhabitants to personalize their homes in unique ways.
Conclusion
In conclusion, architects and designers are well aware that choosing interior surface options can be an overwhelming and potentially expensive prospect. This task can be streamlined by focusing on the project's purpose and needs, and by considering the advantages of using high-pressure laminate and other laminate products as an affordable alternative to more expensive materials.
End Notes
1Ford, Carmel. "2016 Multifamily Completions by Building Size." Eye On Housing. National Association of Home Builders. 24 Oct. 2017. Web. 10 Nov. 2017.
2"Assisted Living Statistics: A Deeper Dive into the Demographics." American Senior Communities. 23 Feb. 2016. Web. 10 Nov. 2017.
3Truini, Joseph. "The Best Countertop Materials." Popular Mechanics. 2 May 2017. Web. 10 Nov. 2017.
4Ascierto, Jerry. "Stat of the Week: Kitchen Considerations." Multifamily Executive. 8 Sept. 2016. Web. 10 Nov. 2017.
5Chua, Geraldine. "Five Durable Interior Surfacing Materials for Homes to Hospitals." Architecture & Design. 24 Nov. 2014. Web. 10 Nov. 2017.
6Karweik, Jordan. "The History Behind Your Laminate Countertop." Woodwrights Inc. Web. 10 Nov. 2017.
7"Melamine." Wikipedia. Web. 10 Nov. 2017.
8Wallender, Lee. "Why Laminate Countertops are Making a Comeback." The Spruce. 12 Dec. 2016. Web. 10 Nov. 2017.
Rebecca A. Pinkus is an independent communication consultant, writer, and editor focusing on the intersection of technology, environment, and human health. She has contributed to more than 35 continuing education courses and publications through Confluence Communications. confluencec.com
| | |
| --- | --- |
| | Formica Group is a leading provider of branded, designed surfacing solutions for commercial and residential customers worldwide. As the world's largest manufacturer of high-pressure laminate (HPL), an ongoing product design and development process underscores the Formica Group commitment to innovation. www.formica.com |
Originally published in Architectural Record
Notice