Specifying the Right Surface Material
Selecting between different laminated or veneer products depends primarily on the project conditions
Sponsored by Wilsonart
Learning Objectives:
Identify and recognize the needs of interior surfaces related to design, performance, cost-effectiveness, and sustainability.
Investigate the differences between different surface materials, particularly laminated products such as HPL and TFL.
Assess the suitability of HPL and TFL compared to other options such as wood veneers and vinyl surfacing for appropriate applications.
Explore how different surface materials are used through examples demonstrated in project case studies.
Credits:
This course can be self-reported to the AIBC, as per their CE Guidelines.
This course is approved as a Structured Course
This course can be self-reported to the AANB, as per their CE Guidelines
Approved for structured learning
Approved for Core Learning
This course can be self-reported to the NLAA
Course may qualify for Learning Hours with NWTAA
Course eligible for OAA Learning Hours
This course is approved as a core course
This course can be self-reported for Learning Units to the Architectural Institute of British Columbia
You are not currently logged in to your CE Center account.
Log in
to view and complete the quiz questions that are embedded in this article.
Finished surfaces in building interiors can be treated in a variety of ways. In any given project, or across different projects, several different surface types may be warranted, based on differing design and performance needs in different rooms, spaces, or applications. Recognizing such a diverse need, this course looks at some common surface options including high pressure laminate (HPL), thermo-fused laminate (TFL), wood veneer, and vinyl surfacing. Some specific attributes of each are reviewed and compared to help the design professional discern which products are the most appropriate choice for different applications and projects. At the same time, some of the limitations that some choices may pose in other applications are identified. The goal is to be able to select and specify the most appropriate interior surface materials for a wide range of project types.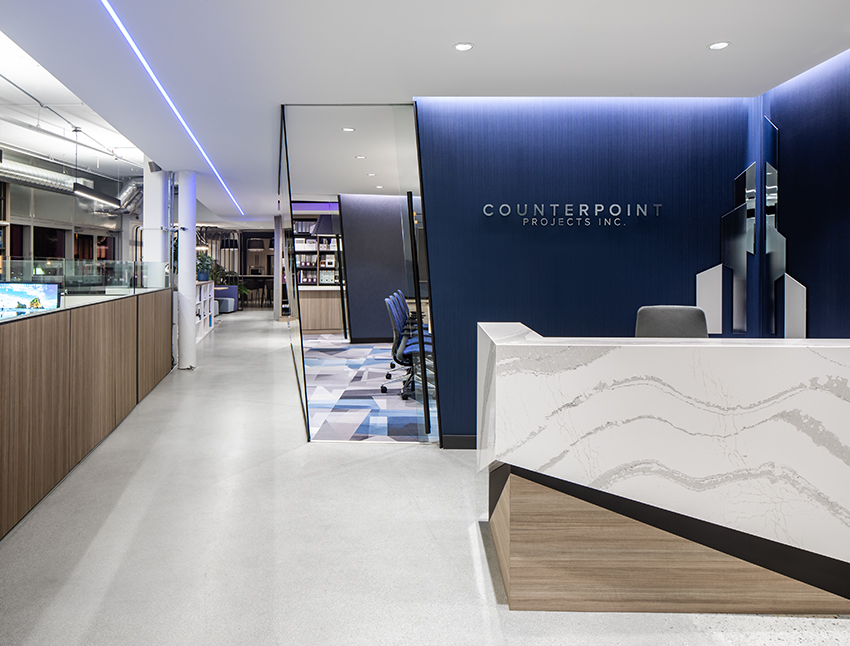 Photo courtesy of Upper Left Photography
Different interior surfaces have different requirements for appearance, durability, and cost-effectiveness. Selecting and specifying the right surface materials to suit those different conditions helps achieve quality projects and happy clients.
Surface Material Selection Criteria
Building interiors of all types are usually designed to meet a variety of user program requirements and often need to address the needs of a lot of different people. The surface materials used in such interior spaces similarly need to meet multiple criteria in support of the overall project requirements. Such surfaces include walls, partitions, counters, cabinetry, wall and ceiling accents, doors, and any other designer surface within a building interior. As the first, and most visible, material that is seen and experienced by building users, the criteria that become prioritized during design include the following:
Design Flexibility: Any selected interior building surface material is intended to be part of an overall design scheme. As such, choices need to be available that are consistent with that design scheme. A particular surface material may not even be considered if it is not available in a style, color, pattern, texture, or other attribute that is not consistent with the overall design. Hence, it becomes important to seek out materials that have the right options and choices to be able to find attributes that support the design. That could mean finding materials or products that have the right surface looks or appearance, or it could mean that that they come in the right size and shape to be readily worked into a design. Flexibility and variability are important in this case, but so is compatibility. Very often, a single interior space requires more than one material, so a complete palette of choices between different materials is selected. That can include different materials for different surfaces or different types of materials suitable for floors, furnishings, etc. In this case, the end result is one of compatible colors, patterns, and textures that work together to create a unified, holistic design.
Predictable Performance: Building owners and users may find that the surface materials in an interior design looks great on the first day of operation, but the question then becomes, How will it look over time? Different materials have different levels of durability, which make some better suited for certain situations than others. The most common differentiator is to determine if the material is being used on a horizontal surface or a vertical surface. Horizontal surfaces are usually subject to having things placed on them, such that act as a display shelf, bench, or ledge. That makes them subject to wear from repeated use and potential scratching or damage from sharp objects. Countertops need to withstand even more usage requirements since they may be subject to harsher and more demanding use. Vertical surfaces, on the other hand, are not routinely subjected to the same rigors of wear use, hence they can often be covered with a less durable material quite satisfactorily. The exception is in buildings where vertical walls or corners are subject to damage from the passage or transport of equipment, carts, luggage, etc. In those cases, selected areas may need to be reinforced and protected.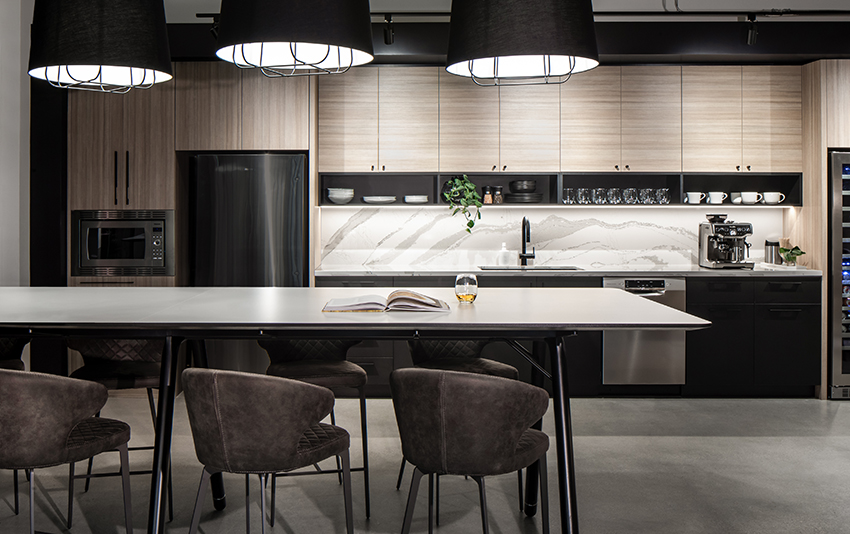 Photo courtesy of Upper Left Photography
Horizontal and vertical surfaces can have different performance needs that can require consideration of a range of surface materials.
Beyond the horizontal and vertical distinctions, the type of indoor environment becomes a performance consideration. If a space is subject to intense daylight, then protection against color fading becomes important. If intense cleaning is anticipated for hygiene or use requirements, then resistance to chemicals and cleaners is important. Any other special needs for a project will similarly play into the selection of a surface material so that it will indeed continue to look good and perform as intended for an extended period of time.
Sustainability: Virtually every part of the design and construction industry has been heavily immersed for the past 20 years or so in making buildings, and building products, more sustainable. That includes interior surface materials, which are scrutinized for their impacts both on the natural environment and on people. That scrutiny and assessment is applied throughout the entire life cycle of those materials, from sourcing their raw materials through manufacturing, transporting to distribution networks, installation in a building, and ultimately their removal and reuse or disposal.
Contained within that life-cycle process is the embodied energy used to accomplish all of those tasks, which often represents the embodied carbon that contributes to environmental degradation. There are many third party, independent assessment and rating systems available to help designers ascertain the sustainability of a product or material. It is incumbent upon the manufacturers not only to have their products tested for such sustainability attributes, but also to transparently report those so design professionals are able to compare products fairly. The goal is to select products that do little or no harm to either the natural environment or to the people who occupy the interior spaces where those products are installed.
Cost-effectiveness: Every building project has a budget, and every material choice comes with a cost implication. Some surface materials are more costly than others to purchase, but some may involve more labor cost. Others may be less expensive up front but may not last as long and need to be replaced more often than others. Matching the right material in terms of design and performance against its relative cost can ultimately be a matter of balance. If there is the need for a high-performance, more costly material, but only a small area that it is being installed, then the budget implication may be minimal. However, if there is a large surface area, particularly with less demanding requirements, it will be more prudent to pick a less costly material so that enough budget remains to meet the needs of other areas. It becomes significant, then, to have at least a relative awareness of the cost of different materials in order to compare and make final decisions.
Construction Availability: A material selection may look great during the design phase of a project, but if it isn't readily available during construction, there will be a need to consider a substitution or reselection. Sometimes, the availability is dependent on the nature of the material or the specific type. Some are manufactured and distributed across the country, with ready inventories waiting to be used. Others require custom production, which can mean long lead times or minimum quantity orders. Still others may have been available for a time, but a change in manufacturer offerings means it has been discontinued or replaced with something else. While all of these things can't always be known ahead of time, particularly when projects can be in the design phase for a year or more, a basic sense of the general availability of different types of materials can be helpful in making final selections.
Clearly, not all surface materials are equal – they each bring different attributes that need to be understood so that the best choice is made for each application. Ricky Crow, a vice president with Wilsonart, observes this regularly and points out, "Selecting the right surface for each application is the most important choice a designer can make to ensure that they meet their customer's needs. It is important for designers to understand the differences in the performance of decorative surfacing materials so that they can make the right choices to balance looks, performance, and cost. Sometimes, what seems to be a small savings now can have huge cost implications in the future."
Therefore, with all of the above in mind, different surface materials are reviewed in detail in the following sections.
High-Pressure Laminate (HPL)
The most versatile and perhaps most widely used surfacing material discussed in this course is high-pressure laminate (HPL). This is a thin material made from laminated layers of a kraft paper core, a decorative sheet layer, and a wear-resistant overlay. The core paper is treated with phenolic resin to provide a suitable base. On top of the core, a decorative paper is added to provide a pattern, woodgrain look, or solid color for a sheet. Finally, overlay paper, saturated with melamine resin, gives HPL its surface strength and scratch resistance. The entire assembly is processed under pressure and heat to form a range of HPL products with different appearance and performance levels.
HPL has been used quite successfully for a broad range of both vertical and horizontal applications in commercial, institutional, and residential building interiors. It is commonly applied to a solid substrate and used for wall panels, furniture, cabinetry, countertops, doors, etc. A review of its attributes finds the following:
Design: Manufacturers take pride in offering an artistic range of HPL panels that is in keeping with the latest interior design trends and preferences. Entire categories are available from manufacturers including a full range of solid colors and a wide variety of geometric and nature-inspired patterns. There are also full libraries of HPL that provide the appearance of other materials such as wood grain patterns or natural stone. HPL panel color and appearance is determined primarily by the selection of the decorative layer on the panels. Hence, manufacturers can readily offer a full range of choices in a broad color spectrum by using a different decorative layer. There are also a variety of textures that can be created during the manufacturing process – gloss, matte, and even raised 3D textures. That allows panels to be used on walls, ceilings, doors, counters, cabinetry, and other applications with the best color, appearance, and texture to suit each individual use. For specific project needs, products can be customizable with edge and specialty feature options as desired.
Originally published in Architectural Record
Originally published in June 2022
Notice