Specifying the Right Surface Material
Selecting between different laminated or veneer products depends primarily on the project conditions
Sponsored by Wilsonart
You are not currently logged in to your CE Center account.
Log in
to view and complete the quiz questions that are embedded in this article.
The multiple panel sizes available for certain types of HPL allows for the efficient integration of the HPL panels into architectural and interior designs with greater control over seams, geometric patterns, and final appearance. Further, since the material can be easily cut in a fabrication shop or on site with common carpentry tools, custom sizes and shapes are easy to achieve. In those cases, the most efficient and economical size can be selected to cut multiple custom shapes to minimize waste.
Performance: HPL is a highly durable product suitable for high-use vertical surfaces and demanding horizontal surfaces including countertops. That is because it is an engineered product that outperforms other traditional veneer products in terms of wear, scratch and scuff resistance and impact resistance. At least one manufacturer offers a special treatment which provides enhanced scratch resistance beyond the industry standard. Additionally, HPL will not discolor over time and is able to withstand a high level of disinfection without any visual change.
Where projects require special needs for even more demanding use, different surface options are available, such as high-wear tolerance, fingerprint resistance, chemical resistance, or fire resistance, etc. HPL can be specified to meet the specific needs of a facility. It is regarded as a very easy to maintain surface material because it's easy to clean, durable, and requires no sealing. HPL is a nonporous surface that can withstand frequent and harsh cleaning and disinfection protocols. From an indoor environmental quality perspective, the ability of HPL to be cleaned and disinfected effectively and easily is an important advantage, particularly in the era of COVID and other public health concerns.
Sustainability: HPL is manufactured, installed, and used in buildings in a very sustainable manner. At the outset, most HPL contains some percentage of post-consumer recycled content, reducing the impact on forests for kraft paper materials. When fresh raw material is needed, most HPL uses paper stock that comes from sustainably managed forests. As a substitute for wood finishes, due to the printing and finish technology, HPL can replicate the look of exotic or endangered woods and reduce the impact on those tree species. It will typically last longer than other traditional surface materials veneers due to its superior performance, thus extending its life cycle and reducing the need for new materials in the future.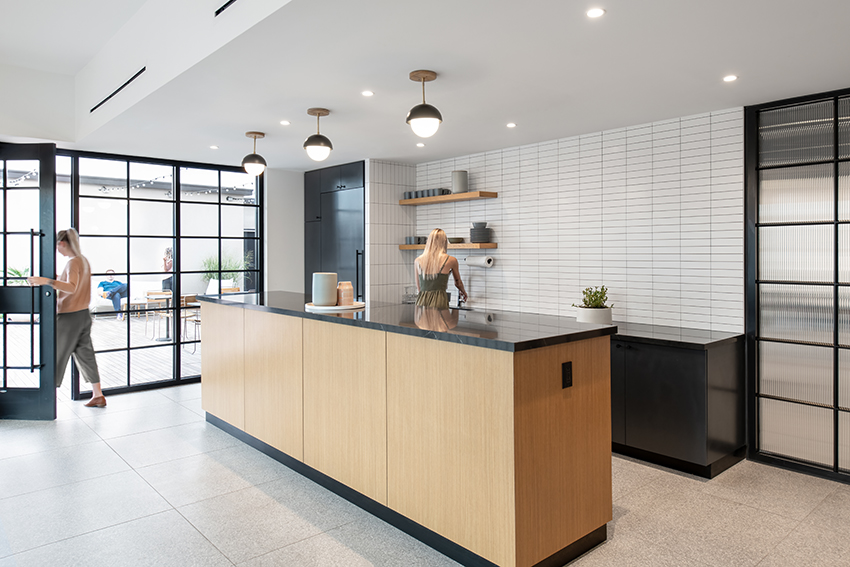 Photo courtesy of Yuzhu Zheng Photography
High-pressure laminate can be used to help create sustainable, healthy indoor environments that improve hygiene and wellness.
HPL Sustainability Standards: The sustainability of HPL has been independently assessed, tested, and certified in a variety of ways including the following:

Environmental Product Declarations (EPD) are an independently verified and registered document that communicates transparent and comparable information about a product's life-cycle environmental impact. Currently an industry-wide EPD is available for HPL products and shows favorable results for sustainability in all categories.
The Forest Stewardship Council is an independent, non-government, not-for-profit organization established to promote responsible forest management practices. FSC Chain-of-Custody (CoC) certification traces the path of products from forests through the supply chain, verifying that FSC-certified material is identified or kept separated from non-certified material. Since HPL is made up primarily of forestry-based paper products (typically up to 70 percent in the core, decorative, and overlay papers), manufacturers can choose to use FSC certified raw materials by working with their suppliers on proper sourcing.
The Health Product Declaration Open Standard is a standard specification for the accurate, reliable, and consistent reporting of product contents and associated health information for products used in the built environment. The HPD Open Standard specification is harmonized with numerous rating certification standards in the building industry. HPD version 2.2 is the current version that has been used to demonstrate minimal, if any, health impacts from using standard laminate products in building interiors.
Products that achieve GREENGUARD Certification are scientifically proven to meet some of the world's most rigorous third-party chemical emissions standards, helping to reduce indoor air pollution and the risk of chemical exposure, while aiding in the creation of healthier indoor environments. The GREENGUARD Gold Certification standard includes health-based criteria for additional chemicals and also requires lower total VOC emissions levels to help ensure that products are acceptable for use in environments like schools and healthcare facilities. Manufactured HPL products have been tested using these rigorous standards and some are available with GREENGUARD Gold certification.
SCS Indoor Advantage Gold Certification indicates low VOC emissions with the most transparent indoor air quality (IAQ) standard for furniture and building materials. It is recognized by the EPA and GSA and qualifies for many green building rating systems, including LEED v4, BREEAM, WELL Building, and Living Building Challenge. Some HPL products have been tested and certified based on this program.
At least one manufacturer offers a DECLARE Label for Red List Approved ingredients under the Living Building Challenge, a program of the International Living Future Institute.
Because of the inherent sustainability properties of the material, HPL often contributes to buildings that are seeking LEED, WELL, and Living Building Challenge certifications.

Cost-effectiveness: Since there are multiple product categories of HPL available, the most appropriate choices can be made to match a project budget. Compared to other veneer type of products, such as traditional wood, HPL typically costs less – even more so when comparing it with exotic wood species. Due to the advancement in printing and finish technologies, HPL is continuing to offer more cost-competitive and environmentally friendly solutions to real wood veneer.
Construction availability: Since HPL is so widely used, it is generally readily available and on the shelves in many retail and wholesale locations around the country. This means that even small order or single sheet needs can likely be met without too much difficulty all around the country.

Overall, given its generally positive attributes, HPL is a preferred, "go-to" surface material for many building situations.
Originally published in Architectural Record
Originally published in June 2022
Notice