Technology Transforms Tile
Today's precision-engineered ceramic tiles can go where no tile has gone before
Sponsored by Tile of Spain USA
TECHNOLOGY AND TILE
The term "gauged" refers to tile that is precision engineered for a specific thickness and performance, using advanced production technology that has emerged only in the past few years. Gauged tile is often used as a blanket term for tile that is much thinner than ordinary tile, as slim as 3.5 millimeters (a little more than 1/8 inch) thick, with similar or greater structural strength. But gauge also applies to tile that is thicker (up to 30 millimeters, a little more than 1 inch), which is still relatively thin, and exceptionally light in comparison to traditional pavers of stone or cement. It is used in exterior applications such as landscapes and terraces, and for structural use such as cladding and facades.
For a wide range of projects, the recent availability of advanced gauged porcelain tile products represents a dramatic breakthrough, changing the entire cost profile, and generating imaginative new designs and products, such as the examples in this course. Because of its significant impact on the tile industry, gauged tile is discussed in detail in its own section below.
Two other technologies are major areas of technical and creative innovation in ceramic tile, and often utilized in gauged porcelain tile: new advanced additives, and cutting-edge digital design, decoration, and 3-D printing.
Advanced Additives
Advanced catalytic mineral oxides can now be encapsulated in the glaze layer of tile (or the body of the tile itself in the case of unglazed material), with multiple health, safety, and liveability benefits.
For example, these catalytic oxides react with light—sunlight or artificial, depending on the specific mineral oxide used as the catalyst—to destroy organic contaminants such as bacteria or mold upon contact with a tile's surface and neutralize pollutants in the air.
Additives can also change the hydrophilic properties of the surface, creating greater surface tension and making water sheet off the surface, making cleaning easier or, in some cases, forming self-cleaning surfaces; for example on building exteriors, where dirt and grime can be consolidated for rain to wash off quickly and naturally.
Structural molds, nano-particulates, and molecular modifications can also create tile that is even more slip resistant when wet than when dry. These products can have smooth and even glossy surfaces, often called lapatto or semi-polished, in addition to the textured surfaces normally associated with slip resistance. These processes can produce safe and traffic-resistant tile flooring that remains comfortable on bare feet and easy to clean in almost any environment.
The additives and production techniques can be integrated into the design and texture of almost any tile. So, for example, continuous indoor-outdoor spaces can be created with no visual difference between natural finishes inside and nonslip finishes out.
Digital Design, Decoration, and 3-D Printing
Manufacturers are now able to replicate virtually any surface, finish, or texture, such as natural stone, corten steel, wood, metallics, even fabric, in a light, high-performing tile that retains all the functional advantages of traditional ceramics. Inventive new artisanal surfaces are also being created, some based on designs from historic sources, such as tapestries and antique tiles, as shown in the photo below, and mirrored surfaces created by a firm that has been producing actual mirrors since medieval times, as well as contemporary inventions such as etched reliefs with ink applied to crevices to create a unique crackled appearance.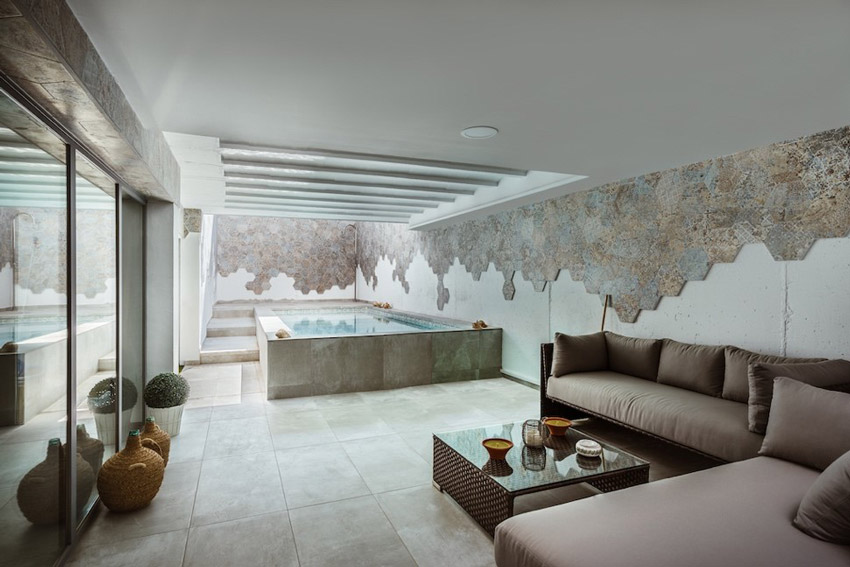 Photo courtesy of Tile of Spain
The use of digital design makes it possible to create gauged porcelain tiles based on historic or contemporary inspiration in a range of shapes and sizes.
Digital techniques are also used to produce very large-scale "infinite" graphics on large, visually seamless gauged porcelain slabs, both in interiors and exteriors, as shown in the photo below, which is one of a series of unique original artworks commissioned by a local company on 25 buildings throughout the city of Madrid. Custom graphics on tile are also being used in projects like NASA's new museum at Cape Canaveral.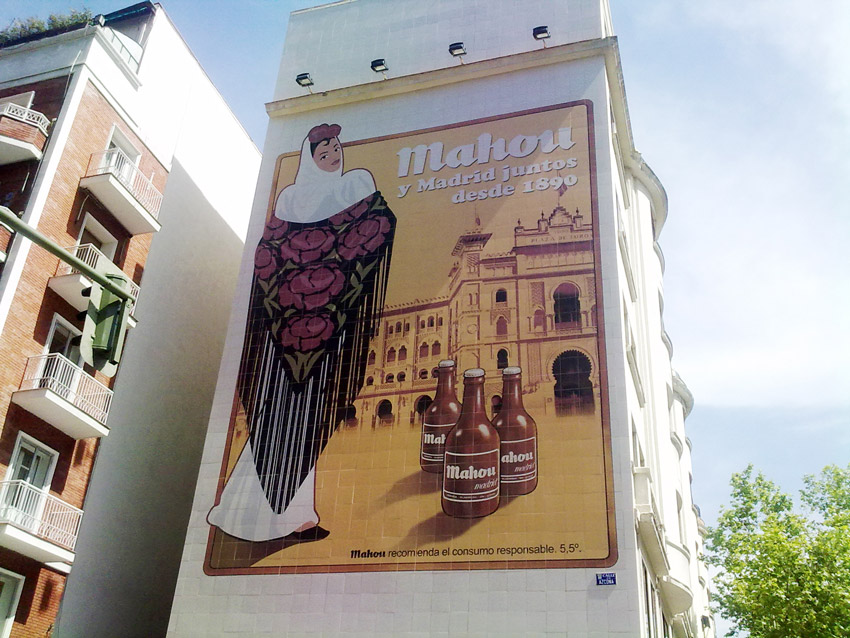 Photo courtesy of Tile of Spain
Pictured is one of the infinite graphics used in exterior porcelain cladding on a series of 25 original artworks throughout the city of Madrid.
Beyond these aesthetic innovations, digital and nano-technology processes are also being used in the production of gauged tile and to incorporate the photocatalytics noted above, as well as for other evolving applications, such as integrating photo-luminescence and home automation into tile with touch-sensitive glazes, and creating tiles that are warm to the touch.
KEY CRITERION: GAUGE
Gauged porcelain is a specific term used in ANSI A137.3 and A108.19-2017 standards. (See Specification Basics section below for more information about tile specifications and standards.)
Gauged porcelain tiles: less than 1 square meter
Gauged porcelain tile panels/slabs: 1 square meter or larger
As used more generally, the term gauged tile refers to porcelain tiles (and other types of ceramic tiles, such as vitrified gres ceramics and non-vitreous wall tiles) that can now be produced in specific sizes, thicknesses, and performance characteristics, with more precision and variety than previously possible.
The thinnest tiles are around 3.5 millimeters (about 1/8 inch) and can be used for a wide range of applications, including walls, veneers, renovations over existing floors, and exterior cladding. The next range, from about 5–8 millimeters (still less than 1/3 inch), are often used in flooring. Slightly thicker gauges, from 12–30 millimeters (up to a little more than 1 inch), are used for applications such as some facades and new high-performance worktops. The gauge range for paving and other exterior structures is about 16–30 millimeters.
Gauged porcelain tiles can be selected from the same wide range of shapes and sizes as conventional tiles, but major new porcelain tile products include:
Thin: Large-format thin porcelain panels—up to 1.5 meters x 4.5 meters (60–177 inches)—in various thin gauges.
Thicker: 20 millimeters and 30 millimeters (up to a little more than 1 inch) ceramic pavers.
Mechanically fastened (mortarless) installation options for uses such as ventilated facades, ceiling tiles, and pedestal raised-access flooring systems.
The manufacturing process for gauged tile involves the use of specialized clay materials, immense pressures at the press or "belt," high temperatures with longer firing curves in the kilns, and precise computer-controlled timing throughout. In the most advanced plants, the entire production line is revamped for this type of production with a new style of belt press that exerts nearly 10 times the pressure of a traditional dry press.
Following the pressing is a new type of digital "greenware" cutting station where the material is trimmed before firing so that the waste material can be reintroduced to the production stream, reducing waste and making multiple modular sizes possible without changing the press. With innovations in machinery and digital optimization, a modern plant can be more agile, operate on tighter tolerances, and retain higher yields of first-choice material with minimal staffing for oversight.
For the specifier and end user, the availability of multiple gauges makes it possible to specify the "minimum effective dose" needed for any given area. The term describes using no more or less than necessary to achieve an ideal solution. The technical characteristics in modern tile have progressed to the point that impact resistance, modulus of rupture, and many other critical characteristics are actually improved despite the varied reductions in thickness.
"The optimization provided by today's digital manufacturing processes brings so much benefit to the project stakeholders and eventual end users," says Ryan Fasan, technical consultant for Tile of Spain. "By creating multiple gauges in the same collection, manufacturers are creating solutions for savvy specifiers to afford more tile in their projects and apply its benefits much farther afield than the traditional bathrooms and backsplashes."
The following sections highlight some of the major advantages for both thin and thicker gauges in specific applications.
Originally published in Architectural Record
Originally published in October 2019
Notice