Technology Transforms Tile
Today's precision-engineered ceramic tiles can go where no tile has gone before
Sponsored by Tile of Spain USA
Learning Objectives:
Explain how the inherent physical characteristics of ceramic tile relate directly to its long-term durability, resilience, safety, and aesthetic appeal.
Discuss how recent advances in manufacturing technologies are building on and expanding the current benefits of ceramic tile.
Evaluate emerging formats and categories of advanced ceramic tile, with a focus on key technologies.
Identify expanded opportunities to apply technical breakthroughs in ceramic tile by examining built examples where innovative tile surfaces are impacting building performance and occupant health, comfort, and safety.
Expand your understanding of applicable areas for ceramic tile beyond traditional uses like residential kitchens and bathrooms.
Credits:
This course can be self-reported to the AIBC, as per their CE Guidelines.
This course is approved as a Structured Course
This course can be self-reported to the AANB, as per their CE Guidelines
Approved for structured learning
Approved for Core Learning
This course can be self-reported to the NLAA
Course may qualify for Learning Hours with NWTAA
Course eligible for OAA Learning Hours
This course is approved as a core course
This course can be self-reported for Learning Units to the Architectural Institute of British Columbia
This test is no longer available for credit
Ceramic tile has been prized over countless generations for its beauty and utility, in buildings from modest houses to spectacular palaces and cathedrals. Recent advances in manufacturing technology are making the current generation of tile the most remarkable yet.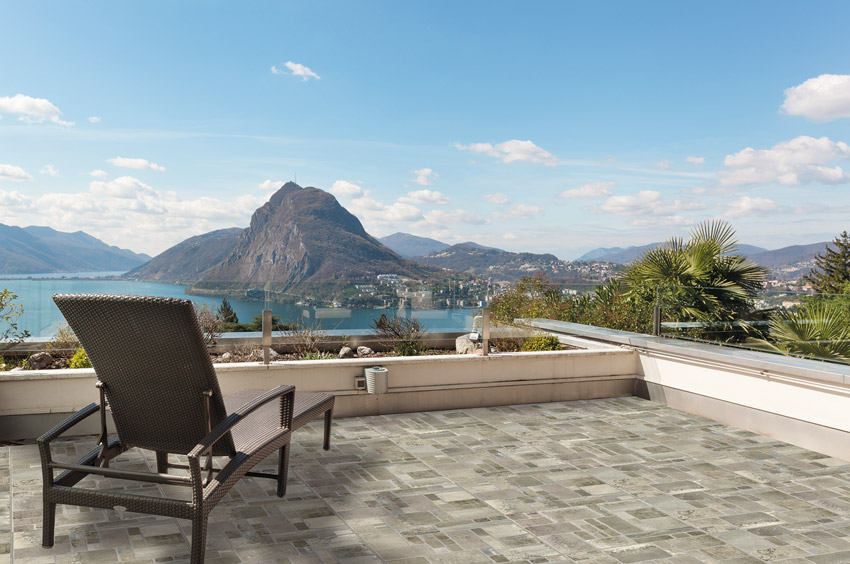 All images courtesy of Tile of Spain USA
High technology meets the enduring appeal of ceramic tile, indoors and out.
This course will give architects and designers the information they need to take full advantage of a wide range of new options in size, thickness, weight, surface, and function. Ultra-thin porcelain tiles are engineered to have the structural strength and resilience of heavier conventional tile, yet are so thin that they can dramatically reduce costs and expand design possibilities, not only in traditional uses like walls and countertops but also in new uses, such as laminates over existing tiles in renovation, veneers on furniture and cabinetry, worktops with integral induction heating elements, surfaces for ceilings that can dampen sound, innovative new building facades, and many others.
Thicker porcelain slabs and pavers are structurally strong and stress resistant enough for use in exterior structures, such as terraces, plazas, and rooftop decks, and in seamless transitions between indoor and outdoor spaces. In exterior hardscapes, the thicker tiles can be set like any other paver in sand, grass, or gravel, requiring no mortar, or supported by adjustable pedestal systems for raised access flooring. Yet they are light enough to transport in a service elevator, weighing significantly less than traditional exterior materials like marble and granite. They are also easier to cut and handle.
As the performance boundaries of ceramic tile are being pushed by technology, the aesthetic options are expanding too. New digital decoration techniques and digitally applied 3-D effects mean that tile surfaces can reproduce the precise look and even feel of other materials, including not only stone or wood but also steel, concrete, textiles, and fusion surfaces that have just been invented. Beyond skin deep, advanced mineral additives can produce tile that destroys contaminants, improves slip-resistance, and cleans itself.
The following sections will demonstrate how the inherent physical characteristics of ceramic tile relate to performance, and how advanced technology is taking those characteristics to new levels, with a particular focus on the benefits and applications of new gauged porcelain tiles, including current specifications and standards.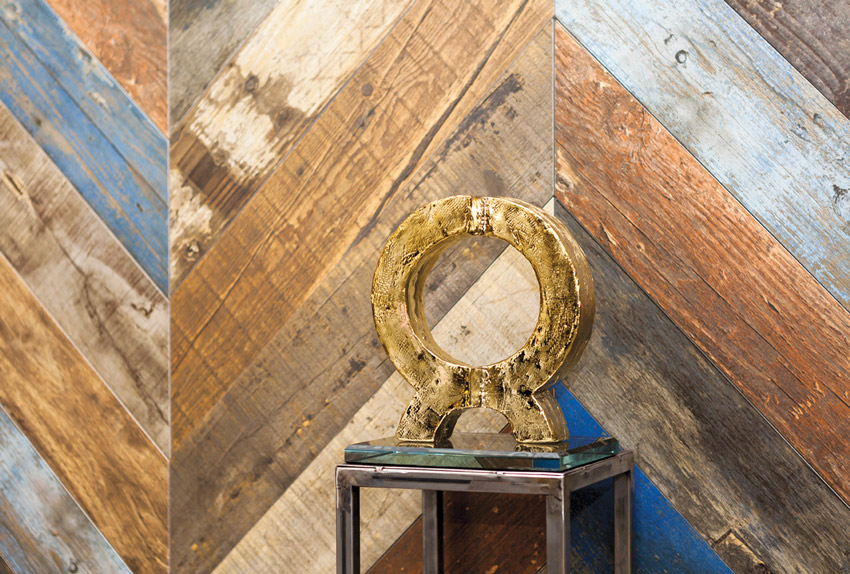 New technologies like ultra-slim-gauged porcelain tile, digital methods that can reproduce virtually any surface, and advanced glazings are opening up new possibilities for performance and aesthetics.
PERFORMANCE CHARACTERISTICS OF CERAMIC TILE
Different tiles have different properties, based on their exact composition, firing temperatures, and manufacturing processes. Some of the advanced gauged porcelain tiles discussed in this course have exceptional hardness and other advantages. But even the newest technologies are an evolution of the remarkable inherent characteristics of all ceramic tile.
Tile is composed of 100 percent natural minerals and materials, primarily clay, silicates, and feldspar. The extremely high firing temperatures required to fuse or "sinter" these materials into a ceramic body preclude the use of any chemicals or organic-based compounds. Even the new performance additives discussed here are mineral, not chemical. This inert composition and unique firing process are the basis of tile's performance in a number of key areas.
Resilience and Durability
Mechanically, tile is one of the strongest, most durable and resilient finishing materials, both in interior and exterior applications. In the environmental product declaration (EPD) product category rules (PCRs) for flooring materials, products must document their environmental impact starting from production at source and including a multiplicative factor to account for replacement frequency through a 50-year timeframe, the average lifespan of a building. Ceramic tile is one of the few materials requiring no multiplier since its useful lifespan far outlasts most of the buildings where it is used. The ability of ceramic tile to last for many generations, surviving fire and flood, can be seen in numerous examples still in place after centuries. In one beautiful example, the Aljafaria Palace in southern Spain still has the original tile cladding on the balcony where Columbus knelt in 1492 to accept the commission that led to the discovery of the Americas.
More than 500 years later, fire and flood remain thoroughly modern challenges to building materials. Tile does not burn at any temperature, absorb smoke, or produce toxic fumes. It often does not need replacement even after a flood or fire. In fact, a tiled surface often protects the substrates and structures behind or beneath it in such disasters. Other materials not only need replacement, but adjacent areas often have to be replaced as well since spot repairs are not possible.
Unlike most other commonly used materials, tile is not affected by UV exposure. Colors in ceramic tile are permanent, not faded or changed by sun exposure. Spot repairs to tiled spaces can be done even decades after initial installation with little visible effect. Owing to this quality of the material, many artisanal ceramic companies exist today throughout Europe with a specialty in creating classic tile for heritage buildings. Gaudi's beloved Parc Guell is among many historic buildings where areas of tile have been commissioned and replaced by such companies in the past few decades, with strict attention to compatibility, often capturing the same size and overall aesthetic but endeavoring to keep the original pure and distinct by intentionally leaving out some decorative components in the restoration materials.
Clean, Healthy Lifespan
Tile is one of the only finishing materials with zero volatile organic compounds (VOCs). Due to its inorganic and inert nature, tile is neither a primary or secondary source of VOCs. An addendum to LEED first added in 2010 states that tile is one of a small number of products that do not require VOC testing to contribute to points under Indoor Environmental Quality Credit 4.3.
Tile does not harbor bacterial contaminants or allergens. Tile surfaces—especially when glazed, which creates an impervious surface—can be entirely hypoallergenic. Glazes are largely composed of glass, thus the entire surface of glazed ceramic tile is nonporous. As discussed below, advanced antimicrobial components can now be added to tiles that destroy contaminants on contact for the life of the material.
Minimal Maintenance
Tile's hard nonporous surface naturally resists stains and abrasion, and is easy to clean and maintain, normally requiring only water or steam, and occasionally pH-neutral cleansers. New photocatalytic technology based on a reaction between natural light and oxide catalysts encapsulated in the glaze is now being used to create self-cleaning tile that reacts with natural light and oxygen to repel dirt and make water runoff more easily. These advanced additives, discussed in more detail in the next section, are not coatings, are baked into glazes or into the body of the tile. They are also being used to improve slip resistance in both wet and dry areas.
Nonconductive, High Thermal Mass
Ceramic tile is an optimal material in new "smart" homes, since tile does not interfere with electrical infrastructures or harbor static charges that can cause electric shock. This characteristic also makes possible new applications such as induction cooktops built integrally into countertops. High thermal mass makes tile a highly efficient surface for HVAC performance. Ceramic tile acts as a natural cooling element in the summer and retains ambient heat in cold weather. With proper selection of color and placement in a high-performance structure, ceramics have immense potential in passive solar loss/gain performance strategies.
Life-Cycle Cost
Financial and environmental costs of tile over the lifespan of the investment have been extensively documented. Ceramic tile is composed of abundant natural resources, often sourced within a few hundred miles of the manufacturing facility. Its maintenance requirements over an exceptionally long service life are low and do not involve toxic chemicals at any point. The new thin porcelain tiles discussed in this course reduce the use of resources even further, as well as the cost and fuel used in transportation and handling throughout the supply chain.
A current example of the broad effort to increase and document tile's environmental performance is the sector-wide study compiled by the Spanish tile manufacturers association, allowing companies to easily publish the type III environmental product declarations (EPDs) required by LEED v4 and other green building codes and systems. In contrast to what are considered "low-cost" materials, ceramic tile is low in all of the areas most important to long-term cost-effectiveness: replacement frequency, maintenance requirements, and environmental impact.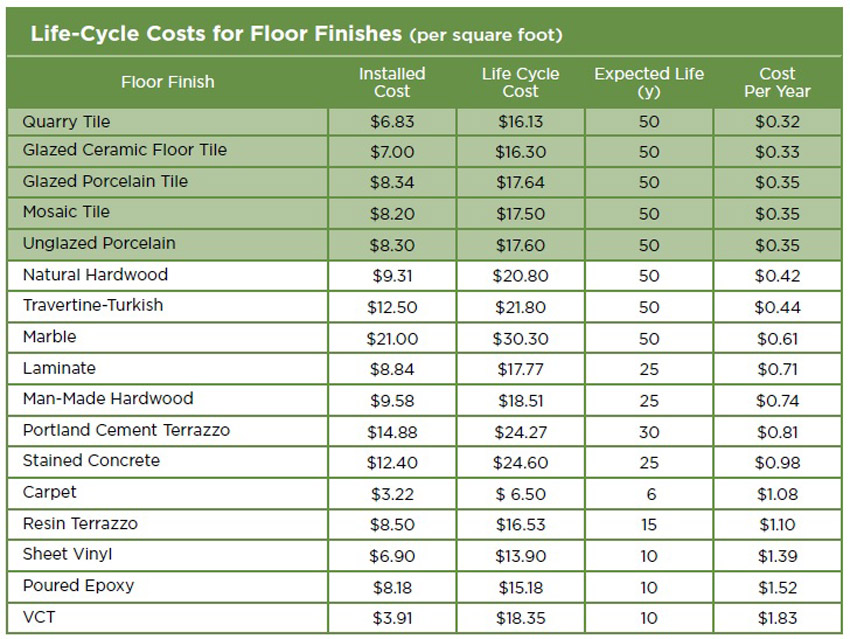 Source: Tile: The Natural Choice, Tile Council of North America
Originally published in Architectural Record
Originally published in October 2019
Notice