Optimizing Acoustic Performance of Wood Buildings
Sponsored by Think Wood
Learning Objectives:
Examine factors affecting acoustic performance, and review building types where optimal acoustics are important for occupant comfort.
Understand acoustical codes and standards and how acoustics are incorporated into green rating systems, including LEED v4 and the California Green Building Standards Code.
Identify how wood building systems can help meet acoustic requirements for optimal indoor environmental quality.
Review two case studies where integrating acoustic design as well as numerous other sustainable features was a high priority.
Credits:
This course can be self-reported to the AIBC, as per their CE Guidelines.
This course is approved as a Structured Course
Approved for structured learning
Approved for Core Learning
This course is approved as a Core Course
Course may qualify for Learning Hours with NWTAA
Course eligible for OAA Learning Hours
This course is approved as a core course
This course can be self-reported for Learning Units to the Architectural Institute of British Columbia
This test is no longer available for credit
The Importance of Optimizing Acoustics
Acoustic comfort is realized when a person's activity is not disturbed by noise and their hearing does not suffer. The opposite occurs when exposure to noise causes psychological disorder, hinders performing normal activities, and reduces the ability to concentrate. According to the Centers for Disease Control, "Continual exposure to noise can cause stress, anxiety, depression, high blood pressure, heart disease, and many other health problems. Hearing loss is the third most common chronic health condition in the United States; almost twice as many people report hearing loss as report diabetes or cancer."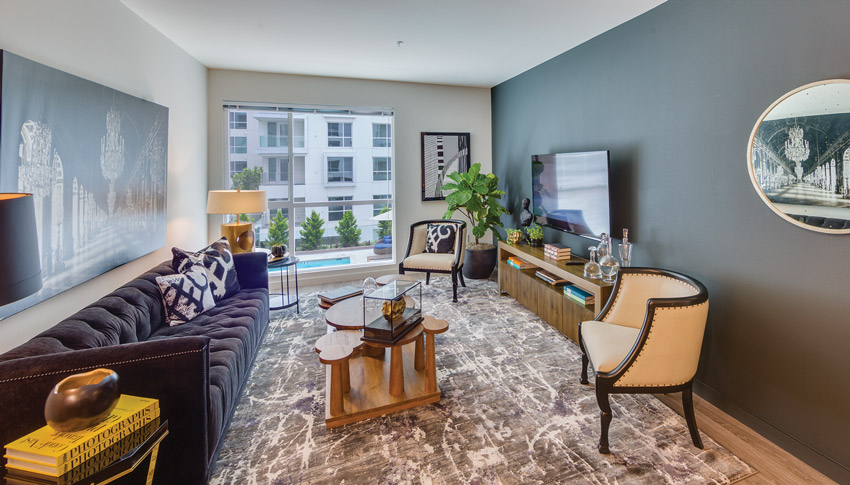 Photo: Kevin C. Korczyk | Architect: Togawa Smith Martin
WREN is a wood-frame, six-building, seven-story development in LA's South Park community and is the city's first Type III double-podium design.
There are many sources of noise throughout a building and around a site, from the continual background noise of an HVAC system to walking and talking among building occupants. Outside noises such as emergency vehicles and traffic can also have a significant impact on acoustics, and, of course, higher density equates to more noise. Such noise can travel around and through ceiling, deck, and floor joists as well as windows and doors. Sound can also travel through fixtures and fittings, such as electrical outlets and recessed light fixtures, as well as perimeter joints and wall partitions.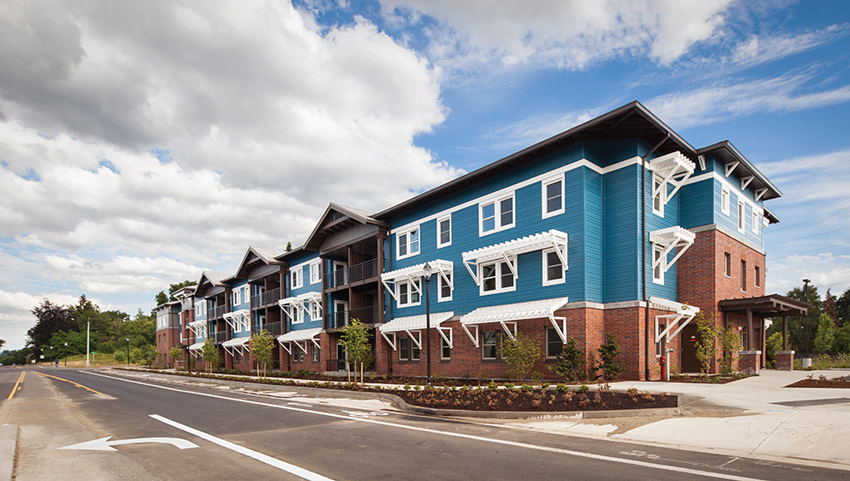 Photo: CBPhotography & Designs | Orchards at Orenco | Architect: Ankrom Moisan Architects
Since we relax and sleep at home, it is important for sound mental health that noise is mitigated in our personal space. Residential noise issues can arise from floor/ceiling footfall, party (demising) walls, plumbing, HVAC, and elevators and/or trash chutes.
Noise has a great impact on the built environment and the occupants that live and work in it. Noise control can be particularly relevant in health-care settings where patient recovery, mental health, and patient privacy are so important, especially in regards to the Health Insurance Portability and Accountability Act (HIPAA), which provides data privacy and security provisions to safeguard medical information. Therefore, privacy is imperative in exam rooms, counsel rooms, doctors' offices, and lobbies/waiting areas. In schools, optimal acoustics are equally important, as the learning environment for students must be free from distractions. Productivity is essential in office environments too. In addition, since we relax and sleep at home, it is important to sound mental health that noise is mitigated in our personal space as well. Residential noise issues can arise from floor/ceiling footfall, party (demising) walls, plumbing, HVAC, and elevators and/or trash chutes.
For centuries, wood has been a material of choice for architects and designers intent on delivering the highest-quality acoustic performance. From a violin to a concert hall, wood plays a role in delivering memorable acoustic experiences. Wood produces sound by direct striking, and it amplifies or absorbs sound waves that originate from other bodies. For these reasons, wood is an ideal material for musical instruments and other acoustic applications, including architectural ones.
In large buildings with hundreds or even thousands of occupants, such as apartment buildings, condominiums, hotels, or dormitories, every acoustic detail has a positive or negative effect on the quality of daily life. Post-occupancy evaluations of buildings have revealed that poor acoustic performance is a common problem in buildings with large areas of hard, acoustically reflective surfaces. Ironically, such surfaces are frequently found in buildings designed to be sustainable, where the use of absorbent materials is minimized due to indoor air-quality concerns.
Fortunately, wood is not as "acoustically lively" (translation: noisy) as other surfaces, so wood-frame construction is efficient in buildings where sound insulation is required. In particular, wood doesn't present the impact noise transmission issues commonly associated with other types of construction. A study by Canada's National Research Council's Institute for Research in Construction shows that when it comes to acoustical performance, a properly designed and constructed wood floor/ceiling assembly performs on the same level as other construction types.
Architect Marcy Wong, whose firm Marcy Wong Donn Logan Architects frequently uses wood for its acoustic properties, articulates the connection between acoustics and sustainability in this way: "In addition to the usual sustainable advantages of wood—renewability, nontoxic, carbon storing—there is an additional aspect, that being acoustics. Sustainability is more than being responsible about the impact of a project on the earth's resources and climate but also on the quality of environment for users."
Originally published in January 2019
Notice