Green Building and Wood Products
Increasing recognition of wood's environmental advantages
Sponsored by reThink Wood
Learning Objectives:
Discuss the sustainable aspects of wood products.
Describe how wood contributes to credits under various green building rating systems.
Articulate the importance of life cycle assessment and how it can be used to evaluate the environmental performance of buildings at the design stage.
Describe how green building certification, sustainable forest certification, and Environmental Product Declarations complement each other to provide a more complete picture of a building's environmental performance.
Credits:
This test is no longer available for credit
With growing pressure to reduce the carbon footprint of the built environment, building designers are increasingly being called upon to balance functionality and cost objectives with reduced environmental impact. Wood can help to achieve that balance.
The choice to use wood as a green building material is intuitive. It's abundant, renewable and recyclable, and has a lighter carbon footprint than other construction materials.1 Wood is also the only structural building material with third-party certification systems in place to verify that products have come from a sustainably managed resource.
In addition to its environmental benefits, wood's natural beauty and warmth have a positive effect on building occupants. In two studies conducted at FPInnovations and the University of British Columbia, for example, the use of visual wood was shown to lower sympathetic nervous system (SNS) activation, which is responsible for physiological stress responses in humans.2 As a result, an increasing number of architects are incorporating wood in their designs as a way to achieve goals such as improved productivity and performance in schools and offices, and better patient outcomes in hospitals.3
With all of these attributes, wood is well positioned as a key component of environmentally superior structures. Yet, early efforts to promote green construction resulted in highly variable treatment of wood in green building rating systems—which, at the time, were largely based on long lists of prescriptive standards, typically focused on single attributes such as recycled content. Such variability can still be seen in many of the green building programs in use today. However, these systems are increasingly moving away from prescriptive standards and toward reliance on systematic, multi-attribute assessment of building products, assemblies, and completed structures through life cycle assessment (LCA). The result is greater uniformity between programs and far greater robustness in evaluation, both of which serve to leverage the environmental advantages of wood.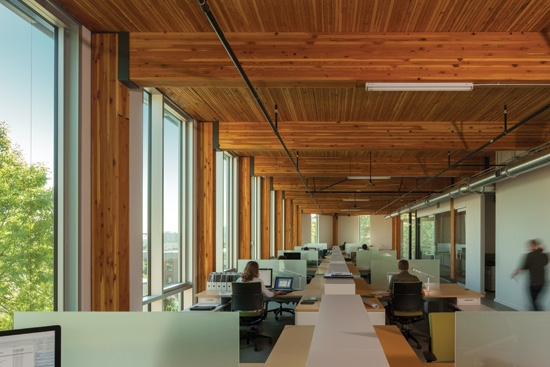 Photo by John Stamets
Living Building Certification
The Bullitt Center – Seattle, Washington
Architect: The Miller Hull Partnership
WoodWorks Multi-Story Wood Design Award, 2014
Originally published in Architectural Record
Originally published in June 2014
Notice