Green Building and Wood Products
Increasing recognition of wood's environmental advantages
Sponsored by reThink Wood
This test is no longer available for credit
This continuing education course examines key green building rating programs and how wood building materials and components are rated within each. Increased reliance on LCA and environmental product declarations (EPDs), and the implications for wood construction, are also explored.
Green Rating Systems, Codes, and Wood
Of the more than 42 green building programs currently in use in the U.S. and Canada, 12 of the most prominent are examined in this article; the UK BREEAM program—the world's first comprehensive green rating system and basis for many systems worldwide—is also included.
Approaches to Rating Green Buildings
Early green building rating initiatives in North America were based on lists of prescribed measures for reducing energy consumption and various environmental impacts. Among these were Built Green, Earthcraft, Leadership in Energy and Environmental Design (LEED), and the NAHB Model Green Home Building Guidelines—precursor to the National Green Building Standard. Arranged within categories such as Energy, Water, Indoor Air Quality, Materials and Resources, and Site, prescriptive lists of recommended or required measures outlined the path toward environmentally better buildings. Each measure typically addressed a single concern or attribute such as recycled, recycled content, rapidly renewable, and sourcing. Recommendations for improving environmental performance of buildings and construction practices varied among the initiatives, as did recommendations for the use of wood and wood products.
In more recent initiatives, there has been a noticeable shift away from prescriptive measures and toward systematic, performance-based assessment using LCA. This shift is reflected in the latest version of LEED, Green Globes and several other rating systems, and is discussed later in this article.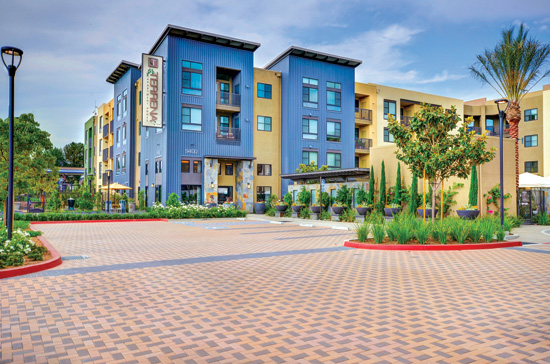 Photo by 360° Virtual Visions
Three Green Globes
Terrena – Northridge, California
Architect: TCA Architects
Developer: Northwestern Mutual Life Insurance Company
Green Building to Code
Given broad interest in reducing the environmental impacts of buildings and their construction, it is not surprising that provisions of voluntary green building rating systems are beginning to find their way into building codes. The State of California became the first state to codify green building provisions with its California Green Building Standards Code (CALGreen), which applies to all occupancies within the state. Model code language has also been developed in the form of ASHRAE 189.1 and the International Green Construction Code (IgCC). Washington, D.C., for example, has adopted the 189.1 standard as part of its city building code, while Florida requires compliance with the IgCC in the construction of state-owned buildings. Other states and municipalities, such as Maryland, Rhode Island, Phoenix, and Scottsdale, have endorsed the use of the IgCC on a voluntary basis.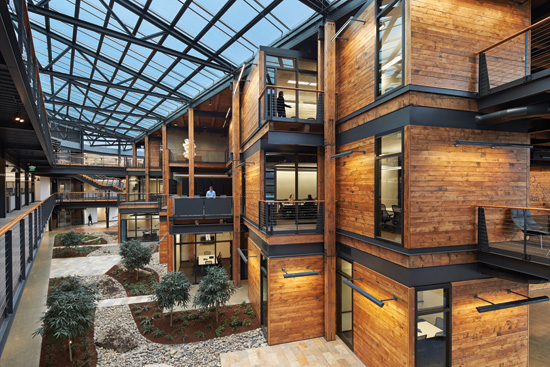 Photo by Benjamin Benschneider
LEED Gold
Federal Center South, Building 1202 – Seattle, Washington
Architect: ZGF Architects
WoodWorks Commercial Wood Design Award, 2014
All of the wood used in this project was salvaged from a 1940s-era warehouse that previously occupied the site—a total of 200,000 board feet of heavy timber and 100,000 board feet of 2x6 tongue and groove roof decking.
CALGreen provisions and model code language within the ASHRAE and IgCC standards are similar to those in voluntary green building rating systems. However, a comparison of all three shows greater incentive for wood use under the IgCC than CALGreen or the ASHRAE standard. For example:
▶ The Materials Selection section of the IgCC standard specifies that at least 55 percent of the total materials used in each building project (based on mass, volume, or cost) must be any combination of used, recycled-content, or recyclable materials, or bio-based materials, where the bio-based content is not less than 75 percent and where wood materials are environmentally certified.

▶ ASHRAE 189.1 contains a similar requirement, specifying that at least 45 percent of materials must be low-impact materials, with low impact defined as recycled content, regional, or bio-based materials; bio-based materials are required to comprise a minimum of 5 percent of the total cost of materials.

▶ CALGreen awards voluntary credits for the use of bio-based materials.
All of these initiatives emphasize use of rapidly renewable materials, defined as materials that renew in 10 years or less, rather than 11 years or more (i.e., they favor materials other than wood), although they also reward the use of certified wood. None of these programs require comprehensive environmental certification of rapidly renewable materials or of any construction material other than wood.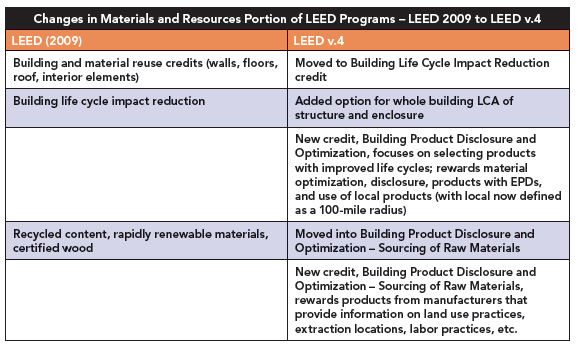 New Developments in Green Building Rating Systems & Codes
The following developments within major green rating systems demonstrate the shift toward LCA-based tools and data.
LEED v.4. In the Materials and Resources category of LEED v.4 (2013), prescriptive measures that were part of the previous version of the system—for material reuse, recycled content, and rapidly renewable materials—have been replaced with optional credits related to LCA, LCA-based environmental product declarations (EPDs), material ingredient verification, and raw material extraction (see sidebar on page 3). EPDs need only be collected to gain credit; there is no requirement that they be understood or acted upon, though such requirements will presumably appear in a subsequent version of LEED. Prescriptive elements also remain.
According to Dr. Jim Bowyer, director of the Responsible Materials Program at Dovetail Partners, "The two rating systems that have long incorporated systematic assessment into their programs—BREEAM and Green Globes—have more robust LCA provisions."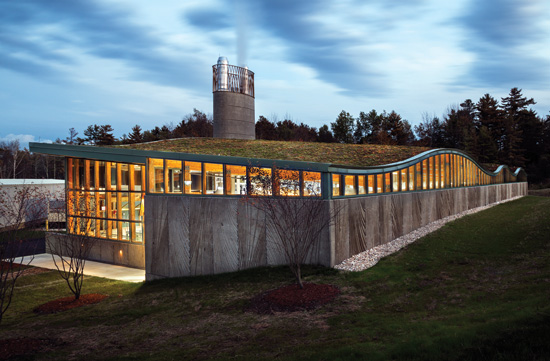 Photo by David Sundberg/ESTO
LEED Certified
Biomass Heating Plant, Hotchkiss School – Lakefield, Connecticut
Architect: Centerbrook Architects and Planners
WoodWorks Green Building with Wood Design Award, 2014
Faced with the replacement of an aging fuel oil heating plant, Hotchkiss school chose to build a LEED-certified biomass facility that burns wood chips from sustainably managed forests nearby. Wood was used in the building's construction and the facility is covered with a rolling, vegetated roof that changes colors with the season.
Green Globes v.1.3. The newest version of Green Globes (version 1.3, 2014) offers two paths to satisfying material selection requirements. One option is to conduct LCAs in the conceptual design phase of at least two building designs (core and shell including envelope), with selection of the lowest impact option. Alternatively, EPDs that comply with standards put forth by the International Organization for Standardization (ISO), third-party certifications to multi-attribute consensus-based standards, and/or third-party-certified, ISO-compliant life cycle product analyses focused on appropriate characteristics for the building system or application must be used as a basis for selection of specified products.
Originally published in Architectural Record
Originally published in June 2014
Notice