Strategies for achieving maximum durability with wood-framed construction
Sponsored by Think Wood
Buildings that Work
Over the years, research and experience have identified several key characteristics of wood buildings that last.
Dry Buildings
As has been discussed, controlling moisture is a key factor in ensuring durability. Wood meant for a dry structure must start out dry and stay dry. Buy dry wood, store it properly, design the building to keep the wood dry, and observe proper maintenance practices. This is fundamental to an approach called "durability by design."
For example, if wood is in direct contact with concrete outdoors, moisture can accumulate unless the concrete is detailed to drain away from the wood. Moisture can be a problem in basements because they are surrounded by soil and basement walls are subject to penetration by tiny amounts of water through concrete foundation walls. This can be prevented by use of an effective moisture barrier.
Buildings with Quality Assurance
For long-term durability, conformance to requirements of the building code is essential at every stage of the building process. Inspection is required for all construction materials covered by the building code and is typically performed by the local code agency. Special inspection by third-party agencies for construction practices critical to the building's structural capability, such as tight diaphragm nailing in high seismic areas, are enumerated in Chapter 17 of the IBC, Structural Tests and Special Inspections. Treated wood products should confirm to AWPA standards, and should carry the quality mark of an accredited inspection agency of the American Lumber Standard Committee (ALSC) or ICC Evaluation Service.
Buildings that are Properly Maintained
Also essential to building longevity is regular maintenance, repair, and renewal. Five years after installation (or sooner), wood exposed on the exterior should be inspected, and then every two years thereafter. Sunken paint and surface collapse both indicate subsurface wood decay, which requires repair. To minimize moisture problems, cladding should be inspected annually for signs of wear and for green algae stains; through-wall flashing should be examined for brown stains. Exposed wood should be properly painted, stained or otherwise protected. Re-treat with termiticides at appropriate intervals. Heavy shrubbery should be kept from exterior walls, and sprinklers pointed away from wood walls. Roof gutters should be kept unclogged. Any plumbing leaks should be promptly repaired.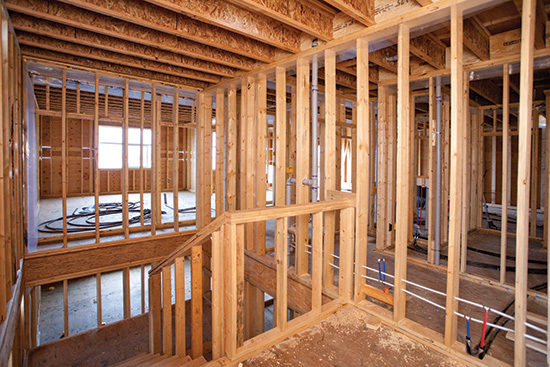 Photo courtesy of Stephanie Tracey
The Sustainability of Longer Service and End of Life Solutions
Durability is a key component of sustainability. Before making a large investment in a building, it is important to consider its environmental impacts versus realistic lifespan. Traditionally, building materials follow a 'take, make, dispose' linear consumption model, where resources are taken from the earth for manufacture and the products are disposed of at the end of their life (Sustainable Construction Solutions, http://www.susconsol.co.uk/blog/timber-and-the-circular-economy/). In contrast, materials and their buildings which seek to maximize lifecycle, adopt a circular use pattern. Waste is designed out by keeping products and materials in constant use, and at the end, recycling the materials. When designing something for the long term, ensuring that its materials can be reused or remanufactured at the end of their use cycle reduces reliance on finite resources.
In surveys of building age, wood buildings consistently have the longest lifespans. This demonstrates that wood structural systems are capable of longevity. However, wood is also adept at reconfiguration, reuse, and recycling. Considering the embodied energy in demolished buildings and the implications of material disposal, the fact that wood is adaptable either through renovation or deconstruction and reuse becomes a significant advantage. Wood beams can be removed and placed into new configurations; wood floors can be taken up and used for paneling; wood waste can be recycled. Recommended building approaches to optimize end-of-life reuse include1 :
Use screws and bolts instead of nails, along with connection techniques that lessen wood damage.
Use robust moisture management techniques to protect wood from decay and insect damage.
Label members with species and grades.
Avoid adhesives, such as when fastening floor sheathing to joists.
Many architects believe wood can add to a building's longevity, and thus sustainability, not only because of its physical properties, but because wood buildings tend to be valuable to their occupants for reasons related to aesthetics, comfort, and innate positive human response to wood. Marc L'Italien, whose architecture firm EHDD often uses wood materials on its projects, puts it this way: "Whenever we can, we select materials with integral finish, both from a sustainability angle and because there is inherent beauty in well-detailed natural materials. This is one of the most overlooked aspects of sustainability. It's not about the [green rating system] points. It's about designing places where people want to be. The more they like their environments, the less likely these structures are to be demolished. A strong following and internal flexibility allow them to be repurposed when the users and owners change over time."
Wood: A Material of Choice
Because of its cost effectiveness, ease and efficiency of construction, versatility, and sustainability, wood will continue to be a material of choice for many structural applications. Protecting the longevity of wood buildings starts with good design and construction practices—both areas in which architects can influence the optimum use of wood. When appropriate steps are taken, architects can tap the virtually unlimited design possibilities of wood, while delivering buildings that will perform well for owners, occupants, and the environment—and for decades to come.
For more detailed information on the subjects covered in this CEU, a new version of the American Wood Council's Code Conforming Wood Design based on the 2018 CCWD is available as a free download at www.awc.org.
References
| | |
| --- | --- |
| | Think Wood provides commercial, multifamily, and single-family home design and build resources to architects, developers, and contractors, including education, research, design tools, and innovative project profiles. For additional information, please visit www.thinkwood.com. |
Originally published in Architectural Record
Originally published in December 2015
Notice