Extruded Concrete Panels for Rainscreen Assembly
Extruded concrete has become an increasingly popular material choice because it is thinner, offers more design options, and is noncombustible
This course is no longer active
Sponsored by Rieder North America
Rainscreens Keeping Occupants Safe
Aside from rotting and warping wood, attracting insects, and damaging other building materials, water intrusion can create basement puddles, cause mold to develop on and within walls, and set off a chain reaction of many other problems. Mold issues, for example, quickly affect the air quality of the whole building and can affect the health, safety, and welfare of the occupants, usually in the form of respiratory illness.
Damp buildings and the associated moisture that can flow through the building's airways can result in mold, fungus, and spore growth, which is then spread through the ventilation system and into the building's air. Even more serious is if certain building materials begin to degrade from moisture exposure; many materials can release volatile organic compounds, which can cause significant adverse health effects with long-term exposure. Often the water intrusion and damage isn't noticed until building occupants start to experience health problems. It goes without saying that the best practice is to ensure that the building envelope is sound and that moisture does not get into the building in the first place, and any moisture that does is dealt with immediately.
Given the seriousness of moisture in buildings, whether for potential structural damage, material degradation, or occupant health and safety, building professionals need to plan a water-mitigation strategy.
Cladding and facades that repel water and keep the building secure are necessary to ensure both durability and longevity of the building. In environments that have high humidity or exposure to moisture, such as coastal zones, a rainscreen system can be highly effective in keeping water out of the building. Designers should consider their water-mitigation strategy early on in the design process and recognize the value of a multilayered rainscreen system.
Building the Ideal Rainscreen
As part of a water-mitigation system, rainscreens first and foremost need to repel water. However, they also need to be durable enough to withstand other environmental forces, such as the wind, the sun, and extreme heat and cold, and to do so over time. Wood, for example, is porous and loses out on long-term durability. This leads us to stronger materials, such as metals, stone, glass, and concrete, all of which, when used as exterior cladding, can provide long-term protection without being negatively affected by the elements and moisture they are designed to withstand.
Architects and designers have a wide range of options of materials available that can satisfy this core requirement, while also contributing to an aesthetically beautiful building envelope. Some of the more commonly used materials for rainscreens are: aluminum composite materials (ACM), stone, fiber cement, high-pressure laminate (HPL), reconstituted stone, terracotta, timber, ceramic tile, glass reinforced plastic (GRP), fibrous concrete, or, more recently, extruded concrete. For the purpose of this course, we will focus on the commonly used fiberboard, cement board, cast-in-place concrete, and extruded concrete.
Fiberboard
Fiberboard is a composite material of plastic and wood fibers, often designed to mimic wood boards. As with wood, it can easily be painted, and is a cost-effective alternative for some applications. Fiberboard is usually used to make siding, and backerboard and is commonly used for siding and decks. While fiberboard is useful as a building material, it is not fire proof, which may be a concern. It is fire resistant, insect resistant, and is considered to be a neutral building material. Fiberboard is also non-toxic, sustainable, and durable, with a 50-year lifespan being standard for properly maintained surfaces.
Cement Board
Cement boards are large sheets constructed from a combination of cement-bonded particle board and reinforced cement fibers, but does not include aggregate. Standard dimensions are 4-foot-by-8-foot or 3-foot-by-5-foot. This versatile material can be nailed or screwed to building structures to create a substrate for fixtures such as tile floors, kitchen counters, or backsplashes. For building exteriors, cement boards can be used as a base for stucco, siding, or even on its own as the finish. As a rainscreen material, cement board offers durability, strength, and moisture resistance but is relatively heavy.
Cast-in-Place Concrete
Cast-in-place concrete is a mixture of aggregate and sand and is delivered ready-mixed in an unhardened state to the project site. The concrete is poured into molds, which often have rebar or other materials inside to reinforce the finished product. In addition to being used for building foundations, it can be used to construct beams, columns, floors, roofs, and walls. This type of concrete is very strong and durable, and it is touted as a sustainable solution because materials are usually locally sourced and any unused cement can be easily used for other projects. Cast-in-place concrete also has high thermal mass, and this can improve a building's energy performance by creating an air barrier. The material's light color also helps reduce the heat island effect by reflecting, rather than absorbing, heat. This feature can be beneficial when using cast-in-place concrete for an exterior rainscreen.
The final rainscreen material is extruded concrete.
Extruded Concrete
Extruded concrete is concrete set in thin layers that are reinforced with glass fiber. The material itself may be made with a ratio of 90 percent sand, 10 percent glass fibers, concrete additives and pigments for color. The panels are through-colored with available dimensions up to 177-inch length by 48-inch width.
Panels made from this type of concrete are ultra thin and lightweight, with a thickness of 1/2-inch; making them at least half the thickness of cast concrete. More importantly, the material is exceptionally strong and durable, noncombustible, and is considered a high-performance concrete that works incredibly well in rainscreen assemblies. The material can be fixed with exposed rivets or screws (colors matching the panel color) or concealed using adhesive or undercut anchors.
The extrusion process can quickly create very thin and very strong concrete panels, with some facilities manufacturing up to 30,000 square feet per day. The manufacturing process allows for creative design possibilities and a wide range of colors and surface treatments, thus making extruded concrete an optimal material for designers who wish to make an impact with their individual style.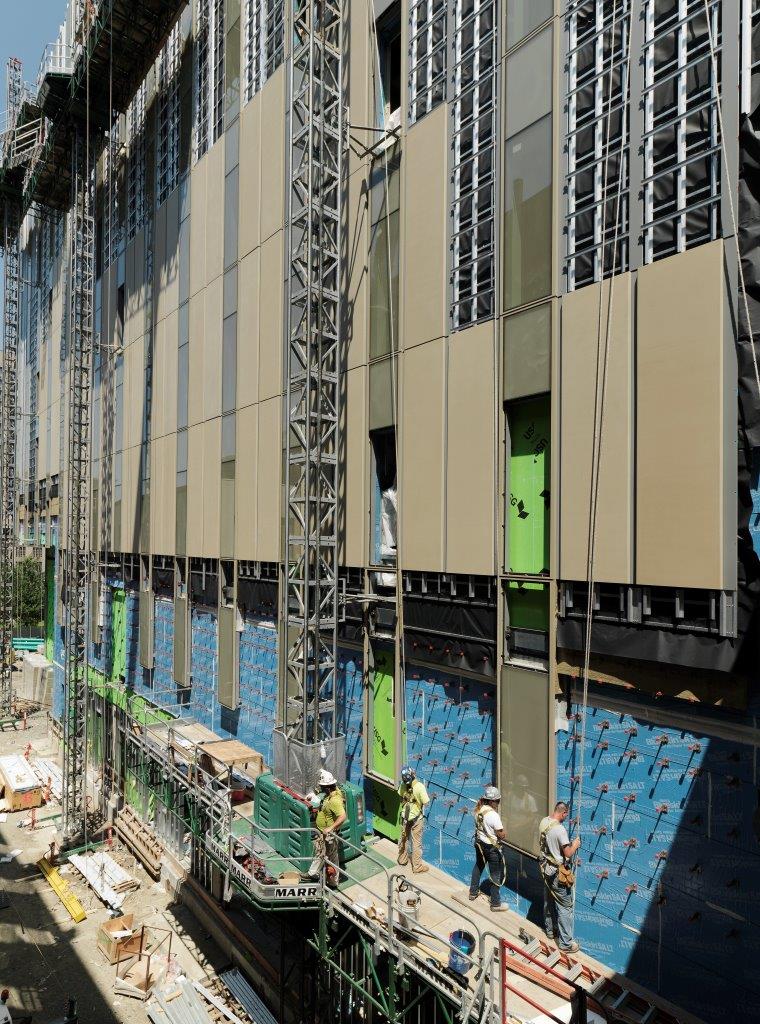 © Ditz Fejer
Boston University Center for Integrated Life Sciences & Engineering
Originally published in Architectural Record
Originally published in November 2016
Notice