Smart Glass Solutions for Interior Commercial Structures
Innovative switchable glass products using polymer dispersed liquid crystal (PDLC) technology provide privacy on demand and other benefits for a range of applications
Sponsored by Polytronix, Inc.
This test is no longer available for credit
Features and Benefits
The PDLC switchable privacy glass application can be used in many innovative ways. Here is a summary of some of the main features and benefits of using PDLC switchable privacy glass:
Aesthetic and clean: visual attention to interior (and exterior)
Offers privacy on demand
Provides privacy and security with architectural integrity
Projectable/can be used as a whiteboard: eliminates need for projection screens and dry erase boards
Safety glass (standard): panels should meet safety glass requirements
Can be made into impact-resistant glass (i.e., bulletproof, hurricane rated)
No distracting shutters and drapes
Saves energy by using natural lighting while maintaining privacy
Environmentally friendly: reduces the waste associated with manufacturing curtains or drapes, low power consumption, blocks more than 99 percent ultraviolet light
We will look at some of these benefits in more detail later in this course.
Standards and Codes
While industry codes do not regulate directly smart glass product per se, smart glass does meet a number of federal safety and regulatory codes due to the nature of its fabrication. Among the most important are the following:
Underwriters Laboratory (UL) Consumer Product Safety Commission Standard – 16 CFR Part 1201, which is a safety standard for architectural glazing.
ANSI Z97.1: Safety Performance and Methods of Test for Safety Glazing Material Used in Buildings
American Society for Testing and Materials standards: ASTM C1036-91 Standard Specification for Flat Glass
C1172-91 Standard Specification for Laminated Architectural Flat Glass
Privacy and Occupant Comfort
PDLC switchable privacy glass can be a smart choice to maximize privacy and occupant comfort in interior commercial spaces. For example, in the private mode, there is natural daylight coming through, which is good for mode settings in enclosed office spaces.
Let's take a look at some of the many broad applications and settings where PDLC switchable glass can be used to serve both function and design purposes.
Broad Applications
Privacy: Privacy or transparency can be obtained at a moment's notice in both exterior and interior installations. Glass with PDLC film can transform the functionality and appearance of:
Conference rooms
Private rooms in restaurants
Patient rooms in hospitals
Consultation rooms in clinics and medical offices
Banks and financial services offices
Sales offices in car dealerships
(Note: PDLC films also offers privacy options for private homes, especially where street views or neighboring homes are close at hand.)
Design: Switchable glass eliminates the need for dust-collecting draperies, shutters, and blinds, an option that designers may find very attractive.
Daylighting: To daylight an interior effectively, harsh sunlight must be moderated to reduce glare and spread more even illumination at comfortable levels. PDLC film-enabled windows, skylights, and glazed doors can be switched to translucent mode at peak hours of sunlight to cut light levels roughly in half and scatter the light, providing a diffuse source that illuminates more of the room with less glare.
Safety and Security: PDLC film makes switchable glass that is similar in construction and functionality to safety glass. Properly applied, glass panes laminated with PDLC film meet safety glass standards and can be used in security and hurricane-resistant window applications.
Temperature Control: PDLC film can reduce transmission of infrared radiation on demand. Switching a PDLC film window to its translucent state during peak sunlight can help control interior temperature and reduce the load on air-conditioning systems, lowering energy costs.
Multifunctional: Glass with PDLC film can substitute for a whiteboard, maximizing the utility of a conference room, classroom, or consultation room. It also performs excellently as a rear-projection screen for videos, slideshows, or almost any projected image.
Interior Applications
PDLC switchable glass can provide flexible use of space with privacy on demand (when needed). Some of the interior applications where this technology can be used include:
Projection screen/display (rear projection only)
Use with automated systems, such as smart buildings
Infection control in health-care settings (clinics, hospitals, nurseries, emergency rooms, ICUs, operating rooms)
Bathrooms/shower enclosures
Conference rooms
Hurricane-resistant windows
Optical shutters
Security windows
Skylights
Energy-efficient enclosures
Technical Specifications and Performance
Optical and electrical properties of PDLC technology have some variations, but overall stay within a relatively consistent range, as noted below.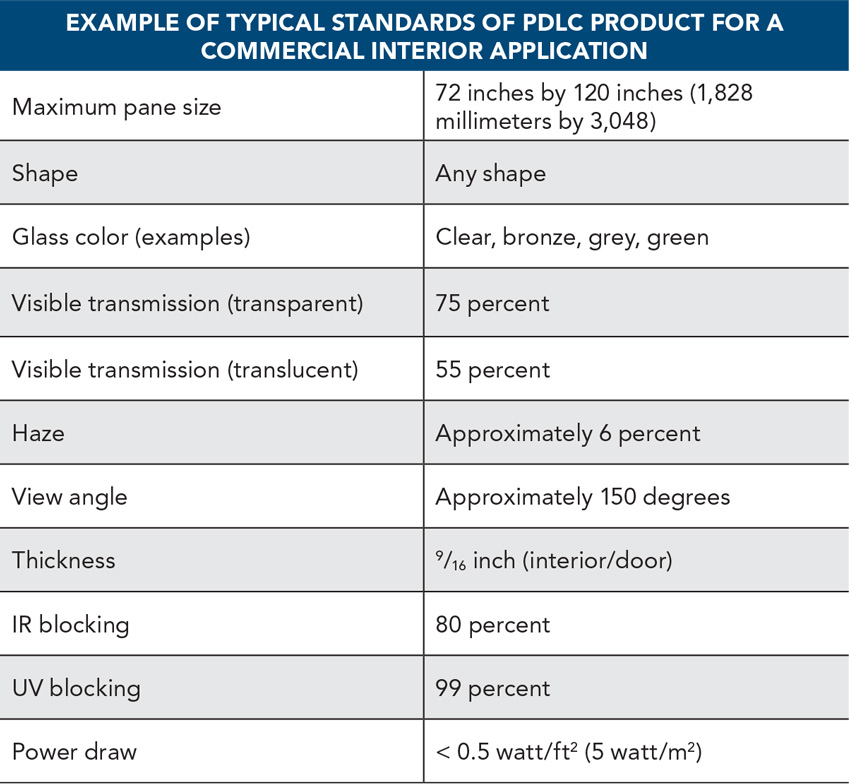 Sustainability and Energy Use Reduction with PDLC Technology
Switchable privacy glass is a sustainable product that can lower energy consumption and energy costs by improving the use of natural daylighting, lowering energy use for illumination, and reducing solar heat-gain, thereby reducing air-conditioning demands.
While it can vary by manufacturer, most panels have very low power requirements. The glass draws less than 0.5 watts/square foot. By contrast, a typical solar (photovoltaic) panel installed in North America has an average output of about 10 watts/square foot, meaning that one single 25-inch by 54-inch solar panel could potentially offset the power usage of three large 72-inch by 120-inch windows.
Industry leaders are aware of the importance of limiting their carbon footprint and work proactively with suppliers and application partners to ensure that glass/film products are eco-friendly. The main ingredient of PDLC panels is glass, a material with a well-established and widespread recycling infrastructure. Recycled glass is a regular component of modern glassmaking and significantly lowers the CO2 emissions associated with manufacture.
Additionally, panels can be reusable; that is, glazing can be removed from its original installation and reused, fully functionally, in another building.
Among the key sustainability and energy-savings benefits of switchable privacy glass with PDLC technology are:
Saves energy by using natural lighting while maintaining privacy
Reduces materials consumption (fabric waste) used to make curtains, drapes, shutters, blinds, projection screens, and dry erase boards
Eliminates the need for dust-collecting draperies, blinds, or shutters, improving indoor air quality (IAQ)
Liquid crystal compounds are organic and biodegradable.
Very low power consumption (equivalent to a clock radio)
Blocks more than 80 percent of infrared and more than 99 percent ultraviolet radiation
Reduces solar heat-gain, lowering energy consumption for HVAC
Some manufacturers show a proven service life of greater than 10 years (in other words, 10-year old installations are still fully functioning).
Complimentary Hardware and Framing
PDLC switchable privacy glass and film products can be used with a host of complementary hardware and framing, including automatic doors, manual sliding doors, folding doors, modular wall systems, and window framing. Although the glass manufacturer might not provide the hardware, it should work in conjunction with hardware companies to ensure the specifier is using hardware compatible with the smart glass product.
See images below for examples of these applications.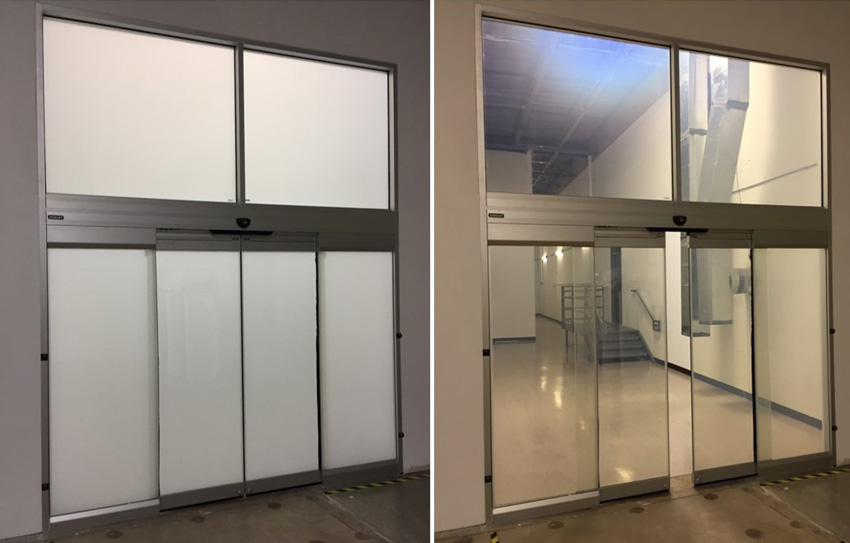 Photos courtesy of Polytronix, Inc.
Automatic sliding doors

Photos courtesy of Polytronix, Inc.
Manual sliding doors

Photos courtesy of Polytronix, Inc.
Folding partition and doors

Photos courtesy of Polytronix, Inc.
Modular wall systems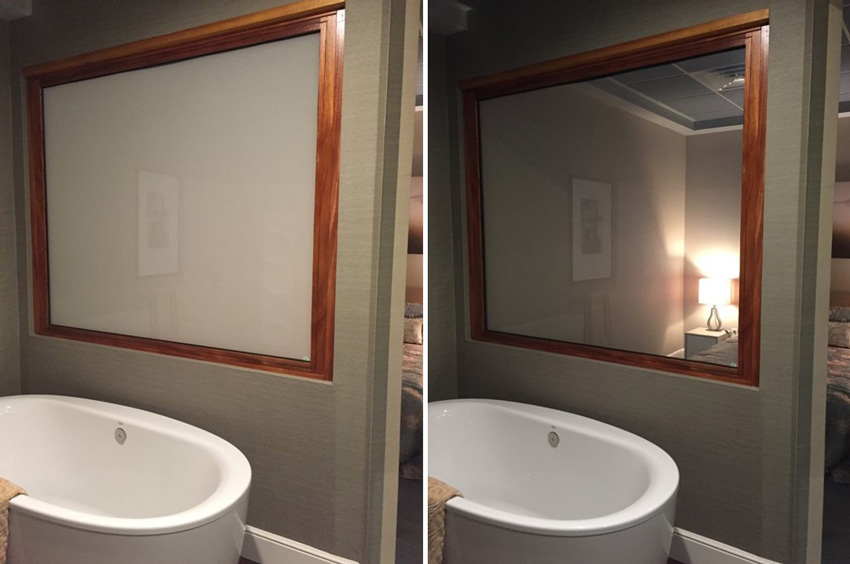 Photos courtesy of Polytronix, Inc.
Window framing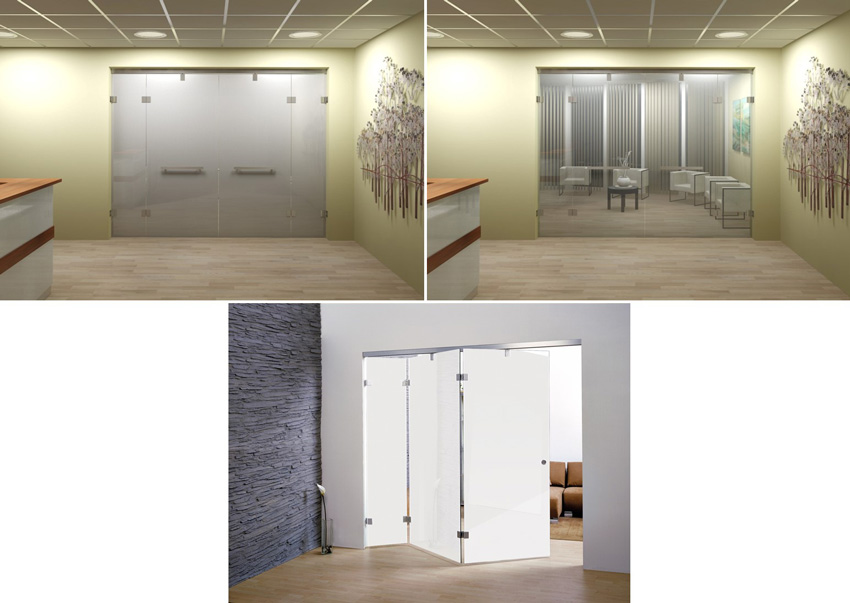 Photos courtesy of PR America/KL Megla
Frameless folding doors (no rails, minimalist design)
Notice